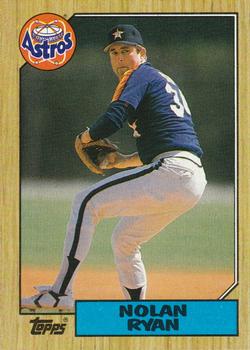 September 9, 1987: The 'Ryan Express' whiffs 16, reaches milestone of 4,500 strikeouts
---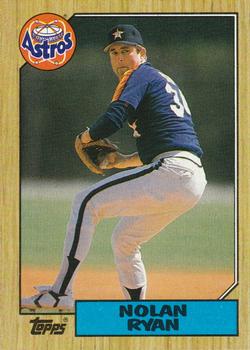 Ageless wonder Nolan Ryan was in the midst of one of the strangest seasons a big-league pitcher had ever experienced. Neil Hohlfeld of the Houston Chronicle considered it "unreal in the negative sense."1 From June 17 to July 29 Ryan had lost eight consecutive starts as the Astros provided him only eight runs of support while he was on the mound. In the days before the sabermetric revolution helped change the way a pitcher's victories were viewed, the 40-year-old "Ryan Express" was just 6-14 heading into his start against the San Francisco Giants on September 9; however, the fireballer's ERA (2.79) trailed only that of Los Angeles's Orel Hershiser (2.71), his 210 strikeouts were second only to those of teammate Mike Scott, and he easily led all major-league hurlers by holding opposition to a .193 batting average.
In a performance described by Terry Blount of the Houston Post as "masterful" and by Hohlfeld as "mindboggling," Ryan continued his season-long re-emergence as one of the game's most dominant hurlers by striking out 10 of the last 12 batters he faced to set an Astrodome record with 16 strikeouts, including his 4,500th victim, over eight innings against San Francisco.2 "He's amazing," said Giants pilot Roger Craig. "Nobody's ever lived who can throw like that for as long as he has."3
The reigning NL West champion Astros had played lackluster ball to that point in 1987. Following a dismal seven-game losing streak, second-year manager Hal Lanier's squad had won four of its previous six and was in second place (69-69), 5½ games behind Giants. The hottest team in baseball, San Francisco (75-64) was on a roll, having won 22 of its last 31 games.
Ryan began the game by whiffing Eddie Milner swinging, prompting a hearty round of applause from the 25,620 spectators in the Astrodome on a Wednesday evening. He racked up two more punchouts in the second (both swinging) before reminding everyone that he also swung a bat. Kevin Bass led off the frame with a single off Giants starter Atlee Hammaker, and Glenn Davis followed with a walk. Ryan, who had managed just two hits in 48 at-bats, hit what Ray Ratto of the San Francisco Chronicle called a "slow, well-placed and highly improbable, but true" two-out grounder to center field, driving in Bass for the game's first run.4 Gerald Young's double drove in Davis and made it 2-0. For Ryan, driving in a run was almost as likely as striking out 15 or more in a game; in 773 starts he punched out at least 15 batters 26 times; in 852 at-bats he knocked in 36 runs.
San Francisco threatened in the third when Milner lined a one-out single to center field, stole second, and moved to third on Chris Speier's groundout. After issuing a walk to Mike Aldrete, Ryan got out of the jam by inducing Candy Maldonado to ground out to third baseman Ken Caminiti.
The Astros broke the game open in the third when, with Alan Ashby aboard, Bass launched his 17th round-tripper of the season to make it 4-0. Kelly Downs relieved Hammaker and shut down the Astros for the remainder of the third and fourth to keep the Giants in the game.
Ryan issued his second and final walk of the game, to Jose Uribe, to lead off the fifth. Uribe stole second and scored on Milner's one-out single to short right field, ending Ryan's streak of 22⅔ scoreless innings in the Dome. The Giants seemed to have Ryan on the ropes. Speier followed with a single, then Aldrete singled to drive in Milner and slice the lead to 4-2. With runners on first and second, Ryan was laboring, but then he turned it up a notch. "At that point, you could see him really get after it," said teammate Bill Doran. "It was like he wasn't going to give them anything."5 Ryan struck out both Maldonado and Will Clark to end the threat.
From the fifth through the eighth, the Astros managed only two hits, both in the sixth inning with one out. One of those was a single by Ryan, who collected a career-best two hits in a game for the 11th and last time. Craig Lefferts, the Giants' fourth reliever, got out of that jam by retiring Doran and Jose Cruz.
Ryan continued his pitching clinic in the sixth inning by striking out the side. He also yielded his sixth and final hit, Uribe's liner to center. In the seventh he retired the side in order, whiffing two more to bring his total to 13. The frame ended when Aldrete hacked and missed on Ryan's 117th pitch of the game to become the Express's 4,500th strikeout victim. The partisan crowd gave Ryan, who was born and raised in Texas, a standing ovation. The stoic Ryan, who rarely acknowledged his own feats, expressed his thanks by coming out for a curtain call between innings.
It appeared as though Ryan's night was over. The 21-year veteran, who entered the season with 253 career wins, had been suffering from elbow tenderness throughout the 1987 season. He had pitched as many as eight innings just once, and was on a 110-pitch limit, but to the crowd's delight, the Texas institution was back on the mound to start the eighth. With his fastball topping out at 98 miles per hour, Ryan fanned the side on 14 pitches, sending the Astros faithful into another raucous standing ovation. And once again Ryan made a curtain call between innings. "There's nothing more rewarding than hearing the cheers of the home crowd," said Ryan, whose evening was over.6 Reliever Dave Smith tossed a 1-2-3 ninth to pick up his 23rd save and preserve Ryan's victory in 2 hours and 43 minutes.
"Anytime you get a strikeout total like that, you've got to have a good curve ball going," said Ryan. "My rhythm was so good I could have thrown my curve ball even harder."7 In addition to setting an Astros record for strikeouts in the Astrodome and chalking up his 4,500th punchout, Ryan tied his personal-best strikeout total in the NL, matching the 16 whiffs he had as a member of the New York Mets in a complete-game 2-1 victory over San Diego on May 29, 1971. It was also the most strikeouts he had in a game since fanning 16 as a California Angel in a complete-game victory over the Detroit Tigers on June 9, 1979. "The pitch count has been expanded to 125 the last two or three starts," explained a genuinely pleased Ryan. "I think tonight is definitive proof that I'm over my elbow problems."8 Ryan threw 89 of his 131 pitches for strikes, including 26 swinging strikes. The Giants struck out swinging 12 times.
Ryan's performance drew raves from players, coaches, and the press. "It's unbelievable that he's still throwing with that kind of velocity at his age," raved Lanier.9 "I'm not going to belabor it," said batterymate Alan Ashby, who caught Ryan's record-breaking fifth no-hitter (and his only one as an Astro) on September 26, 1981. "All I'm going to say is that I've seen him eight years now and I've never seen him better."10 Said Speier, who tagged Ryan for two hits, "It's tough on a hitter when he's getting the curve ball over. … Plus he has the change-up now."11 Ray Ratto considered Ryan's outing "hardly shocking," and noted that he systematically tortured the Giants.12 Dating back to September 24, 1986, it was Ryan's sixth consecutive start with at least 10 strikeouts against San Francisco, during which he totaled 73 punchouts in 41⅓ innings.
Notwithstanding Ryan's victory and strikeout milestones, the Astros took a nosedive, winning just six of their final 23 games to finish in third place with a disappointing 76-86 record. Ryan was one of the team's few bright spots in spite of finishing with an 8-16 record. He paced the NL in ERA (2.76), and led the major leagues in strikeouts (270), strikeouts per nine innings (11.5, to set a new career best), fewest hits per nine innings (6.5) and lowest opponents' batting average (.200).
This article appears in "Dome Sweet Dome: History and Highlights from 35 Years of the Houston Astrodome" (SABR, 2017), edited by Gregory H. Wolf. To read more articles from this book at the SABR Games Project, click here.
Sources
In addition to the sources cited in the Notes, the author also accessed Retrosheet.org, Baseball-Reference.com, the SABR Minor Leagues Database, accessed online at Baseball-Reference.com, SABR.org, and The Sporting News archive via Paper of Record.
Notes
1 Neil Hohlfeld, "Ryan Fans 16; Astros Win 4-2," Houston Chronicle, September 10, 1987: Section 3, page 1.
2 Terry Blount, "Giants Admire Ryan's 16, but Their Lead Is Even Prettier," Houston Post, September 10, 1987: 10; and Hohlfeld.
3 Ray Ratto, "Ryan Mows Down Giants; A's Win. Astros Win, 4-2, Behind His 16 K's," San Francisco Chronicle, September 10, 1987: 67.
4 Ibid.
5 Hohlfeld.
6 Ivy McLemore, "Ryan One-Man Show Against Giants," Houston Post, September 10, 1987: 1D.
7 Ratto.
8 Hohlfeld.
9 McLemore.
10 C.W. Nevius, "Ryan Heats Up and Chars the Giants," San Francisco Chronicle, September 10, 1987: 76.
11 Blount.
12 Ratto.
Additional Stats
Houston Astros 4
San Francisco Giants 2
---
Astrodome
Houston, TX
Box Score + PBP:
Corrections? Additions?
If you can help us improve this game story, contact us.
Tags
https://sabr.org/sites/default/files/RyanNolan-1987.jpg
600
800
admin
/wp-content/uploads/2020/02/sabr_logo.png
admin
2018-09-25 13:09:15
2020-04-17 10:23:55
September 9, 1987: The 'Ryan Express' whiffs 16, reaches milestone of 4,500 strikeouts