This article was written by Rick Huhn
This article was published in the 1919 Chicago White Sox essays
---
A summary of the eight games in the 1919 World Series.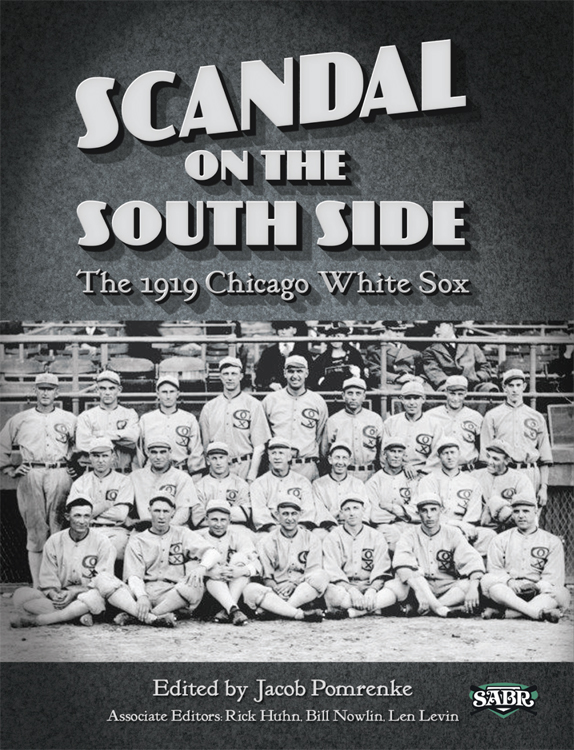 A great deal has been written about the faceoff between the Chicago White Sox and the Cincinnati Reds in the best-of-nine 1919 World Series. Probably no other baseball World Series has drawn more attention from commentators and historians. However, the vast majority of words written about the Series relate to what has become commonly known as the Black Sox Scandal. In that regard, discussion has centered on a few plays regarded as proving or, in some cases, disproving that certain players on the White Sox team conspired to throw the World Series at the behest of a group or groups of professional gamblers and for their own monetary gain.
Nonetheless, an eight-game series was played in which suspicion is cast on only a few key plays. There is even general agreement among knowledgeable observers that several of the games were played entirely on the up-and-up. What follows is a game-by-game description of this Series with minimal attention to the controversial plays. While some of the more obvious ones will be pointed out, the whys and wherefores will be left for others to study and write about here and elsewhere.
The Teams
The 1919 edition of Charles Comiskey's Chicago White Sox entered their second World Series in three seasons with an American League record of 88-52. They led the Cleveland Indians by 3½ games at season's end. Chicago hit .287 as a team and scored 668 runs, ranking the team number one in each category among AL teams. They had a team ERA of 3.04 (fourth in the AL) and allowed 534 runs (second). Their manager, William J. "Kid" Gleason, was in his first year in that position.
The Cincinnati Reds were owned by August "Garry" Herrmann and managed by Pat Moran, a veteran of four previous campaigns at the helm of the Philadelphia Phillies. The Reds' record of 96-44 was nine games better than the New York Giants in the National League pennant race. The Reds hit .263 as a team and scored 578 runs, both second-best figures among NL teams (to the Giants). They had a team ERA of 2.23 (second-best) and allowed an NL-low 401 runs. This was Cincinnati's first World Series appearance.
Wednesday, October 1
Redland Field, Cincinnati
"White Sox Lose in Opener, 9 to 1" — Chicago Tribune
"Chicago, Outclassed, Loses First Game 9 to 1; Reds Quickly Hammer Eddie Cicotte From Box" — Cincinnati Enquirer
White Sox 010 000 000 — 1 6 1
Reds 100 500 21x — 9 14 1
WP: Dutch Ruether (1-0). LP: Eddie Cicotte (0-1).
Dutch Ruether: 9 IP, 6 H, 1 R, 0 ER, 1 BB, 1 K.
Eddie Cicotte: 3⅔ IP, 7 H, 6 R, 6 ER, 2 BB, 1 K.
Dutch Ruether: 3-3, 2 3B, BB, R, 3 RBI. Greasy Neale: 3-4, 2 R. Jake Daubert: 3-4, 3B, R, RBI.
Chick Gandil: 2-4, RBI. Joe Jackson: 0-4, R. Buck Weaver: 1-4. Eddie Collins: 1-4, CS.
Attendance: 30,511. Time: 1:42.
The starting pitchers for Game One were lefty Dutch Ruether (19-6 W-L, 1.82 ERA regular season) for the Reds and right-hander Eddie Cicotte (29-7, 1.82) for the White Sox. The Reds initiated the scoring with a run in the bottom of the first inning. Their leadoff batter was second baseman Morrie Rath. Cicotte's second pitch struck him in the back. The pitch is one of the most analyzed in World Series history; many believing the pitch was a signal from Cicotte to bettors that the fix was in. The next batter up, first baseman Jake Daubert, singled Rath to third. Third baseman Heinie Groh's sacrifice fly to deep left field sent Rath home with the first run of the Series.
In the top of the second, the White Sox struck back. Left fielder Joe Jackson led off the inning by reaching second base on a bad throw by shortstop Larry Kopf. Jackson reached third on a sacrifice bunt by center fielder Happy Felsch, then scored when first baseman Chick Gandil's short fly to left dropped in for a hit. The inning ended with the score tied at 1 apiece.
The score remained tied until the Reds' half of the fourth inning. Joe Jackson's counterpart in left, Pat Duncan, started the ball rolling with a one-out single to right. Duncan was forced at second by Kopf for out number two. Eyebrows were raised by some who thought Cicotte hesitated before tossing the ball to shortstop Swede Risberg covering second. Others noted that Risberg seemed to stumble over the bag as he attempted unsuccessfully to double Kopf to end the inning. This proved costly as Reds right fielder Greasy Neale scratched out an infield single. That brought up catcher Ivey Wingo, who sent Kopf home with a single for what proved to be the winning run. The score jumped to 4-1 when pitcher Ruether tripled to deep left-center to drive Neale and Wingo across. The offensive show continued with Rath's double scoring Ruether. The scoring for the inning ended with the Reds up 6-1 when Daubert's single drove home Rath. At that point Kid Gleason removed Cicotte and replaced him with Roy Wilkinson. The right-hander ended the inning by retiring Groh on a fly ball to center.
Staked to a 6-1 lead, Ruether limited the White Sox to four hits, all singles, and no runs the rest of the way. In the meantime the Reds increased their lead with a pair of runs in the seventh as Groh followed a Daubert triple with a single and later scored on a force play. The Reds' final run scored in their half of the eighth when Ruether stroked his second triple of the afternoon to score Neale, who had begun the inning with a single. Ruether then proceeded to complete his day's work and secure the first-ever World Series win for the Reds by retiring Jackson, Felsch, and Gandil in order to end the game. The final score was 9-1.
Thursday, October 2
Redland Field, Cincinnati
"White Sox Crushed Again, 4 to 2" — Chicago Tribune
"White Sox Sluggers Helpless With Men on Bases; Reds Defeat Kid Gleason's Second Ace 4 to 2" — Cincinnati Enquirer
White Sox 000 000 200 — 2 10 1
Reds 000 301 00x — 4 4 3
WP: Slim Sallee (1-0). LP: Lefty Williams (0-1).
Slim Sallee: 9 IP, 10 H, 2 R, 0 ER, 1 BB, 2 K.
Lefty Williams: 8 IP, 4 H, 4 R, 4 ER, 6 BB, 1 K.
Larry Kopf: 1-3, 3B, 2 RBI. Edd Roush: 1-2, R, 2 BB, RBI. Greasy Neale: 1-3, RBI.
Joe Jackson: 3-4, 2B, K. Ray Schalk: 2-4, R. Buck Weaver: 2-4, 2B.
Attendance: 29,698. Time: 1:42.
The White Sox sent Claude "Lefty" Williams (23-11, 2.64) to the mound for Game Two. The Reds countered with another lefty, Slim Sallee (21-7, 2.06). Both pitchers started off strong. It was the bottom of the fourth inning when the Reds broke the ice in a big way. It all started when Williams walked leadoff batter Rath, who reached second via a sacrifice and then watched as Groh was walked. A single by center fielder Edd Roush, the Reds' best hitter, drove home Rath with the first run for the National Leaguers. After Roush was thrown out at second on an attempted steal, Williams issued yet another walk, to Duncan. This was Lefty's third walk of the inning and fourth of a game that would see him pass six Reds in eight innings pitched. Skeptics of Williams's efforts that day, and in the Series as a whole, could point to the left-hander's reputation as one of the game's premier control pitchers. In 1919, for example, he had issued 58 walks in 297 innings pitched. His career totals were 347 walks in 1,186 innings. Kopf made sure the last two fourth-inning walks were costly by tripling to left to score Groh and Duncan. The inning ended with the Reds ahead by three.
The White Sox did not score until the top of the seventh inning, breaking a string of 13 scoreless frames. By then the Reds had increased their lead to 4-0 when Williams began the bottom of the sixth inning by walking Roush. It was the third inning of six in which Williams had issued a free pass to the Reds' leadoff batter. Twice the leadoff walk yielded a run, this time when Roush reached second on a sacrifice bunt by Duncan and scored on a single by Neale. When the White Sox finally scored, it was a pair of unearned runs. Their only runs of the afternoon came in the seventh when Risberg singled with one out. Catcher Ray Schalk followed with a single. Risberg scored on the play as a result of an errant throw to second by Reds right fielder Neale. Schalk scored as well when third baseman Groh threw wildly to home plate. That was the end of the scoring as a White Sox rally in the ninth fell short. The 4-2 victory, secured despite the fact that the White Sox had 10 hits – three by Jackson, two each by Schalk and Buck Weaver – to the winner's four, put the Reds ahead in the Series by two games.
Friday, October 3
Comiskey Park, Chicago
"Kerr Hurls Sox to Victory, 3 to 0" — Chicago Tribune
"Kerr Stops Reds, Registering Shut-Out; Fisher's Wild Throw Gives Sox Two Runs" — Cincinnati Enquirer
Reds 000 000 000 — 0 3 1
White Sox 020 100 00x — 3 7 0
WP: Dickey Kerr (1-0). LP: Ray Fisher (0-1).
Dickey Kerr: 9 IP, 3 H, 0 R, 0 ER, 1 BB, 4 K.
Ray Fisher: 7 IP, 7 H, 3 R, 2 ER, 2 BB, 1 K.
Joe Jackson: 2-3, R. Chick Gandil: 1-3, K, 2 RBI. Swede Risberg: 1-2, 3B, BB, R. Ray Schalk: 1-3, RBI.
Attendance: 29,126. Time: 1:30.
Manager Kid Gleason's choice to pitch his club back into the Series was Dickey Kerr (13-7, 2.88). The rookie left-hander was pressed into front-line duty due to the absence of Red Faber. The future Hall of Fame pitcher was battling illness and injury. The choice of Pat Moran to secure yet another Reds win was expected to be Hod Eller. Instead, right-handed veteran Ray Fisher (14-5, 2.17) received the starting nod.
In the bottom of the second inning the White Sox, playing for the first time at home, scored twice. Jackson led off with a single and reached third base when Fisher fielded Felsch's attempt at a sacrifice and threw wildly to second attempting a force out. Felsch continued on to second on the miscue. The next batter, Gandil, drove in both baserunners with a single to right, Gandil ending up at second. Although Risberg walked, no further damage was done as the next three White Sox batters made outs. The first of those batters, Schalk, attempted to move Gandil and Risberg up with a sacrifice bunt, but Fisher's throw to third forced Gandil. Some have argued that Gandil could have beaten the throw with a better effort.
The two-run lead held for the White Sox until the bottom of the fourth, when they scored their third and final run. A one-out triple by Risberg followed by a Schalk single did the trick. White Sox hitters had produced three runs in four innings. Kerr did the rest, twirling a three-hit shutout while retiring the last 15 Reds batters. Kerr's magnificent performance – he struck out four and walked only one – was in stark contrast to the performances of his more heralded pitching colleagues, Cicotte and Williams.
Saturday, October 4
Comiskey Park, Chicago
"Sox Humbled in Fourth Game, 2-0" — Chicago Tribune
"Ring Whitewashes Sox, Giving Reds 3-to-1 Lead; Cicotte Suffers His Second Defeat of Series" — Cincinnati Enquirer
Reds 000 020 000 — 2 5 2
White Sox 000 000 000 — 0 3 2
WP: Jimmy Ring (1-0). LP: Eddie Cicotte (0-2).
Jimmy Ring: 9 IP, 3 H, 0 R, 0 ER, 3 BB, 2 K.
Eddie Cicotte: 9 IP, 5 H, 2 R, 0 ER, 0 BB, 2 K.
Ivey Wingo: 2-3. Greasy Neale: 1-3, 2B, RBI. Larry Kopf: 1-3, R, RBI.
Joe Jackson: 1-4, 2B, K. Happy Felsch: 1-3, SH. Chick Gandil: 1-4, K.
Attendance: 34,363. Time: 1:37.
The largest crowd to date in the Series saw Cicotte take his second turn on the mound for the White Sox. Yet another top-flight hurler, righty Jimmy Ring (10-9, 2.26), was the Reds' choice to oppose him. The game was scoreless into the top of the fifth inning, when the Reds scored the game's only runs. It all started out quite harmlessly as Roush was thrown out at first by catcher Schalk. The second out seemed assured when the next Reds batter, left fielder Duncan, hit the ball right back to Cicotte. However, the Sox pitcher bobbled the ball, then threw wildly to first, allowing Duncan to reach second. Kopf promptly singled to left. The ball was fielded by Joe Jackson. He threw toward home plate to hold Duncan at third. While the ball was in flight, Cicotte reached up and deflected it. The ball rolled toward the stands as Duncan headed home with the game's first run and Kopf took second base. Cicotte's error, his second of the inning, ignited another wave of speculation that some of the White Sox were not in the Series to win. This was only emphasized further when the next man up, Neale, doubled to left to drive in Kopf. When the inning ended the score was 2-0, and there it stayed as the Reds took a three-games-to-one lead in the Series. Until that "fateful fifth," Cicotte had given up only two harmless singles. In all he gave up five hits – only one single after the fifth – and walked none. In shutting down the White Sox, Ring gave up a mere three hits while issuing three walks.
Monday, October 6
Comiskey Park, Chicago
"Sox Crumble Before Eller, 5 to 0" — Chicago Tribune
"Eller Humbles White Sox, Pitching Shut-Out, Practically Clinching Big Series For Cincinnati" — Cincinnati Enquirer
Reds 000 004 001 — 5 4 0
White Sox 000 000 000 — 0 3 3
WP: Hod Eller (1-0). LP: Lefty Williams (0-2).
Hod Eller: 9 IP, 3 H, 0 R, 0 ER, 1 BB, 9 K.
Lefty Williams: 8 IP, 4 H, 4 R, 4 ER, 2 BB, 3 K.
Edd Roush: 1-4, 3B, SB, 2 R, 2 RBI. Hod Eller: 1-3, 2B, R. Morrie Rath: 1-3, R, BB, RBI.
Buck Weaver: 2-4, 3B. Ray Schalk: 1-2, K. Nemo Leibold: 0-3, BB, K.
Attendance: 34,379. Time: 1:45.
Delayed one day by rain, the fifth game of the Series saw the Reds trot out their fifth different starter and third straight right-hander in Hod Eller (19-9, 2.39). Kid Gleason showed his continued faith in Williams, giving him the ball for the second time. The two starters gave evidence early on that this would be a classic pitchers' duel. In the second and third innings Eller struck out six White Sox batters in a row, four on called third strikes. Williams was seemingly equal to the task, hurling hitless ball through four innings. The game was scoreless when the Reds came to bat in the top of the sixth. Then they hit pay dirt. Pitcher Eller led off the inning with a double to center, only the second Reds hit. He took third on the play when center fielder Felsch uncorked a bad throw. It was the second of three White Sox fielding errors in the game. Rath wasted no time in singling Eller home with the game's first run. After Daubert was out sacrificing Rath to second, Williams walked Groh. Then Roush struck the game's big blow, a triple to center, scoring both Rath and Groh. Some questioned Felsch's positioning on the play as Roush's drive went over his head. Schalk, who had protested vehemently when Groh was called safe at home, was ejected from the game for bumping and shoving home-plate umpire Cy Rigler. Duncan then drove Roush home with a sacrifice fly. The inning ended with the Reds in command at 4-0.
They scored an additional unearned run in the ninth off reliever Erskine Mayer. The final score was 5-0. Reds pitchers, fresh off a second straight three-hit gem, had now held the White Sox scoreless for 22 consecutive innings. Heading to Cincinnati, the AL champions were on the brink of elimination.
Tuesday, October 7
Redland Field, Cincinnati
"Sox Fight to Victory in Tenth, 5-4" — Chicago Tribune
"Carelessness by Reds Gives Sox Game, Cincinnati 'Blowing' Four-Run Lead" — Cincinnati Enquirer
White Sox 000 013 000 1 — 5 10 3
Reds 002 200 000 0 — 4 11 0
WP: Dickey Kerr (2-0). LP: Jimmy Ring (1-1).
Dickey Kerr: 10 IP, 11 H, 4 R, 3 ER, 2 BB, 2 K.
Jimmy Ring: 5 IP, 4 H, 1 R, 1 ER, 3 BB, 2 K.
Buck Weaver: 3-5, 2 2B, 2 R. Joe Jackson: 2-4, BB, R, RBI. Happy Felsch: 2-5, 2B, R, RBI.
Greasy Neale: 3-4, 3B, R. Pat Duncan: 1-5, 2B, 2 RBI. Jake Daubert: 2-4, SB, R. Dutch Ruether: 1-2, 2B, R, RBI.
Attendance: 32,006. Time: 2:06.
For what they hoped would be the final game of the Series, the Reds sent a well-rested Ruether, the winning pitcher in Game One, to the mound. Kid Gleason countered by calling on Game Three winner Kerr for more heroics. Initially it did not appear to be such a good move. The Reds ended Kerr's scoreless inning string at 11 by scoring a pair of runs in both the third and fourth innings to take a 4-0 lead. The Reds' runs in the third came after one was out. Daubert singled and stole second as Groh struck out. Kerr then filled the vacancy at first base by hitting Roush, and Duncan followed with a double to drive home both Daubert and Roush. The Reds built upon their lead in the fourth. Neale led off the inning with a triple to deep right field. Neale remained at third as the next batter, catcher Bill Rariden, grounded out. Ruether, one of the hitting stars of Game One, then helped out his cause again; this time he doubled to left to score Neale. Rath was up next. He was safe at first when White Sox shortstop Risberg fielded his grounder cleanly but committed his second error of the game – fourth of the Series – trying to cut down Ruether at third. An unearned run scored as a result of the bad throw. The score jumped to 4-0 and could have been worse as Rath, who had taken second on Risberg's miscue, promptly stole third. There was still only one out when Daubert lifted a fly ball to Jackson in left. After Jackson made the catch, Rath attempted to score. Jackson's throw doubled him at home to end the inning. There were some who credited Jackson with a strong, accurate throw, while others claimed the throw was wide and the run saved when catcher Schalk lunged across to block the plate.
Now the White Sox trailed the Reds by four runs, a seemingly insurmountable lead to overcome for a team held scoreless for the previous 26 innings. In the top of the fifth, the Sox finally broke through, albeit for only a single run. Ruether, dominating to that point, suddenly lost his control, issuing leadoff walks to Risberg and Schalk. Kerr scratched out a single to load the bases. No one was able to move up as Shano Collins flied out to short center. Eddie Collins then lifted a fly ball to center field. It was deep enough to score Risberg with the first White Sox run, but Schalk remained at second. Kerr did not notice. He advanced to second and was tagged out. An error by Felsch in the bottom of the fifth did no damage. The score at the end of five was 4-1 in favor of the Reds.
The White Sox half of the sixth proved to be their best to date. Weaver started with a double to shallow left. He scored as Jackson singled and in turn scored on a double to left-center by Felsch. The Sox now trailed by only one. Pat Moran had seen enough. He replaced Ruether with Game Four winner Ring. He retired Gandil and Risberg, but Schalk tied the game with a single that scored Felsch, who had advanced to third.
The game remained tied through regulation. In the top of the 10th, the White Sox broke through against Ring. Again, Weaver led off the inning with a double. A successful Jackson bunt single placed runners at the corners with no one out. Felsch struck out, but then Gandil broke the deadlock with a groundball single to center that scored Weaver. Risberg ended the inning by lining into a double play. Nonetheless, Kerr secured his second win of the Series with a one-two-three 10th. There was talk of sloppy fielding and sloppy baserunning – in addition to Kerr's gaffe, Jackson was also thrown out on the bases twice – but the bottom line was the White Sox win had extended the Series to a seventh game.
Wednesday, October 8
Redland Field, Cincinnati
"Sox Battle to Third Victory, 4-1" — Chicago Tribune
"Cicotte Keeps Sox in Series, Trimming Cincinnati 4 to 1" — Cincinnati Enquirer
White Sox 101 020 000 — 4 10 1
Reds 000 001 000 — 1 7 4
WP: Eddie Cicotte (1-2). LP: Slim Sallee (1-1).
Eddie Cicotte: 9 IP, 7 H, 1 R, 1 ER, 3 BB, 4 K.
Slim Sallee: 4⅓ IP, 9 H, 4 R, 2 ER, 0 BB, 0 K.
Shano Collins: 3-5, 2B, 2 R. Eddie Collins: 2-4, R. Joe Jackson: 2-4, 2 RBI. Happy Felsch: 2-4, 2 RBI.
Heinie Groh: 1-4, 2B, R. Pat Duncan: 1-4, RBI. Ivey Wingo: 1-1, 3 BB.
Attendance: 13,923. Time: 1:47.
Pat Moran selected Sallee, the winning pitcher in Game Two, as the Reds took their second shot at wrapping up the Series. Kid Gleason, hoping the third time was a charm, gave the ball to Cicotte. By far the smallest crowd to date was on hand at Redland Field, in part because the Reds front office mishandled the availability of tickets. Shano Collins, playing center field, started the game with a single. He was sacrificed to second by Eddie Collins. Then, after another out, Jackson singled to left. Shano Collins scored to put the Chicagoans on top. The White Sox added a second run in the top of the third when Jackson again singled to drive in Shano Collins, this time from third base. They struck again in the top half of the fifth. After Shano Collins flied out, Eddie Collins singled to center. Weaver batted next, reaching first when Reds third baseman Groh misplayed his groundball. Yet another error on a grounder, this time by second baseman Rath, loaded the bases. Happy Felsch then singled, driving across both Eddie Collins and Weaver. Both runs were unearned.
The White Sox, behind much stronger pitching from Cicotte, held their 4-0 lead into the bottom of the sixth inning when a one-out ground-rule double to deep left by Groh and a two-out single by Duncan gave the Reds their only run of the afternoon. The final score was 4-1. Cicotte finally had a win. Sallee, who deserved better, took the loss. The Reds defense sprang a leak as they made four errors. The White Sox victory brought them to within a game of forcing the Series to its full nine games.
Thursday, October 9
Comiskey Park, Chicago
"Reds Are New World's Champions" — Chicago Tribune
"Reds End Series With Slaughter of Sox Pitchers, Winning Baseball Classic, Five Games to Three" — Cincinnati Enquirer
Reds 410 013 010 — 10 16 2
White Sox 001 000 040 — 5 10 1
WP: Hod Eller (2-0). LP: Lefty Williams (0-3).
Hod Eller: 9 IP, 10 H, 5 R, 4 ER, 1 BB, 6 K.
Lefty Williams: ⅓ IP, 4 H, 4 R, 4 ER, 0 BB, 0 K.
Edd Roush: 3-5, 2 2B, 2 R, 4 RBI. Pat Duncan: 2-4, 2B, R, 3 RBI. Bill Rariden: 2-5, SB, 2 RBI. Morrie Rath: 2-4, SB, 2 BB, R.
Joe Jackson: 2-5, 2B, HR, 2 R, 3 RBI. Eddie Collins: 3-5, 2B, SB, R. Buck Weaver: 2-5, 2B, R.
Attendance: 32,930. Time: 2:27.
The eighth game of the Series presented each manager with an intriguing decision for his choice of a starting pitcher. Lefty Williams seemed a logical choice for Kid Gleason, but he had not performed well in two previous starts. The third time around had worked for Cicotte; Gleason decided to give Williams a third chance, too. Pat Moran had a number of seasoned starters to choose from to try to close out the Series. He went with Hod Eller, a shutout winner in Game Five. Williams quickly made Gleason regret his decision. After retiring the first batter on an infield pop fly, he gave up four straight hits. Jake Daubert opened the parade with a single to center and Heinie Groh followed suit with a single to right. A double by Edd Roush sent Daubert home and Groh to third. Pat Duncan's double knocked in Groh and Roush to give the Reds a 3-0 lead. Gleason pulled his left-hander and replaced him with Bill James. Williams's effort or lack thereof became the subject of endless discussion, including speculation that he pitched to lose due to threats of violence. James walked the first batter he faced, but limited the Reds to just one more run, a two-out single by Bill Rariden that drove in Duncan.
In their half of the first, the White Sox started strong. Nemo Leibold, playing center field, opened with a single and went to third on a double by Eddie Collins. However, Eller proceeded to shut down the threat by retiring the side on a pair of strikeouts and an infield pop fly. The Reds then added another run in the second. After two were out Groh singled and scored on a double by Roush. When Roush tried to take third on the throw to the plate, he was thrown out. In the bottom of the third the White Sox broke the ice when Jackson homered to right. Any thoughts of a quick comeback were dashed, however, as the Reds scored a run in the fifth and three more in the sixth. The score in the fifth was produced by a two-out triple by Kopf and a single to left by Neale. James was still on the mound for the White Sox in the sixth, but after giving up an opening single to pitcher Eller and issuing a walk to Morrie Rath, he was replaced by Roy Wilkinson. The first batter he faced, Daubert, bunted and was safe on an errant throw to third by Ray Schalk. This loaded the bases. After Groh struck out, Roush singled home both Eller and Rath. When Duncan followed with a single to center scoring Daubert, the Reds had what would prove to be an insurmountable 9-1 lead.
The Reds scored their 10th and final run of the Series in the top of the eighth. Wilkinson hit Roush with a pitch. A sacrifice bunt by Duncan moved Roush to second, where he watched as Larry Kopf popped up and Greasy Neale walked. Roush then scored on a single by Rariden. The White Sox started out the bottom half of the eighth with a flyout. Then suddenly their bats came alive. An Eddie Collins single was followed by a pair of doubles. The first one, by Weaver, sent Collins to third. The second, by Jackson, drove home both Collins and Weaver. After Felsch popped up to the first baseman, Gandil tripled to right to score Jackson. When Risberg reached first on an error by Roush in center, Gandil scored the fourth run of the inning. The rally ended one batter later, however, when Schalk grounded to second. Entering the bottom of the ninth the White Sox trailed 10-5. Although Eller hit one batter, pinch-hitter Eddie Murphy, and gave up a single to Eddie Collins, the game and the Series were over when Jackson's groundout to second gave Eller his second complete-game victory. The Cincinnati Reds were World Series champions for the first time in team history.
Series Summary
Normally once the final out of a World Series is made, the shouting quickly dies. But in the aftermath of the 1919 World Series, the shouting had just begun. Perhaps more would be written about this World Series than any other because of what would become known as the Black Sox Scandal. But just like any World Series, the on-the-field play would produce a cold, hard set of numbers. No recap would be complete without a recitation of some of the key figures.
In winning the World Series five games to three, the Reds outscored the White Sox 35-20. The Reds batted .255, while the Sox team average was .224. The Reds accumulated 17 extra-base hits, including seven triples. The White Sox followed closely with 14, equaling the Reds with their 10 doubles.
Individually for the Reds' regulars, Greasy Neale had the highest batting average at .357. Pat Duncan and Edd Roush knocked in eight and seven runners respectively. Pitcher Hod Eller won twice, while Dutch Ruether, Slim Sallee, and Jimmy Ring were credited with one win apiece. Joe Jackson topped White Sox batters with a .375 average and six RBIs. Chick Gandil had five RBIs. Other hitters topping .300 were Buck Weaver (.324) and Ray Schalk (.304). Future Hall of Famer Eddie Collins had only one extra-base hit and batted .226. Swede Risberg garnered but two hits in 25 at-bats and hit a woeful .080. Pitcher Dickey Kerr won twice for the White Sox and Eddie Cicotte once. Perhaps fittingly, the home run hit by Joe Jackson in the third inning of Game Eight was the only home run hit in the final World Series of the Deadball Era.
RICK HUHN is the author of full-length biographies of Hall of Famers Eddie Collins and George Sisler. His most recent book, "The Chalmers Race" (University of Nebraska Press, 2014), analyzes the controversial 1910 batting race. He is a founding member and co-coordinator of the Hank Gowdy Columbus (Ohio) Chapter of SABR.
Sources
Information for this article was obtained from Retrosheet.org and Baseball-Reference.com.
https://sabr.org/wp-content/uploads/2020/03/research-collection4_350x300.jpg
300
350
admin
/wp-content/uploads/2020/02/sabr_logo.png
admin
2018-09-27 20:10:17
2018-09-27 20:10:17
1919 World Series: A Recap