1947 Yankees: The hiring of manager Bucky Harris
This article was written by Art Spanjer
This article was published in 1947 New York Yankees essays
---
The announcement on November 5, 1946 that Bucky Harris would manage the 1947 New York Yankees was almost a foregone conclusion. Still, the circumstances that led to the hiring were anything but mundane.
The announcement on November 5, 1946 that Bucky Harris would manage the 1947 New York Yankees was almost a foregone conclusion. "The announcement scarcely bowled over anyone with surprise," one newspaper commented.[fn]Drebinger, John, "Harris Signs Two-Year Contract to Manage Yankees for $35,000 Annually," New York Times, November 6, 1946.[/fn] Still, the circumstances that led to the hiring were anything but mundane.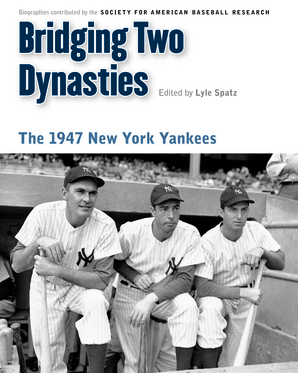 The process began early in the 1946 season. That season was a managerial turnstile for the Yankees' second-year co-owner, Larry MacPhail (who was also the team's president and general manager). Joe McCarthy, who had been the manager since 1931, abruptly left in May after thirty-five games. He was succeeded on May 24 by fan favorite Bill Dickey, whose "managerial contract," the club said, "would run through 1947."[fn]McGowen, Roscoe, "Yanks Sign Harris as M'Phail Aide," New York Times, September 10, 1946.[/fn] Dickey managed the team for 105 games and quit on September 12. Later it was disclosed that Dickey had never signed a contract, a detail that paved the way for his quick exit with fourteen games left in the season.
Dickey's departure and the hiring of Harris had to do with both on-and off-field issues. In 1946 hundreds of baseball players were returning from World War II. Evaluating new players and re-evaluating veterans took tremendous time and energy. This placed a huge burden on Major League teams' front-office and scouting staffs. Scouting was less highly developed then, with nothing like the complex, computer-driven systems of the modern baseball era. With the sudden influx of veterans, teams were pressured to assess large numbers of players in a very short time.
On the field the Yankees languished in second or third place for most of the 1946 season. The impulsive and outspoken MacPhail was strident in his demands that the Yankees finish no lower than second place. Predictably, Dickey and MacPhail had several rough patches during the season. Dickey threatened to quit at least four times, only to be dissuaded by MacPhail.
Then, in a surprise press conference on September 9, MacPhail introduced Stanley Raymond "Bucky" Harris as an executive hired without a title and with a vague job description. MacPhail commented to Roscoe McGowen of the New York Times that he and the Yankees' farm director, George Weiss, were stretched to the limit because of the scouting burden. "Bucky will be the contact between myself and the club, doing a job that I have found neither myself or George Weiss has had time for this year."[fn]Ibid.[/fn]
Harris was a long-time player and manager. He made his managerial debut in 1924 when the Washington Senators added field management to their second baseman's responsibilities at the astonishingly young age of twenty-seven. The Senators won the pennant and World Series in Harris's first year, earning him the sobriquet "Boy Wonder." In 1946 Harris, after twenty years managing several teams, was the general manager of the Buffalo Bisons in the International League, a farm club of the Detroit Tigers. MacPhail had not met Harris until a couple of months before he hired him. Ed Barrow, who had preceded MacPhail as the Yankees' general manager, and Clark Griffith, owner of the Washington Senators, convinced MacPhail that Harris would fill a hole in the Yankees organization. "'There's not a sharper, shrewder appraiser of young talent in the majors than Stanley Harris," Barrow said.[fn]Kritzer, Cy, "Harris Managed 'For Last Time' with Bisons," The Sporting News, November 13, 1946.[/fn]
When he introduced Harris, at the September 9 press conference, MacPhail said he would be an executive aide hired to help in the evaluation of talent and to bolster scouting. MacPhail's first directive to Harris: "Join the Yankees, follow them around the circuit. I want you to get acquainted with the American League again."[fn]Ibid.[/fn] Harris himself said he had no desire to return to managing, that his assignment was to be solely administrative.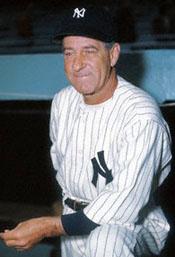 Near the end of the press conference a sportswriter asked MacPhail who would manage the Yankees in 1947. MacPhail replied, "That hasn't been decided. I haven't given it any thought."[fn]McGowen, op. cit. [/fn] When Dickey was informed of MacPhail's statement, he immediately went to the Yankees' executive offices on Fifth Avenue in Manhattan. He confronted MacPhail and asked for a clarification of the president's remark, apparently to no avail. Then, early on the morning of September 12, while the Yankees were in Detroit, Dickey telephoned MacPhail and took himself out of managerial consideration for 1947.
The timing of Dickey's announcement apparently astonished MacPhail.[fn]Drebinger, John, "Yanks Not Ready To Name New Pilot," New York Times. September 13, 1946.[/fn] He had assumed Dickey would finish out the year. For Dickey to call him from the road, on the eve of an important series with Detroit, whom the Yankees were battling for second place, was more than MacPhail could take. The next day Dickey was gone and Johnny Neun was named interim manager.[fn]"Johnny Neun Installed as Yankee Pilot." Washington Post, September 14 1946.[/fn] The speculation that Bucky Harris would be the 1947 manager was now growing, even though both MacPhail and Harris continued to assert that Harris's role with the Yankees would remain off the field.
Behind the scenes, though, MacPhail began to press Harris to be the manager for 1947. But the Yankees boss was also considering another candidate, Brooklyn Dodgers manager Leo Durocher. When MacPhail was the general manager of the Dodgers before leaving to serve in World War II, Durocher was his manager, and the two had great respect for each other. MacPhail was also not fond of Branch Rickey, who had succeeded him at the helm of the Dodgers.
MacPhail and Durocher met in mid-November, but the facts are somewhat cloudy as to what took place. Durocher told the Washington Post, "About a month before the season ended Larry MacPhail asked to see me. I went over and he offered me the Yankee job. I told him I had a verbal agreement with Mr. Rickey and couldn't take it. That was the last I heard of it."[fn]"Lippy Tells of Yanks Offer." Washington Post, November 17, 1946.[/fn]
MacPhail denied he had offered the job to Durocher. According to MacPhail, Durocher had sought out Yankees part-owner Dan Topping in early August and expressed interest in the manager's job. Then, in October, Harris, after scouting Brooklyn's playoff series with the Cardinals, recommended Durocher for the job. MacPhail took Harris's recommendation "under advisement," but five days later, on October 8, told the Yankee board of directors he was recommending that Harris be hired.[fn]Hand, Jack (Associated Press). "Yanks Claim Assist on Leo's Deal." Printed in Washington Post, November 27, 1946.[/fn]
The story then turns a little strange. Apparently Harris and MacPhail had agreed to terms on October 21 for Harris to manage the 1947 Yankees. Two days later, on the 23rd, Harris and Dodgers coach Chuck Dressen signed contracts and MacPhail called Durocher to inform him of the decision. MacPhail told the New York Times that Durocher had said he would "consider it a favor" if MacPhail could hold the announcement for a few days, to give Durocher some leverage in his negotiations with Branch Rickey over a new contract. MacPhail agreed, but called Durocher again on October 26 and told him that he "could not wait any longer."[fn]Ibid.[/fn] Durocher and MacPhail subsequently agreed to a date of November 5 for the announcement.
(Based on the previous history of their relationship, MacPhail appeared to be tweaking Rickey and the Dodgers by insinuating that he withheld the Harris announcement in order to give Durocher leverage in his negotiations with Rickey and the Dodgers.)
Durocher said he was "surprised when Dressen signed with MacPhail and hasn't heard from Dressen since."[fn]"Lippy Tells of Yank Offer," Washington Post, November 17, 1946.[/fn] Jack Hand, an Associated Press sportswriter, commented, "this situation, following on the heels of Dressen's 'jumping' the Dodgers, could be the foundation of an honest-to-goodness feud.[fn]Because he was still under contract to the Dodgers when he signed with the Yankees, Dressen was fined and suspended for thirty days.[/fn] However, it should be noted that the two teams jointly announced three exhibition dates in Havana and another three to be played at Ebbets Field."[fn]Hand, op. cit.[/fn]
Sportswriters for the most part lauded MacPhail's choice of Harris, but many criticized MacPhail's seemingly impulsive, haphazard decision-making process. New York Times columnist Arthur Daley called Harris "an eminently sound choice," and said he would take no "nonsense" from MacPhail "if that impulsive character ever should try to stick his finger in the pie."[fn]Daley, Arthur, "Harris is Elected," New York Times, November 6, 1946.[/fn]
There was one more twist to the saga of Harris's hiring: At the winter baseball meetings in California, even though Harris had already signed with the Yankees, the Tigers offered him their general manager position, which they termed "the job of a lifetime." Yet one has to question why the Tigers didn't go after Harris earlier, when he was leaving Buffalo and not yet hired by the Yankees, especially since the Bisons were a Detroit affiliate. Harris nevertheless was forced to re-emphasize to the press his commitment to the Yankees. MacPhail also jumped in to allay any rumors, telling the press that the job had been offered to Harris and he spent some period of time considering it, but ultimately rejected it.[fn]Dawson, James P., "Harris Will Stay with Yanks Despite Tigers' Offer of General Management," New York Times, December 11, 1946.[/fn]
Harris's final determining factor in accepting the job as Yankees manager may have been money. It was speculated in the press that when Harris was hired as a special assistant to MacPhail his salary was put at $20,000, and when he was made the manager it was raised to $35,000. Others also mused that once a talent like Harris was bitten by the managerial bug the wound ran deep and a return to the position was inevitable. One sentiment everyone could agree on when it was obvious that the Yankees had something special happening in 1947: "Well, it couldn't have happened to a nicer guy."[fn]Drebinger, John, "Sometimes the Nice Guys' Also Win.'" New York Times, July 20, 1947.[/fn]
ART SPANJER is a retired professor of library and information sciences. He likes to keep busy doing freelance writing, resaerch, and tending to his small ranch in the hill country of Texas. The absolute loves of his life, other than his lovely wife, Lisa, are Major League Baseball and the pursuit of learning.
https://sabr.org/wp-content/uploads/2020/03/research-collection4_350x300.jpg
300
350
admin
/wp-content/uploads/2020/02/sabr_logo.png
admin
2017-05-18 15:58:24
2017-05-18 15:58:24
1947 Yankees: The hiring of manager Bucky Harris