This article was written by Sarah Johnson
This article was published in the Fall 2018 Baseball Research Journal
---
Thirteen years before Minneapolis would become home to the major-league Twins, it was briefly the epicenter of the minor-league world when it hosted baseball's Winter Meetings in 1948.
It was an event The Sporting News said featured "Paul Bunyan hospitality."1 Bringing nearly 1,200 visitors to the North Star state, the 48th annual gathering of the National Association of Professional Baseball Leagues was held in Minneapolis December 8-10, 1948. Prior to the convention, Charles Johnson, sports editor at the Minneapolis Tribune, wrote in his "Lowdown on Sports" column, "There is no better group in the sports business than the baseball men. They are big spenders. Come what may in the way of actual results, this is the most important sports meeting this city has ever had or probably ever will have again."2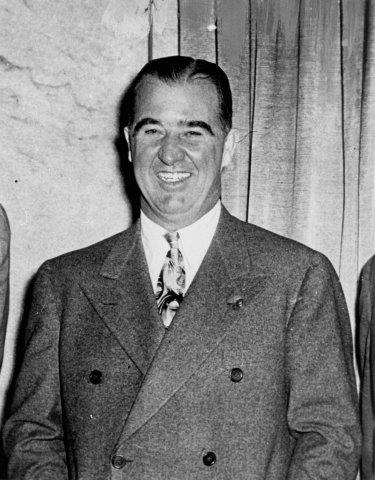 To introduce attendees to Minnesota's largest city, The Sporting News reported on the area's cultural aspects. "Minneapolis boasts, without fear of successful contradiction from any quarter, that it has more sports-minded citizens than any other big city in the country…Minneapolis fans combine their sports with a sound appreciation for culture, spelled with a small 'c' up here. When Dimitri Mitropoulos, the orchestra's world famed conductor, takes up his baton for his first concert, it will be a musical event here comparable to the first home game of the Millers."3
The Sporting News often referred to Minneapolis as either the Mill City or Millertown in homage to its history as a flour-making mecca, and the local minor league team was known as the Millers. For the female visitors, activities included a tea and style showsponsored by Dayton's (a well-known specialty department store, perhaps best known today as the progenitor of Target) and a tour of the milling district where "they may see where their favorite flour is made."4 Convention headquarters were at the Nicollet Hotel in downtown Minneapolis. Temperatures during that week ranged from five degrees to 20 degrees with snow flurries: typical Minnesota winter weather.5
The convention showcased the history of minor league baseball in Minneapolis, with Minneapolis Tribune sports writer George Barton reporting that baseball executives were meeting in American Association territory for the tenth time since its organization. "Millertown points with pride to the fact that in addition to finishing first seven times in the American Association since 1902, it is the only city in the league whose team has never finished last."6
The Millers were a New York Giants farm team in 1948, but had previously been associated with the Boston Red Sox. Nicollet Park in south Minneapolis had seen many future stars in the Millers dugout, most notably Ted Williams. "It was at Minneapolis in 1938 that Williams, a sliver-like 19-year-old, stamped himself as a coming star. The Kid led the American Association that year with a .366 average, socked 43 home runs and batted in 142."7 Rosy Ryan, the Millers general manager, and Tommy Heath, the new Millers field manager (recently appointed in October from another Giants farm club), were in attendance at the winter meetings. Reported the Star, it would be "Heath's first visit to Minneapolis since his appointment during the World Series, although he is familiar with Nicollet Park from his years in the American Association with Columbus and Milwaukee." 8
The day before the convention officially began on Wednesday, there was an opening luncheon held at the Nicollet Hotel. Halsey Hall, sports writer at the Minneapolis Tribune and future Twins broadcaster (and the man the Minnesota SABR chapter is named after), served as the master of ceremonies. The lunch featured guests including Carl Hubbell, Leo Durocher, Casey Stengel, and Bill Veeck. Hubbell told of the difficulties he had in pitching to Rogers Hornsby and related a story that included another banquet attendee, Frank Frisch. Per The Sporting News, "He asked Frisch, playing third, to tell how to pitch to the Rajah. After he had hurled three balls, fast and on the inside, as per instructions, he queried Frankie on what to do then. Frisch's answer, according to Hubbell, was: 'You're the pitcher, I'm just a third baseman.'"
Frisch himself told a story involving Freddie Fitzsimmons and umpire Beans Reardon. When Fitzsimmons said something he shouldn't have to the umpire, and the umpire asked him to repeat what he said, Fitzsimmons replied, "You've been guessing all afternoon, now guess what I said."9 The midday event was attended by 761 people and the Minneapolis Tribune reported "it was unquestionably the finest sports affair this city has ever had. It was unfortunate that every real baseball lover in this area couldn't have sat in on this show for it will probably never be duplicated around here again."10
At 11:00 AM on Wednesday, the first official meeting got underway in the Nicollet Hotel's main ballroom, with Hubert Humphrey giving the welcome address. (Humphrey, who had been Mayor of Minneapolis, had just been elected to the United States Senate that November.) George Trautman, president of the National Association, declared that the number one problem in minor league parks was inadequate lighting. Even though more than $3 million was spent to upgrade facilities in 1948, many were still inadequately equipped for night play. "Poor lighting is hazardous to the player, not only from the standpoint of injury but also because it handicaps his efforts to perform at his peak. It is also distinctly unfair to the fan. Unquestionably, bad lighting is bad business," said Trautman.11
He also revealed that he had approached several colleges with the proposal of including courses covering the administration of professional ball in their physical education programs. "The administration of baseball is no longer seasonal," he said. "The employment of an ambitious, energetic and competent business manager for only seven or eight months, or less, affords him little security and certainly is not conducive to attracting capable and ambitious men into baseball's administrative field."12
Another topic of discussion was the argument that televising major league games was hurting minor league attendance—International League president Frank Shaughnessy said that televising night games was "simply advising the fans seeking and having time for recreation to get it at home without cost." So on the third day of the convention, the minor league representatives voted unanimously to ban radio and TV broadcasts beyond 50 miles from the station. This was largely a symbolic vote and was quickly voted down the next week at the major league winter meetings.13
Historically the winter meetings have seen some exciting trades or signings but few of any note took place in Minneapolis in 1948 despite Bob Beebe of the Minneapolis Star reporting that "there were as many trade rumors as citrus in a fruit cake."14 Between meetings, attendees could view an exhibit that featured some of the most famous bats in baseball history, brought to Minneapolis by the Hillerich and Bradsby Bat Company from Louisville. They included bats used by Ty Cobb and the one Babe Ruth used to hit his 51st and 52nd home runs on his way to his record spree of 60. Bernie Swanson of the Minneapolis Star reported that the collection was "insured for $50,000, which is incidental because it never could be replaced."15
A crosstown dustup happened during the convention on Wednesday night between Babe Barna, a Minneapolis outfielder, and Dick Lanahan, a former St. Paul pitcher. According to witnesses, Barna was boasting, "There isn't a chucker I can't hit a home run off of." "Never hit one off me," Lanahan reportedly replied, which started a very mature back and forth of "Well, I'll bet I did." "You didn't." "Did." "Didn't." This ended with Barna punching Lanahan in the mouth and requiring a trip to a local hospital.16
Twin Cities Dunkers—a local sports boosters group still active today which includes SABR members on its roster—had its first meeting in conjunction with the convention as Gerald Moore, executive director of the Greater Minneapolis Chamber of Commerce, welcomed Lou Boudreau, Billy Southworth, Happy Chandler, and George Trautman to a breakfast meeting at the Minneapolis Athletic Club.17
In an article by Charles Johnson titled "Happy Chandler just that at convention," the baseball commissioner talked about his connection to Minnesota when he was a student. "In those days a collegian could make some money playing baseball during vacation time without being ineligible for amateur competition. I will never forget Minnesota—particularly Hallock. I pitched a no hit game for that team back in 1919 and I have been bragging about it ever since."18 [Note: members of the Halsey Hall SABR chapter have tried to verify this account but so far have not found any additional evidence that this no-hit game occurred.
Halsey Hall, in his column "It's a Fact," reported on the official scorers meeting: "It was voted hereafter that the starting pitcher must go five full innings to get the win regardless if it was a seven or nine inning game." Exceptions were made for a shortened game due to rain, curfew, or train catching: if the game went only five innings, four innings pitched would make a starter eligible to get the win. "If a starting pitcher doesn't go five innings, but is removed because of injury or illness, he may still be credited with a win. He also might have had he been kicked out by the umpire…the committee decided, however, to erase the umpirical clause because if a hurler gets booted out with a victory in sight, he doesn't morally deserve it."19
During the week, St. Louis Cardinals president Bob Hannegan and manager Eddie Dyer, along with Leo Durocher, visited some injured Duluth Dukes players at Bethesda Hospital in St. Paul. On July 24, 1948, a bus carrying the Dukes (then a minor league team of the Cardinals), had crashed in the Twin Cities, killing six and injuring 14 players.20 Also, Ted Williams, referred to as the "Red Sox fence buster and former Miller," took in a Minneapolis Lakers game on Wednesday night. The Lakers (now known as the Los Angeles Lakers), were then a Basketball Association of America team (a forerunner of the NBA) who played at the Minneapolis Auditorium in downtown Minneapolis. 21
After the final convention session on Friday, attendees left Minneapolis and made their way to Chicago for the major league winter meetings, held that year December 13-15. On Sunday, Charles Johnson wrote "Minneapolis's first minor league convention is history, but even a home towner can say that it was one of the biggest and most successful events ever staged."22 Thirteen years before Minneapolis would become home to the major-league Twins (1961), it was briefly the epicenter of the minor-league world.
SARAH JOHNSON is a member of the Halsey Hall Chapter of SABR and a Minnesota-based freelance writer who covers history, sports and travel for a variety of publications.
Photo caption
Baseball commissioner A.B. "Happy" Chandler attended the 1948 Winter Meetings and told the press he had pitched a no-hitter in Minnesota in 1919, but evidence of the game's occurrence has eluded researchers. (National Baseball Hall of Fame Library)
Notes
1 "1,100 Visitors and 1,100 Varieties of Entertainment," The Sporting News, December 15, 1948, 6.
2 Charles Johnson, "Lowdown on Sports," Minneapolis Sunday Tribune, December 5, 1948, 2.
3 "Minneapolis Chilly? Not In Its Welcome," The Sporting News, December 8, 1948, 7.
4 "Ladies may see where their favorite flour is made," The Sporting News, December 8, 1948, 3.
5 Weather, Minneapolis Tribune, December 6, 1948, 28.
6 George Barton, "Minneapolis Linked to Game Since '82," The Sporting News, December 8, 1948, 3.
7 Bob Beebe, "Twin Cities' Grads Read Like Who's Who of Game," The Sporting News, December 8, 1948, 8.
8 Jim Peterson, "Heath Here, Sees Ryan," Minneapolis Star, December 1, 1948, 46.
9 "Major Leaguers 'Cut Up' at Minor Loop Luncheon," The Sporting News, December 15, 1948, 6.
10 Charles Johnson, "Lowdown on Sports," Minneapolis Star, December 9, 1948, 54.
11 E.G. Brands, "Better Lighting Minors' #1 Need—Trautman," The Sporting News, December 8, 1948, 2.
12 Brands, "Better Lighting."
13 Steve Weingarden and Bill Nowlin, ed., Baseball's Business: The Winter Meetings: Volume 1: 1901-1957 (Phoenix: SABR, 2016).
14 Bob Beebe, "Rumors Mostly, Not Deals, Mark Meeting," Minneapolis Star, December 9, 1948, 54.
15 Bernie Swanson, "History Carved in Hickory," Minneapolis Star, December 7, 1948, 1.
16 Marty Merrick, "Pitcher Out After Barna Punch," Minneapolis Star, December 9, 1948, 1.
17 Charles Johnson, "Happy Chandler Just That at Convention," Minneapolis Star, December 9, 1948, 1.
18 Johnson, "Happy Chandler."
19 Halsey Hall, "It's a Fact," Minneapolis Tribune, December 10, 1948, 22.
20 Halsey Hall, "Chairman Kelley Has Proud Hour," Minneapolis Tribune, December 9, 1948, 28.
21 Bill Carlson, "Caps Lucky? Just Great Club—Kundla," Minneapolis Star, December 9, 1948, 46.
22 Charles Johnson, "Lowdown on Sports," Minneapolis Sunday Tribune, December 12, 1948, 2.
https://sabr.org/wp-content/uploads/2020/03/research-collection4_350x300.jpg
300
350
admin
/wp-content/uploads/2020/02/sabr_logo.png
admin
2018-11-27 15:34:36
2018-11-27 15:34:36
1948: When Baseball's Minor League Winter Meetings Came to Minneapolis