1964 Phillies: Jim Bunning's perfect game
This article was written by James Lincoln Ray
This article was published in 1964 Philadelphia Phillies essays
---
When Jim Bunning stepped to the mound in Shea Stadium on June 21, 1964, perhaps the last thing on his mind was pitching a perfect game.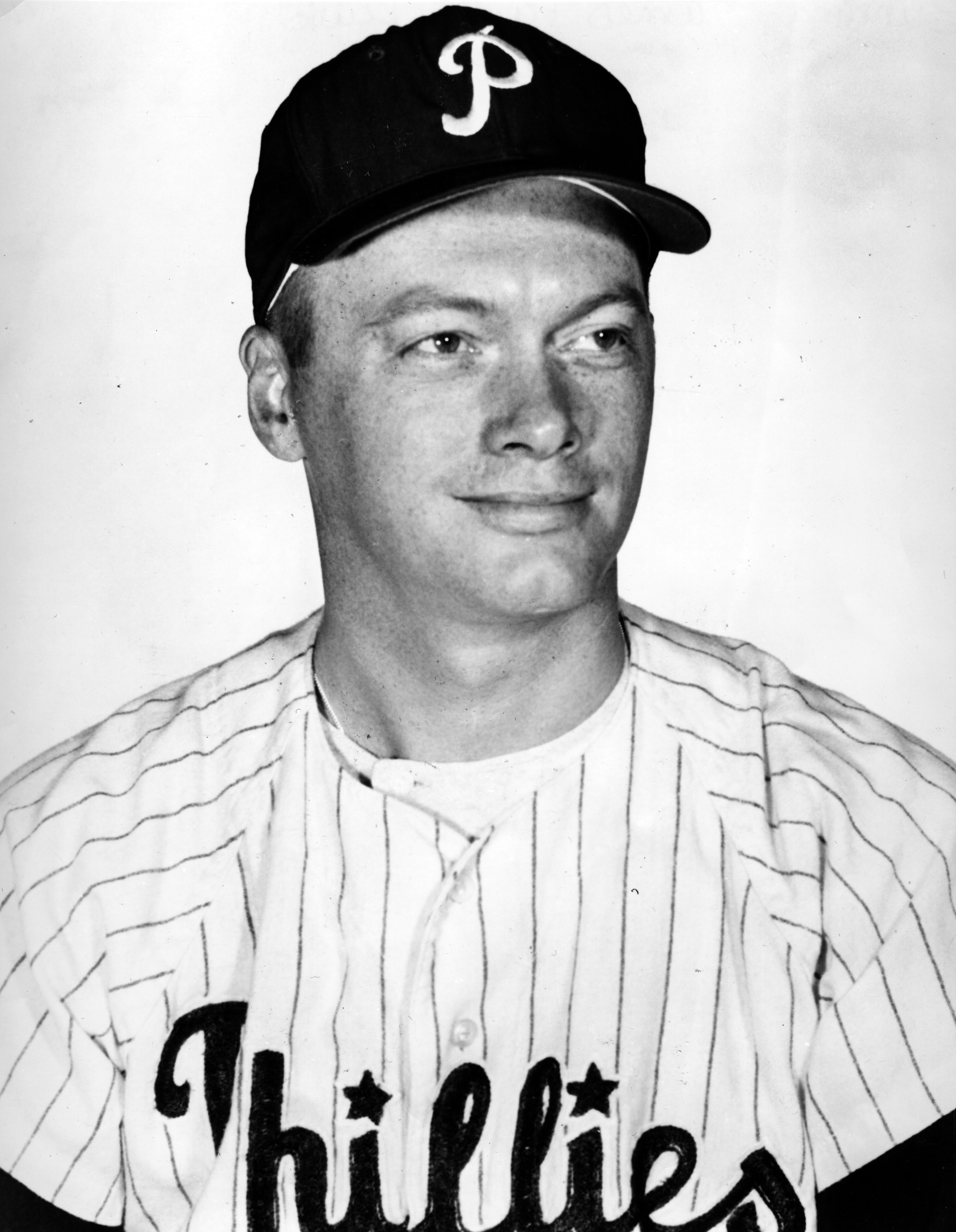 When Jim Bunning stepped to the mound in Shea Stadium on June 21, 1964, perhaps the last thing on his mind was pitching a perfect game. After all, no one had hurled such a gem in the National League since John Montgomery Ward in 1880, a time when pitchers threw underhand and from a distance of just 45 feet from home plate. The American League had seen a few perfectos in the intervening years, but none in the regular season since Charlie Robertson's for the Chicago White Sox in 1922.
But there were several factors working in Bunning's favor. For one, he was a terrific pitcher. In nine seasons with the Detroit Tigers from 1955 through 1963, he made seven All-Star teams and led the American League in strikeouts twice. In 1958 he hurled a no-hitter against the Boston Red Sox, whose lineup included Ted Williams and that year's American League MVP, Jackie Jensen.
Moreover, after a down year in Detroit in 1963 that resulted in his trade to Philadelphia, Bunning was off to a great start with his new club. When he took the mound on June 21 he was already 6-2 with an earned-run average of 2.27. Only a month earlier, he had thrown a one-hitter against the Houston Astros.
Finally, it was Father's Day, and Bunning was the proud papa of seven children at the time. So if there was ever a day for him to pitch a memorable game, Father's Day seemed like it.
The Phillies and Mets were scheduled for a doubleheader, with Bunning facing Tracy Stallard in the first game, and 18-year-old phenom Rick Wise, making his second professional start, opposing Frank Lary in the second game. Stallard, of course, was famous (or infamous) for giving up Roger Maris's record-breaking 61st home run on the last day of the 1961 season.
More than 32,000 fans flocked to Shea Stadium on the 21st despite oppressive heat and humidity; by game time, the temperature had risen to 90 degrees and the humidity was thicker than pea soup.
The Phillies got off to a quick start, scoring in the top of the first inning when rookie sensation Dick Allen singled home Johnny Briggs from second base. At the time, no one knew that this solitary run would be enough support for Bunning.
In the bottom of the first, Bunning handled the Mets easily, striking out leadoff hitter Jim Hickman and then inducing a ground ball by Ron Hunt and a popup by Ed Kranepool.
The Phillies tacked on another run in the second when catcher Gus Triandos doubled home second baseman Tony Taylor with two outs. The bottom of the inning went much like the prior stanza, with Bunning setting down the Mets in order quite easily.
Bunning cruised through the third and fourth innings without any Met even coming close to getting on base. "As the game went on, all of my pitches were working well," he said in a 2000 interview. "The slider, the curve, and fastball all got thrown in the areas where I was trying to throw them to. I was ahead of all the hitters, which also made it much easier."1
In the fifth inning the Mets came close to reaching base when catcher Jesse Gonder drilled a Bunning changeup between first and second base. Phillies second baseman Tony Taylor ranged to his left and knocked the ball down with his glove, but it bounced and rolled a few feet away. Taylor hopped up quickly, retrieved the ball, and made a fancy pirouette throw to first that beat Gonder by a nose.
"Taylor made an unbelievable play," Bunning recalled. "When he did that, I thought I might have something special going. Looking back, that was the play. Immediately after the fifth inning, I became aware of what we were doing." 2
Unlike other pitchers, who usually never mention an ongoing no-hitter or perfect game for fear of jinxing the effort (and to whom fellow players typically won't utter a word), Bunning started talking about the possibility of perfection when the Phillies returned to the dugout after the fifth. "Everybody tried to get away from him," said teammate Johnny Callison, "but Bunning was so wired that he followed us around."3
Perhaps fired up by his mound work, Bunning helped his own cause in the top of the sixth inning when he ripped a two-run double to left-center field that extended the Phillies' lead to 6-0.
Bunning enjoyed an easy sixth inning, and when he returned to the dugout he really began jabbering about the possibility of perfection. "He was coming into the dugout, yelling at the guys, and counting down the outs," said Phillies manager Gene Mauch later.4
"As the game progressed, in the seventh, eighth, and ninth, I kept urging my teammates that we had a perfect game going. I told them it was time to start diving at balls," Bunning said.5
It wasn't only Bunning who was showing such excitement. The Mets fans, who realized that their opponent hadn't allowed a baserunner though six innings, began cheering for the Phillies pitcher when he took the mound in the seventh inning. "It was unusual to have everyone there rooting for me," Bunning said. "It was kind of strange. Everyone stood up. You don't expect the whole crowd to stand up during a game. But they all stood up." 6
Despite the oppressive heat and humidity, Bunning got stronger as the game went on. In the seventh inning, he struck out Jim Hickman and Ed Kranepool, and induced an easy groundout from Ron Hunt.
There was a very brief scare in the eighth. With two outs, Bunning ran the count full against Mets left fielder Rob "Hawk" Taylor. Bunning blew a called third strike fastball past Taylor that would have ended the inning, but Triandos dropped the ball. As Taylor took off for first base, there was an audible gasp from the crowd, now firmly in favor of Bunning. But Triandos snatched the ball and gunned a perfect throw to first base to preserve the perfect game.
As he took to the mound in the ninth inning, everyone but Bunning seemed to have their hearts in their throats. Little did they know there was no reason to worry. Bunning was truly unhittable. He got the first batter, Charley Smith, on a foul fly to shortstop Cookie Rojas.
In the hopes of breaking through, Mets skipper Casey Stengel sent in George Altman to pinch-hit for Amado Samuel. Altman was a good hitter who twice topped the .300 mark and made two All-Star teams with the Cubs, in 1961 and '62. But on this day he was no match for Bunning. After Altman fouled away two pitches, he whiffed on a low outside fastball.
With only one out left and the pitcher due up, Stengel sent John Stephenson up to pinch-hit. With the mounting pressure, Bunning signaled his catcher to the mound for some encouragement. "He wanted me to tell him a joke," Triandos said later. "But I couldn't think of anything! So I told him to get this guy and that was it."7
Stephenson, a rookie, was batting a mere .074 when he came to the plate to try to break up the perfect game. Like everyone else that day, he was no match for Bunning, who went ahead 0-2 on two wicked curveballs. After wasting a pair of pitches, Bunning reached back and delivered a perfect curveball that Stephenson swung over. Strike Three! Game Over! Perfection!
The crowd at Shea went crazy, realizing they had just witnessed one of the rarest occurrences in baseball history. The Phillies swarmed Bunning as he walked off the mound. The proud father of seven had just done something that hadn't been accomplished in 84 years in the National League, and everyone wanted to celebrate.
Two hours and 19 minutes, 10 strikeouts, no hits, no walks, no errors, and no hit batsmen.
He threw only 90 pitches, a remarkably low number considering that he struck out ten batters.
That night Bunning was invited to appear on the nation's most popular television program, The Ed Sullivan Show. When asked, Bunning agreed, but wanted an appearance fee of $1,000, which he received. Another planned guest on the show was golfer Ken Venturi, who had battled dehydration and heat exhaustion to win the U.S. Open on the same day.
The Sullivan crowd welcomed Bunning with a roar, an ovation that was outdone only by their cheering for Venturi. Bunning shook his hand and told him jokingly, "I finally do something to get my picture on the front page of sports sections everywhere, and you have to come along and knock me off." 8
But the perfect game surely increased Bunning's profile and reputation. In a 1989 interview, the pitcher credited the perfect game for much of his Hall of Fame reputation, and added that he made about $30,000 in commercial and advertisement fees because of his increased visibility and popularity.
JAMES LINCOLN RAY is a lawyer in Philadelphia lawyer whose obsession with baseball is only outdone by his love for really delicious Belgian beers.
Sources
"Bunning Throws Perfect Game," New York Times, June 22, 1964.
Buckley, James Jr., Perfect (Chicago: Triumph Books, 2002).
Coffey, Michael, 27 Men Out (New York: Atria Books, 2004).
Fitzpatrick, Frank. "Bunning's 1964 Perfect Game Set Philly Standard," Philadelphia Inquirer, May 30, 2010.
Schindler, Kevin, "Jim Bunning's Perfect Game on Father's Day in 1964," Suite101.com.
Notes
https://sabr.org/wp-content/uploads/2020/03/research-collection4_350x300.jpg
300
350
admin
/wp-content/uploads/2020/02/sabr_logo.png
admin
2017-01-05 14:29:06
2017-01-05 14:29:06
1964 Phillies: Jim Bunning's perfect game