Alan Wiggins: A Tragic Hero
This article was written by Fred O. Rodgers
This article was published in The National Pastime: Pacific Ghosts (San Diego, 2019)
---
In early February 1985, Alan Wiggins became the newest big-money player for the 1984 National League champion San Diego Padres. With the help of his San Diego-based agent, Tony Attanasio, and Padres general manager Jack McKeon, Wiggins, just 26 years old, signed a guaranteed four-year, $2.5 million contract, making him one of the highest paid second basemen in the game.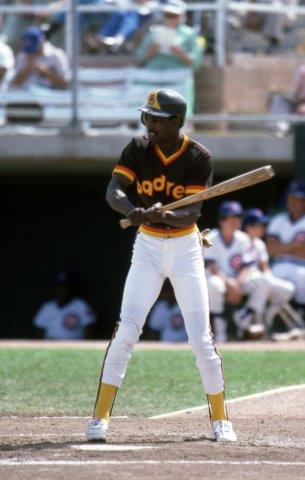 Wiggins had been in arbitration and was seeking a one-year deal for $525,000. The Padres were offering $425,000, but in the end they agreed to $2.5 million over four years, which would be an annual average of $625,000.1
Was it a wise move by the Padres? Hindsight shows it was anything but. 1984 had been Wiggins' first season at second base after shifting from left field, where he'd played the previous two seasons with the team. Padres management wanted to get rookie power hitter Carmelo Martinez into the lineup, but his usual spot was first base, which was manned by Steve Garvey. Martinez wasn't going to bump Garvey from the lineup, so he went to left field and Wiggins moved to second.
Playing the infield wasn't new to Wiggins. He had played second base when he was signed in 1978 and had even played a year of shortstop in the minor leagues. But this was the majors, and a huge experiment for the team.
Wiggins began the 1984 season with 11 errors in the first 29 games, but he relaxed a bit and made only 21 more errors the rest of the season—still not great but an improvement.
It was on offense that Wiggins proved most beneficial to the Padres during their pennant run. Leading off, he batted .258 for the year, but scored 106 runs, setting a team record, and his 70 stolen bases also eclipsed his own team mark of 66 in 1983.2
Wiggins's 75 walks and 154 hits helped Tony Gwynn win his first of eight National League batting titles. With Wiggins a threat on the bases, pitchers had to throw a lot of fastballs, and Gwynn was ready for them, batting .412 with Wiggins on base.3 Gwynn's overall batting average was .351.
Moving Wiggins to second base was a gamble. Manager Dick Williams forced Padres management to release backup Juan Bonilla, the 1983 starter, so Wiggins wouldn't have to look over his shoulder.4 Not too many managers would have released a player who had over 550 at-bats the year before and would have been insurance if the shift of Wiggins hadn't worked out.
After the season, Williams said, "Wiggins was the Most Valuable Player in the National League in 1984. Without him we don't win the pennant."5 Padres president Ballard Smith agreed: "No player made a more outstanding contribution to our success last season than Alan Wiggins," he said. "He had a tremendous impact on our club." Smith also mentioned that Wiggins was praised for his work with the San Diego Police Department for counseling youths about drug abuse.6
Wiggins was now at the top of his game. He had financial security, he worked with the community, and he was roundly praised. But it was all a façade. After he signed his contract, it would be all downhill: Six years later, Alan Wiggins would be dead—the first major-league player known to have died from AIDS. While counseling kids on drug use, he had needed somebody to step in and help him.
*****
Alan Wiggins was born on February 17, 1958, to Albert and Karla Wiggins in Pasadena, California. His parents divorced when he was only a year old. The family moved a few miles north of Pasadena to Altadena, where Alan and his older brother, Donald, were raised by their single mom.
Wiggins was always angry that he never had a dad around him to help him achieve success in life.7 A great athlete as a youngster, he started playing in Little League in the mid-1960s. Pasadena schools didn't integrate until 1969 and its Little League teams were segregated.8 Wiggins knew racial tension before he was a teenager.
By the time he got to high school, schools in California had initiated forced busing to integrate the schools. Wiggins was bused to John Muir High School in Pasadena, which Jackie Robinson had attended.
When a white schoolmate showed him a baseball card of Robinson, Wiggins bullied him to give up the card. Wiggins thought he deserved it more since he was black.9 That sense of entitlement would be part of his personality for the rest of his life.
Following a couple of successful seasons of high school baseball, Wiggins went to Pasadena Community College in 1976 and played baseball, again following in the footsteps of Jackie Robinson.
Wiggins' racial consciousness increased at PCC when he read The Autobiography of Malcolm X. He would continue to study the life of Malcolm X, as well as Nation of Islam leader Elijah Muhammad, for years afterward.10 The book had a profound effect on his personality—in both good and bad ways, Wiggins admitted.11
 Baseball scouts followed Wiggins's career at PCC. The California Angels drafted him with the eighth overall pick in the regular phase of the January draft in 1977, and Wiggins signed for $2,500 in May, after the college season ended.12
Wiggins was sent to Idaho Falls, in the Pioneer League, in June 1977 to play second base. He batted .271 and stole 25 bases in 63 games. The next season he was sent to Quad Cities, in the Midwest League, where his batting average dropped to .201 and he had 26 stolen bases in 49 games. A midseason fight with his manager resulted in the Angels releasing him.13 His temper had become an issue.
Since the Dodgers had wanted to sign him when he was at PCC, Wiggins contacted the club about a tryout. He auditioned for manager Tommy Lasorda, who was impressed and signed the 20-year-old to play shortstop for the Dodgers' Class A affiliate, Clinton of the Midwest League, where he had played the year before.14 Wiggins batted .257 in 95 games and stole 43 bases.
In 1980 Wiggins made his biggest impressions with the Dodgers, good and bad. He stole a league-record 120 bases in 135 games for Lodi in the California League. He also batted a career-best .288 with 108 runs scored. The bad was a marijuana arrest in June.15
As a four-year minor leaguer, he was available in the Rule 5 draft for the price of $25,000. The Dodgers didn't protect him by putting him on their 40-man roster. The team never stated his arrest was a reason for not doing so, but this was a player who had just set a league stolen-base record. Why would a team let him go?
McKeon had seen Wiggins in one game, and that was enough. The Padres drafted him. Team officials later said that they knew of his arrest.16 Joan Kroc, owner Ray Kroc's wife, had initiated Operation Cork in 1976 to promote awareness of chemical dependency and its impact on families. In 1980, the Padres were one of the first teams to set up an employee assistance program to help players and staff with alcohol, chemical dependence, and other problems.17
Wiggins was given all the printed materials the organization had on the subject of chemical dependency. Texas Rangers star Ferguson Jenkins had been arrested in Toronto in 1980 on drug charges. That was a start to baseball's worst decade for recreational drug abuse.18
The Padres sent Wiggins to Hawaii, their Triple-A affiliate in the Pacific Coast League, to learn to play the outfield. The club hoped his speed would allow him to cover the left-field line. The good news: He batted .302 and had 73 stolen bases in 133 games. The bad news: He was arrested on marijuana charges again.19
The other alarming fact was that Hawaii manager Doug Rader called Wiggins into his office after a night game and the two of them argued about Wiggins's sensitivity around racial issues. According to teammates, after about 30 minutes of loud, abusive language, the two emerged with arms around each other.20 Problem resolved.
Wiggins started the 1982 season back in Hawaii. After just 19 games, he was batting .312 with 21 stolen bases, and the Padres called him up to replace injured left fielder Gene Richards.21
Two months later, on July 19, the Padres' lineup was changed for the next 20 years when Gwynn was recalled. With Wiggins in left field and Gwynn in center, they seemed to have things covered for quite a while.
But just two days later—July 21, 1982—Wiggins was arrested at 2:30 a.m. with a gram of cocaine in his possession. Under MLB guidelines, had Wiggins come forward with a drug problem and gone to rehab, he'd have received no penalty. But since his dependency came to light when he was arrested, he was suspended for 30 days. Wiggins served his rehab at the Orange County Rehabilitation Center in Anaheim from August 20 to September 19.22
He came back on the September 20 and finished the season batting .256 with 33 stolen bases. He only appeared in 72 games in 1982.
Wiggins had his finest year to date in 1983. He batted .276 with 66 stolen bases, setting a franchise record. He played 63 games in left (31 as a starter), 49 in center, but most of the last 45 games of the year at first base, replacing the injured Garvey. He was voted the Padres' Most Valuable Player.23 Even better than that: There were no drug arrests or suspensions.
The only complaint heard during the year was about his attitude on race. On a team plane, Wiggins lost a card game to Kurt Bevacqua, who told him not to renege on paying off the loss. "Don't be a renegger," Bevacqua said facetiously. Wiggins took offense, thinking it was a racial epithet, and he had to be restrained.24
"Alan thought the whole world was racist," said Gary Hyvonen, a sportswriter for the Oceanside Blade-Citizen in the San Diego suburb of Oceanside. Wiggins' agent, Tony Attanasio, also weighed in. "Suffice to say," he said, "what Alan thinks was racist wasn't necessarily so."25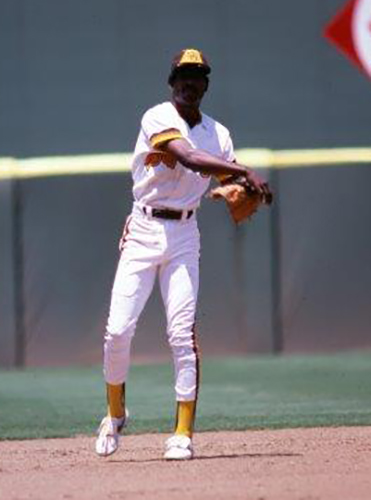 In the pennant-winning 1984 season, Wiggins was praised for having another good year, and especially for avoiding drug problems and personality conflicts. He excelled in the postseason by batting .316 against the Chicago Cubs in the NLCS and then notching eight hits and a .364 batting average in the World Series (second only to Bevacqua's .410). The Detroit Tigers won the Series in five games, but Wiggins had become a star, and his new four-year contract seemed to back up that status. He couldn't wait until spring training opened in 1985.
With his wife, Angie, expecting their third child soon, the security of the guaranteed contract took the pressure off him during spring training for the first time. It was now all about getting ready and playing up to the expectations of a major-league second baseman.
With one week left in spring training, Wiggins hurt his knee, his first significant injury. He missed the last few games of the spring and the first few games of the regular season.
The Padres were putting a little bit of pressure for him to get into the games due to the big contract he had signed. Wiggins struggled on his return, batting only .054 ( 2-for-37) with no stolen bases in April.
Wiggins was a no-show for the opener of a four-game series against the Dodgers on Thursday night, April 25. The Padres searched for him in vain until Sunday, when the front office received a call from a rehab center in Minnesota  telling them that Wiggins had checked himself in for a relapse of cocaine dependency.
Joan Kroc was outraged.
She decided that Wiggins would never play for the Padres again.26 Since his other cocaine suspension had been in 1982, before the major-league agreement on rehabilitation regulations was initiated in 1984, this was technically his first offense. But the Padres did not want to activate him after his treatment was concluded. Donald Fehr, the players association counsel, threatened legal action, so the Padres activated Wiggins and traded him to the Baltimore Orioles on July 27.
Alan Wiggins's career with the San Diego Padres was finished with less than one year completed on his four-year contract.
Wiggins struggled in Baltimore. His history of drug arrests didn't seem to suit Orioles fans, who booed him. He sometimes didn't run out groundballs and failed to make a full effort on defense. He fell into disfavor with manager Earl Weaver by 1986 and then with new manager Cal Ripken Sr. the next year. He was suspended in July 1987 for fighting with a teammate before a game.27
Wiggins was suspended indefinitely on September 1 after failing a drug test.28 His baseball career was over, though he still had the income from his guaranteed contract through 1988. He continued to abuse cocaine, and he contracted HIV through his use of needles.
In November 1990, Wiggins was hospitalized at Cedars-Sinai Medical Center in Los Angeles with complications from AIDS, including pneumonia and tuberculosis. After falling in and out of consciousness for about a month, he died on January 6, 1991.29 He was 32 years old.
Only two former teammates attended his funeral, Steve Garvey and Lee Lacy.30
Sidenote: Alan's wife, Angie, never told their children anything negative about their father. She only told them about the positives of his life. She steered all three kids toward basketball, away from their father's game. All three earned college basketball scholarships: Cassandra at New York University; Alan Jr. at the University of San Francisco; and Candice at Stanford.31
Alan Jr. had a long career playing pro basketball overseas. Candice was a four-time All-American at Stanford and then had an eight-year career in the WNBA. She has partnered with Until There's a Cure, a nonprofit organization that raises awareness and funds to combat AIDS.32
In 2017 she was the first female basketball player inducted into the Breitbard Hall of Fame, which honors San Diego athletes.33 She says her career was blessed by all the good things she learned about her father. To this day, she says, her dad, Alan Wiggins, is her hero.
FRED O. RODGERS is retired and living in Houston, Texas. He is the former President of the San Diego Ted Williams SABR Chapter in its formative years in the early 1990s and lead organizer of SABR's 23rd annual convention in San Diego in 1994. He started "Baseball Gold," the San Diego Padres newspaper, with Kurt Bevacqua in October 1982 and was the editor until June 1986. Fred now runs the baseballgold.com website. He was researcher for "The Stan Musial Scrapbook" published by "The Sporting News" in 1993. He is currently the owner of one of the largest collections of "The Sporting News" in the country.
Notes
1 Phil Collier, "Wiggins Signs $2.5 Million Contract", The Sporting News, February 25,1985.
2 David Porter and Joe Naiman, The San Diego Padres Encyclopedia (Champaign, IL, Sports Publishing, 2002).
3 Victor Dighe, "The Evil I Do Not Intend," San Diego Reader, June 15, 1995.
4 Steve Dolan, "Wiggins Puts Padres in Winning Groove," Baseball Gold, July 1, 1983.
5 Dick Williams and Bill Plaschke, "No More Mr. Nice Guy," (San Diego: Harcourt Brace Jovanovich, 1990).
6 Collier, "Wiggins Signs $2.5 Million Contract."
7 Dolan, "Wiggins Puts Padres in Winning Groove."
8 Steven Roberts, "Pasadena Adjusts to Busing, But Opposition Remains", New York Times , November 21,1971
9 Dolan, "Wiggins Puts Padres in Winning Groove."
10 Dighe, "The Evil I Do Not Intend."
11 Alan Wiggins, interview, August 19, 1984.
12 "Alan Wiggins, once called the fastest man on two feet," UPI, July 22,1982.
13 UPI.
14 UPI.
15 Porter and Naiman, The San Diego Padres Encyclopedia.
16 Williams and Plaschke, No More Mr. Nice Guy.
17 "Alan Wiggins, once called the fastest man on two feet."
18 Chronology of Baseball Drug Cases Since 1980," Los Angeles Times, May 12, 1985.
19 Alan Wiggins, interview.
20 Tony Gwynn, interview with Fred O. Rodgers, August 19, 1984.
21 Porter and Naiman, The San Diego Padres Encyclopedia.
22 Hilmer Anderson, "Wiggins 'Truly Sorry,'" UPI, August 27, 1982.
23 "Alan Wiggins, once called the fastest man on two feet."
24 Kurt Bevacqua, interview with Fred O. Rodgers, January 19, 2019.
25 Dighe, "The Evil I Do Not Intend."
26 Phil Collier, "Wiggins Out For Year For Drug Treatment," The Sporting News, May 13, 1985.
27 Kent Baker, "Wiggins recalled as an angry talent," Baltimore Sun, January 9, 1991, https://www.baltimoresun.com/news/bs-xpm-1991-01-09-1991009005-story.html.
28 Dighe, "The Evil I Do Not Intend."
29 Dighe.
30 Dighe.
31 Candice Wiggins as told to Whitney Joiner, "How Candice Wiggins Overcame the 'Shame' of Her Father's Death," espnW, September 28, 2015.
32 "Candice Wiggins: Phenom With A Cause," Until.org, https://web.archive.org/web/20100613112725/http://until.org/news/2009/candice_wiggins.shtml.
33 Tod Leonard, "Entering Hall, Wiggins Finds Peace in Father's Legacy," San Diego Union Tribune, February 20, 2017.
https://h2j7w4j4.stackpathcdn.com/wp-content/uploads/2020/03/research-collection4_350x300.jpg
300
350
admin
/wp-content/uploads/2020/02/sabr_logo.png
admin
2019-08-01 13:20:43
2021-04-09 20:10:54
Alan Wiggins: A Tragic Hero