Baseball Burials in San Diego
This article was written by Fred Worth
This article was published in The National Pastime: Pacific Ghosts (San Diego, 2019)
---
I hang out in cemeteries. Well, that's not exactly accurate. I go to cemeteries. A lot of them. As of February 15, 2019, I have gone to more than 2,750 cemeteries in 41 states and the District of Columbia in order to find more than 6,200 baseball-related graves. Since the cemeteries are not all along interstates, I get to see a lot of fascinating and beautiful places. It also allows me to connect with baseball history in an unusual way.
In December 2014, I took my first trip to California for grave hunting. Since it was a winter trip, I limited myself to the southern portion of the state, going from San Diego up to the Los Angeles metropolitan area. Since this issue of The National Pastime is focusing on San Diego, I will do the same and look at the graves I visited in what many call "America's Finest City."
I have visited 50 "final resting places" in San Diego. They're in seven cemeteries and on one beach, where some of Lou Marone's ashes were scattered. There's a detailed list at the end of this article. Right now I want to look at the graves of 14 of the better-known San Diego burials.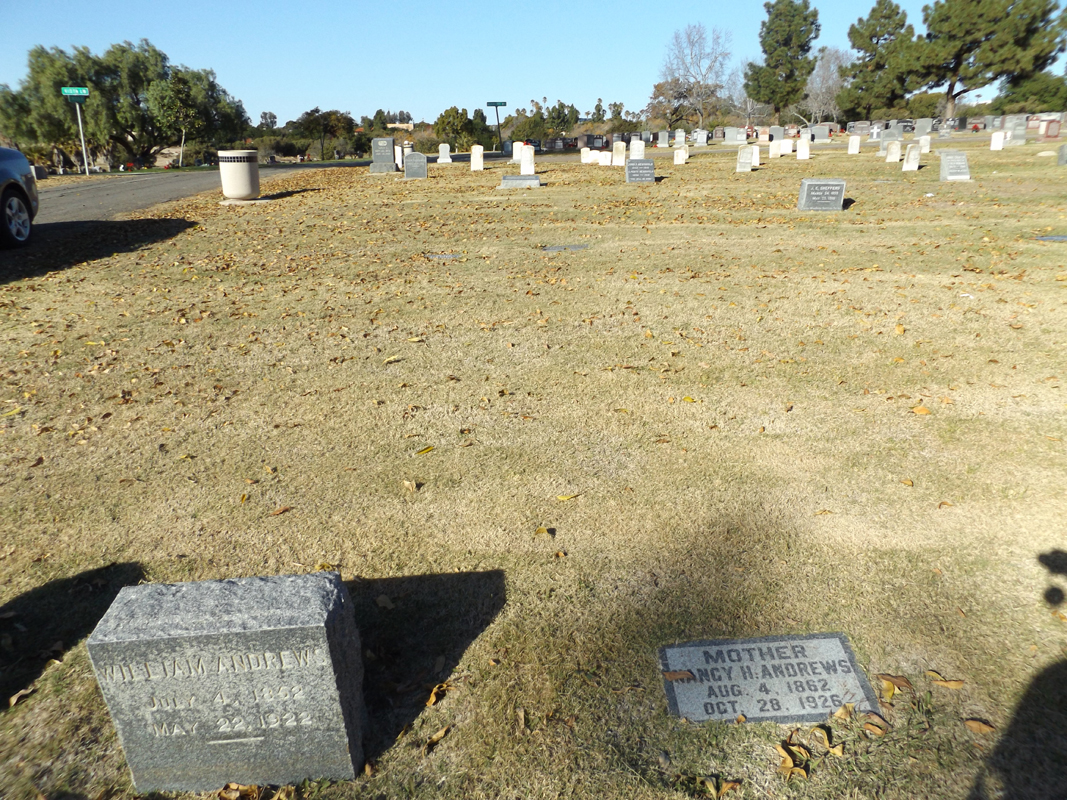 Joe Quest, Mount Hope Cemetery

Joe Quest was not a great ballplayer. He played in the National Association in 1871. He then had two stints in the National League and two in the American Association from 1878 through 1886. His .217 lifetime batting average does not really warrant his selection here. The photo of the grassy area containing his unmarked grave is not remarkable either. Possibly of interest is the fact that he has the 12th-most plate appearances of all time for a player with no more than one home run. My reason for including him here is the fact that his one home run came off of Hall of Famer John Montgomery Ward in the bottom of the second inning on June 27, 1881.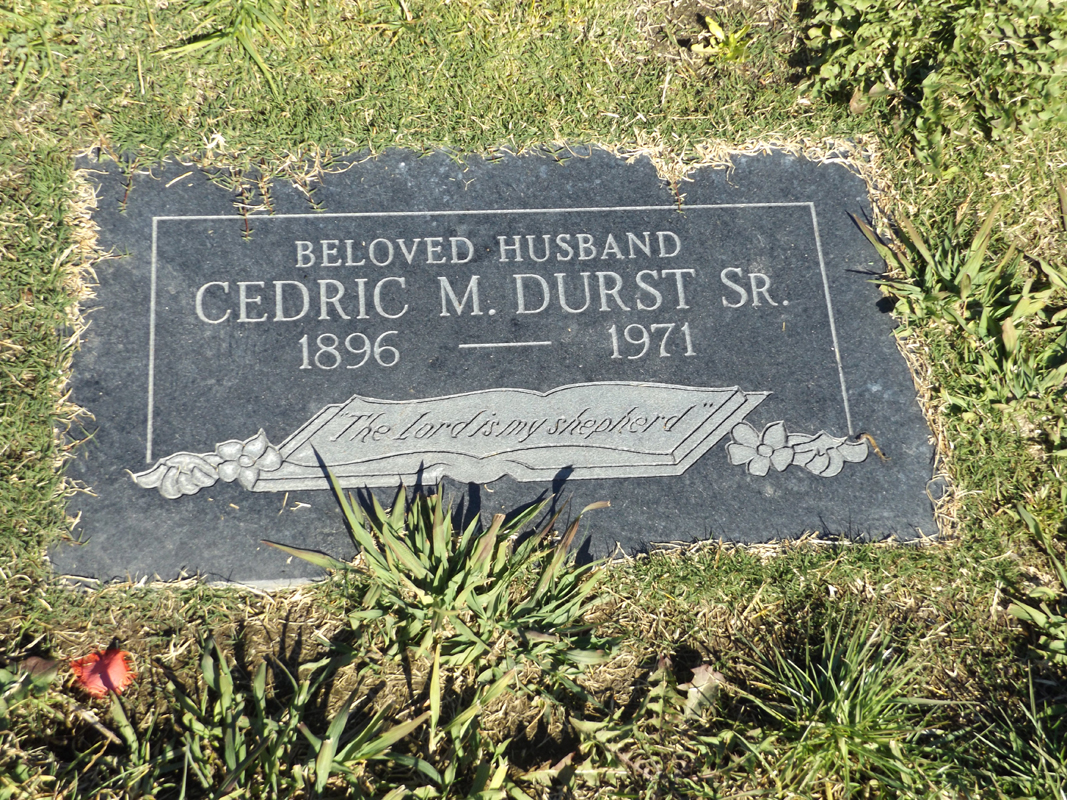 Cedric Durst, El Camino Memorial Park
Durst played in the majors in 1922–23, and then again in 1926–30. Most notably, he was the fourth outfielder on the 1927 "Murderer's Row" New York Yankees, behind three guys named Babe Ruth, Bob Meusel, and Earle Combs. Durst was not one of the reasons for the team's nickname, hitting exactly zero home runs in his 129 at-bats. He went 0-for-1 in the 1927 World Series but in the 1928 Series, he was 3-for-8 with a home run.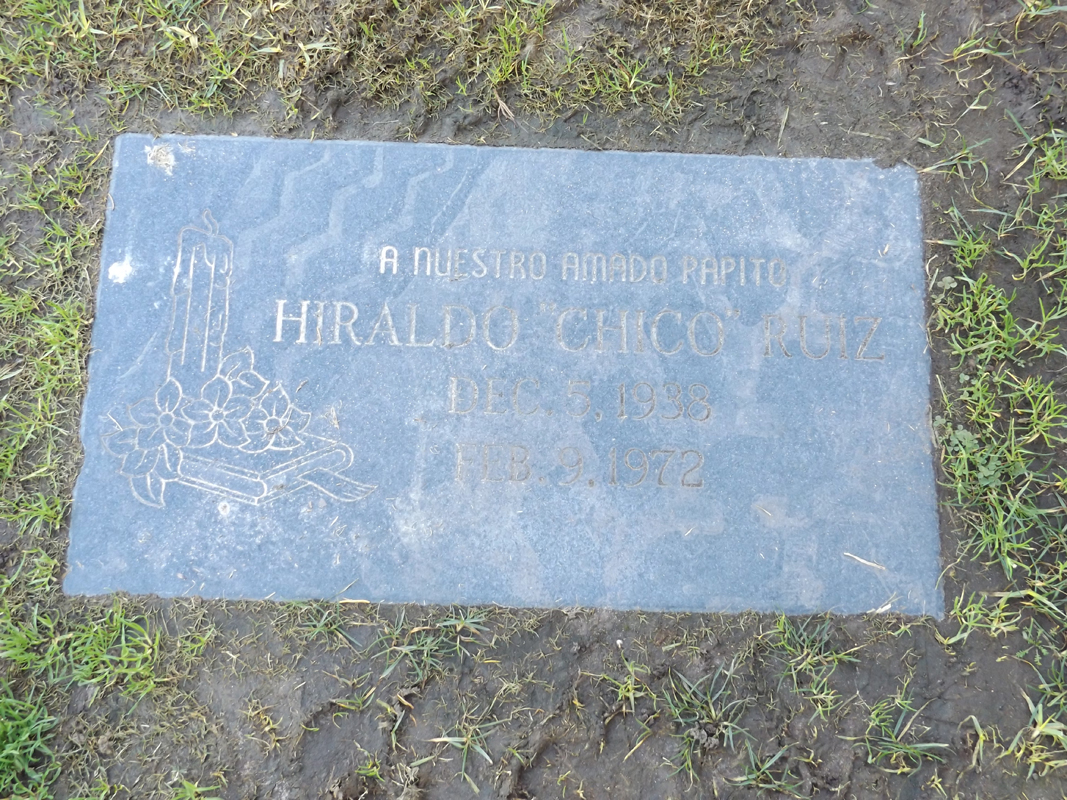 Chico Ruiz, El Camino Memorial Park
This picture of the grave marker of Ruiz shows one of the challenges of my work. Sometimes the picture is not going to be great. Some markers don't have a great contrast in colors so they can be hard to read. Others have been run over by cemetery vehicles, leaving dirt that obscures what may already be difficult engravings to read. Ruiz was not a particularly accomplished player but he played from 1964 through 1971, the years when, as a child, I first started paying attention to baseball. And for some reason, I just liked that guy named Chico Ruiz. Probably his greatest achievement in baseball occurred on September 21, 1964, playing for the Cincinnati Reds against the Philadelphia Phillies. With Frank Robinson at bat in the sixth inning, Ruiz decided to try to steal home. He was successful in scoring what turned out to be the only run of the game. And that game was the beginning of the collapse that saw the Phillies blow a 6½-game lead with just 12 games left in the season.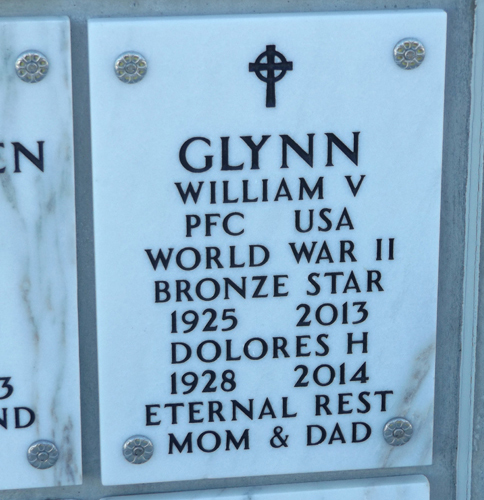 Bill Glynn, Fort Rosecrans National Cemetery
Glynn did not have a particularly auspicious baseball career. But he had already made a name for himself. He served in the infantry in World War II, earning the Bronze Star Medal, which is given for "heroic achievement, heroic service, meritorious achievement, or meritorious service in a combat zone." After his military service ended, he spent four years in the minors before a cup of coffee with the Phillies in 1949. He spent a little more time in the minors before getting back to the majors in 1952–54. That included one year as the Cleveland Indians' regular first baseman. His career highlight came on July 5, 1954, when he hit three home runs, narrowly missing a fourth, which would have been a grand slam, and knocked in eight runs.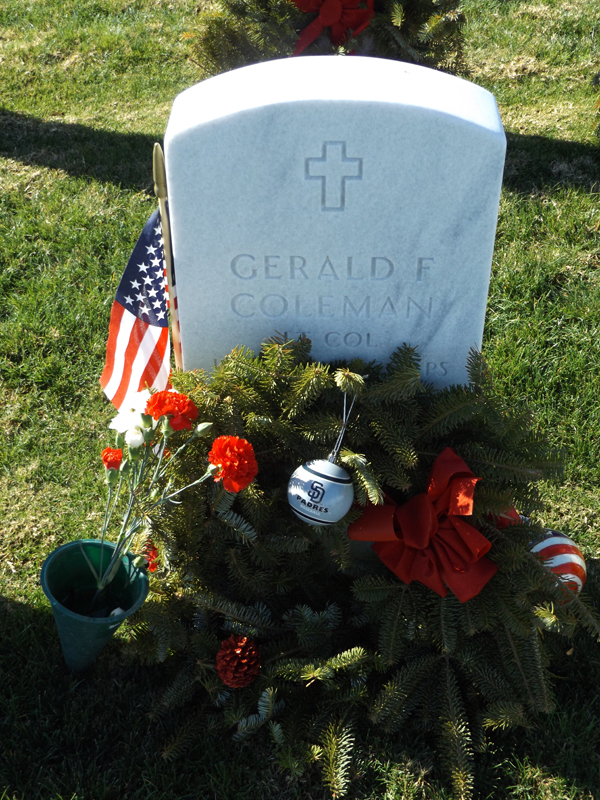 Jerry Coleman, Miramar National Cemetery
A California native, Jerry Coleman spent most of the 1950s as an infielder for some very good Yankees teams. He had three years where he was the regular second baseman. After his playing career ended he became a broadcaster. From 1972 to 2013, he was the lead radio broadcaster for the San Diego Padres—except in 1980, when he served one season as the Padres manager. His catchphrase, used after a nice defensive play, was "You can hang a star on that one, baby!" He was also well known for verbal bloopers. Among those were "Winfield goes back to the wall, he hits his head on the wall and it rolls off! It's rolling all the way back to second base. This is a terrible thing for the Padres."1 "You never ask why you've been fired because if you do, they're liable to tell you," and "On the mound is Randy Jones, the left-hander with the Karl Marx hairdo."
Hick Carpenter, Mount Hope Cemetery
Hick Carpenter is another Mount Hope Cemetery unmarked grave. Unlike Quest, however, his baseball career was noteworthy. Carpenter had a couple of very good offensive seasons and, despite throwing left-handed, was a good defensive third baseman. He was frequently in league top tens in offensive categories. Likewise, his name regularly dotted fielding-statistic leaderboards, including four years leading his league in putouts.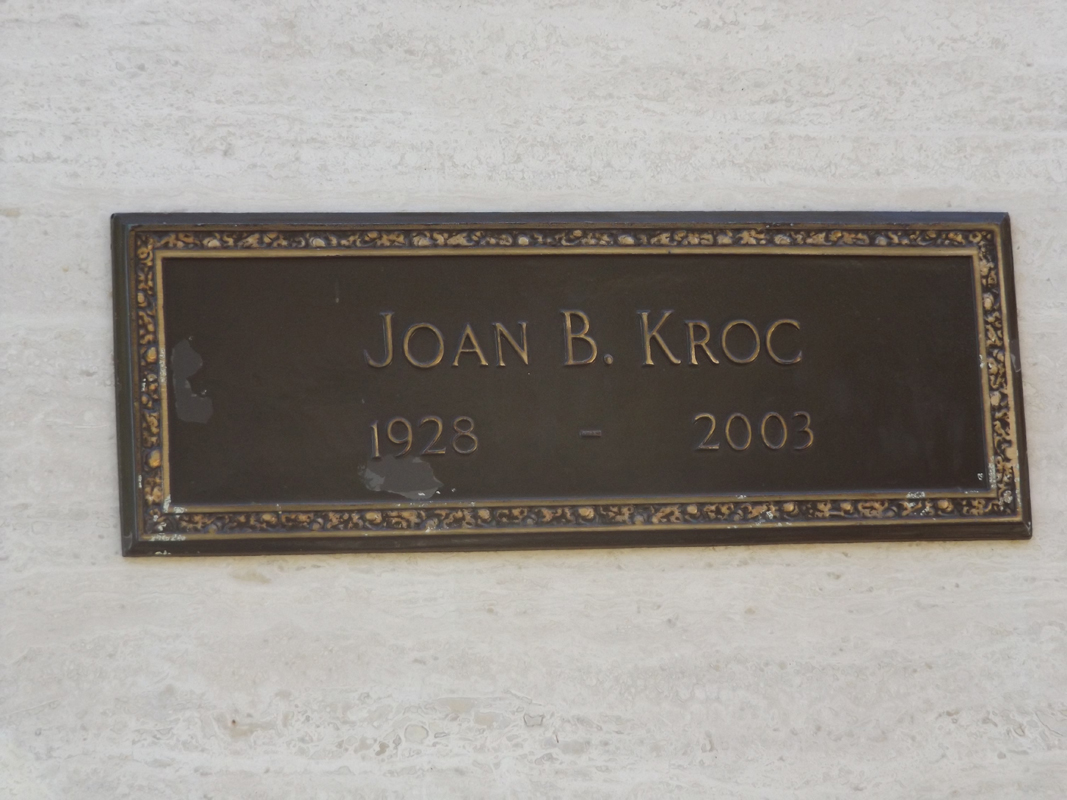 Joan and Ray Kroc, El Camino Memorial Park
Ray Kroc became a wealthy man due to his ownership of McDonald's. He was not the founder, though he got into the game very early. Some allege that he undermined the McDonald brothers and pushed them out. In any case, he was instrumental in many innovations found in McDonald's restaurants, including a special emphasis on cleanliness. That makes those restaurants a frequent stop for us while on trips due to the high probability that the restrooms will be clean. He retired from running McDonald's in 1974 and turned his attention to baseball, a lifelong passion. The Padres were close to being moved to Washington, DC, but the sale was held up by lawsuits, giving Kroc the opportunity to buy the team for $10 million.
Upon Ray's death in 1984, his widow Joan maintained ownership after first trying to donate the team to San Diego. Major league rules prohibited that. She sold the team in 1990.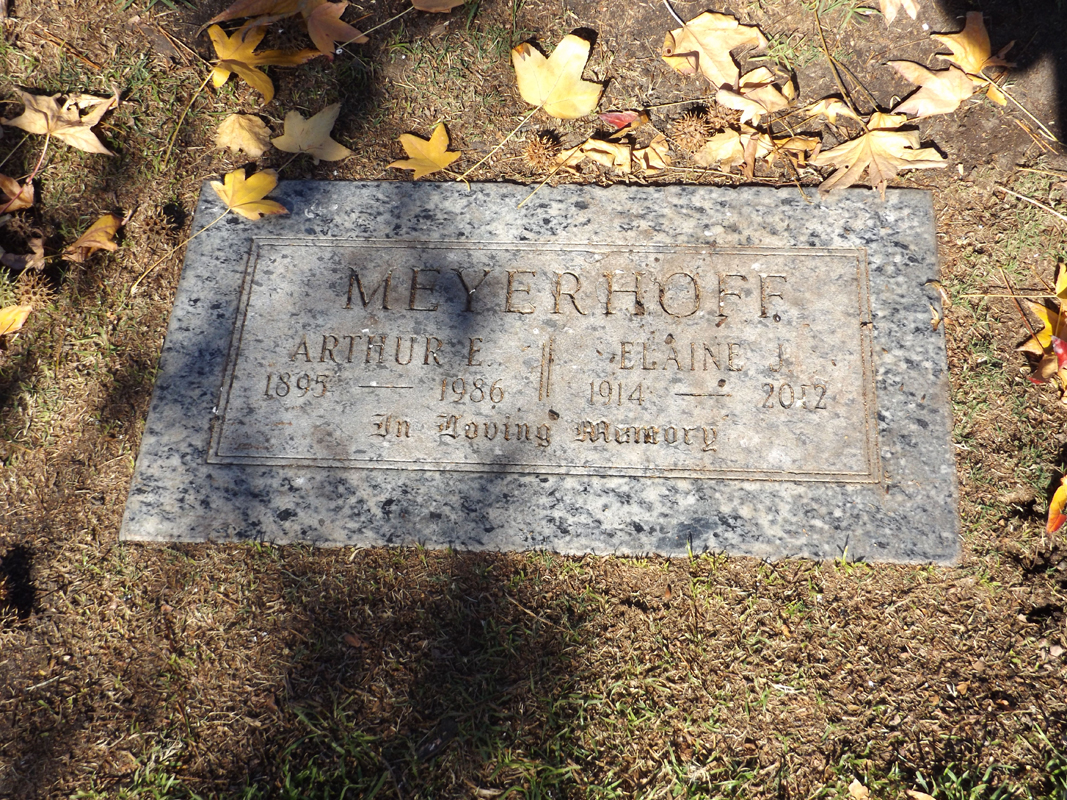 Arthur E. Meyerhoff (AAGPBL exec), El Camino Memorial Park
I don't know how I found out that Meyerhoff was buried in El Camino Memorial Park. I had never heard of him. But reading his biography at the All-American Girls Professional Baseball League website showed me a very interesting man. He was a businessman, an inventor, an author, and, beginning at age 80, an aspiring pilot. He started a 60-year association with the Wrigley Company in 1932 and helped Philip Wrigley start the AAGPBL. He purchased the league assets from Wrigley in 1944.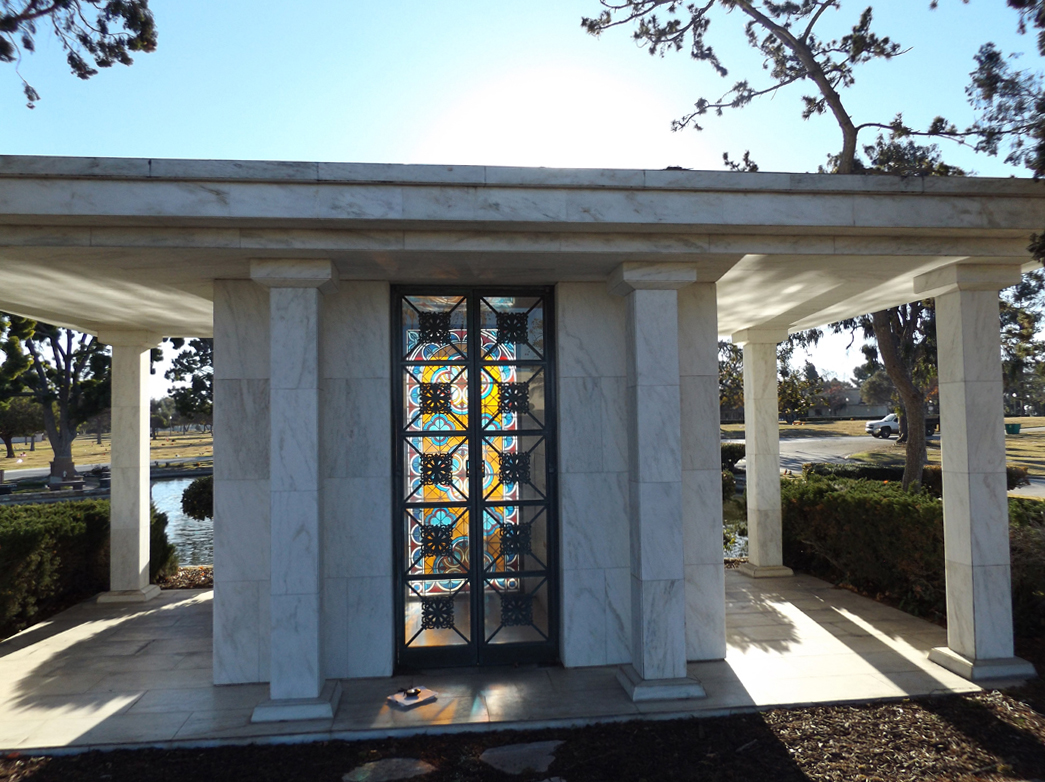 C. Arnholt Smith, Greenwood Memorial Park
Smith was the original owner of the major-league San Diego Padres. Not long after the team began playing, Smith sought to move it to Washington, eventually giving up and selling the club to the Krocs. Much of his wealth came from banking. In 1973, his bank failed and he was sued by the IRS for $23 million in back taxes. He eventually ended up in jail for tax evasion, though he was found innocent of charges connected to his sale of the Padres.2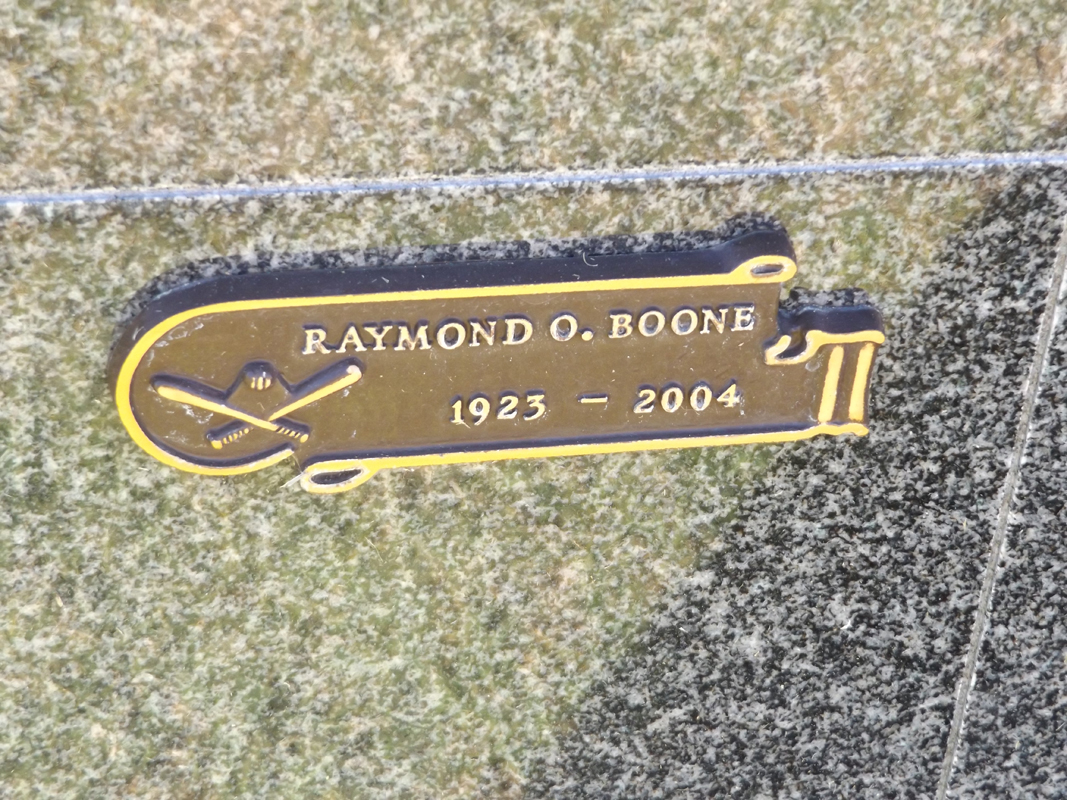 Ray Boone, El Camino Memorial Park
Boone was a 13-year major-league shortstop and third baseman who was an All-Star twice and put together a very productive career. He also produced a son, Bob, and two grandsons, Aaron and Bret, who each spent more than a decade in major league baseball. He appeared in the World Series for the Indians in 1948 despite playing in only six games during his rookie year. However, he never played in another World Series. Bob, Aaron, and Bret also saw World Series action.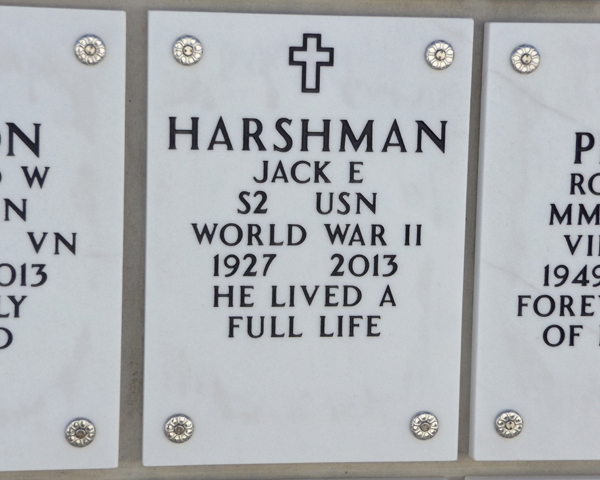 Jack Harshman, Fort Rosecrans National Cemetery
A 10-year major leaguer, Harshman came up as a first baseman but later became a pitcher. He posted double figures in wins four times. His best years were 1954, his first full season in the majors, 1956, and 1958 which saw him tally two points in the Most Valuable Player voting. He played for the New York Giants in 1950 and '52 but spent 1951 in the minors while the Giants went to the World Series. He was with the Chicago White Sox from 1954 to '57 but was gone when they went to the World Series in 1959. He was with Cleveland in 1959 and '60, having already missed their 1954 World Series trip. His initial promise as a first baseman showed itself in his hitting: He's tied for the 14th-most lifetime home runs for a pitcher, with 19 of his 21 coming in that role, including six each in 1956 and '58.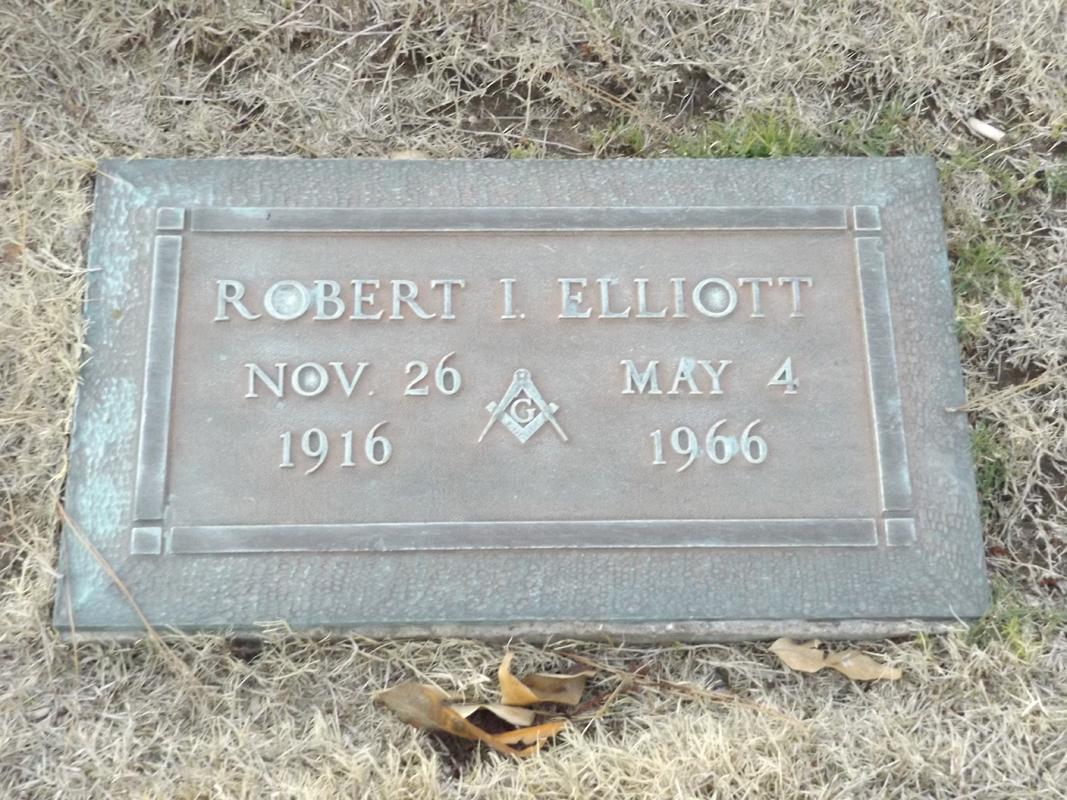 Bob Elliott, Greenwood Memorial Park
Elliott was a seven-time All-Star who was the National League Most Valuable Player in 1947. My favorite fact about Elliott is that he drew 131 walks in 1948, 41 more than he drew in any other of his 15 major-league seasons. He batted .333 with two home runs in the 1948 World Series as his Boston Braves lost to the Indians in six games. He received Hall of Fame votes three times but never came close to enshrinement, topping out at 2 percent in 1964.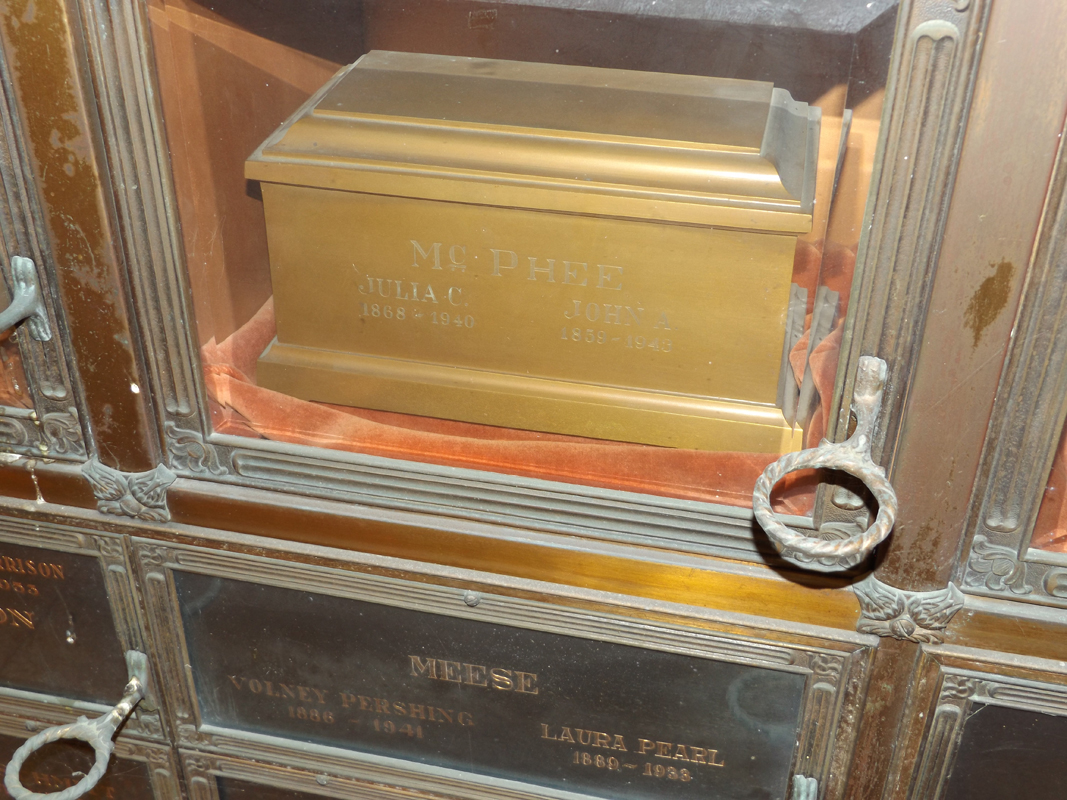 Bid McPhee, Cypress View Cemetery & Mausoleum
San Diego's only Hall of Fame grave site is Bid McPhee's. His location shows another problem when doing photographs of burial sites. His urn is behind dirty glass in a poorly lit area in an old mausoleum. McPhee played in the 1880s and '90s. He was elected to the Hall in 2000. His offensive numbers do not make him an obvious honoree. His defensive numbers, however, are impressive. He led his league in fielding percentage eight times, assists six times, putouts eight times, and double plays 11 times. Offensively he led the league in triples, games, and homers once each.
Other Major League Burials in San Diego
| | |
| --- | --- |
| Robert Walter "Bob" Jones | El Camino Memorial Park |
| Earle Francis Brucker Sr | Greenwood Memorial Park |
| Stephen Mathias "Steve" Mesner | Greenwood Memorial Park |
| Harry H Raymond | Greenwood Memorial Park |
| Albert James "Al" Carson | Cypress View Cemetery & Mausoleum |
| Roy Lee Hutson | Cypress View Cemetery & Mausoleum |
| William "Chick" "Bill" Starr | Cypress View Cemetery & Mausoleum |
| Anthony Paul "Tony" Criscola | El Camino Memorial Park |
| Michael Wayne "Mike" Reinbach | El Camino Memorial Park |
| Harold John "Jack" Albright | Fort Rosecrans National Cemetery |
| Earle Francis Brucker Jr | Fort Rosecrans National Cemetery |
| Howard Oliver Craghead | Fort Rosecrans National Cemetery |
| William Edgar "Bud" Hardin | Fort Rosecrans National Cemetery |
| Rolla Hamilton Mapel | Fort Rosecrans National Cemetery |
| Joseph Aloysius "Goldie" Rapp | Fort Rosecrans National Cemetery |
| Marvin Harold "Red" Smith | Fort Rosecrans National Cemetery |
| William Dunn "Bill" Dalrymple | Greenwood Memorial Park |
| Clarence Franklin "Lefty" Hopper | Greenwood Memorial Park |
| Milton Smith | Greenwood Memorial Park |
| Robert Joseph "Bob" Thorpe | Greenwood Memorial Park |
| William Thomas "Bill" Burns | Holy Cross Cemetery |
| Rodney Blaine "Rod" Graber | Miramar National Cemetery |
| Chester Lawrence "Chet" Kehn | Mount Hope Cemetery |
FRED WORTH is the author of "College Mathematics Through Baseball" and a member of SABR's Biographical Research Committee. He has been a SABR member since 2001 and is a lifelong New York Mets fan.
Notes

1 https://ftw.usatoday.com/2014/01/jerry-coleman-best-quotes
2https://www.washingtonpost.com/archive/politics/1979/05/04/arnholt-smith-guilty-of-evading-taxes/ced41e56-552d-4568-9c19-ec04db836337/?utm_term=.0d95952666fc
https://sabr.org/wp-content/uploads/2020/03/research-collection4_350x300.jpg
300
350
admin
/wp-content/uploads/2020/02/sabr_logo.png
admin
2019-08-01 14:44:23
2021-04-09 20:08:48
Baseball Burials in San Diego