Caguas Criollos: Five Caribbean Series Crowns and Cooperstown Connections
This article was written by Thomas Van Hyning
This article was published in Spring 2018 Baseball Research Journal
---
The Caguas Criollos won back-to-back Caribbean Series crowns in 2017 and '18, beating Mexicali 1–0 in 10 innings on February 7, 2017, and defeating Aguilas Cibaeñas from the Dominican Republic on February 8, 2018. The Criollos' fifth Caribbean Series title puts them in elite company: Only the Dominican Republic's Tigres del Licey have won more Caribbean Series titles, with 10. Aguilas Cibaeñas from the Dominican Republic and the Santurce Cangrejeros from Puerto Rico have also won five.
Caguas has won 18 league titles in Puerto Rico and played in 14 Caribbean Series. Its five wins were in San Juan, Puerto Rico, in 1954; Hermosillo, Mexico, in 1974 and 1987; Culiacán, Mexico, in 2017; and Guadalajara, Mexico, in 2018. The Caribbean Series is now a five-team event between champions of the Cuban National Series, the Dominican Winter League, the Mexican Pacific League, the Puerto Rican Roberto Clemente Professional Baseball League, and the Venezuelan Professional Baseball League.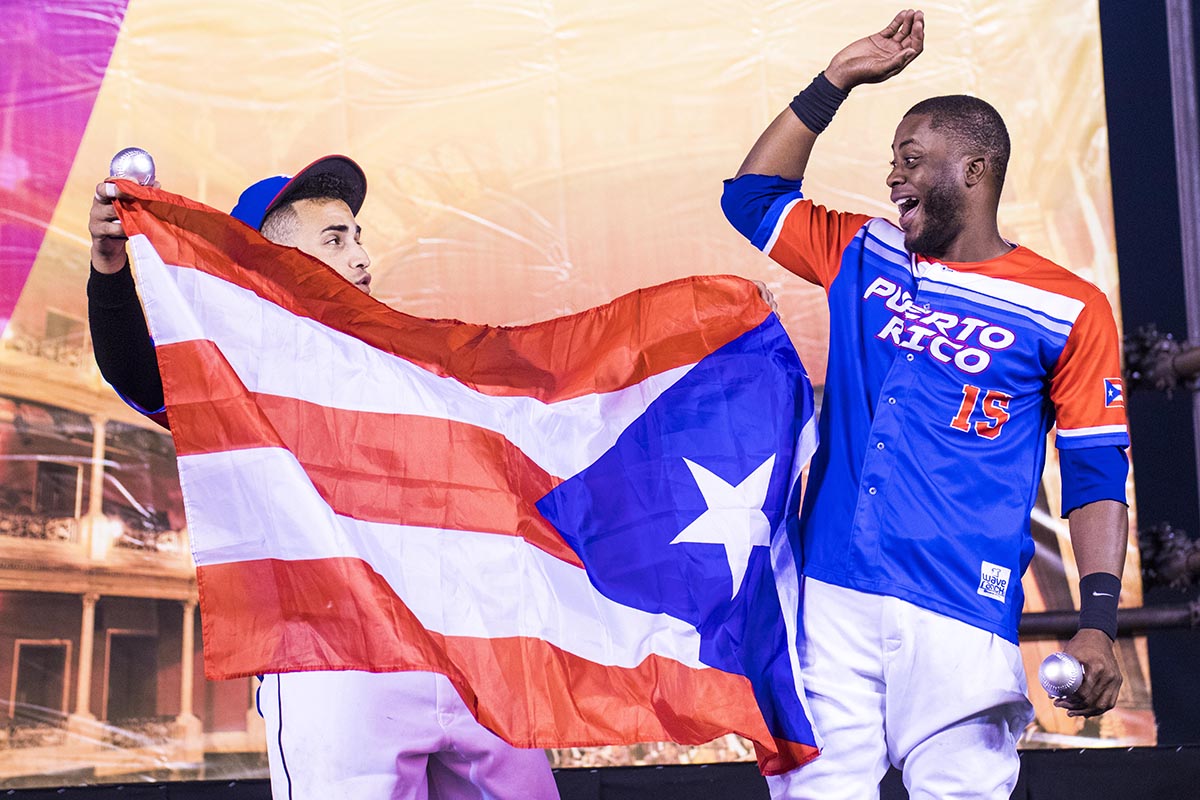 The powerhouse Caguas Criollos of the Roberto Clemente Professional Baseball League have won 18 league titles in Puerto Rico and played in 14 Caribbean Series, winning five of them, including back-to-back championships in 2017 and '18. (Courtesy of Serie del Caribe.)
BACKGROUND INFORMATION: CAGUAS AND ROBERTO CLEMENTE PROFESSIONAL BASEBALL LEAGUE
Caguas is 20 miles south of San Juan. Its name comes from the Taíno chieftain Caguax. "Criollo," within the context of Puerto Rico, refers to those who are natives of and indigenous to the island. Native players representing Caribbean Series teams are "criollos," a source of pride. Luis Olmo was an original 1938-39 Caguas Criollo; Víctor Pellot (Vic Power) was a Caguas star and seven-time AL Gold Glover. Caguas stars included Roberto Vargas, Jim Rivera, Félix Mantilla, Félix Millán, José Pagán, Julio Navarro, Willie Montañez, Jerry Morales, José "Cheo" Cruz, Eduardo Figueroa, Sixto Lezcano, Henry Cotto, Francisco Oliveras, Bernie Williams, Omar Olivares, Juan González, Joey and Alex Cora, Roberto Clemente, Roberto Alomar, and Iván "Pudge" Rodríguez.
Caguas was one of six franchises in the inaugural 40-game season in 1938-39.1 It merged with the Santurce Cangrejeros (Crabbers) during World War II and again in 1992–94 as cost-cutting measures. The Criollos won 1940–41 and 1947–48 league titles prior to their first Caribbean Series in 1950, a tiebreaker loss to Panama's Carta Vieja Yankees. The 1950­–51 Criollos lost a dramatic final series to Santurce, on the "Pepelucazo," a two-out walk-off home run by Pepe Lucas, on February 16, 1951.2 This was Puerto Rico's version of Bobby Thomson's "Shot Heard 'Round the World." Caguas won the 1954 Caribbean Series after a five-team, 80-game regular season plus league finals. Its 1974 championship team went through a six-team, 70-game season and two playoff series. The 1987 champs had participated in a six-team, 54-game regular season, a 12-game round-robin, and league finals.3 The 2017 Caribbean Series winners were in a five-team, 40-game regular season, then semifinals and finals. The abbreviated four-team, 18-game regular season in January 2018 was a result of damage from Hurricane Maria, which hit Puerto Rico on September 20, 2017. Table 1 highlights the five Caribbean Series title seasons.
Table 1. Caguas Five Caribbean Series Winners
(Click image to enlarge.)
1954 SERIES: SAN JUAN, PUERTO RICO
Mickey Owen was a marvelous player-manager. Caguas won 15 of its last 17 regular-season games with Owen catching to overtake San Juan. Owen said, "Brooks Lawrence was the best pitcher on the Caguas staff; could start or relieve . . . reason I went back to catching. Lawrence moved the ball around the plate with a sliding curve/big curveball; Guigui Lucas [Pepe Lucas's brother] felt uncomfortable catching certain pitches. Guigui was a character—carried his money and even a paycheck in his back pocket; played in lots of places where money was taken from locker rooms."4
Hank Aaron contributed to Caguas's regular-season and league title series efforts but returned to the States after Caguas won Puerto Rico's league title. Aaron's two homers in the All-Star Game on December 23, 1953, duplicated Josh Gibson's feat 12 years earlier. Vic Power recalled: "Aaron, Jim Rivera, Bob Buhl, Brooks Lawrence, and I were the key players that championship season."5
Caribbean Series reinforcements were and are a common practice. Aaron was replaced on Caguas's roster by Bill Howerton Sr., a Mayagüez outfielder in 1953–54 after his release by a Cuban team. Caguas also reinforced itself with two more position players—outfielder Carlos Bernier of Mayagüez and second baseman Jack Cassini of San Juan—plus four pitchers: Luis Arroyo and Jack Sanford (Ponce), Rubén Gómez (Santurce) and Corky Valentine (Mayagüez).
The four teams in the six-game round-robin series were Almendares Alacranes from Cuba; Panama's Carta Vieja Yankees; Venezuela's Pastora Lecheros (Milkers); and host Caguas. Games were played at San Juan's Sixto Escobar Stadium. The key Game Three was Almendares-Caguas. The Cubans were up 1–0 in the seventh inning but Howerton tied the game with a homer and Rance Pless won it 3–1 with another. Billy Howerton Jr. recalled that after the Cuba game, "Fans began to torch newspapers and anything they could lay their hands on. It was like a huge bonfire. After the game, I remember my father being interviewed for several radio stations. He received gift certificates."6 Howerton Sr. had revenge on his mind: "I had been released by Cuba's Marianao team early that season; but I could always hit."
Rance Pless recalls serenades all night long after Caguas won four series games to clinch the title. Pless gave a speech in the Caguas town plaza.7 He received a portable TV and other gifts and noticed fans were passed out everywhere the next morning. Caguas center fielder Jim Rivera was the series MVP. Player-manager Owen rode the team mascot, a mule or "yeguita," around the field in a victory celebration. Vern Benson made the 1954 Caribbean Series All-Star team for Venezuela's Pastora Lecheros. He recalled Luis Aparicio, his backup, got a lot of playing time in Aparicio's first Caribbean Series.8 Luis Arroyo, Rubén Gómez, Jack Sanford, and Corky Valentine pitched well for Caguas in the series. Tables 2, 3, and 4 have series standings, awards, and All-Star team.9
(Click image to enlarge.)
CAGUAS FALLS SHORT
Caguas won league titles in 1955–56, 1957–58, and 1959–60, but not a Caribbean Series. Cuba won five straight from 1956 to 1960 before the series was discontinued for a decade. First baseman Lou Limmer and pitcher Tom Lasorda were Caguas contributors on the 1955-56 team; Limmer's three homers in the 1956 series placed him on the All-Star team. Power was the 1956 All-Star third baseman. Roberto Clemente's .391 batting average and .609 SLG earned him series All-Star laurels in 1958. Tommy Davis was the 1960 Caribbean Series MVP with a .409 batting average, three homers, six RBIs, seven runs, and two stolen bases.10 Caguas's 1955-59 transactions included the purchase of Clemente, Juan Pizarro, and Ronnie Samford in late December 1956 from Santurce for $30,000; the acquisition of Julio Navarro and Jose Pagán from Santurce in 1959 for Pizarro and $10,000; and the 1959 trade that sent Clemente and two minor leaguers—José Santiago and Marcial Allen—to the San Juan Senadores for $30,000 and two other minor leaguers, Herminio Cortés and Rafael Salamo.11
Caguas contended in the 1960s and early '70s, winning the 1967-68 title over Santurce. Luis Tiant was a 1961-62 Caguas star. Two other imports were Pete Richert and Frank Howard of the Los Angeles Dodgers. Richert appreciated his teammates showing him a good time. "It was fun. José [Pagán] and Félix [Mantilla] found a way to take care of us," said Richert. "After a game, four or five of us would get in a car and drive to San Juan for a show and something to eat." Richert said Puerto Rico was a great place to play and learn about someone else's culture and lifestyle.12 Howard hit the longest home run in Caguas history, conservatively estimated at 536 feet, against Jack Fisher of San Juan, in a January 1961 championship series game. "You learned to hit in old Sixto Escobar Stadium when you faced Bob Gibson, Juan Pizarro, Bob Bolin and Tite Arroyo," said Howard. "Every young player should play two or three years of Winter League baseball to refine their skills. The Puerto Rico league kept me in the big leagues and toughened me up. It was better than Triple A."13
Caguas had loyal and rabid fans who could double as groundskeepers. John Strohmayer was pitching in 1970–71 at Caguas when a deluge stopped play in the fourth inning. "Within 20 minutes, the entire infield was covered with two inches of water," he recalled. "I put my arm in a bucket of ice." Fans who lived in neighboring houses went home and got their wheelbarrows. A big pile of loam was under the stands and put to use. It stopped raining and play resumed 40 minutes later!14
José Cruz Sr., left, receives the Puerto Rico League's 1976–77 MVP trophy from Angel Colón, President of the Puerto Rico Professional Baseball Players Association. (Courtesy of Angel Colón.)
1974 SERIES: HERMOSILLO, MEXICO

Venezuela did not participate because of a players' strike. Two teams from host Mexico: Mazatlán Venados (Deer) and Yaquis de Obregón, participated, with the Tigres del Licey, managed by Lasorda, plus the Criollos. Caguas won over defending champion Licey. Héctor Barea, Caguas's public relations official, said: "This was the best team Caguas ever produced, with Gary Carter and Jim Essian catching; Willie Montañez at first, Félix Millán and Pedro García at second; Mike Schmidt at third; Rudy Meoli at short; an outfield with Jay Johnstone, Jerry Morales, and Otto Vélez. Their starting pitchers were Craig Swan, Eduardo Figueroa, John Montague, and Eduardo Rodríguez. Willie Hernández, Bombo Rivera, and Sixto Lezcano were on that team."15 Millán also ranked the 1973-74 Caguas team as the best one, position by position. Its chemistry was the icing on the cake. "That's why we won," said Millán. "We were a family who came together toward season's end."16
Jerry Morales noted: "Don't forget I hit 14 homers as the leadoff hitter."17 Morales led Caguas in homers, followed by Schmidt (12) and Johnstone (10). Barea saw Schmidt and Johnstone playing chess en route to Mexico for the 1974 Caribbean Series. Bob Apodaca's relief work for Caguas prepared him for 1974 spring training with the New York Mets, where he threw 18 scoreless innings to impress manager Yogi Berra. "You had to go down there and reestablish yourself in Puerto Rico," said Apodaca, who left Puerto Rico prior to the postseason.18 Caguas reinforced itself with two relievers for the Caribbean Series: Ponce's Steve Blateric and Santurce's Ramón "Mon" Hernández. The latter's two saves earned him a spot on the series All-Star team. Woody Huyke, a Caguas coach, praised the team's Puerto Rican major-league players—Figueroa, Millán, Montañez, Morales, Vélez, and Eduardo Rodríguez—as "true professionals who set a positive tone for the younger players."19 Schmidt said, "Winning the Caribbean Series was one of the highlights of my pro career."20 Vélez added that there was "no envy on this team."21
(Click image to enlarge.)
Broadcaster Howard Cosell enjoys a behind-the-scenes moment with league and team officials at Juan Ramón Loubriel Stadium, Bayamón, Puerto Rico, 1980–81 season, during a Caguas-Bayamón game. From left: Angel Colón, Luis Rodríguez Olmo, Roberto Inclán and Luis Rodríguez Mayoral. (Courtesy of Angel Colón.)
ACCOMPLISHMENTS AND CANCELLATION OF 1981 SERIES IN CARACAS
Caguas won the 1976–77 and 1978–79 league titles but did not fare well in either Caribbean Series, finishing 1–5 and 2–4, respectively. Their 1976–77 club hit .307, with seven regulars surpassing .300. José Cruz Sr. won league MVP laurels with a .338 average, 14 homers, 40 RBIs, and a .615 SLG, the all-time single-season record for a native.22 Caguas's 1976–77 rotation was Dennis Martínez, Scott McGregor, Mike Krukow, Miguel Cuellar, and Rodríguez. Martínez, Caguas's best pitcher from 1976 to 1981, also outpitched Jack Morris of Mayagüez in Game Seven of the 1978–79 finals.
The 1980–81 Criollos, under skipper Ray Miller, finished fourth but bested first-place Bayamón in the semis and Mayagüez in the finals. Howard Cosell, on vacation, enjoyed a 1980–81 Caguas-Bayamón game. A strike by Venezuelan League players resulted in the cancellation of the 1981 Caribbean Series. Cal Ripken Jr., the Caguas third baseman, didn't get to play, nor did pitcher Mike Boddicker. Teams to have faced Caguas in that series were host Leones de Caracas, managed by Alfonso Carrasquel; Leones de Escogido, managed by Felipe Alou; and the Yaquis de Obregón.
"We had a lot of big-leaguers in Puerto Rico," recalled Ripken. "Our Caguas team, God, had at least six to seven good big-league players. A lot of the pitching was Triple-A, so the level was between Triple-A and the big leagues. So coming out of Double-A [in 1980], I had to compete at a higher level and learned quite a few things playing all those games."23
Francisco Oliveras, a Caguas mainstay and the league's top pitcher in 1984-85 with an 8–0 record, won a Caribbean Series game reinforcing San Juan. "When I started [1980-81], the league had a lot of big-league players," said Oliveras. "Around 1984-85 things began to change, with fewer big-leaguers. I played for Vic Power that season and it was fun."24 Power enjoyed managing Caguas and helping Don Mattingly, his 1983–84 first baseman, with fielding and hitting. Randy Ready of Mayagüez was challenging Mattingly for the batting title. "We were up against a tough lefty, and I suggested Mattingly take the night off," Power said. "If he goes hitless, he falls behind Ready. But Mattingly wanted to play; went 3-for-4."25 Mattingly won the batting title, .368 to .361 for Ready.
The 1986–87 Caguas Criollos, Puerto Rico and Caribbean Series Champions. Team photo taken prior to Caguas roster changes for the February 1987 Caribbean Series. Bernie Williams is pictured third row, second from left. Roberto Alomar is pictured top row, second from left. (Courtesy of Angel Colón.)
1986–87 REGULAR SEASON AND 1987 SERIES: HERMOSILLO, MEXICO
Bernie Williams, a reserve outfielder in 1986–87, appeared in 27 regular-season games for Caguas. "The 1986–87 group was terrific," Williams said. "I was 18 and looking forward to a career in baseball. I'll never forget the time when Iván Calderón gave me one of his gloves in the 1985–86 season when I practiced with Caguas."26 Fellow Caguas rookie Omar Olivares complimented Figueroa, the team's pitching coach and the first Puerto Rico-born 20-game-winner in the majors. "Eduardo Figueroa really helped me that winter and gave me confidence," Olivares said.27
Ellis Burks, like Aaron 33 years earlier, helped Caguas win the league title, but did not play in the Caribbean Series. "It was fun," Burks said. "Everyone would compliment each other and have a positive attitude. Tim Foli was a very aggressive manager. Ramón Avilés and Jerry Morales were coaches who helped a lot. So did [general manager] Félix Millán. I opted to go home and relax after the finals. . . . Caribbean Series would have been a good experience."28
Burks and teammate Van Snider were replaced by Arecibo's Candy Maldonado and Mayagüez's Bobby Bonilla on Caguas's 1987 Caribbean Series roster. Snider furnished valuable perspective from an import: "Everyone should be busting their butt to really do good—try hard for yourself to make sure you still have a job," said Snider. "The pressure in winter ball, even though it's a team game, is to put up numbers, because if you don't, they're going to release you and get someone else to take your place."29
Caguas and the Aguilas Cibaeñas, from the Dominican Republic, played a tiebreaker to decide the series after each finished with a 4–2 record. Aguilas had beaten Caguas 14–13 in the third game, a contest that featured eight homers and eight errors by the Criollos. Carmelo Martínez (2), Eddie Vargas (2), Bonilla, Henry Cotto, Maldonado, and Germán Rivera homered. Roberto Alomar committed two errors on his 19th birthday—February 5, 1987. General Manager Millán argued with skipper Foli after the 14–13 loss and fired him the next day, the first time a manager had ever been fired in a Caribbean Series.30 Foli was replaced by coach Ramón Avilés. "I felt for Tim Foli because he has the ability to manage in the majors," Avilés said. "In Puerto Rico, he displayed a temper and I tried to help him. During the regular season, when I took the lineup card to the plate, there were times the umpires would ask me what inning would I like to manage the team because they planned to send him to the showers. I would defend Foli and tell the umps that this wasn't right, they shouldn't think this way."31 Alomar called Foli an "aggressive type who taught me quite a bit." Alomar loved to play under pressure, noting: "After that [14–13] loss, we came back."32
Caguas won its next three games to reach the tiebreaker final: Henry Cotto stole four bases in a 6–1 win over Mazatlán; Francisco Oliveras pitched a 7–1 win over Caracas; and Juan Nieves threw six innings of one-hit shutout ball against the Dominicans, with David Cone getting the save in the 4–0 win. The Caribbean Series title carried special meaning for Nieves: "On the field, there is so much pride in representing your country. Puerto Rico was in our heart. Off the field, we would share moments with opposing players and hear music at the night spots and discos, talk about our big-league aspirations. But when we played, it was serious business." 33
The Criollos routed the Dominicans 13–2 in the seventh game behind Jim Siwy, Luis de León, Cone, and Olivares. Alomar, Maldonado, and Martínez did the hitting. José Rijo took the loss. Oliveras and Nieves made the All-Star team with Orlando Mercado, Martínez, and Vargas. The 18 Caguas homers in this 1987 series eclipsed the record of 12 held by Panama's Chesterfield Smokers in 1956.34 Tables 8, 9, and 10 have standings, leaders and the All-Star team.35
(Click image to enlarge.)
This was the fifth and last Caribbean Series for Mario Mendoza in a 20-year winter-ball career in Mexico. He relished playing against Tony Peña of Aguilas Cibaeñas; Andrés Galarraga and Tony Armas of Caracas; and Maldonado of Caguas.36 Maldonado, Alomar, de León, Martínez, and Williams were 1987 Caribbean Series players inducted into the Caribbean Series Hall of Fame (Pabellón de la Fama del Caribe). Table 11 lists inductees with Caguas connections..37
Table 11. Caribbean Series Hall of Famers with a Caguas Connection
(Click image to enlarge.)
CAGUAS UPDATES: ECONOMIC CHANGES, 1989-2013
Higher major-league salaries affected winter ball by the late 1980s. Big-league teams stopped sending top prospects to Puerto Rico. Pudge Rodríguez joined Caguas in 1989–90. Caguas acquired 20-year-old Juan González from Ponce by trading Alomar, who wanted to play for his father, Sandy Alomar Sr. Caguas director of player personnel Moisés González got feedback from Sandy Johnson, the Texas Rangers' director of player personnel and scouting, who felt the Rangers outfielder was ready to play regularly.38 González welcomed the trade: "Ramón Avilés gave me a chance to showcase my skills," he said. "I proved to everyone Juan González could play on an everyday basis."39
González played in the 1995 Caribbean Series, hosted by San Juan. The "Dream Team" won this classic with a 6–0 record. Series MVP Roberto Alomar—with San Juan—was joined by Carlos Baerga, Carmelo Martínez, Carlos Delgado, Rey Sánchez, and Edgar Martínez; plus reinforcements González (Caguas), Rubén Sierra (Santurce), and Williams (Arecibo).40
Caguas won three league titles between 2001 and 2013 but disappointed its fans in the 2001, 2011, and 2013 Caribbean Series. Sandy Alomar Sr. managed the 2000-01 team to a 2–4 record and fourth place in Culiacán, Mexico. Carlos Beltrán made the 2001 Series All-Star team by hitting .409 with seven RBIs. So did teammate Gary Matthews Jr., who hit .360 with six RBIs. The 2011 Caribbean Series, hosted by Mayagüez, was dedicated to Roberto Alomar; Caguas, at 3–3, tied for second-place. The 2012–13 Criollos played in Hermosillo and won two of six games for a third-place tie.41
2017 SERIES: CULICAN, MEXICO
Caguas won its fourth Caribbean Series title, and first in 30 years, after defeating the Santurce Cangrejeros in a best-of-nine finals. Ex-Caguas catcher Pudge Rodríguez had his number 7 retired prior to Game Eight on January 25, 2017.42 Alex Cora, Caguas's fifth-year general manager, expressed confidence in his team going into the 2017 Caribbean Series.43 The Criollos finished fourth in the preliminary round before defeating Venezuela's Tigres de Aragua in the semifinal 9-6 and besting the Aguilas de Mexicali 1–0 in 10 innings in the final.
David Vidal of Caguas, the 2017 Caribbean Series MVP, had played for the Somerset Patriots, an independent league team, in 2015 and 2016. The 27-year-old third baseman hit three homers and drove in five runs to earn a 2017 All-Star berth alongside teammate Iván de Jesús Jr.44 Jonathan Morales, who drove in the only run in the win over Mexicali with a 10th-inning sacrifice fly, said, "This is incredible—the biggest moment of my life; 16 years since the last time we won it. Sixteen years ago I was a kid with no clue of what I wanted to do for a living. This is unreal."45
(Click image to enlarge.)
Jeff Idelson, president of the National Baseball Hall of Fame and Museum in Cooperstown, attended the 2017 series in Culiacán. He took back jerseys belonging to Jonathan Morales and Randy Ruiz. "The artifacts we collect can end up anywhere in the museum," Idelson said to Jesse Sánchez of MLB.com. "Viva Béisbol!, our first bilingual exhibit, talks about great baseball countries like Puerto Rico and Mexico. What we collect could very well end up in Viva Béisbol!"46 Table 15 lists 13 ex-Caguas regular-season players and managersinducted in Cooperstown.
Table 15. Caguas to Cooperstown
(Click image to enlarge.)

The Criollos arrived back on the Island Wednesday evening, February 8, 2017, and Caguas hosted a major celebration on February 10. Thirty-eight-year-old rookie manager Luis Matos, said: "Fans need to support and fall in love with this team; with its players . . . some of whom hope to make it to MLB. This [Puerto Rico] league must continue. It's not just a workshop for the players, but others. Look at the experience I acquired. It will be beneficial for managing in the States.47 Matos then led Caguas to a 2018 league title and 2018 Caribbean Series crown. He became the first manager in 60 years to win back-to-back Caribbean Series titles.48
JANUARY 2018 SEASON AND 2018 SERIES: GUADALAJARA, MEXICO
Hurricane María put a damper on the 2017–18 Roberto Clemente Professional Baseball League season. A compressed 18-game schedule in January 2018 was followed by an elimination game between second- and third-place teams. Caguas played its home games six miles to the east, in Gurabo's Evaristo "Varo" Roldán Stadium, also used as a FEMA Disaster Recovery Center.49 The 18 regular-season games were played in daylight hours due to power outages and electrical problems. The Criollos won their 18th league title prior to flying to Mexico for the Caribbean Series. Their plane stopped in the Dominican Republic to pick up the Aguilas Cibaeñas, winners of the Dominican League.
The Opening Ceremonies before the Caguas-Culiacán game on February 2, 2018, featured an appearance by former US President Bill Clinton, who was seen in the Puerto Rico dugout, shaking hands and inquiring about players' families in the aftermath of the hurricane. Guadalajara native Saúl "Canelo" Alvarez, a world middleweight boxing champion, threw the first pitch. Caguas won the opener; had a February 3 bye; lost to the Dominicans on February 4; rebounded with a 12–7 win over Venezuela's Caribes de Anzoátegui on February 5; and lost to Cuba's Alazanes de Granma 6–3 to end the preliminary round in third place.
Caguas bested Venezuela 6–5 in the semifinals on February 7, behind Anthony García's grand slam and closer Miguel Mejía's save. Series MVP García had a .556 on-base percentage, 1.042 SLG, and 1.598 OPS. In the final on February 8, Caguas trailed the Aguilas 4–3 in the seventh inning. Catcher Jonathan Morales's three-run homer gave Caguas a 6–4 lead, and the Criollos went on to win 9–4.50 When Morales reached home, he pounded his chest and stomped on home plate like the game was over. "This victory means a lot for me and my country of Puerto Rico, because it's been hard and it's been a tough situation because of the hurricane," he said. "But it doesn't matter, because when you have God in your heart, you play and you get that W. I feel blessed." 51 Table 16 summarizes the series. Luis Matos was thankful his players came through.52 The team returned to Puerto Rico on February 9, stopping in the Dominican Republic to drop off the Dominican team. The Criollos took part in a Governor's Mansion reception honoring them on February 12.
(Click image to enlarge.)
THOMAS E. VAN HYNING was US correspondent for the Puerto Rico Professional Baseball Hall of Fame, 1991–96. He authored "Puerto Rico's Winter League" and "The Santurce Crabbers." Tom's articles have appeared in "The National Pastime" and "Baseball Research Journal," including pieces on Rickey Henderson, Dennis Martínez, and the Santurce Cangrejeros. He has written 10 SABR BioProject biographies, including Rubén Gómez, Joe Gibbon, Randy Ready, Pat Kelly, and Dick Hughes. A member of the Robinson-Kell SABR Chapter, Tom is Tourism Economist & Data Analyst, Mississippi Development Authority. His BBA degree is from the University of Georgia. He has two masters' degrees.
Acknowledgments
Grateful acknowledgment to Monte Cely, SABR's Rogers Hornsby Chapter, San Antonio-Austin, Texas, for 2017 and 2018 Caribbean Series updates. Caguas resident Nestor Duprey and historian Jorge Colón Delgado secured permission from Carmen Pérez, Caguas Criollos Public Relations official, for use of the February 12, 2018, photo of the team's visit to La Fortaleza.
Sources
Internet
http://www.beisbol101.com/2018/02/09/arrasa-anthony-garcia-en-la-serie-del-caribe
http://www.espn.com/mlb/story/-/id/22375794/puerto-rico-wins-back-back-caribbean-series-titles-rally-dominican-republic
http://en.granma.cu/deportes/2018-02-13/the-entire-team-has-been-present-here-in-spirit
http://www.purobeisbol.mx/?noticia=criollos-hace-historia
Journals
Thomas E. Van Hyning, "Hall of Famers Shine in Puerto Rico," The National Pastime, no. 12, (1992): 14-16.
Thomas E. Van Hyning, "Dennis Martinez's Winter League Career," The National Pastime, no. 16, (1996): 51-53.
Notes
https://sabr.org/wp-content/uploads/2020/03/research-collection4_350x300.jpg
300
350
admin
/wp-content/uploads/2020/02/sabr_logo.png
admin
2018-05-18 00:45:35
2021-10-29 10:51:01
Caguas Criollos: Five Caribbean Series Crowns and Cooperstown Connections