Carlos Bernier and Roberto Clemente: Historical Links in Pittsburgh and Puerto Rico
This article was written by Thomas Van Hyning
This article was published in The National Pastime: Steel City Stories (Pittsburgh, 2018)
---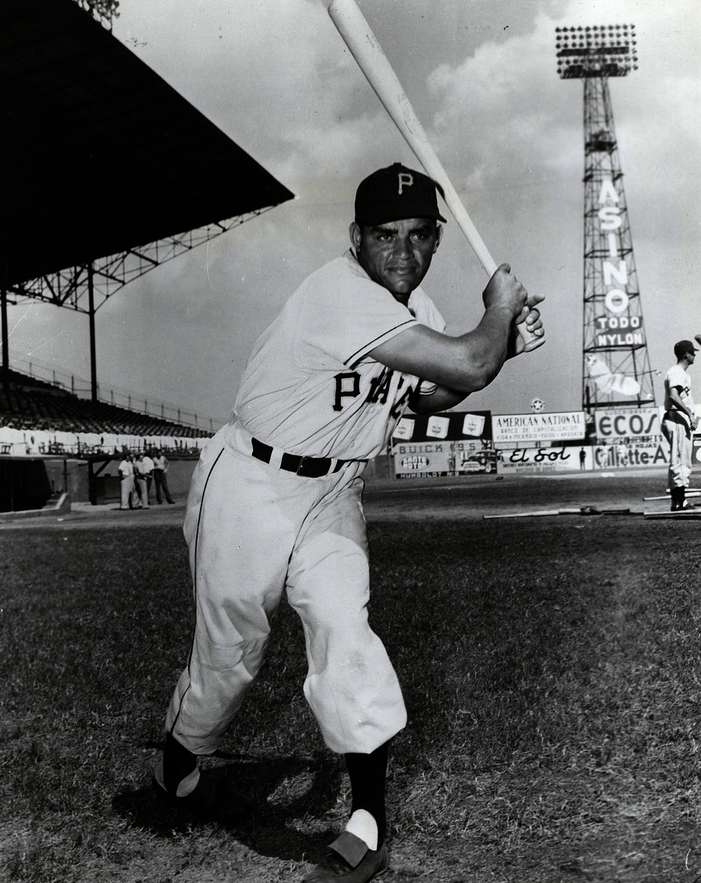 Carlos Bernier was 26 years old when he broke the Pittsburgh Pirates' color line on April 22, 1953, nearly one year before Curt Roberts played his first game with the Pirates.1 The controversial and temperamental outfielder was one of two Bucs, with Lino Donoso, a Cuban pitcher, who encouraged Roberto Clemente to refrain from emotional outbursts and temper tantrums in Fort Myers, Florida, during spring training in 1955. Bernier recognized Clemente's special baseball skills, having played against him in Puerto Rico winter ball the prior three seasons when Bernier's Mayagüez Indians faced Clemente's Santurce Crabbers. 
The 20-year-old Clemente had a splendid 1954–55 season with Santurce, winners of the 1955 Caribbean Series in Caracas, Venezuela. Clemente played left field, with Willie Mays in center and Bob Thurman in right field. George Crowe, Ronnie Samford, Buster Clarkson, and Don Zimmer were a formidable infield. Harry Chiti or Valmy Thomas did the catching. Sam Jones, Rubén Gómez, and Bill Greason were the key starting pitchers. Clemente became property of the Pittsburgh Pirates via the Rule 5 draft on November 22, 1954. Branch Rickey—who saw Clemente play in Puerto Rico—wrote Clemente a letter dated November 30, 1954, saying that he "had a habit of taking an extra step or so before throwing the ball, and this should be corrected."2 Clemente, Mays, and batboy Orlando Cepeda joined Santurce manager Herman Franks for 11 a.m. practices to work on Clemente's throwing approach. These practices created a bond between Clemente and Mays.
Bernier and Clemente's connection to Negro Leaguers
Was Bernier a black Puerto Rican? The literature review says yes. Pedrín Zorrilla, owner of the Santurce Crabbers from 1939 to 1956, alleged—in August 1949—that the Negro Leagues transferred several contracts to organized-baseball clubs without the consent of these players' organizations in Puerto Rico. Zorrilla specifically referred to the cases of pitcher José Guillermo Santiago with Dayton and Carlos Bernier—"the flashy Mayagüez outfielder"—under contract with Bristol of the Colonial League. Santiago pitched for the 1947 and '48 New York Cubans. Bernier joined Bristol in 1949, then played in two games for Indianapolis, a Pittsburgh farm team, before returning to Bristol.3
Bernier dropped out of school in the sixth grade in Juana Díaz, a municipality nine miles east of Ponce and 26 miles west of Guayama. Cefo Conde, a star pitcher for the Guayama Witches with Satchel Paige in the late '30s and early '40s, was from Juana Díaz and was a mentor to Bernier. Conde brought the 19-year-old Bernier to Mayagüez in 1946 after the outfielder had been a plumber's aide, cut sugar cane, and served in the Army. Bernier looked up to Mayagüez teammates in the late 1940s, including Negro Leaguers Artie Wilson, Alonzo Perry, Wilmer Fields, Johnny Davis, and Luke Easter. A highlight of Bernier's 1948–49 postseason was the February trip to Havana, Cuba, for the first-ever Caribbean Series, where the host team won it all with Monte Irvin.
Clemente idolized Irvin and Larry Doby when they starred for the San Juan Senators in 1945–46 and 1946–47, when Clemente was 11 and 12.4 He would take the bus from Carolina to Sixto Escobar Stadium, home of the Senators and the Crabbers. Six years later, Clemente, a Santurce rookie, was summoned by player-manager Clarkson to pinch-hit for Thurman in the eighth inning of a tie game in Caguas. Clemente's two-run double won it. When Thurman congratulated him it was his biggest thrill in pro baseball to that point. Clemente was an 18-year-old high schooler while Thurman was a hitting star for Santurce.5
Bernier makes it to Pittsburgh
The Pacific Coast League Hollywood Stars, not Pittsburgh, drafted Bernier on December 3, 1951, in the minor-league draft.6 The 5-foot-8 Bernier, nicknamed "Bandit" and "Comet," batted .301 with nine home runs and 79 RBIs with the 1952 Stars, with a league-leading 105 runs and 65 stolen bases for manager Fred Haney. Groucho Marx spoke for the universe of Stars fans when he said, "Sending Bernier from the first-place Stars to the last-place Pirates would be a demotion."7  Bernier and pitcher Johnny Lindell were sold to Pittsburgh under a working agreement between the two clubs.
Bernier was fortunate the 1953 Pirates held their spring training in Havana. Rickey wanted the club to relocate away from Florida due to its 40­–112 season in 1952. Havana was a better venue than Florida for Bernier because it had less racial tension and offered him a level of comfort as a Spanish-speaking, Caribbean island. Cuban fans loved to bet on baseball games but were frustrated when Pirates manager Haney removed starting players early in games against the Philadelphia Athletics and a Cuban All-Star team.8 Haney was impressed with Bernier, saying, "He can run, throw and go get a ball. . . . first time I saw him last spring, I didn't think he could hit, but he fooled me. Once he gets on base, he's hard to stop. He's a streak."9
Bernier's 1953 highlight was three triples in a game against Cincinnati on May 2, 10 days after his debut. A hitting slump from mid-May to June 30 affected Bernier's playing time. Rickey weighed in on Bernier in late July: "He's a first-year player, strange to the language, nervous in the big leagues. He simply needs orientation."10 For the season, Bernier batted .213 and stole 15 bases.
He had a fine 1953–54 winter season for Mayagüez. He was chosen over Santurce's Clemente to reinforce the Caguas Criollos in left field for the Caribbean Series, won by Caguas under player-manager Mickey Owen. Caguas bested Cuba, Panama, and Venezuela at Sixto Escobar Stadium. Bernier was cut by the 1954 Pirates in spring training and Swarthmore College graduate Dick Hall made the parent club instead. Bernier never played another regular-season game in the major leagues. He spent the next four years with the Hollywood Stars.
Clemente, Pittsburgh's next outfielder from Puerto Rico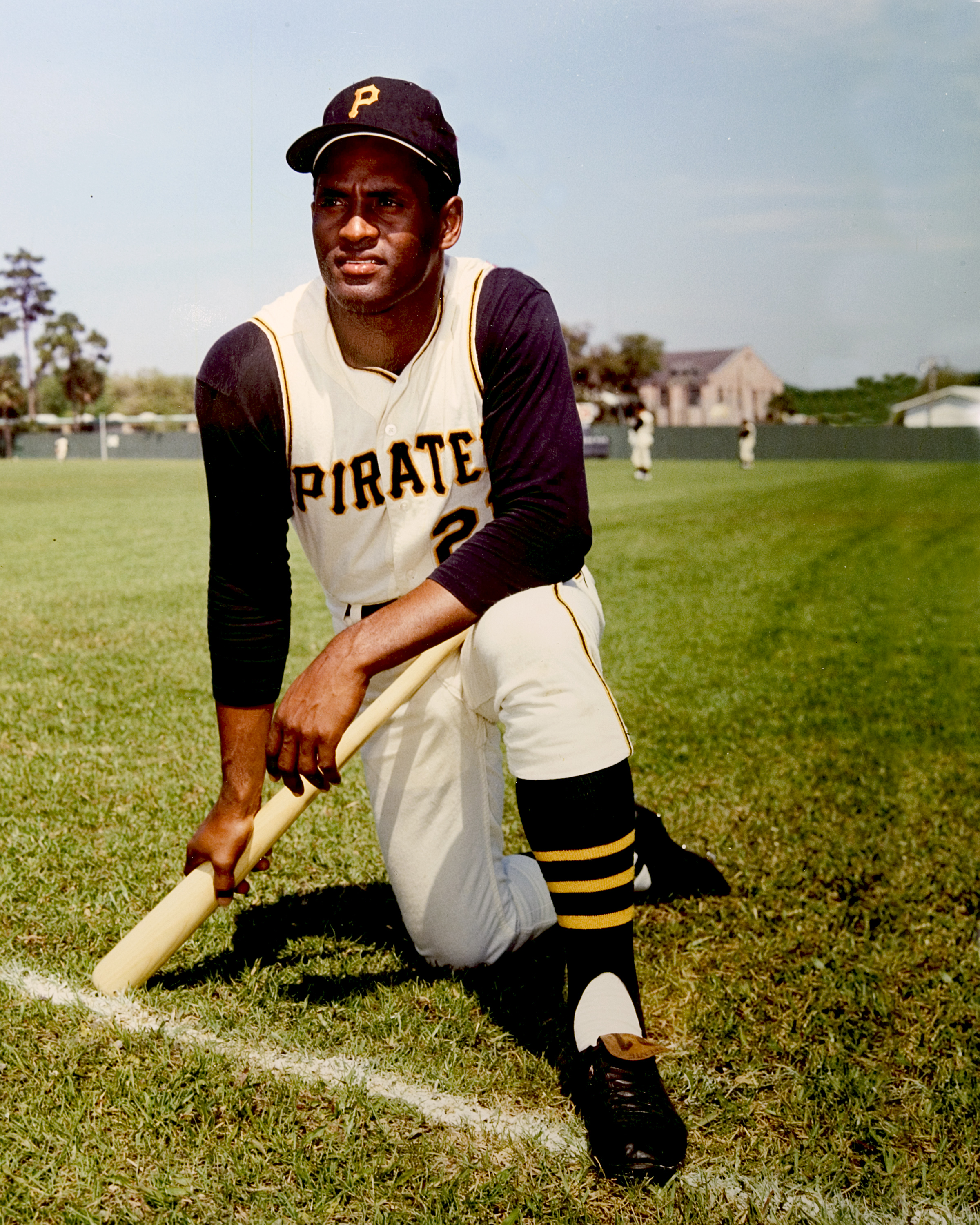 Fort Myers was intimidating and difficult for black players in 1955. Luis Arroyo, a St. Louis Cardinals pitcher, traveled with Clemente from Puerto Rico to ensure Roberto got situated before Arroyo went on to St. Petersburg. Clemente and other black players lived in the black Dunbar Heights neighborhood of Fort Myers, across the railroad tracks on the town's east side.11
Pittsburgh had six black players in camp: outfielders Bernier, Clemente, and Cuban Román Mejías, plus second baseman Roberts and pitchers Donoso and Domingo Rossello. The Bernier-Clemente-Mejías trio made up the first all-Caribbean outfield in the majors when Pittsburgh visited the Phillies at Clearwater on March 13, 1955.12
Clemente impressed Rickey, manager Haney, and sportswriter Al Abrams, who wrote in the March 14, 1955, Pittsburgh Post-Gazette, "Clemente is an outfielder with the verve and showmanship of a Willie Mays, a player he imitates to quite a degree. . . . Clemente will be the right Forbes Field ticket. The dusky Puerto Rican was the delight of more than 2,500 Floridians, transplanted Pittsburghers and just plain tourists. . . . every time we looked up there was Roberto showing his flashing heels and gleaming white teeth to the loud screams of bleacher fans."13 Clemente was guaranteed a roster spot on the 1955 Pirates, and followed Bernier's advice to focus on baseball.
Talent, controversies, and fines
Clemente duplicated Bernier's three-triple game against Cincinnati on September 8, 1958, in his fourth big-league season.14 He had a marvelous Caribbean Series for the 1957–58 Caguas Criollos, batting .391 in the 1958 classic hosted by Puerto Rico.15 Clemente's career Caribbean Series batting average was .327, but his slugging average was more impressive.
Table 1: Top 10 Caribbean Series Slugging Average, 50+ Plate Appearances
| | | |
| --- | --- | --- |
| Player | Country | SLG |
| Wilmer Fields# | Puerto Rico/Venezuela | .679 |
| Armando Rios | Puerto Rico | .649 |
| Willard Brown | Puerto Rico | .627 |
| Roberto Clemente | Puerto Rico | .592 |
| Carmelo Martínez | Puerto Rico | .589 |
| Bob Thurman | Puerto Rico | .587 |
| Héctor Rodríguez | Cuba | .583 |
| David Ortíz | Dominican Republic | .579 |
| Tony Pérez# | Puerto Rico | .576 |
| Candy Maldonado | Puerto Rico | .573 |

# Wilmer Fields played two series for Puerto Rico and one for Venezuela. Tony Pérez is from Cuba but represented Puerto Rico in the Caribbean Series.
Bernier played for the Hollywood Stars in 1954–57; the Salt Lake City Bees in 1958–59; the Columbus Jets and Indianapolis Indians in 1960–61; and the Hawaii Islanders in 1961–64. He spent 1965 with the Reynosa Broncs in the Class AA Mexican League before a farewell winter with the 1965–66 Arecibo Lobos.16 He was a superb player, though one with many suspensions and fines. Fans in Puerto Rico compared his hard-nosed, spikes-high style to that of Ty Cobb. His June 1954 fight with Los Angeles Angels infielder Bud Hardin resulted in a $50 fine and a suspension. Two months later, on August 11, Bernier was suspended for the rest of the season after slapping umpire Chris Valenti. He admitted he was "not well; was beaned in 1948 and have been nervous and aching in the head ever since."17 After the game, a tearful Bernier apologized to Valenti and they shook hands.18 Bernier frequently scuffled with Angels second baseman Gene Mauch, who claimed Bernier would steal bases with Hollywood way ahead. Mauch repeatedly picked up dirt and threw it into Bernier's face after Bernier slid into second.19 One prominent fight happened in Puerto Rico on November 5, 1955, when Mayagüez played Caguas. Gary Blaylock, pitching for Mayagüez, hit Vic Power with a pitch. Mayagüez's Jim Gentile was beaned by Tom Lasorda and a fight broke out. Bernier joined the fracas and got a black eye. Lasorda's uniform was ripped.20
Clemente, with San Juan, was involved in a dispute at first base in the tiebreaker game for fourth place at the end of the 1961–62 regular season. Umpire Mel Steiner called Clemente out at first on a close call on a grounder to Arecibo shortstop Germán Rivera. Clemente was cleared when he testified at a league hearing that he argued with Steiner, whose angle "was not a good one," adding, "My teammate Chico Ruiz grabbed me to keep Steiner from giving me the heave. . . . If I had said something vulgar or even hit Steiner, he would have thumbed me out of the game." Doug Harvey, the umpire who handed Clemente the ball after hit number 3,000 with Pittsburgh on September 30, 1972, was at this hearing. He was an arbiter in the Arecibo-San Juan contest.21
Clemente showed less restraint in a May 1963 Pirates home game against Philadelphia. After first base umpire Bill Jackowski called him out on a double-play grounder, Clemente's five-minute rant included twice bumping Jackowski. National League President Warren Giles sent Clemente a telegram announcing his five-game suspension along with a $250 fine, calling his actions "the most serious reported to our office in several years."22
Bernier and Clemente as San Juan Senators teammates
Bernier and Clemente were San Juan teammates in 1959–60 and 1960–61. The first of those teams went 41–23 in the regular season prior to a semifinal series win and a best-of-nine-finals loss to Caguas. Clemente batted .330, third in the batting race. Power, Caguas player-manager and batting champ, was not sure Clemente was going to be the superstar he became with Pittsburgh from 1960 on because of a bad back, but he never questioned Clemente's effort. Bernier's 21 stolen bases in 1959–60 were second to Caguas's Félix Mantilla, who stole 23.  Clemente and Bernier finished second and third in triples with six and five, behind teammate Nino Escalera's seven.23
The 1960–61 San Juan club won the league finals over Caguas. Bob Leith, San Juan's owner, did not send player contracts out by the June 1, 1960, deadline, but Clemente agreed to $1,500 per month, the same salary from a year earlier. Bernier signed with San Juan but sat out 1961–62 due to a salary dispute. San Juan's imports, or stateside players, wanted more money to play in the February 1961 Interamerican Series, a four-team round-robin tournament hosted by Venezuela. Clemente displayed his leadership skills in a 10-minute closed-door meeting when he affirmed all players would receive the same salary stipulated in their contract, and he would call Commissioner Ford Frick if they refused to honor their contracts.24 San Juan fell short, with two losses to Bob Gibson of the Valencia Industrialists. Valencia won this event over Puerto Rico, Panama, and a second team from Venezuela.
Bernier's baseball legacy
In 11 seasons in the Pacific Coast League, Bernier played in 1,571 games, batted .302 with 147 home runs and 777 RBIs, scored 1,005 runs, and stole 308 stolen bases.25 He was inducted into the PCL Hall of Fame in 2004. His single-season record of 41 stolen bases in Puerto Rico, set in 1949–50, was eclipsed by Rickey Henderson's 44 in 1980–81 for the Ponce Lions.26 Bernier's 69 stolen bases in back-to-back Puerto Rico seasons (1949–50 and 1950–51) are a record, ahead of Henderson's 63 in 1979–80 and 1980–81. Rogers Hornsby, Ponce's manager in 1950–51, tried to acquire Bernier in a trade with Mayagüez, according to Wayne Blackburn, Mayagüez's manager. Bernier was inducted into the Puerto Rico Professional Baseball Hall of Fame in 1992.
Testimonials from fans and players
Jim Lyons was born in Hollywood, California, and became a Stars fan in 1954. In a November 2014 blog post, he wrote: "Before games, the team let kids go near the dugouts to get autographs. Many players like Bobby Del Greco would come out and sign for five or 10 minutes. Bernier would sign for a half hour or longer. He would personalize the autograph: 'To my friend Jimmy from Carlos Bernier.' He would talk to you and look at you. He is my all-time favorite player. My oldest son has the middle name Carlos."27
Clemente, as a young player, "found relief with the fans, and after games, loved nothing more than to stand surrounded by admiring strangers, and sign his autograph on their scorecards and baseballs for as long as they wished." 28 Mario Mendoza was befriended by Clemente in Bradenton, Florida, during spring training in 1971. Mendoza and other minor leaguers came in for dinner at 5:30 p.m. and left an hour later when the big leaguers entered. Clemente stayed outside the dining hall, chatting with Mendoza and the others until the last call was made for big leaguers to eat. Clemente told the youngsters: "The heck with the meal. I'll eat somewhere else later in the evening. Let's keep talking." After the Pirates won the 1971 World Series, Clemente was asked if he had ever played with such a powerful team. He said, "Yes, when the Santurce Crabbers won the [1955] Caribbean Series."29
THOMAS E. VAN HYNING, U.S. correspondent for the Puerto Rico Professional Baseball Hall of Fame, 1991–96, presented at SABR 25 in Pittsburgh (1995). He authored "Puerto Rico's Winter League," "The Santurce Crabbers," Rubén Gómez and Dick Hughes SABR bios, and others. Tom saw Roberto Clemente and Carlos Bernier play in Puerto Rico's Winter League. He is a Tourism Economist and Data Analyst in Mississippi, and member of Arkansas's Robinson-Kell SABR Chapter. His BBA degree is from The University of Georgia. Master's degrees are from Southern Illinois-Carbondale and a Puerto Rico university.
Acknowledgments
Grateful acknowledgment to Jorge Colón Delgado for insights on Carlos Bernier and Roberto Clemente. Thanks to these former players who played with or against Bernier and Clemente: Mario Mendoza, Ozzie Virgil Sr., Rubén Gómez (deceased) and Vic Power (deceased). Thanks to Wayne Blackburn (deceased), who managed Bernier at Mayagüez, and to Rickey Henderson, all-time major-league stolen base leader and single-season Puerto Rico stolen base record-holder.
Sources
Books
Stew Thornley, "Roberto Clemente," in Puerto Rico and Baseball: 60 Biographies, Bill Nowlin and Edwin Fernández, eds (Phoenix: SABR Digital Library, 2017), 87–103. https://sabr.org/bioproj/person/8b153bc4.
Thomas E. Van Hyning, "Rubén Gómez" in Puerto Rico and Baseball, 146–56. https://sabr.org/bioproj/person/7d94a891.

Lloyd Johnson and Miles Wolff, eds., Encyclopedia of Minor League Baseball, Third Edition (Durham: Baseball America, 2007).
Rafael Costas, Enciclopedia Beisbol Ponce Leones 1938–1987 (Santo Domingo: Editora Coripio, 1987).
Rick Swain, The Integration of Major League Baseball: A Team by Team History (Jefferson, NC: McFarland, 2009), 116.
Thomas E. Van Hyning, The Santurce Crabbers (Jefferson, NC, McFarland, 1999).

Online
"Carlos Bernier," Baseball Reference, https://www.baseball-reference.com/players/b/bernica01.shtml.
Burly, "The Pacific Coast League's First Black Baseball Stars, Part III," Burly's Baseball Musings, July 19, 2013. https://notanotherbaseballblog.wordpress.com/2013/07/19/the-pacific-coast-leagues-first-black-stars-part-iii. Accessed December 31, 2017.
Articles
"Bucs Sell Four Players, Option Two to Hollywood," Pittsburgh Post-Gazette, April 7, 1954.
"Claims Negro Leagues Raid Puerto Rico and Sell Stars to Majors," New York Age, August 6, 1949.
David Wharton and Lance Pugmire, "Park Place," Los Angeles Times, October 27, 2002. http://articles.latimes.com/2002/oct/27/sports/sp-wrigley27/2. Accessed July 7, 2017.
Frank Deford, "Liege Lord of Latin Hopes," Sports Illustrated, December 24, 1973. https://www.si.com/vault/1973/12/24/618486/liege-lord-of-latin-hopes. Accessed April 30, 2018.
Jack Hernon, "Haney's Size-up on Bob Clemente 'Much to Learn,'" The Sporting News, March 16, 1955.
John Schulian, "Of Stars and Angels" Sports Illustrated, June 21, 1993. https://www.si.com/vault/1993/06/21/128782/of-stars-and-angels-once-upon-a-time-tinseltown-was-a-heavely-place-to-watch-minor-league-baseball. Accessed January 5, 2018.
Thomas E. Van Hyning, "Hall of Famers Shine in Puerto Rico," The National Pastime 12 (1992), 14–16.

Xavier F. Totti, "The Case for Carlos Bernier: Baseball's Historic Omission," Centro Voices, February 5, 2016. https://centropr.hunter.cuny.edu/centrovoices/chronicles/case-carlos-bernier-baseballs-historic-omission. Accessed December 27, 2017.
Personal Interviews
Mario Mendoza, in-person interview, Smith-Wills Stadium, Jackson, Mississippi, July 1994.
Ozzie Virgil Sr., telephone interview, January 1993.
Rickey Henderson, in-person interview, Camden Yards, Baltimore, May 19, 1992.
Rubén Gómez, in-person interview, Hiram Bithorn Stadium, San Juan, Puerto Rico, January 1992.
Vic Power (Víctor Pellot), in-person interview, Ponce, Puerto Rico, October 20, 1991.
Wayne Blackburn, telephone interview, April 1992.
Notes
1 Cliff Corcoran, "Sons of Jackie Robinson," SI.com, April 15, 2014. https://www.si.com/mlb/strike-zone/2014/04/15/jackie-robinson-day-mlb-integration-ernie-banks-elston-howard-larry-doby. Accessed April 30, 2018. Respected historians and sportswriters from the 1950s through today, plus Puerto Rican, Cuban, and Dominican ballplayers who played with and against Bernier, believe or believed Bernier should be considered the first black player in Pirates history. This includes writers from African American publications; Larry Lester, Negro Leagues historian and co-founder of the Negro Leagues Museum; Jorge Colón Delgado, historian, Roberto Clemente Professional Baseball League; Rubén Gómez, Vic Power (Víctor Pellot), Ozzie Virgil Sr; Joe Guzzardi, Xavier F. Totti, and Bernier's son, Néstor Collazo Bernier. 
2 Jorge Colón Delgado, La Maquinaria Perfecta: Santurce Cangrejeros 1954–55 (San Juan: Historical Sports Research, 2007), 73–76. The Puerto Rico Winter League was renamed after Roberto Clemente in May 2012.
3 Bernier was considered a black player in organized baseball in 1948, when he played for Port Chester. Two other black Puerto Ricans—Rubén Gómez and Nino Escalera—were Bernier's teammates with the 1949 Bristol Owls, Colonial League champions. Bernier and Gómez were teammates with St. Jean (Canada), Provincial League, after the Colonial League folded. Bernier played in the Manitoba-Dakota League, a Canadian Negro League, circa 1947. Gómez told the author Bernier was considered a black player when they were teammates. Ozzie Virgil Sr., Detroit's first black player in 1958, had a complection similar to Bernier's. He told the author: "Bernier (as a Mayagüez teammate and in the minors) had a compact swing and a good 'inside-outside' stroke to right field." 
4 Clemente and Irvin were inducted into the National Baseball Hall of Fame in the 1973 ceremony. Clemente is in the Puerto Rico Professional Baseball Hall of Fame (1991), Marine Corps Sports Hall of Fame (2003), and others.
5 Bob Thurman was the first African American player with the San Francisco Seals of the Pacific Coast League in 1951 and played for the 1952 Seals. Thurman is the all-time Puerto Rico League career home run leader with 120.
6 "Carlos Bernier: Hollywood Bought and Sold," Unknown Transaction, July 10, 2015. Located at http://unknowntransaction.blogspot.com/2015/07/carlos-bernier-hollywood-bought-and-sold.html. Accessed April 30, 2018. Bernier was the first black player to play for the Hollywood Stars in 1952. He had a stellar season with the 1951 Tampa Bay Smokers, managed by Ben Chapman, in the Class B Florida International League. Bernier was the first Afro-Caribbean player for the Smokers, preceding Cuban outfielder Claro Duany and others.
7 Joe Guzzardi, "Carlos Bernier, more than a footnote," Pittsburgh Post-Gazette, April 14, 2013. http://www.post-gazette.com/opinion/Op-Ed/2013/04/14/Carlos-Bernier-more-than-a-footnote/stories/201304140150. Accessed April 30, 2018.
8 Guzzardi, "Playing ball in Cuba," Pittsburgh Post-Gazette, March 29, 2014. http://www.post-gazette.com/opinion/Op-Ed/2014/03/30/Pirates-playing-ball-in-Cuba-JOE-GUZZARDI/stories/201403300161. Accessed April 30, 2018.
9 J.G. Preston, "One and Done: The Sparky Anderson All-Stars," J.G. Preston Experience, April 9, 2013. https://prestonjg.wordpress.com/2013/o4/09/one-and-done-the-sparky-anderson-all-stars. Accessed July 31, 2017.
10 C.C. Johnson Spink, "The Low Down on Majors' Big Shots," The Sporting News, January 6, 1954. The story calls Bernier the "most temperamental Pirate." Some other "temperamental" players: Larry Doby (Cleveland), Ted Williams (Boston), Satchel Paige (St. Louis Browns), Eddie Mathews (Milwaukee), and Eddie Stanky (St. Louis Cardinals).
11 David Maraniss, Clemente: The Passion and Grace of Baseball's Last Hero (New York: Simon & Schuster, 2006), 67. Pittsburgh's white players stayed at the downtown Bradford Hotel. Clemente lived in a room of a widow's house on Lime Street. This was the second spring training in Florida for Clemente and Bernier.
12 Charles F. Faber, "Carlos Bernier," in Puerto Rico and Baseball: 60 Biographies, Bill Nowlin and Edwin Fernández, eds (Phoenix: SABR Digital Library, 2017), 49. Faber's excellent bio stated this perhaps was the first all-Puerto Rico outfield in a major-league game, but Román Mejías is Cuban. The 1973 St. Louis Cardinals had three Cruz brothers from Puerto Rico—José, Héctor and Cirilo "Tommy"—but they were not in the outfield at the same time in a major-league game. Héctor Cruz, Jerry Morales and Carlos Lezcano did play the outfield together in a regular-season game for the 1981 Chicago Cubs.
13 Al Abrams, "Sidelights on Sports," Pittsburgh Post-Gazette, March 14, 1955.
14 Through the 2017 season, three triples in one game had been done 26 times by 25 players in the National League since 1899, including five times by Pirates players: In addition to Bernier and Clemente, the other three were Ginger Beaumont on August 9, 1899; Dave Brain on August 8, 1905; and Chief Wilson on July 24, 1911. http://www.baseball-almanac.com/recbooks/rb_trip1.shtml.
15 Tony Piña Cámpora, "Serie del Caribe: Historia de la Confederación," 2014. http://www.beisboldelcaribe.com/home/documentos/SCARIBEHISTORIA.pdf. Accessed April 30, 2018. Clemente had 16 hits in 49 at-bats for the combined 1955 and 1958 Caribbean Series. His 29 total bases included two home runs, a double, and three triples. Clemente was the All-Star center fielder of the 1958 Caribbean Series; Mays was the All-Star center fielder in 1955. Clemente was inducted into the Caribbean Baseball Hall of Fame in 2015, a decade after Mays. Phase I, Caribbean Series, 1949–60, was with Cuba, Panama, Puerto Rico, and Venezuela. Phase II is 1970 to the present. Current teams are Cuba, Dominican Republic, Mexico, Puerto Rico, and Venezuela. The Interamerican Series took place 1961–64. 
16  "Carlos Bernier," Baseball-Reference.com,  https://www.baseball-reference.com/register/player.fcgi?id=bernie001car. Full name: Carlos Eugene Bernier Rodríguez. Born in Juana Díaz on January 28, 1927; died in Juana Díaz on April 6, 1989.
17 Preston, "One and Done."
18 Faber, "Carlos Bernier," 49.
19 Steve Treder, "Carlos Bernier," Hardball Times, August 25, 2004. https://www.fangraphs.com/tht/carlos-bernier/. Accessed December 27, 2017. 
20 Héctor Barea, Historia de los Criollos (San Juan: Ana G. Méndez University System, 1997). 
21 Thomas E. Van Hyning, Puerto Rico's Winter League (Jefferson, NC: McFarland, 1995), 64.
22 Maraniss, Clemente, 202. Clemente was particularly sensitive to close plays at first base and on plays called errors by official scorers that might have been infield hits.  
23 José A. Crescioni Benítez, El Béisbol Profesional Boricua, (San Juan: First Book Publishing of Puerto Rico, 1997), 101–2, 236, 241, 351, 354. Bernier stole 286 bases in 19 seasons, the most all-time. He led the league five times and was runner-up nine times. Bernier's 85 career triples in Puerto Rico are the standard. His lifetime batting average was .268, 4,126 at-bats, 739 runs, 1,107 hits, 151 doubles, 48 home runs, 415 RBI. Clemente has the fourth-highest league batting average: .324, behind Willard Brown at .350; "Pancho" Coimbre's .337; and Perucho Cepeda's .325. Clemente had 1,917 at-bats, 302 runs, 621 hits, 100 doubles, 25 triples, 35 home runs, 268 RBI, and 32 stolen bases.
24 Van Hyning, Puerto Rico's Winter League, 62.
25  "Carlos Bernier," MILB.com, http://www.milb.com/content/page.jsp?sid=l112&ymd=20110503&content_id=18574638&vkey=league3.
26 Van Hyning, "Henderson Runs Past Cobb and Bernier," Baseball Research Journal, 21 (1992), 20–21. Rickey Henderson agreed to an interview by the author in the Camden Yards visitor clubhouse upon hearing he still held Puerto Rico's single-season stolen base mark. Henderson stole 44 bases in 48 games for Ponce in 1980–81 during a 60-game season. Bernier stole 41 bases during an 80-game season in 1949–50.
27 Treder, "Carlos Bernier."
28 Maraniss, Clemente, 87.  
29 Colón Delgado, La Maquinaria Perfecta, back cover. The 1954–55 Santurce Crabbers were considered the best Caribbean, Central, or South American Winter League team ever assembled, per sportswriters, fans, and players.
https://sabr.org/wp-content/uploads/2020/03/research-collection4_350x300.jpg
300
350
admin
/wp-content/uploads/2020/02/sabr_logo.png
admin
2018-06-28 11:26:32
2023-07-31 16:03:19
Carlos Bernier and Roberto Clemente: Historical Links in Pittsburgh and Puerto Rico