Charlie Schmutz: The First San Diego-Born Major Leaguer
This article was written by Bill Lamb
This article was published in The National Pastime: Pacific Ghosts (San Diego, 2019)
---
With its temperate Pacific Coast climate and rich baseball tradition, San Diego has long been a spawning ground for major-league talent, sending some 121 of her sons to the bigs. The second, and by far the greatest, of these San Diegans was Ted Williams, whose march to Cooperstown began with the 1939 Boston Red Sox. But 25 years before the Splendid Splinter made his Sox debut, the trail to the majors for the San Diego-born ballplayer was blazed by a player as obscure as Williams is famous: Charlie Schmutz, a Deadball Era right-handed pitcher.
Schmutz's tenure with the 1914–15 National League Brooklyn Robins was brief (19 games), undistinguished (one victory), and quickly forgotten. In fact, during his lifetime, Schmutz was mostly known only to the baseball fans of Seattle, where he grew up and played the majority of his baseball. Nevertheless, Charlie Schmutz is the correct answer to the baseball trivia question "Who was the first major-league player born in San Diego?"1
Charles Otto Schmutz was a New Year's Day baby, born on January 1, 1891. He was the oldest of three children born to streetcar conductor Frank J. Schmutz (1865–1948) and his teenage wife, Alice (nee Murphy, 1876–1958).2 While Charlie was still in grade school, the family relocated to Seattle, the burgeoning seaport 1,250 miles to the north. As far as has been discovered, Schmutz never returned to the city of his birth. Rather, he became a lifelong Seattle resident. And it was there that Charlie Schmutz first attracted public notice.
Like other marginal major leaguers, Schmutz would be remembered not for his abbreviated time in big-league livery but for his schoolboy exploits. Indeed, the 1907 campaign of Schmutz and his teammates on the Seattle High School nine was celebrated locally for the succeeding 50 years. That Seattle High lineup was loaded with talent. Within a few years, star first baseman Charlie Mullen would begin a five-season major-league career. Three other team members, pitcher Jimmy "Toots" Agnew, third baseman Harry Martin, and memorably named left fielder Ten Million, went on to play minor -league ball, while catcher Mert Hemenway, shortstop Ernie Maguire, and outfielders Bill "Wee" Coyle and Fred Hickenbottom would become varsity lettermen at the University of Washington.3 In the beginning, 16-year-old freshman Charlie Schmutz auditioned for a spot in the overstocked SHS outfield, but he was slow-footed and a weak righty batsman.4 He had imposing size, though — lanky but eventually near 6-foot-2, 195 pounds — and a strong throwing arm.5 So he decided to give pitching a try. Although it would sometimes later be reported that Schmutz had a sizzling fastball, he initially threw "as slow as molasses in January."6 But he made good use of a puzzling shot-put pitching motion and had somehow learned to throw a wicked spitball.
On April 17, 1907, Seattle High's novice pitcher made an astonishing debut. Matched in a preseason game against the professional Seattle Siwashes, a Class B Northwestern League club owned and managed by former major-league catcher Dan Dugdale, Schmutz shut them down on two hits, winning 2–1. The local sports press was dumbfounded: "A long-legged lad named Schmutz, who had not been considered good enough for the high school team, pitched a great game and with the aid of a balk motion had the professionals buffaloed," reported the Seattle Times.7 Meanwhile, the Seattle Post-Intelligencer informed readers that "Mr. Schmutz, a pitcher of the bean-pole variety . . . was the stumbling block that Seattle could not overcome. From the dizzy heights he handed them down so nicely shaded that only two hits were chalked against him."8
Overmatched area high school nines rarely provided much competition, but when the scholastic season was completed, Seattle High School embarked upon something far more ambitious: a transcontinental baseball tour. Such an excursion by a high school team was unprecedented, and the Seattle Board of Education was unenthused about sending teenage students on a two-month cross-country trip. But once a consortium of city businessmen agreed to finance the tour — seen as a useful vehicle for advertising the upcoming 1909 Alaska-Yukon-Pacific Exhibition — the board acquiesced, deputizing SHS faculty member B.C. Hastings to chaperone the 11 players and student manager Harold Stewart on the trip.9
Arriving in Minnesota on June 17, the boys started off on the right foot, defeating the St. Paul Athletic Club 2–1 behind a one-hit, 13-strikeout effort by Schmutz. Playing almost every day except Sundays, Seattle High played winning ball against the majority of its high school opponents in Chicago, Detroit, Baltimore, Washington, and Charlottesville, Virginia. After Schmutz no-hit D.C.'s Western High School, the unofficial schoolboy champs of the East, the local press questioned the age and amateur status of Seattle High team members.10 Such skepticism prompted an indignant Hastings to declare that all the boys were high school students in good standing and that they had passed their June examinations before embarking on the trip.11 Meanwhile, student manager Stewart produced the players' birth certificates, proving that none was over 18 years old.12
Seattle High fared less well against semipro and athletic club teams, dropping a 4–0 decision to the crack Frankfort (Philadelphia) AC and suffering a 5–4 loss to the Philadelphia Colored Giants on successive days in early July. But overall, the youngsters held their own against older, more-seasoned opposition, even notching three consecutive wins over a fast semipro club in Abilene, Texas. By the time the 8,600-mile tour was completed, Seattle High had compiled a respectable 16–15 record against all comers, with almost all of these games having been pitched by Schmutz or fellow freshman Jimmy Agnew.13 Greeted at the train station by more than 1,000 locals upon their arrival home, the boys were the toast of Seattle and the recipients of an officially hosted parade through city streets.14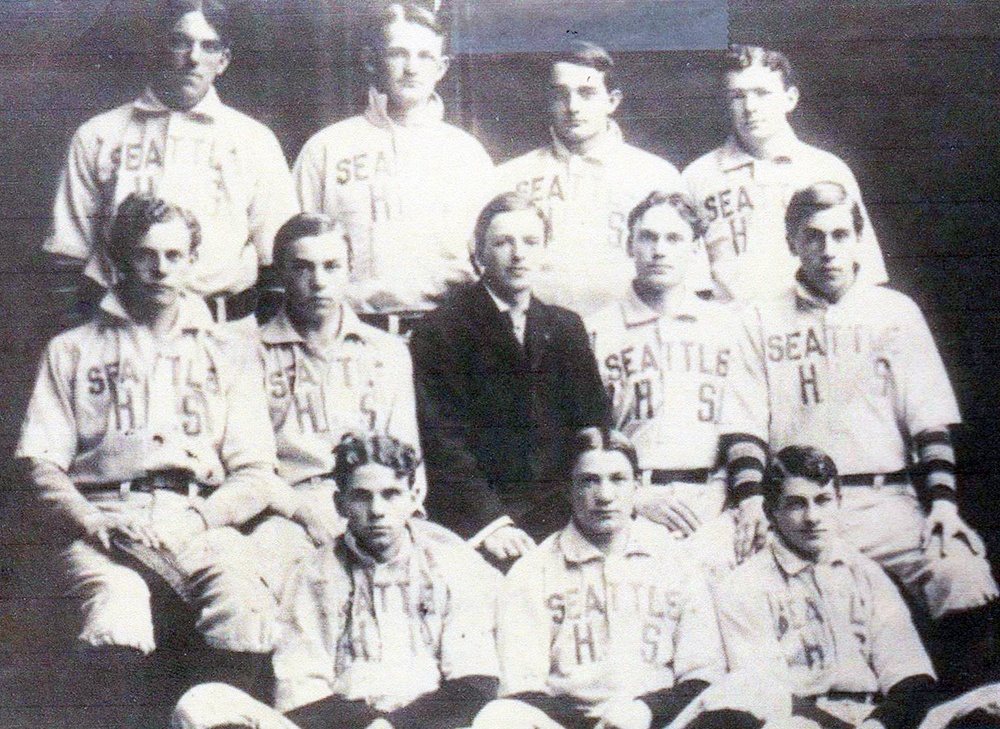 The 1907 Seattle High School baseball team. Charlie Schmutz stands in back row, farthest left. Seated directly in front of Schmutz is future major-leaguer Charlie Mullen. (COURTESY OF THE SEATTLE TIMES)
Schmutz, Mullen, Agnew, and most of the other tour players returned to the Seattle High lineup in 1908, achieving mixed results.15 On April 7, the Seattle Siwashes got their revenge against the high schoolers, driving Schmutz from the mound in the third inning on their way to a 5–0 victory.16 Playing a mostly high school schedule that also included games against the University of Idaho and Washington State varsities (both losses) and a 7–1 Schmutz triumph over the University of Washington, the SHS nine won more often than they lost, but were no longer the area's baseball wunderkinds. During the ensuing summer, Schmutz, Mullen, and company played for their own self-organized amateur team, the Nationals. Then, in the autumn, Schmutz and Agnew pitched semipro ball, mostly for a local team called the Websters.17
Resisting pressure to turn fully professional, Schmutz resumed double-duty high school and semipro ball pitching in the spring of 1909.18 Websters club owner Joe Schlumpf was glad to have Schmutz back, but could not understand why Seattle Turks (nee Siwashes) owner-manager Dugdale had not made the effort necessary to sign the 18-year-old hurler. Said Schlumpf, "In my judgment, (Schmutz) is the best youngster that has ever played western baseball."19 One thing, however, had changed. When Schmutz took the mound for a high school game, he now wore the uniform of Seattle's Abraham Lincoln High School.20 The 1909 scholastic campaign ended with Schmutz pitching Lincoln to a 4–0 victory over Broadway (formerly Seattle) High and "old pal" Jimmy Agnew, thereby capturing the high school championship of the Northwest for his new school.21
Schmutz left Lincoln at the completion of his junior year and never earned a high school diploma.22 Once it was clear that Schmutz's school days were behind him, rumors re-circulated that he would soon be joining the Northwestern League Tacoma Tigers. Such reports proved unfounded. Charlie remained home in Seattle long enough to perform an act of heroism: While canoeing on Lake Washington, he and a friend rescued a drowning young woman.23 Schmutz spent the remainder of the summer pitching semipro ball in Dillon, Montana.24 Upon returning home, he joined his teenage brother Ernie in the employ of a Seattle grocery store.25
In 1910, 19-year-old Charlie Schmutz finally entered the professional ranks, signing with Tacoma. His pro debut, however, was delayed by a case of blood poisoning that required several days' hospitalization.26 But once he regained his health, Schmutz became a Tacoma staff mainstay. In 39 games, he posted a 14–20 (.412) record for the 73–84 (.465) Tigers, striking out 120 while walking 81 in 299⅓ innings.27 He returned to Tacoma the following season, going 14–14 in 33 games for an 81–84 club,28 attracting major-league attention in the process. That August, it was reported that Schmutz was one of three Northwestern League hurlers signed by retired star Bill Lange for the Cincinnati Reds.29 Schmutz continued pitching for Tacoma throughout the summer, but his transfer to Cincinnati at season's end seemed confirmed by widespread reports that Tacoma club owner George Shreeder had obtained $2,500 from Cincinnati for the rights to Schmutz.30
As it turned out, Shreeder decided that the Cincinnati offer was inadequate for a talent like Schmutz and held on to him for the 1912 season. Schmutz expressed his displeasure at this turn of events by returning his 1912 Tacoma contract unsigned.31 He wanted out of Tacoma. But the reality of the reserve clause, and perhaps the sale of the Tacoma franchise to new owner Edd N. Watkins, compelled him to return to the Tigers.32 The reunion would prove a disagreeable one, as the latest edition of the Tigers was dominated by untalented, often dissipated players who seemed to take pleasure in undermining the work of their staff ace.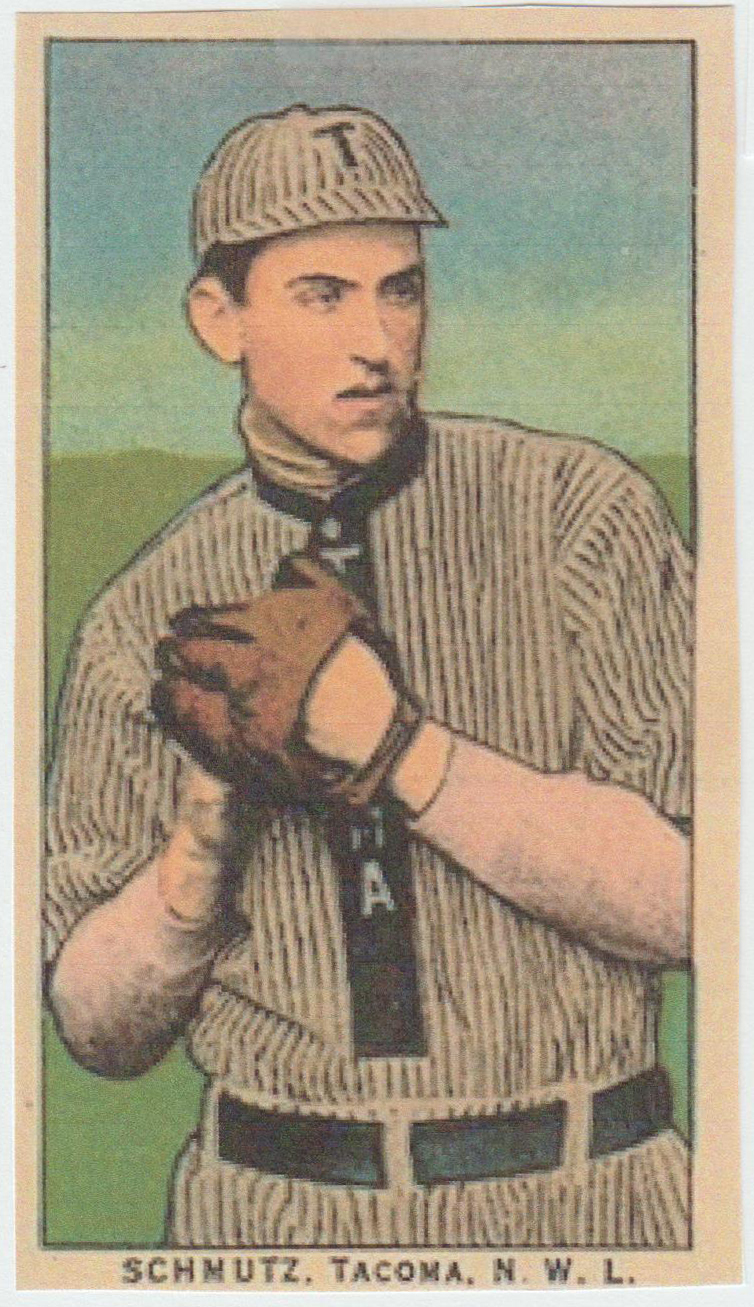 By mid-July, Tacoma was firmly entrenched in the NWL cellar, while Schmutz's individual record stood at a shuddering 2–14. Still, he remained held in high regard by NWL observers. A nationally circulated United Press wire report declared: "Schmutz is considered one of the best pitchers in the league, but despite his excellent work he has won two and lost 14 this season through the poor support given him. He was not liked by the loafing members of the team and they practically threw his games away. (Schmutz) is a clean living, hard working pitcher."33
By then, club owner Watkins had seen enough, releasing underperforming malcontents Ody Abbott and Pete Morse, and trading Schmutz to the NWL rival Vancouver Bees for three players (including Jimmy Agnew). In announcing the moves, Watkins added: "I do not want the impression to get out that Schmutz was traded because he was breaking training rules. He is a man of the best habits and takes the greatest care of himself. While he is a great pitcher, he has not been winning for us and I believe that he will have a better chance to better himself with (Vancouver manager Bob) Brown."34
Truer words were rarely spoken. Once in a Vancouver uniform, Schmutz went on a winning tear, capturing his first nine decisions for the Bees. He finished the season with a combined 13–17 record and reestablished himself as a major -league prospect.35 He was chosen by the Philadelphia Phillies in the late-season minor -league player draft, and directed to report to the club's training camp the following spring.36
Once again, Schmutz's hopes for a major -leagues chance were dashed, as he appears to have been given no shot to make the roster by the Phillies. Instead, he was returned to Vancouver, where he promptly resumed the excellent work of the previous campaign. By now, an improved, more fluid delivery had added some velocity to his fastball. But Schmutz still did not throw hard. Instead, he pitched to contact, relying on control and his spitball to get him out of tight spots.37 For the 1913 season, that formula produced a 16–10 Schmutz record for the NWL pennant-winning Vancouver Bees; his selection to various NWL all-star teams,; and, at long last, a legitimate shot at a major-league job. That July, Schmutz's contract was purchased by the National League Brooklyn Superbas, reportedly on the recommendation of retired fireballer Amos Rusie.38 The $5,400 that Brooklyn club boss Charles Ebbets paid for Schmutz was high for an untested minor leaguer, but only a fraction of the $60,000 that Ebbets was prepared to lay out for new playing talent that summer.39 New recruit Schmutz was to finish the NWL campaign with Vancouver, and then report to Brooklyn manager Bill Dahlen in September.40 For reasons unclear, however, Schmutz remained in the Pacific Northwest that fall.
Prior to leaving his Seattle home for spring camp in February 1914, a grateful Schmutz sent Ebbets a letter. "I take the opportunity to state that the ambition of my life — the entering of the major leagues — has been realized," he wrote, "and I hope that I will be of as much service to you as I have been to (Vancouver manager) Brown. I have taken the best of care of myself this winter and am anxiously awaiting the opening of the training season."41 Although Ebbets — feeling the competitive pressure applied by the new Brooklyn Tip-Tops of the upstart Federal League — had overstocked new manager Wilbert Robinson's pool of pitching candidates, Schmutz showed enough in spring exhibition play to survive the cut and make the Opening Day roster.
Once the regular season began, Schmutz saw no action for almost a month. He finally made his major-league debut on May 13, 1914, pitching a flawless inning with two strikeouts in relief of Bull Wagner in a 6–0 loss to Chicago. Two other scoreless relief outings followed. Then after three weeks of inactivity, Robinson used Schmutz again: two innings of scoreless mop-up relief in a 6–0 defeat by St. Louis on June 13. Five days later, he got the call early, relieving starter Frank Allen in the top of the second inning with the Robins already trailing Cincinnati, 2–0.42 From there, Schmutz pitched hitless ball until finally weakening in the ninth, when he gave up two runs on four hits to complete a 4-1 loss to the Reds.
After several more weeks of inaction, Schmutz was finally given a start — in an exhibition game against the Rochester Hustlers of the Class AA International League. He responded to the audition with a complete game, four-hit shutout, prompting the press back home to observe that "maybe after that showing fat Wilbert Robinson will give the Seattle lad a chance to work in a real league game."43 But instead, Brooklyn brass assayed shipping Schmutz to its own IL farm club in Newark "in order that the tall lad from the Northwest will get the player preparation required for big leagues usefulness."44 Armed with a guaranteed two-season contract — a benefit of Brooklyn's combat with the Federal League — Schmutz successfully resisted the effort to send him down and remained a member of the big club. On July 23, he got his first major-league start in an away game against the Cardinals. Schmutz surrendered a run in the bottom of the first, but thereafter held the opposition scoreless until he was removed in the top of the seventh for pinch-hitter Jack Dalton. A two-out Dalton single delivered Casey Stengel (Schmutz's road roommate) from third and gave Brooklyn a 2–1 lead. Unhappily for Schmutz, the Cardinals immediately pounced on reliever Reulbach for three runs, leaving the first-time starter with a no-decision in the 4–2 loss.
Two subsequent starting assignments did not go as well. On August 6, Schmutz was yanked after a five-run first inning against St. Louis in a 7–2 loss. Two weeks later, he left after five innings trailing 4–0 in a 7–2 defeat by Cincinnati. A final start on September 11 produced a better effort, an 11-hit complete game in a 3–0 loss to aging New York Giants pitching master Christy Mathewson. The defeat dropped Schmutz's record to 0–3. But with the 1914 season approaching an end, he finally registered a victory. Relieving starter Reulbach with the Robins trailing 2–0 in a September 25 home game against Pittsburgh, Schmutz was the beneficiary of shoddy late-inning fielding by the Pirates and emerged a 3–2 victor. Ordinarily a harmless batsman, Schmultz doubled in the ninth and scored the winning run himself on a throwing miscue by Pirates shortstop Wally Gerber. Days later, he concluded his maiden major-league season with a substandard relief outing, giving up five runs in four innings and getting no decision in a 9–7 loss to the Phillies.
In 18 appearances for Brooklyn, Schmutz posted a 1–3 record with a 3.66 ERA in 59 innings. He struck out 23 and walked 14 while opposing batters batted .265 against him. Despite such mediocre numbers, the 23-year-old Schmutz had made a decent-enough rookie showing, and the youngster could be expected to improve under the tutelage of manager Robinson, an astute developer of pitching prospects. He'd have to, as the Robins had made considerable strides in team performance, improving on their 1913 season by 10 wins. Competition for spots on the 1915 club was likely to be brisk.
Despite unconfirmed reports of offseason bouts with shin splints and malaria, Schmutz reported to Brooklyn's spring camp in his customary excellent condition.45 Once again, candidates for the pitching staff were plentiful, but Schmutz's cause was aided by arm miseries that put veteran hurlers Nat Rucker and Jack Coombs temporarily on the shelf. Soon, the preseason work of Schmutz and other youngsters drew the praise of Robinson. Following an exhibition game against Washington, Robbie declared, "In Schmutz, Appleton, Smith, and Dell, I have a quartet of young pitchers who will win a lot of games for me this summer."46
Schmutz was among the pitchers who made the expanded Opening Day roster, and was immediately sent into action in the inaugural game against the Giants. Entering the contest with Brooklyn already trailing 7–0, he held Giants bats in check for three innings, but was then tattooed for four doubles and a single in a five-run sixth. Schmutz was relieved by Elmer Brown in the seventh — and would never appear in another major-league game. Several days thereafter, he was one of four pitchers sent to the minors as Brooklyn trimmed its roster to the 21-player limit.47
The remainder of the season was mostly grim for Schmutz. He was ineffective pitching for the International League Newark Indians, going 2–4, with a 6.70 ERA in 73 innings pitched. He was then remanded back to Brooklyn, which immediately optioned Schumtz to the Salt Lake City Bees of the Class AA Pacific Coast League.48 He fared no better there. In eight games, he posted a 1-2 record, with a 5.22 ERA in 29⅓ frames. As September approached and with Brooklyn's acquiescence, Salt Lake released Schmutz.49 He was then signed by the hometown Seattle Giants of the Northwestern League, where he seemed to regain form pitching against Class B batters.50 On September 16, a four-hit, 9–1 Schmutz victory over the Spokane Indians gave Seattle the NWL crown and ended a trying year on an upbeat note.51
During the offseason, Schmutz filed a grievance with the National Commission, the governing body of Organized Baseball, claiming that he had been underpaid for the 1915 season. Upon consideration, the commission agreed and awarded Schmutz $875, the difference between the salary specified in his binding two-year contract with Brooklyn and what he had been paid while pitching for Salt Lake and Seattle.52 He then returned to the Seattle Giants and registered the most successful year of his professional career. He began the 1916 season by tossing 31 consecutive scoreless innings before a Seattle fielding miscue let in a run.53 By season's end, Schmutz had posted a 19–11 (.633) record for a weak-hitting, next-to-last-place club that otherwise went 41–61 (.402). His 275 innings pitched demonstrated the soundness of his throwing arm, while his 106 strikeouts were a personal best.54 Yet despite this sterling performance and Schmutz's youth (he was still only 25 years old), he went unclaimed in the postseason minor-league player draft, unwanted by either a major-league or higher minor-league club.
The rejection appears to have soured Schmutz on professional baseball. He refused to report to Seattle's spring camp in April 1917, prompting the club to sell him to Vancouver.55 Schmutz would not report there, either. Instead, he signed as pitcher-manager of the Dry Docks, the club entered in the semipro Seattle Shipbuilders League by the Seattle Construction and Dry Dock Company."56 When not in his baseball uniform, Schmutz was an electrician with the company.
The following winter, with the country fully engaged in World War I, Schmutz enlisted in the US Army. Initially stationed near home at Camp Lewis, he was soon playing ball for the juggernaut camp baseball team, coached by his friend and former Seattle High School teammate Charlie Mullen. In addition to Mullen and Schmutz, the Camp Lewis squad included former major-league hurlers Jim Scott and Duster Mails, while center field was patrolled by erstwhile Seattle High standout and St. Louis Cardinals prospect Ten Million.57 The Camp Lewis games came to an end, however, when the outfit was shipped to France in July 1918. But before leaving for the front, Schmutz became engaged to Brenda Jenkins, the 20-year-old daughter of a Seattle shipbuilding magnate.
A proud member of the 316 Sanitary Train of the 91st Infantry Division, Sergeant Charles Schmutz alternated duties on the battlefront with playing company baseball during lull periods in the fighting. Although the war-ending armistice was signed in November, his unit remained in France and did not leave for home until April 1919.58 Shortly after his arrival back in Seattle, he and Brenda were married at the Jenkins family residence. Following a three-week honeymoon in the Canadian Rockies, the newlyweds set up housekeeping in a posh Seattle neighborhood, their newly built residence courtesy of the bride's wealthy father. In February 1920, the couple had their first child, a daughter named Nancy Low who, sadly, died shortly after birth. Some six years later, the arrival of daughter Nancy Brenda made the Schmutz family complete.
In early 1920, Schmutz had joined the sales force at Graybar Electric, a Seattle wholesaler of electrical supplies and appliances. He would hold well-paying sales and executive positions at Graybar for the next 37 years. While Charlie worked and pitched on weekends for area semipro teams that often reunited him with his high school teammates, Brenda took to the Seattle social circuit.59 Her attendance, usually in the company of her twin sister, Thelma Jenkins Anderson, and/or her socialite mother, Edith, at high-tone luncheons, art gallery exhibitions, and the like was regularly noted in the local press.60
The onset of the Great Depression appears to have had no effect on the Schmutzes. Charlie remained gainfully employed, while Brenda (usually with sister Thelma in tow) embarked on lengthy sojourns to Mexico, France, the Orient, and other faraway destinations, leaving the care of daughter Nancy to Charlie and the household domestic staff.61 An unspecified illness, however, brought Brenda's gallivanting to a premature halt. She died at home on July 3, 1938, at the age of 39.
In 1940, Schmutz remarried, taking 34-year-old divorcee Dorene Young Dusky as his second wife.62 The marriage was not a happy one, and the couple divorced five years later.63 Now well into middle age, Schmutz, when not attending to work at Graybar Electric, immersed himself in baseball-related activities. He got deeply involved in Seattle youth baseball; played in area old-timers games; was appointed to the Seattle Rainiers Baseball Boosters Association, and was a participant in regular reunions of the still locally celebrated Seattle High School team of 1907.64 In addition, he was an active member of the American Legion and other Seattle civic organizations, and a renowned fisherman.
No one in Seattle was happier than Charlie Schmutz when the Brooklyn Dodgers won the 1955 World Series.65 And four years later, he made the trip to Los Angeles to see his former club capture the 1959 world championship. By now, however, the infirmities of advancing age were closing in on Schmutz. He survived colon cancer surgery but was plagued by heart disease. On June 27, 1962, he suffered a heart attack while at home and was pronounced dead on arrival at Seattle's Providence Hospital.66 Charles Otto Schmutz was 71, survived by his brother Ernest, sister Frances Schmutz Nelson, daughter Nancy Schmutz Hall, and four grandchildren.67 Following services at a local funeral parlor, his remains were cremated and subsequently interred at the Washelli Columbarium at Evergreen-Washelli Memorial Park, Seattle, a far remove from the sunny Southern California city where the full and eventful life of Charlie Schmutz had begun more than seven decades earlier.68
BILL LAMB is a retired state/county prosecutor. He is the editor of "The Inside Game," the quarterly newsletter of SABR's Deadball Era Committee, and the author of "Black Sox in the Courtroom: The Grand Jury, Criminal Trial and Civil Litigation" (Jefferson, North Carolina: McFarland, 2013).
Sources
Sources for biographical info include the Charlie Schmutz file with player questionnaire maintained at the Giamatti Research Center, National Baseball Hall of Fame and Museum, Cooperstown, New York; US Census data and Schmutz family posts accessed via Ancestry.com; and the articles cited in the endnotes. Unless otherwise noted, minor-league stats have been taken from Baseball-Reference, major-league data from Retrosheet.
Notes
1 Debuting with the Boston Red Sox in 1908, Deadball slugger Gavy Cravath preceded Schmutz to the majors. But Cravath was born in San Diego County, not the city itself. Cravath's birthplace in Poway lies about 22 miles northeast of the San Diego city line.
2 Schmutz's paternal grandparents were Swiss immigrants who settled in Wisconsin. His siblings were brother Ernest (born 1894) and sister Frances (1911).
3 Ten (No Middle Name) Million later became a St. Louis Cardinals prospect until a knee injury ruined his playing career. See "St. Louis Cardinals Secure Ten Million," Seattle Times, January 13, 1912.
4 Evidently unsure of his chances of making the Seattle High team, Schmutz also organized a sandlot club called the Nationals to play other Puget Sound amateur nines. And even after he became the high school's star hurler, Schmutz pitched for the Nationals as well. "National Team Is Ready," Seattle Times, March 21, 1907.
5 Current baseball references list Schmutz's height as 6'1″ or 6'1½." Some Deadball Era sources had him a bit taller, and the posthumous player questionnaire completed by his brother Ernest gave Schmutz's height as 6'3″.
6 "Schmutz Wins for Seattle," Seattle Times, September 5, 1915.
7 "Dug's Team Stung by High School Bunch," Seattle Times, April 18, 1907.
8 "High School Beats Seattle; Schmutz Is Wizard," Seattle Post-Intelligencer, April 18, 1907.
9 The exhibition was Seattle's first World's Fair-type extravaganza, intended to advertise economic opportunity in the city and to promote Seattle as the gateway to Alaskan adventure and riches. The Seattle High School baseball tour eventually cost its sponsors almost $4,000.
10 "Western Was Easy," Washington Herald, July 7, 1907.
11 Washington Times, July 11, 1907.
12 Days after the Seattle High drubbing of Western, the hometown daily published a photo of the team in uniform. With the exception of Schmutz, none of the SHS players is physically large, and they indeed all look like teenagers. Seattle Times, July 17, 1907.
13 One Washington observer judged Agnew a "better box artist" than Schmutz, and Agnew would later pitch professionally, rising as high as the Pacific Coast League. Washington Herald, July 12, 1907.
14 For a detailed retrospective on the Seattle High tour of 1907, see David Eskenazi, "Wayback Machine: Seattle's First Ambassadors," Sportspress Northwest, October 18, 2011, http://sportspressnw.com/2122105/2011/wayback-machine-seattles-first-athletic-ambassadors; and Clark Squire, "Sizzling Schmutz," Seattle Times, April 23, 1956.
15 Since its opening in 1902, the school's official, but seldom-used, name was Washington High School. For some reason, local newspapers sometimes referred to Seattle High by its official name (Washington HS) during the 1908 baseball season. See e.g., "Washington High Team Gets Whitewashed," Seattle Times, April 8, 1908.
16 "Washington High Team Gets Whitewashed."
17 See e.g., "Websters Win Game from Clinton Stars," Seattle Times, September 28, 1908: "Schmutz had his spitball well tuned and struck out 15" during a 13-inning 1–0 Websters victory over the Clinton All-Stars. At the time, there was nothing remarkable about high schoolers like Schmutz playing semipro ball, and doing so did not jeopardize their high school eligibility. A photo of Schmutz, Jimmy Agnew, and a Tacoma High School catcher named Hanna in their Websters uniforms was published in the Seattle Times, July 19, 1908.
18 Widespread report that Schmutz had signed with the Northwestern League Tacoma Tigers proved erroneous.
19 "Fans Wake Up; Feel Satisfied," Tacoma Ledger, March 14, 1909.
20 Located in the city's Wallingford neighborhood, Lincoln High had opened in September 1907. It was one of several new institutions built to accommodate Seattle's exploding high school-age population.
21 "Lincoln Wins Championship," Seattle Times, June 5, 1909. Because Seattle High School was no longer the city's only public high school, the Board of Education decided to rename the institution Broadway High School. The new name took effect in Fall 1908, and was taken from the location of the erstwhile Seattle High School at Broadway and East Pine Street. For more on the confusing early-century name changes of Seattle's high schools, see "Seattle Public Schools, 1862-2000: Broadway High School," http://www.historylink.org/File/10475, posted September 4, 2013.
22 The Baseball-Reference entry for Charlie Schmutz (and high school teammate Charlie Mullen as well) currently lists him as having attended Seattle's Broadway High School. This is incorrect, as Schmutz was never a student at the institution during the years (1909–46) that it was called Broadway High. In his freshman and sophomore years (1906–08), Schmutz attended Seattle High School, while he spent his junior year (1908–09) at Lincoln High. Similarly, Mullen never attended Broadway HS. He was a June 1908 graduate of Seattle High School.
23 "Two Thrown into Lake When Canoe Capsizes," Seattle Times, June 21, 1909.
24 "Charley Schmutz Now Pitching in Montana," Seattle Times, July 11, 1909.
25 As recorded in the 1910 US Census, via Ancestry.com.
26 Tacoma Ledger, April 8, 1910. The malady was attributed to an unspecified wound that had become infected. During his time in Tacoma, Schmutz purportedly acquired the nickname "King" assigned to him by modern baseball reference works. But little, if any, evidence of this nickname is found in contemporaneous newsprint.
27 Schmutz's strikeout total is taken from the 1911 Reach Official Guide, 374. His other stats come from Baseball-Reference.
28 It was subsequently reported that the 1911 season log of Schmutz and other Tacoma hurlers was brought down by the club's second-half disintegration. "Training Season Starts March 15," Tacoma Ledger, January 9, 1912.
29 "Miles Netzel Signs with Reds," Seattle Times, August 4, 1911.
30 "Three Beauties for $7,500," Detroit Times, October 6, 1911. The other Tacoma hurlers reportedly sold to Cincinnati were Fred Annis and Blaine Gordon. The three-pitcher sale was subsequently reiterated in news articles published in the Sault Ste. Marie (Michigan) Evening News, October 11, 1911; Saginaw (Michigan) News, October 13, 1911; (Springfield) Illinois State Journal, October 31, 1911; and elsewhere.
31 Seattle Times, January 18, 1912.
32 "Charley Schmutz Is Ready To Join Club," Tacoma Ledger, January 29, 1912.
33 "Loafers Released by Tacoma Mogul," (Portland) Oregon Journal, July 19, 1912, and elsewhere.
34 "Watkins Gives Team General Shaking Up," Tacoma Ledger, July 19, 1912. Agnew, meanwhile, was reluctant to take his old high school teammate's place on the Tacoma roster and refused to report. Tacoma eventually sold Agnew to the NWL Portland Colts, where he finished the season with a combined 14–12 record.
35 Final 1912 Northwestern League season stats, Oregon Journal, November 12, 1912. NWL stats in Sporting Life, November 2, 1912, put Schmutz's record at 12–15, but include fewer games (28 vs. 33) and fewer innings-pitched (254 vs. 261). Baseball-Reference has no 1912 numbers for Schmutz.
36 "Four Northwestern Players Who Report to Majors Next Season," Oregon Journal, September 29, 1912. A rival newspaper had earlier reported that Vancouver had sold the Schmutz contract to the Phillies in August. See The (Portland) Oregonian, August 6, 1912.
37 A Cincinnati Reds scout named O'Hara discounted Schmutz as a major-league prospect, saying he "has no fast ball. Charlie's main reliance is his spitball, slow ball, and excellent control.""Cincinnati Scout Picked Bob Ingersoll over Schmutz," Seattle Times, July 9, 1913.
38 "Dahlen May Have a 'Find,'" New York Tribune, November 2, 1913, and Springfield (Massachusetts) Republican, February 1, 1914. At the time, the down-on-his-luck Rusie was on the Tacoma Tigers groundskeeping crew.
39 "Dodgers To Pay Out $60,000 For Players," Washington Evening Star, August 12, 1913, and "These Youngsters Go To Major Leagues Next Season," Oregon Journal, September 21, 1913. An earlier report that Schmutz had been sold to the Detroit Tigers proved false.
40 As reported in the Kalamazoo (Michigan) Gazette, Philadelphia Inquirer, and Washington Evening Star, July 22, 1913.
41 New York Tribune, February 1, 1914.
42 The Robins was the new and unofficial nickname bestowed upon the Brooklyn club in 1914 in tribute to popular new manager Wilbert Robinson.
43 "Schmutz Wins Shut-Out Game," Seattle Times, July 8, 1914.
44 Abe Yager, "The Superbas Revival," Sporting Life, July 11, 1914.
45 Unidentified 1914–15 newspaper articles cited in "Happy Birthday, Charlie Schmutz!" Mighty Casey Baseball, https://mightycaseybaseball.com/2018/01/02/happy-birthday-charlie-schmutz/, posted January 2, 2018; Seattle Times, September 3, 1915.
46 "Other Sport Comment," Washington Herald, April 9, 1915.
47 The others sent down were Raleigh Aitchison, Joe Chabek, and Elmer Brown.
48 "National League Notes," Sporting Life, July 24, 1915; Washington Post, July 7, 1915. By virtue of the two-year contract that he signed prior to the 1914 season, Schmutz remained Brooklyn property.
49 Sporting Life, August 28, 1915; Seattle Times, September 1, 1915.
50 "Schmutz returns," Seattle Star, September 3, 1915. "Schmutz will still be the property of Brooklyn but will finish the season here," the paper reported.
51 "Seattle Clinches 1915 Championship," Tacoma Ledger, September 17, 1915.
52 "Work of the National Commission," Sporting Life, March 11, 1916. See also, Macon (Georgia) Telegraph and New Orleans States, March 5, 1916.
53 The Oregonian, May 27, 1916.
54 Schmutz's 1916 strikeouts total comes from Northwestern League stats published in Sporting Life, January 13, 1917. Baseball-Reference has no strikeout data for the 1916 NWL season.
55 "Charles Schmutz Sold to Vancouver Club," Tacoma Ledger, April 18, 1917; "Schmutz Is a Beaver Now," Tacoma Times, April 18, 1917.
56 "Beavers Have High Hopes of Capturing Pennant This Year," Seattle Times, April 22, 1917.
57 Daily (Missoula, Montana) Missoulian, March 10, 1918, Seattle Times, March 17, 1918, Tacoma Ledger, April 10, 1918, and elsewhere; "St. Louis Cardinals Secure Ten Million," Seattle Times, January 13, 1912
58 While awaiting embarkation at the French port of Saint-Nazaire, Schmutz had a happy reunion with another old friend/teammate, Sergeant Jimmy Agnew.
59 Among other things, Schmutz pitched for Charlie Mullen's Mount Vernon club, the 1920 winners of the semipro Big Six Skagit League, and hurled Auburn to the championship of the Valley League the following year. Later, he served as a commissioner (with former Seattle Siwashes boss Dan Dugdale) of the semipro Seattle Community League.
60 See e.g., "Social Notes," Seattle Times, November 1, 1927; March 18, 1928; February 10, 1931; March 8, 1933; June 29, 1934; and November 5, 1935.
61 See e.g., "Social Notes," Seattle Times, February 23, 1934; February 17, 1935; April 18, 1937.
62 Online state marriage records indicate that the couple was married in Clallam, Washington, on September 3, 1940.
63 "Vital Statistics/Divorce Granted," Seattle Times, October 26, 1945.
64 The Seattle Rainiers were a member of the Class AAA Pacific Coast league. During the late-1930s, Schmutz had been on the booster committee of the Seattle Indians, as the Rainiers were previously known.
65 Schmutz had offered a hesitant newspaper prediction of victory by his old club, while one-time Yankee Charlie Mullen confidently forecasted a New York win in the Series. See Seattle Post-Intelligencer, September 28, 1955.
66 Death certificate contained in the Charlie Schmutz file at the Giamatti Research Center. The immediate cause of death was listed as coronary occlusion due to auricular fibrillation.
67 "C. O. Schmutz, Former Major Leaguer, Dies," Seattle Times; "Charles O. Schmutz," Seattle Post-Intelligencer, June 28, 1962.
68 Posthumous player questionnaire completed by brother Ernie Schmutz and confirmed by Evergreen-Washelli Memorial Park staff to the writer via telephone, October 29, 2018.
https://sabr.org/wp-content/uploads/2020/03/research-collection4_350x300.jpg
300
350
admin
/wp-content/uploads/2020/02/sabr_logo.png
admin
2019-08-07 11:11:40
2021-04-09 20:05:15
Charlie Schmutz: The First San Diego-Born Major Leaguer