El Presidente: The Life and Times of Dennis Martinez
This article was written by Danny Gallagher
This article was published in The National Pastime: Baseball in the Sunshine State (Miami, 2016)
---
Dennis Martinez had just lost a heartbreaker of a game, 1–0, tossing 10 innings against the United States, losing to future major-leaguer Rich Wortham.
Martinez, only 17, was hardly displeased with his effort because he had pitched before some 25 majorleague scouts in his homeland of Nicaragua against a team of older players in the Federación Mundial de Béisbol Amateur World Series. And not long before that tournament, Martinez had been impressive, too, coming out of the game in the seventh inning in a tournament in the Dominican Republic when Nicaragua beat world-class nemesis Cuba 4–3.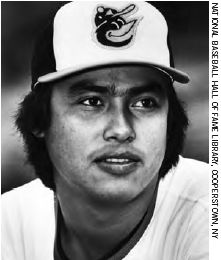 Dennis Martinez had just lost a heartbreaker of a game, 1–0, tossing 10 innings against the United States, losing to future major-leaguer Rich Wortham.
Martinez, only 17, was hardly displeased with his effort because he had pitched before some 25 majorleague scouts in his homeland of Nicaragua against a team of older players in the Federación Mundial de Béisbol Amateur World Series. And not long before that tournament, Martinez had been impressive, too, coming out of the game in the seventh inning in a tournament in the Dominican Republic when Nicaragua beat world-class nemesis Cuba 4–3.
Following the loss to Wortham and Team USA, Baltimore Orioles scout Ray Poitevint sidled up to Martinez and asked him if he wanted to sign with the Orioles. The date was December 10, 1973.
"I signed for $3,000," Martinez said in a phone interview from his home in Miami.[fn]Dennis Martinez, telephone interview, January 22, 2016.[/fn] "I was looking to come to the US. I was not a homesick kind of kid. It was the last time people in my country would see me pitch."[fn]Ibid.[/fn]
Earlier in the tournament, Poitevint was told that Martinez wouldn't likely pitch because he was a youngster on a team laden with senior players.
"I was sitting in the first-base dugout and I saw Dennis warming up on the pitchers' mound in left field," Poitevint, 86, recalled in an interview from Palm Springs, California.[fn]Ray Poitevint, telephone interview, January 27, 2016.[/fn] "I watched him throw a breaking ball. A scout down there by the name of Tony Casanto said it was a hook pitch. Not many people called it a hook. It was a breaking ball like a slider, a little bit stronger than a slider, like an overpowering slider.
"Someone with the Nicaraguan team said I wouldn't have a chance to see him pitch. I then asked if I could work him out. But toward the end of the tournament, one of their starting pitchers got hit in the groin area by a batted ball so they went to another pitcher and it messed up their starting rotation so they put Dennis in."[fn]Ibid.[/fn]
And it opened up an opportunity for Martinez to pitch three innings. Of course, what Martinez did in the 1–0 matchup with Wortham blew Poitevint away.
"Dennis pitched outstanding," Poitevint said.[fn]Ibid.[/fn] "I loved his composure. His natural talent was green as grass but it was there. You could see that he had a chance to be something special. There were 25 scouts there that night and they all were checking to see if I could sign him. When he finished his pitching, I took him from the home-team dugout underneath the stadium to a hotel and I asked his mother to attend.
"In those days, Dennis could be signed by anybody. His mother was a great woman. I tried to do what I could. We didn't have a lot of money to give. The maximum was $3,000. It wasn't very much but the main thing is that I signed a lot of good pitchers and Dennis has done the best. He had two strong attributes I look for in any kind of athlete: mental toughness and emotional control."[fn]Ibid.[/fn]
1973 was also the year the Orioles signed high draft pick Eddie Murray to a $20,000 contract, as well as the year Martinez got married to the same woman he's with now.
"This girl moved into our neighbourhood across the street from where we lived," Martinez recalled.[fn]Dennis Martinez, telephone interview, January 22, 2016.[/fn] "She was a little girl. I said to myself, 'Oh, oh, that looks pretty good.' I was like a good scout, I had good eyes. That's my girl. I picked the right woman. I was lucky with Luz."[fn]Ibid.[/fn]
Martinez was born May 14, 1954, in Granada, Nicaragua, the youngest of seven children raised by his father Edmundo, a farmer, and his mother Emilia, a housewife.
"My dad was a farmer who owned a lot of land," Martinez said.[fn]Ibid.[/fn] "I was the only one of us born in Granada and my three brothers and three sisters were born in the country. They were joking around that I was the golden boy, that I was born in the city, that I was able to go to a school. We had moved to Granada before I was born.
"We were a poor family but we were able to survive. I helped my parents on the farm. We lived on rice and beans, plantain, vegetables, some meat, some chicken."[fn]Ibid.[/fn]
A year after signing with the Orioles, the organization decided to place Martinez on the roster of its Class A team in Miami and he was a resounding success with a 15–6 record. In 1975, although his walk ratio worsened, his record improved to 16–5 during stints with Miami, Double-A Asheville, and Triple-A Rochester. The Orioles kept Martinez in Rochester for most of the 1976 season when he went 14–8, prompting a call-up for his major-league debut September 14.
By 1977, Martinez was in the big leagues for good. He was a mainstay of the Orioles' pitching staff until 1986 when he was traded to the Montreal Expos.
Back in 1972, Martinez had been introduced to booze by an amateur teammate in Nicaragua. That started a relationship with the demon alcohol that for many years wouldn't allow him to concentrate.
"I was 17-years-old," Martinez said.[fn]Ibid.[/fn] "I was 6–0 my first year in amateur baseball. I was undefeated. One day, we went to another town to play a game and we lost 1–0. The catcher, he saw that I was down because we got beat. His name was Roque Zavala. All of a sudden Roque came back to the back of the bus and said, 'Hey man, drink this.'"[fn]Ibid.[/fn]
The substance was the Nicaraguan specialty rum Flor de Caña, one of the country's most famous exports. Martinez had one, then another and then more. There was no Coke or ice to go with it. Next thing you know, he was drunk and passed out on the two-and-a- half-hour-long trip back to his home.
"We were drinking shots of this rum," Martinez said.[fn]Ibid.[/fn] "I don't remember how I got home. It got me. Roque really loved me. He always motivated me, always pushed me. He made me feel good. He was the kind of person who was like a mentor to me. He didn't mean to hurt me by offering me the rum. He tried to make me feel okay. From that day onward, I was introduced to alcohol but not every day."[fn]Ibid.[/fn]
And that introduction spilled into his major-league days, but only on road trips, never at home in the presence of his wife and children. There was always beer in the clubhouse and then he would get invited out to bars by teammates to continue drinking. Funny thing, he didn't develop a passion for rum and was never the big drinker his father was. Ironically, his drinking problem started when he became a regular in the majors in 1977.
"There was beer available after a game and then you would go out for dinner and all of a sudden, it was the lifestyle," Martinez said.[fn]Ibid.[/fn]
Martinez stopped drinking beer and switched to white wine, which over time got boring, too.
"Beer? I was not a big beer drinker. Somebody told me that beer would get you fat and you would get a belly," Martinez said, chuckling.[fn]Ibid.[/fn] "I started drinking wine but it gave me a headache. I wouldn't feel good the next day. I changed to amaretto, just with ice. I liked it because it was fruity. Then I went to Grand Marnier, pretty much like amaretto. I liked its sweetness. It was less sugary than amaretto and it was something strong."[fn]Ibid.[/fn]
What really threw Martinez for a loop, prompting him to quit drinking, was a late-at-night incident after the Orioles won the World Series over the Philadelphia Phillies in 1983. It just so happened to follow his worst season ever in the majors: he was 7–16.
Martinez's drinking and mental deterioration had prompted manager Joe Altobelli to exclude him from use in the American League Championship Series against the Chicago White Sox and the World Series against the Phillies. Altobelli just didn't have the confidence in him.
One night shortly after the World Series ended, Martinez had gone to a gym to work out and ran into a friend coming out of the building. They decided to go for a drink, which turned into several drinks. "It was five in the afternoon when I came out of the gym," Martinez said.[fn]Ibid.[/fn] "My friend asked me if I wanted to go for a drink and I said, 'Why not?' I had the first one, the second, the third one and six or seven more. They didn't have amaretto or Grand Marnier at that bar so I drank beer and white wine."[fn]Ibid.[/fn]
Martinez figures it was nine o'clock when he and his buddy decided to leave the bar. When he was driving toward the expressway to go home, his car had a flat tire. So he pulled over and soon, a state trooper also pulled over, noticed Martinez was under the influence and charged him with intoxication.
"By the next day, it was all over the news," Martinez said.[fn]Ibid.[/fn] "I was feeling so bad, so shameful, so humiliated, so devastated. When my kids came home from school, I talked to them. Their reaction was, 'Dad, we already know that.' They told me they had heard I was stopped for drinking and driving. I saw the hurt in their eyes. That's what got me. They had a right to be upset."[fn]Ibid.[/fn]
Martinez knew it was time to quit drinking. He entered rehab and hasn't had a drink for 32 years.
"I turned to God for help," he said.[fn]Ibid.[/fn] "I was either going to kill somebody or kill myself drinking and driving. I'd become two different people: I didn't drink at home but I drank on the road. It was time for me to overcome my drinking problem and pray with the rosary for the rest of my life.
"I've gone to Alcoholics Anonymous meetings in Miami two or three times a week since then. It's the only way to stay sober. And when I go back to Nicaragua, I go almost every day if I can."[fn]Ibid.[/fn]
In the three years following sobriety, Martinez was a changed man on the baseball field, not for the good, but for the worse. By 1986, the Orioles gave up on Martinez and traded him to the Expos on June 16, 1986.
The decision to quit drinking took a toll on Martinez's pitching, rather than improve it. In 1984, he was 6–9. In 1985, his record improved to 13–11 thanks to improved run support, but a look at his FIP (fielding independent pitching) he worsened from 4.96 to 5.22. In 1986 prior to the trade, the slide continued.
"I dedicated myself to sobriety, I just focused my mind on not drinking, to change myself and to train myself not to drink," Martinez said.[fn]Ibid.[/fn] "When I tried to play, it wasn't the same. I wasn't the same pitcher, not the same before I stopped drinking. And it's true, you can't concentrate on the game and on sobriety at the same time. You have to concentrate on one or the other.
"The Orioles were not patient enough. I don't blame them. They didn't see the fire in my eyes anymore. When I heard in the clubhouse that I was traded, I was crying like a baby. One of the players came up to me and said, 'You're hurt and you have a right to feel this way but don't forget this is a business. This team was your livelihood. They may not want you but another team wants you.' That's what I wanted to hear. He encouraged me. I stopped crying and I moved on.
"The Expos had great scouting people and they saw something in me. I was grateful to them. I wanted to prove them not wrong, I wanted to prove them right."[fn]Ibid.[/fn]
And he proved them right, even though he got knocked around early on. During one particular game when he was being bashed by the Pittsburgh Pirates, pitching coach Larry Bearnarth came to the mound to make him feel better.
"'Okay, kid.' Those were Larry's words," Martinez recalled.[fn]Ibid.[/fn] "He said, 'You are a veteran, kid, you have been successful, do what you love to do.' He helped turned my life around. That game against Pittsburgh, I got hit so bad. They were hitting the ball hard and I wanted to come out of the game. Larry came with the right things to say. At the end of the season, I started showing signs of pitching better. I won three games [for Montreal], including a shutout."[fn]Ibid.[/fn] The shutout came on August 5.
After a rough 3–6 stint in 1986 with the Expos, Martinez made progress and more progress. By 1987, after a stint in the minors, he would emerge as the ace of the Expos' pitching staff. This is what he did during his tenure with the Expos: 11–4, 15–13, 16–7, 10–11, 14–11, 16–11, and 15–9.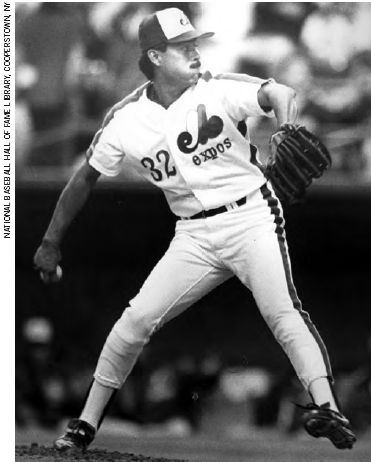 The highlight of his career came July 28, 1991, on a scorching hot day in Chavez Ravine at Dodger Stadium when he threw a perfect game against the Dodgers: 27 up, 27 down, including shutting down former Orioles teammate Eddie Murray three times.
Martinez did it at age 36 in his fifteenth season as a major-leaguer. It was done in the midst of trade rumours that suggested he was going to the Toronto Blue Jays in exchange for Québec native Denis Boucher.
When the twenty-seventh batter, pinch-hitter Chris Gwynn, hit a long fly to center, Martinez turned around and saw right away that outfielder Marquis Grissom had lots of time to get under the ball.
"He didn't hit it that hard. He'd gotten it on the big barrel of the bat and the ball stayed in the air so it gave Marquis a chance at going after it," Martinez said.[fn]Danny Gallagher, You Don't Forget Homers Like That (Scoop Press, 1997), 36.[/fn]
As the ball landed in Grissom's glove, Martinez was whooping it up and turned toward third baseman Tim Wallach. They may have been teammates but they were adversaries, too. Wallach never cared much for Martinez's style of popping off to the media if he felt the team was playing poorly. That day, though, Wallach forgot the past to hug Martinez.
"Eli was showing his emotions," Martinez said.[fn]Ibid.[/fn] "There was that bond between us despite the past. He hugged me and I hugged him, too. I was happy but my emotions took control of me. I started to cry."[fn]Ibid.[/fn]
There were some hair-raising moments that put the perfecto in doubt. The closest call came in the seventh when Juan Samuel tried to leg out a hit with a drag bunt down toward the first-base side. Martinez moved in quick, picked up the ball with his bare right hand and threw to first baseman Larry Walker, who had to sprawl in the dirt for the ball and keep his foot on the base at the same time.
"It was risky doing it barehand," Martinez said.[fn]Ibid.[/fn] "It could have rolled off my finger or something like that. I have a video of the game and it shows I had plenty of time to throw him out."[fn]Ibid.[/fn]
What Martinez didn't know was that Samuel was unaware that Martinez had a perfect game in the works. "We were down 2–0 and I thought I'd try to get something going," Samuel recalled.[fn]Ibid.[/fn] "Then when I got to the bench, I looked up at the scoreboard and noticed that Dennis had a no-hitter going. I didn't know that. I said, 'What if I had gotten a hit on the bunt?' I sat at my locker after the game wondering.
"I wouldn't have wanted to break up the no-hitter that way. If I'd known he had a no-hitter, I wouldn't have bunted. I would have just swung away. I live in Miami like Dennis does and I've helped to raise money for the people in Nicaragua like Dennis does. I told Martinez that it was the biggest play of the game. I told him that he looked like a shortstop the way he sprinted off the mound for the ball."[fn]Ibid.[/fn]
Martinez said he threw 80 percent fastballs that day. Of the 96 pitches he threw, only 30 were balls. Prior to hitting to Grissom to end the game, Gwynn had hit a line drive foul past third, causing a few hearts to flutter.
"I made no bad pitches. I've watched every single pitch on the video. It was remarkable," Martinez said.[fn]Ibid, 37.[/fn] "When I went out to the mound for the ninth, I was shaking. The crowd [more than 45,000] was clapping and giving me ovations. I said, 'Please, God, help me.'"[fn]Ibid.[/fn]
Funny thing, in the fourth inning, Martinez experienced some soreness on his right side and he was tended to by trainers Ron McClain and Mike Kozak. During the course of the game, the trainers also doused Martinez with ammonia to keep him cool in the scorching heat.
"He had such good control," said Dodgers second baseman Alfredo Griffin.[fn]Ibid.[/fn] "He had good command of his pitches. He had a nasty slider. When you have command, you have a lot of confidence in anything you throw."[fn]Ibid.[/fn]
When all of the hullabaloo after the game ended, Martinez found his way to a spot in the dugout. He wanted time to himself. His head was in his hands or his hands were clasped as he bowed to the floor.
"There were tears in my eyes because of the joy, what God allowed me to do. I thought of the people in Montreal who treated me so good," Martinez said of his time alone.[fn]Ibid, 40.[/fn] "I was just praying to me. I was kind of numb. I was dreaming. I was biting my tongue."[fn]Ibid.[/fn]
The next day, Martinez appeared on NBC's Today show at 4:45AM Pacific Daylight Time with Bryant Gumbel. A few days later, he sent his uniform top, a ticket stub and an autographed ball from the game to the National Baseball Hall of Fame and Museum in Cooperstown, New York.
At the first game back in Montreal at Olympic Stadium, Expos brass gave him a Chevrolet Blazer and a framed photo of himself. Three weeks later, accompanied by reporters from the Montreal Gazette, La Presse, and Le Journal de Montréal, Martinez travelled to his birthplace in Granada to be feted by his countrymen.
What he remembers more than anything from that time was not so much the perfect game, but that day of recognition in his homeland. It was special because he was the first player from Nicaragua to play in the majors.
"I pitched that game in LA, but to share it with my people in Nicaragua is something I will never really forget," Martinez said.[fn]Dennis Martinez, telephone conference call, February 2, 2016.[/fn] "It was an unbelievable feeling, a great day I will never forget. Every time I look at the video of the game, I'm living a dream. It happened 25 years ago but it feels like yesterday."[fn]Ibid.[/fn]
When he returned to Montreal from Nicaragua, Martinez arranged to spend over $7,000 with the Royal Canadian Mint in Ottawa to obtain Canadian Maple Leaf coins for his teammates, other uniformed personnel and Expos' staff members to commemorate his special day.
Martinez would stay with the Expos through the 1993 season but not before turning down an August trade that year, a proposed transaction that would have sent him to the Atlanta Braves. Martinez would go on to sign a multiyear deal with the Cleveland Indians and later played for the Seattle Mariners and the Braves.
By nixing the trade to Atlanta in 1993, he missed out on playing for the pennant-contending Braves. He wanted to finish the season with the cash-strapped Expos. In what seemed like a bizarre decision on Martinez's part, he used his power as a 10-and-5 (10 years in the majors, at least the last five with the same team) player to veto the trade.
"I had a lot of discussions with my lawyer [Ron Shapiro] to see what was best for me on the field," Martinez told the Globe and Mail that day.[fn]Danny Gallagher, "Martinez nixes trade to Braves," Toronto Globe and Mail, August 16, 1993.[/fn] "We decided on the Expos as the most reliable situation for me because I'd be able to pitch every five days. Going to Atlanta, it sounds like I was going to be more of the insurance man for them. Being the fifth man in the rotation there wouldn't allow to me to pitch as often as I would here. They have the best pitching staff with four solid starters. I didn't want to be in that situation. I don't want to be there just for the hell of it."[fn]Ibid.[/fn]
Martinez had also used his 10-and-5 power to obtain financial compensation from both the Expos and Braves to make the deal possible.
"We didn't want to give him any compensation because we felt that by sending him to a team that might make the playoffs and the World Series was compensation in itself," Expos GM Dan Duquette said.
"The Braves made it clear right from the start that they would not do anything about a contract extension and that there would be no compensation of any sort whatsoever for going there," Martinez said.[fn]Ibid.[/fn] "I didn't like that. It's not right. It's not fair."[fn]Ibid.[/fn]
Both Martinez and Shapiro believed the Braves claimed Martinez to prevent a trade to the San Francisco Giants.
"They were blocking San Francisco on waivers," Shapiro said at the time.[fn]Ibid.[/fn] "They haven't a darn use for Dennis. They weren't going to put him in a role to win a game because they had guys who could do it. If there was going to be no compensation, it didn't make sense to approve the trade.
"Dennis has 96 National League wins and wants to be a 100-win man in both leagues. That's what it's all about from here on in. With Atlanta, maybe he would have had three or four starts. In Montreal, he might get seven or eight."[fn]Ibid.[/fn]
Sure enough, Martinez did get his 100th win before the end of the 1993 season. That offseason, though, Duquette and the Expos decided Martinez was too expensive to sign to a new contract so they let him go.
Along the way in his career, Martinez boasted two friends whom he cherished in the majors: Eddie Murray and the late Mike Flanagan.
"Eddie, Mike, and I all came through the Orioles' farm system to the big leagues," Martinez said.[fn]Dennis Martinez, telephone interview, January 22, 2016.[/fn] "I was able to show them as a Latin kid that I had no preference for any race. I chose a white boy and a black boy. I had good eyes. And here I was a Latino. I was in the middle. You can't go wrong that way."[fn]Ibid.[/fn]
Since 1989, Martinez has lived in Miami, including the last 24 years in the same house. It didn't hurt that he had lived there briefly in 1974-75 when he played Class A ball.
"I've always liked Miami. First of all, there's the atmosphere, the environment," Martinez said.[fn]Ibid.[/fn] "There are a lot of Spanish people there. My wife and family, my brothers and sisters, all wanted to stay in Miami. The weather is nice and warm and we're closer to Nicaragua."[fn]Ibid.[/fn]
Martinez would stay out of baseball for years after his retirement following the 1999 season but he eventually resurfaced as a minor-league instructor for several teams and was bullpen coach for the Houston Astros in 2013.
As a token of appreciation for what he did with the Expos, the voting members of the Canadian Baseball Hall of Fame in St. Marys, Ontario, elected Martinez on February 2, 2016, as one of its new members. In 520 major-league bats, Martinez had gone homerless, but two days prior to his induction on June 18, 2016, Martinez, 62, stunned onlookers when he lined a home run over the left-field fence in the second inning of a celebrity slow-pitch softball game in St. Marys. One inquirer asked Martinez on the conference call what it was like to be swapped to the Expos, a move that turned his career around.
"I was so grateful to be traded to the Expos, to a different country, to a different culture," Martinez said.[fn]Dennis Martinez, telephone conference call, February 2, 2016.[/fn] "That was my second chance in baseball. They treated me so good in Montreal. I was so happy to play there. People took me under their wing."[fn]Ibid.[/fn]
Martinez finished his big-league career with more than 100 wins in both the American League and National League. His 245 wins, 104 in the NL and 141 in the AL, are the most of any Latin American pitcher, eclipsing the 243 won by Hall of Famer Juan Marichal. Martinez also finished with a 3.70 ERA, 122 complete games, and 30 shutouts in a career that fell just short of 4,000 innings pitched.
Poitevint, a pioneering baseball scout, who spent close to six decades in the game and still remains active as a consultant, just loves Martinez.
"I don't like to broadcast it but Dennis was always first class," Poitevint said.[fn]Ray Poitevint, telephone interview, January 27, 2016.[/fn] "He's something extra special. He went through a lot of hardships, a lot of problems. He did it on his own. Of all the people I signed, he was the best person and the best pitcher."[fn]Ibid.[/fn]
DANNY GALLAGHER of Bowmanville, Ontario, started covering Major League Baseball in 1988 when he became a Montreal Expos' beat writer for the Montreal Daily News. Since then, he has written four books on the Expos, including two he co-authored with Bill Young, the latest of which is Ecstasy to Agony about the 1994 squad. He won a Saskatchewan Baseball Association award in 1985 for a series of stories on that province's contributions to the big leagues. He also played competitive sandlot, adult baseball from 1968–94 in various Canadian provinces.
https://sabr.org/wp-content/uploads/2020/03/research-collection4_350x300.jpg
300
350
admin
/wp-content/uploads/2020/02/sabr_logo.png
admin
2016-07-19 16:04:07
2016-07-19 16:04:07
El Presidente: The Life and Times of Dennis Martinez