'Good Afternoon, Boys and Girls': The 1935 Tigers on the Radio
This article was written by Matt Bohn
This article was published in 1935 Detroit Tigers essays
---
Detroit Tigers fans in every part of Michigan were focused on the team as they led the pennant race in the fall of 1934. For the first time in 25 years, the team was poised to advance to the World Series. And for the first time in the team's history, Tigers fans throughout the state were following every game live through the radio.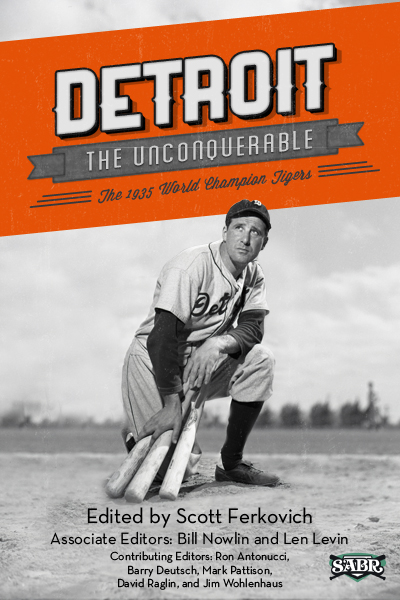 Detroit Tigers fans in every part of Michigan were focused on the team as they led the pennant race in the fall of 1934. For the first time in 25 years, the team was poised to advance to the World Series. And for the first time in the team's history, Tigers fans throughout the state were following every game live through the radio. On a typical day it was possible to walk the streets of Detroit and never miss a word of the play-by-play emanating from radios in shops and homes. John DeGange of the New London (Connecticut) Day wrote about his experience driving through Detroit in September 1934: "Even before I reached Dearborn, radio broadcasts of pregame activity had begun. From there, at every gas station and wayside shop a continuous radio broadcast of the game could be heard from an automobile traveling along the road at a normal cruising speed. As soon as the car passed beyond hearing distance of one radio set, another loud speaker could be heard just ahead. It went that way almost without interruption from Dearborn through Detroit. … Even the customs officials at the tunnel which takes you from Michigan into Canada had a radio set turned in on the game."1
The following summer, as the Tigers neared their second straight pennant, the Associated Press reported that throughout Michigan "radios blare out accounts of the game from almost every store front. Merchandise is only barely visible through shop windows covered by the 'score by innings.' Fans gather at their radio 'spots' every afternoon – whether the Tigers are at home or not. … In cities throughout the state, excitement is at fever heat. Accounts of the games are announced through amplifying systems to crowds which in several cities have reached 3,000."2
Several Detroit radio stations offered coverage of the Tigers during the 1935 season. Over WJR, announcer Jimmie Stevenson hosted a sports show that gave highlights of each Tigers game. Former first baseman Wally Pipp appeared on WXYZ reporting baseball news three nights a week at 7 P.M. Every night on CKLW, listeners heard highlights of Tigers games summarized by Joe Gentile. (Gentile later became the public address announcer at Tiger Stadium.) But for live descriptions of the games, listeners depended on the daily play-by-play descriptions of Ty Tyson (on WWJ) and Harry Heilmann (on WXYZ and the Michigan network).
Tyson was the pioneer of Detroit sportscasting. He began broadcasting Tigers games over WWJ on April 20, 1927. (At the time of his debut, another Ty Tyson was playing in the outfield for the New York Giants. The broadcaster and the outfielder were reportedly not related to each other.) "I just sat back and described what was in front of me," Tyson recalled in 1967. "The boys who do play-by-play now like (Ernie) Harwell and George Kell have it much tougher than I did. They have to do those commercials at the half innings."3 For the first seven seasons that Tyson described the games, they had no commercial sponsor and were broadcast by the radio station as a public service. When White Star Refining Company's Mobil Gas began sponsoring the games in 1934, the commercial consisted of the brief announcement that "this game is brought to you by Mobil Gas" at the beginning and end of the broadcast.4
Tyson was born Edwin Lloyd Tyson on May 11, 1888, in Phillipsburg, Pennsylvania, to William and Ida (Lloyd) Tyson. The family moved to Tyrone, Pennsylvania, when Tyson was a child. It was there that he reportedly acquired the nickname Ty. Young Tyson was known as the best actor in Tyrone. He and a friend, Bill Holliday, wrote for, produced, and acted in amateur stage productions. Tyson, a first baseman and pitcher for the semipro Tyrone team, was also known as the town's best baseball player. After graduating from high school, he spent a year studying at Penn State, where he played freshman football.
When World War I broke out, Tyson enlisted in the Army, serving nearly two years in the 103rd Trench Mortar battery. In a poem entitled "The Mortarman's Moan," Tyson described his wartime experience in part:
"At last we left the sunny South for service overseas,
We had a pleasant (?) voyage and landed full of fleas.
We spent three days in England, and four or five in France,
In dirty, dusty, foodless dumps called (God knows why) 'Rest Camps.'
'Twas from this point we traveled, two days and nights by train,
In side door Pullman sleepers, seeing France thru fog and rain.
Two months more we spent in training; 'twas here we got our guns,
And now we're camping in some woods, and being 'bombed' by Huns."5
After the war Tyson returned to Tyrone and went to work in a paper mill. His friend Bill Holliday had become general manager of fledgling Detroit radio station WWJ. In early 1922 another Tyrone friend, Fred Waring, was scheduled to bring his newly formed orchestra (the Pennsylvanians) to play at the University of Michigan's J Hop. Holliday planned to do a special broadcast of Waring's music from the J-Hop but needed an announcer to introduce the music. Waring suggested that Holliday contact Tyson. "When I got out of the Army I got a job in a paper mill expecting to learn about paper from the ground up and become a salesman," Tyson recalled in 1967. "But Fred Waring, a young fellow from Tyrone, took his orchestra up to play the J Hop at Ann Arbor at that time and I got sidetracked into radio. I came over just to help a Tyrone pal out of trouble, expecting to return to the paper business after the radio fad wore out. But I spent my whole life at broadcasting with the accent on sports."6
Joining the staff of WWJ, Tyson pioneered sports broadcasting in Detroit, describing the Gold Cup races on the Detroit River in 1923. The following year, Tyson persuaded University of Michigan football coach Fielding H. Yost to allow him to broadcast Michigan's game against Wisconsin on an experimental basis. (Yost was afraid that free radio broadcasts of the game would deter fans from buying tickets to see the game.) The broadcast was a success. After the game the University of Michigan was overwhelmed with ticket requests for future football games. Yost became convinced that radio could help increase interest in the game and allowed Tyson to broadcast the games regularly. Three years later, Tyson similarly persuaded Tigers owner Frank Navin to allow him to broadcast Tigers games.
"Good afternoon, boys and girls, this is Ty Tyson speaking to you from Navin Field," Tyson would greet listeners in his slow, deliberate way of speaking.7 He was known for his dry wit. Some called him droll, though announcer Red Barber remembered him as "more sarcastic than droll."8 (On a 1934 broadcast, after noting that Yankees right fielder Samuel Byrd had flied out to Jo Jo White in a previous at bat, Tyson quipped, "You would expect Byrd to fly to someone, wouldn't you all?")9 Tyson referred to Hank Greenberg as Hancus Pancus10 and High Henry Greenberg.11 During a Greenberg at-bat, Tyson could report, "High Henry calls for order and all the action in the ballpark stops. Now if the pitcher will deliver that American League apple, Henry will try to plant it in Cherry Street."12 In 1934 Baseball Commissioner Kenesaw Mountain Landis barred Tyson from the network World Series broadcasts, claiming that he was too "partial" to report the World Series over NBC. Announcer Red Barber, who would work with Tyson on World Series broadcasts two years later, commented that Tyson "didn't sound partial to me. He didn't use enough words between pitches and plays to give you an idea how he felt."13 After 600,000 Detroit area listeners signed a petition demanding Tyson's presence on the World Series broadcasts, Landis relented and allowed him to call the games locally on WWJ. Listeners within the sound of WWJ seemed to prefer Tyson's style to that of the network broadcasters. In Cleveland many listeners reported tuning in to Tyson rather than to the more animated Cleveland announcer Tom Manning, who was doing the games for NBC. Cleveland Plain Dealer columnist Robert S. Stephan wrote, "Fans enjoy Tyson's straight accounts of the games claiming there's too much hurrah stuff when Manning and others attempt to put pepper into the microphone."14
Harry Heilmann began describing Tigers games over WXYZ and the Michigan Network (which fed stations in Bay City, Flint, Kalamazoo, Battle Creek, and Jackson) in 1934. Having played right field for Detroit from 1914 to 1929 and a four-time American League batting champion, Heilmann was already beloved by Tigers fans by the time he began his radio career. After finishing his playing days with the Cincinnati Reds in 1932, he formed an independent sandlot team, sold insurance, and made an unsuccessful bid for office as Detroit city treasurer. In 1934 H. Allen Campbell, sales manager for WXYZ, persuaded Tigers owner Frank Navin to allow the station to air games for a $25,000 fee. Knowing that Ty Tyson already had a strong following among radio listeners, Campbell realized he would need to find a "real topflight guy" to compete with WWJ's broadcasts.15 Campbell found Heilmann working as an undersheriff in the Wayne County sheriff's office and signed him to do the Tigers broadcasts over the network for $50 a week.
In his "husky, warm voice,"16 Heilmann described the games in a "calm and accurate"17 manner. In between describing the on-field exploits of Charlie Gehringer or Tommy Bridges (whom Heilmann nicknamed "Little T From Tennessee"), he drew upon his lengthy career in baseball, regaling listeners with tales of Ty Cobb, Sam Crawford, Hughie Jennings, and many others from his playing days.18 Despite his impressive statistics, Heilmann was modest when recalling his own efforts on the field, particularly his defense. He would laugh, "We were frightful. We'd bat in seven runs a game – and let in nine."19 In a 1935 broadcast, he commented that that year's Tigers outfield was considerably different than the "clown combination of Heilmann, Fothergill, and Wingo." (A few moments later, Heilmann undoubtedly laughed when he received a telegram from his former teammate Bob Fothergill that simply said, "Speak for yourself, you fathead.")20 After a spectacular play, Heilmann would turn the microphone toward the crowd noise and say, "Listen … to the voice of baseball."21 For an entire generation of fans throughout Michigan, Harry Heilmann was the voice of baseball.
When the Tigers met the Cubs in the 1935 World Series, the entire country, it seemed, was tuned into broadcasts of the games. Detroit's superintendent of schools, Frank Cody, ruled that students could be excused from classes to listen to the radio broadcast in their school's auditorium. President Franklin D. Roosevelt listened to the games while sailing off the Pacific coast of Mexico. In Uvalde, Texas, Vice President John Nance Garner told reporters that the World Series broadcasts were the only thing that could interrupt his afternoon naps. In Tommy Bridges' hometown of Gordonsville, Tennessee, all local activities came to a halt as the entire town (including Bridges' parents and younger sister) listened intently to the radio broadcast of his start in Game Two. Alvin Crowder's wife, Ruth, reportedly listened to a radio account of his Game Four start as she lay ailing in a Winston-Salem, North Carolina, hospital bed.
World Series fans had a choice of which broadcast to listen to. Exclusive broadcast rights did not yet exist, and for the first time, three national networks carried the fall classic. The newly formed Mutual Broadcasting System featured announcers Red Barber (then a Cincinnati Reds broadcaster over WLW), Bob Elson (White Sox and Cubs announcer for WGN), and Quin Ryan (also of WGN). The broadcast crew covering the games for CBS boasted Cleveland Indians voice Jack Graney, St. Louis Cardinals broadcaster France Laux, and Truman Bradley of Chicago's WBBM. Ty Tyson, Hal Totten (Chicago baseball broadcaster for WMAQ), and news commentator Boake Carter were the on-air talent for NBC.
With three networks covering the World Series, Barber recalled that the "competition was keen."22 Listeners and columnists took sides, defending their favorite announcers in print. Cleveland Plain Dealer columnist Robert S. Stephan ranked Laux, Graney, and Totten as the top play-by-play voices but noted that Graney (who was making history as the first former player to broadcast a World Series), "was a bit nervous" and that it "showed in his voice."23 Portland listener Woody Levey wrote to the Oregonian, "Totten-Tyson-Carter gave us the most picturesque World Series ever announced over the NBC. Before every game Boake Carter gave us a word description of everything that happened up till game time. Then Hal Totten and Ty Tyson gave a marvellus [sic] broadcast of the game."24 Meanwhile, on the much smaller Mutual network, Quin Ryan stumbled through unprepared pregame and postgame comments, arousing the anger of WLW station manager John Clark. By Game Three, Ryan was off the broadcast, and Barber (who did only three innings of play-by-play in Game One) was evenly splitting play-by-play duties with Elson as well as handling the pregame and postgame commentary. For his work on the World Series, Barber was paid no extra money.
The 1935 World Series broadcasts marked a changing of the guard as the pioneers of radio sportscasting were replaced by a new generation. Making his World Series debut that year, Red Barber was only 27 years old and was in his second season broadcasting Reds games. He would cover a total of 13 World Series over radio and television. Years later he recalled that before Game One in 1935, the broadcasters were brought into a meeting with Commissioner Landis, who ordered them to simply report the action on the field and not to editorialize. Though it wasn't stated directly by the commissioner, Barber recalled that everyone in the room understood that this warning was prompted by CBS broadcaster Ted Husing, who had second-guessed the umpires during the 1934 World Series. For his editorializing, Husing was barred by Landis from broadcasting the World Series again. It was the first time since 1927 that Husing was not included on the World Series broadcast over CBS. Also conspicuous by his absence on the World Series broadcast was pioneer sportscaster Graham McNamee. He was originally scheduled to be part of the NBC broadcast crew but was dropped at the last minute. McNamee had broadcast every World Series from 1923 to 1934. He never broadcast another. McNamee spent much of the remainder of his career serving as a straight man for comedians like Ed Wynn.
After the World Series, Tyson and Tigers outfielder Goose Goslin made stage appearances at the Fox Theatre in Detroit. After film footage of the World Series was shown, Tyson (referring to Goslin as "the Goose that laid the golden egg") interviewed the player for the audience.25 The following season, Tyson and Heilmann were back at their microphones, providing play-by-play of Tigers contests. Tyson continued broadcasting the Tigers games through the 1942 season. During the 1945 championship season, he hosted a daily summary of the games over WWJ. On June 3, 1947, Tyson became a pioneer in a new medium as he handled the play-by-play of the Tigers' first telecast over WWJ-TV. ("He nearly dropped it! Did you see it bobble?" Tyson asked the viewing audience as they watched a difficult catch made during the first telecast.)26 That same year, Tyson celebrated his 25th anniversary with WWJ. Detroit Mayor Edward Jeffries declared a day in Tyson's honor.
Heilmann continued broadcasting the games over the Michigan network through the remainder of the 1930s and 1940s. By 1950 he had added television to his play-by-play duties. That spring, Haviland F. Reves wrote in Billboard magazine: "Harry Heilmann, ex-Tiger star, knows the game and players like his own skin, and carries the whole audio load with complete competence unassisted. Simulcasting to a special net of some 20 radio stations, he doesn't let the listener lose a thing, and throws in significant data to aid the casual listener and delight the cognoscenti. He doesn't need help to do the job."27
Heilmann collapsed during spring training in 1951 and was unable to continue working on the broadcasts. He was diagnosed with lung cancer. Ty Tyson and broadcaster Paul Williams filled in for him. Though Heilmann came back to broadcast a few innings in early June, he did not survive the summer. On the eve of the All-Star Game at Briggs Stadium, Heilmann died at the age of 56. Tyson commented, "Baseball has lost a great player. Personally, I have lost a long and valued friend. Radio listeners have lost one of the finest announcers in baseball."28 The following season, Van Patrick became the voice of Tigers baseball.
Ty Tyson retired from WWJ in March 1953 but continued to provide color commentary on University of Michigan football for several years. On Father's Day 1965 he was invited into the booth by broadcaster Ernie Harwell to provide a few more innings of play-by-play. He returned again on Father's Day 1967. Tyson died on December 12, 1968, at the age of 80. His legacy lives on through the Detroit Sports Broadcasters Association, which he helped to found in 1948. The association each year presents the Ty Tyson Excellence in Sports Broadcasting Award to a Detroit area sportscaster. Past recipients have included Tigers broadcasters Ernie Harwell, Ray Lane, Josh Lewin, and Dan Dickerson.
MATT BOHN is a native of Hemlock, Michigan. A Tigers fan growing up, he listened to Ernie Harwell and Paul Carey on the radio. (However, Matt's father always insisted that the greatest Tigers broadcaster of all was Harry Heilmann.) Matt currently follows the Tigers from his home in Milwaukie, Oregon.
Sources
Books
Barber, Red, The Broadcasters (New York: The Dial Press, 1970).
Halberstam, David J., Sports on New York Radio: A Play-by-Play History (Chicago: Masters Press, 1999).
Harwell, Ernie, Tuned to Baseball (South Bend, Indiana: Diamond Communications, 1985).
Osgood, Dick, WYXIE Wonderland (An Unauthorized 50-Year Diary of WXYZ Detroit) (Bowling Green, Ohio: Bowling Green University Popular Press, 1981).
Patterson, Ted, The Golden Voices of Baseball (Champaign, Illinois: Sports Publishing, 2002).
————–, The Golden Voices of Football (Champaign, Illinois: Sports Publishing, 2004).
Smith, Curt, Voices of Summer (New York: Carroll & Graf, 2005).
————–, Voices of the Game (New York: Simon & Schuster, 1987).
Articles
"Air Lanes," The Sporting News, March 28, 1951.
Associated Press, "Crowder's Win Aids Sick Wife," Boston Herald, October 6, 1935.
——–, "Garner to Appear Before Mikado In Old Cotton Socks," Richmond Times-Dispatch, October 4, 1935.
——–, "Heilmann's Voice Stilled By Death," Toledo Blade, July 9, 1951.
——–, "Home Town Fans Suspend Activity to Cheer Bridges," Milwaukee Journal, October 4, 1935.
——–, "Roosevelt and Party Listen In to Series," Omaha World Herald, October 8, 1935.
——–, "World Series Fever Strikes Tigers' Lair," Reading Eagle, August 13, 1935.
Associated Press Feature Service, "Heilmann, Once A.L. Batting Leader, Still Makes a Salary From Baseball," Niagara Falls (New York) Gazette, February 3, 1939.
Basenfelder, Don, "Radio Broadens Baseball Broadcasts," The Sporting News, April 21, 1938.
Cousins, Fred W., "Television Bows to City at Ball Game," Detroit News, June 4, 1947.
"Declares Ty Tyson Is Twins on Broadcasting Baseball Games," Tyrone (Pennsylvania) Daily Herald, June 13, 1938.
DeGange, John, "Ins and Outs of Sports World," The Day (New London, Connecticut), September 17, 1934.
"Detroit Sportscaster Tyson Honored on His Retirement," The Sporting News, March 11, 1953.
"Did First Game On The Air: Ty Tyson, Tyrone's Gift To Baseball Broadcasting," Tyrone (Pennsylvania) Daily Herald, June 15, 1966.
Flanagan, James B., "Tigers' Ty Tyson Will Call Plays Again Father's Day," Cleveland Plain Dealer, June 4, 1967.
"Goose Makes Hit On Stage," Cortland (New York) Standard, October 26, 1935.
"Harry Heilmann, Once One of Baseball's Greats, Is Still Strong for Tigers," Buffalo Courier Express, March 31, 1941.
"Heilmann's Return to Air Welcomed by Tiger Fans," The Sporting News, June 13, 1951.
La Blonde, Robert, United Press, "Heilmann, Former Batting Champion, Now Broadcasting," Oshkosh (Wisconsin) Northwestern, June 1, 1936.
Lieb, Frederick G., "Tigers, Minus Their Big Claw, Win and Silence Critics of '34; Greenberg Injured, Out After Two Games," The Sporting News, October 10, 1935.
" 'Live' Aircasts for Tiger Road Games Next Season," The Sporting News, December 5, 1951.
Moyes, William, "Behind The Mike," The Oregonian (Portland), October 11, 1935.
"Mrs. Ida Lloyd Tyson Dies, Service Wednesday." Tyrone Daily Herald, March 9, 1953.
"Mrs. Harry Heilmann," Cleveland Plain Dealer, September 29, 1960.
"Obituaries," The Sporting News, December 28, 1968.
Okkonen, Marc, "Harry Heilmann, Voice of the Tigers." The National Pastime 10 (SABR, 1990), 33-36.
"On the Air Lanes," The Sporting News, April 26, 1945.
——–, The Sporting News, May 28, 1947.
——–, The Sporting News, August 30, 1934.
——–, The Sporting News, September 20, 1934.
——–, The Sporting News, October 4, 1934.
——–, The Sporting News, April 11, 1935.
——–, The Sporting News, April 18, 1935.
——–, The Sporting News, May 23, 1935.
——–, The Sporting News, October 10, 1935.
Otis, Sam, "No Battle Scars for Bill, But –" Cleveland Plain Dealer, May 8, 1935.
" 'Pappy' Tyson Coming Home After 30 Years In Detroit As WWJ Sports Broadcaster," Tyrone (Pennsylvania) Daily Herald, March 2, 1953.
"Patrick, New WJR Sports Ace, Paired With Heilmann," The Sporting News, January 26, 1949.
"Paul With Tyson," Detroit News, April 27, 1951.
Reves, Haviland F., "WWJ Zooms Coverage With 35 on Sked; Heilmann Gab Wows 'Em," Billboard, May 20, 1950.
Rothman, Seymour, "I've Heard," Toledo Blade, June 3, 1971.
Salsinger, H.G., "Harry Heilmann Played Out String to the End," The Sporting News, July 18, 1951.
"Shoots Into Verse; Trench Mortarman Looks Back and Gives Advice," Tyrone (Pennsylvania) Herald, September 9, 1918.
"Socony, General Mills Sponsor Games on WWJ," Billboard, March 7, 1942.
Smith, Lyall, "It's Heilmann Day – At Last," The Sporting News, September 1, 1948.
Spink, J.G. Taylor, "Broadcasting Awards Won by Allen and Caray," The Sporting News, October 6, 1948.
Spoelstra, Watson, "Hank, Mickey Slip Tiger Rivals Double Lefty Dip," The Sporting News, July 3, 1965.
"Sports Letters and Queries," Buffalo Courier Herald, October 26, 1939.
Stephan, Robert S., "Chains Cut in on War Broadcast for Baseball," Cleveland Plain Dealer, October 3, 1935.
——–, "Orchestra to Let Fans in on Rehearsal," Cleveland Plain Dealer, October 6, 1934.
"Ty Tyson Back At 'Mike' For Father's Day Game," Tyrone (Pennsylvania) Daily Herald, June 15, 1967.
" 'Ty' Tyson, Radio Pioneer In Sports Broadcasting, Taken by Death at Age 80," Grosse Pointe (Michigan) News, December 19, 1968.
Watson, Loren L., Jr., "Nation's Sports Notables Join Detroit in Honoring Ty Tyson," The Sporting News, June 4, 1947.
"W.E. Tyson Died At Cameron Ave. Home; Well Known Tyrone Citizen Ill Since August," Tyrone (Pennsylvania) Daily Herald, May 27, 1931.
Online
Detroit Sports Broadcasters Association, dsba1.org, accessed October 5, 2013.
OTR Baseball from the 1930s. archive.org/details/OtrBaseballFromThe1930s, accessed September 3, 2013.
Retrosheet, retrosheet.org, accessed September 3, 2013.
Notes
https://sabr.org/wp-content/uploads/2020/03/research-collection4_350x300.jpg
300
350
admin
/wp-content/uploads/2020/02/sabr_logo.png
admin
2017-02-03 19:34:02
2017-02-03 19:34:02
'Good Afternoon, Boys and Girls': The 1935 Tigers on the Radio