Henry Chadwick Award: Allan Roth
This article was written by Andy McCue
This article was published in Spring 2019 Baseball Research Journal
---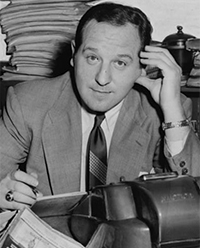 Allan Roth pushed the analysis of baseball statistics to a new level. He promoted himself into a job earlier analysts only aspired to. Roth "was the only zealot lucky enough to work for a major league team and to get to test his theories first hand," wrote Alan Schwarz.
Abraham Roth was born in Montreal on May 10, 1917, the son of Nathan and Rose (Silverheart). Nathan worked as a tailor and the family moved around Ontario province before returning to Montreal during Abraham's high school years, when he attended Strathcona Academy, playing all the major sports. He also spent many free hours from ages 13 to 16 compiling statistics for the International League and his home town Montreal Royals. He passed the entrance examination for McGill University, where older brother Max was already studying. Family circumstances, however, prevented paying for a second college student, so Abraham took a job. He worked as a salesman, first of magazines and later of men's ties, suspenders, belts, and mufflers. In 1940, he married Esther Machlovitch and changed his name to Allan before going into the Canadian army.
Roth started his quest for a major league career by writing Brooklyn Dodgers president Larry MacPhail in December 1940. MacPhail was, at best, non-committal. After his 1944 discharge for medical reasons, Roth's attention returned to the Dodgers, but this time focused on Branch Rickey, MacPhail's successor and an executive Roth considered the most innovative man in sports.
Roth's four-page letter contained proposals to track a wide range of statistics. Some of these were standard, but others, such as where the ball was hit and the count it was hit on, hadn't been compiled regularly. Roth also proposed to break the statistics down into various categories that would reveal tendencies which the front office and the manager could use to win ballgames.
Breakdowns that are mundane to us now—performance against left-handers and right-handers, in day games versus night games, in the various ballparks, in situations with runners in scoring position—were rarely compiled or used, and never part of the public discussion in Roth's time. The letter was intriguing enough to get a meeting with a still-skeptical Rickey. The conversation turned positive, Roth said, when Rickey asked him about runs batted in. Roth said he didn't think much of runs batted in unless they were correlated with the chances to drive them in, then differentiated again by which base they'd been drive in from.
With postwar restrictions on visas for foreigners, it took until 1947 for Rickey to get Roth on the Brooklyn payroll. And, then, he kept him under wraps. Roth's work went only to Rickey. In his first season, for example, Roth used one of his innovations—spray charts marking the location of all a player's batted balls—to show that an increasing number of Dixie Walker's hits were going to the opposite field, a sign his bat speed was fading. Rickey, following his own dictum that it was better to trade a player a year too early, sent Walker to the Pirates. "The People's Cherce" batted .316 in 1948, but was down to .282 the next year, his last in the majors.
Unlike contemporary statistical analysts, Roth generally ignored higher mathematics. "The figures concerned in baseball statistical work don't call for integral calculus or even advanced algebra," he said. He summed up his philosophy: "Baseball is a game of percentages—I try to find the actual percentage, which is constantly shifting, and apply it to the situation where it will do the most good."
Rickey's departure from the Dodgers after the 1950 season meant changes for Roth. The new president, Walter O'Malley, was dedicated to the business side of the organization. The new manager, Charlie Dressen, managed by the seat of his pants. Roth was moved into the radio booth to feed timely material to the Dodger announcers and quickly struck up a strong friendship with Vin Scully. "If you had some question that came to you in the middle of a game, he would reach down into the bag, and next thing you knew you'd have your answer. It was marvelous," said Scully.
In 1954, Roth's work hit the big time—with a heavy coating of Branch Rickey. Life ran an article titled "Goodby (sic) to Some Old Baseball Ideas." The article said it had been written by Branch Rickey, whose picture graced the first page. Roth's back is visible in the background of that photo, and he is pictured on the article's third page. Clearly, the multipart equation in the background was the work of Roth. Rickey called the equation, "the most disconcerting and at the same time the most constructive thing to come into baseball in my memory." Thirty years later, John Thorn and Pete Palmer wrote in their seminal book, The Hidden Game of Baseball, that "Rickey and Roth's fundamental contribution to the advancement of baseball statistics comes from their conceptual revisionism, their willingness to strip the game down to its basic unit, the run, and reconstruct its statistics accordingly."
In many ways "The Equation" was years ahead of its time. The equation, which contained eight different terms, was vastly complicated for contemporary baseball organizations. In his history of baseball analytics, The Numbers Game, Alan Schwarz summarizes the impact of Roth's equation: "No evidence exists that anyone took it seriously."
Roth returned to the role he had played under Rickey. But now his analysis was not going just to Rickey, but to the manager and directly to individual players. On Friday, September 18, 1959, the Dodgers arrived in San Francisco for a key series against the Giants. They needed a sweep to have any realistic hope of making the playoffs. Friday night's game was rained out and manager Walt Alston announced that Don Drysdale, who'd been scheduled to start Friday, would pitch the Saturday afternoon game. Roger Craig would start the evening game. Roth went to Alston and pointed out that Drysdale's night-game record was substantially better than his daytime performance while Craig showed little difference. Alston switched the pitchers, Los Angeles won both games, and Sunday as well. The Dodgers finished the season in a tie with the Braves, won the playoffs and the World Series for an improbable championship.
After the move to Los Angeles, Roth started to attend spring training in Vero Beach. He and a coach would meet with each player to go over their performance of the previous year, both positives and negatives, and suggesting changes that could improve the player's statistics. Sandy Koufax would credit such sessions in the early 1960s with helping him learn to emphasize first-pitch strikes and taking something off the ball.
In 1964, Roth left the Dodgers and expanded his freelance work. Within weeks, he was contributing regularly to The Sporting News. He revived a monthly column he'd written for Sport magazine from 1952 until 1960. He continued to edit the annual Who's Who in Baseball, which he'd done since the 1954 issue. He contributed statistical data for Koufax, by Sandy Koufax and Ed Linn, and the publisher felt it important enough to be included in advertising for the book. He collaborated with Harold Rosenthal on the spring training magazines from MACO publishing.
In 1966, NBC came calling with its new contract for the Game of the Week, the All-Star Game, and the World Series. The Sporting News column disappeared and for the next decade, Roth would sit between Curt Gowdy and Tony Kubek, feeding them the kind of statistical nuggets he'd supplied to Scully for years. A few years later, he moved to ABC to provide the same service.
While spending his time producing statistical nuggets for the broadcasters, Roth continued his exploration of ways teams could use statistics to improve performance. He consulted for 20 major league teams and identified Joe Morgan as the league's most valuable player long before voters did. Harking back to his early talks with Branch Rickey, Roth focused on Morgan's on-base percentage, power, and stolen base success.
Ill health forced Roth to retire in the late 1980s and he died of a heart attack in Brotman Medical Center in Culver City on March 3, 1992.
"He was the guy who began it all," said Bill James. "He took statisticians into a brave new world."
https://sabr.org/wp-content/uploads/2020/03/research-collection4_350x300.jpg
300
350
admin
/wp-content/uploads/2020/02/sabr_logo.png
admin
2019-04-11 18:10:45
2021-04-19 13:53:12
Henry Chadwick Award: Allan Roth