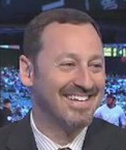 Henry Chadwick Award: Cory Schwartz
This article was written by Christina Kahrl
This article was published in Spring 2014 Baseball Research Journal
---
It might be easy to believe that Cory Schwartz (b. 1969) is living the sabermetric dream. After all, he's Vice President for Statistics for Major League Baseball Advanced Media. If you're reading this, you are almost certainly a consumer of his work: Schwartz oversees a team of 25 full-time and over 300 part-timers responsible for live data capture for the official stats for all of Major League Baseball, the minor leagues, and winter league baseball games.
"We cover baseball year-round," Schwartz observes, "from spring training all the way through the conclusion of the winter leagues—so every game and every day brings something different, and we also have to keep up with emerging technology and evolving business demands. The basic functions of our department have remained the same over 13 seasons: capture data, make sure [the feed] is timely, accurate, and detailed, and get it into the hands of fans and consumers in the best way possible… but the specifics of the job change every day, every season."
Such reliable staples have become critical to the everyday fan experience, but his group at MLBAM also operates the PitchF/X system, which provides pitch trajectory, velocity, and location data for all games played in MLB venues. Open access to the data the PitchF/X system collects has provided information beyond anything any of us dreamed up a decade ago, and it has proven to be the irreplaceable source of the most revolutionary and evolutionary work going on in sabermetrics today. MLBAM's readiness to share that information has fueled sabermetric innovation into a third or even fourth generation of fans.
Schwartz deflects taking much credit for his team's commitment to provide data. "From the growth of live play-by-play products, to the availability of live video on mobile devices, to the introduction of PitchF/X and its proliferation throughout the research community, I think it's inarguable that MLBAM has fueled increased availability, interest, and enjoyment of the game. I'm old enough to remember when we had to wait two days to find West Coast box scores in the newspaper, and wait until the Monday and Tuesday editions of USA Today … MLBAM has made things available within seconds that we used to only dream about."
The impact of that cannot be understated in terms of its importance to fans while simultaneously changing the nature of our everyday conversations about the game. "More detailed information about the players has contributed to the ongoing Age of Enlightenment among fans."
The extent to which Schwartz takes that mission to heart is reflected in his philosophy towards his work and the importance of having it be readily available to consumers and researchers alike. "The game was here before us and will long outlast us," he notes, "so we are its custodians for now and therefore have an obligation to contribute to its success during our part of its history. As that relates to data, we must be mindful that we are creating the records that will inform future generations about the players of today, so we treat it as a sacred obligation and take it very seriously. Data, in and of itself, has no intrinsic meaning or value… only when it's put into the hands of those who can organize and interpret it in ways that tell stories that help fans learn more about players or games or seasons, does it take on its true purpose."
Schwartz represents MLBAM's organizational ethic to pursue that mission into the future, across new frontiers of sabermetrics. His team is also working on the development and eventual roll-out of another new frontier: a system to track all moving objects on the field—fielders, runners, even umpires. Unveiled at the 2014 Sloan Sports Analytics Conference, the yetto-be-named system figures to revolutionize our understanding of fielding and baserunning.
But Schwartz is no more defined by duty alone than any other fan with an admittedly enviable day job. His fandom goes back to watching the 1976 World Series with his dad, in which he took a quick interest. "Without really knowing much about either team, or baseball in general, I still decided to bet with him that the Yankees would win the Series, with the loser having to accept the punishment of single-handedly cleaning up our basement playroom." Of course the Big Red Machine swept the Yankees and he lost the best, but, "Despite that setback, I started watching baseball more regularly… seeing the players on TV, then learning more about them through the backs of 1977 and 1978 Topps cards—that really got me hooked."
Making the leap into sabermetrics proved to be short. "Like many of my generation I was tremendously influenced and enlightened by the Bill James Abstracts, and as a teen and young adult by fantasy baseball pioneers like John Benson, who applied basic analytic approaches towards fantasy baseball strategy. By 1999 I had discovered Baseball Prospectus, and have been a regular reader of theirs since."
That experience as a fan informs Schwartz to this day, but it also informs his teammates. Since joining MLBAM in 2001, Schwartz credits the guidance of CEO Bob Bowman for reminding everyone in-house to "think like a fan as we do our jobs, and that inspires us in everything we do."
The reality of his balance of responsibilities, to fans and to researchers, reflects the changing dynamic of how we all consume baseball information. "It's hard to say I landed my dream job," Schwartz observes, "because I've been fortunate enough to have a job that I never could have dreamed of even 15 or 20 years ago, and have an opportunity to participate in the game in ways I never would've imagined. So really, it's even better than my dream job."
To learn more about the Henry Chadwick Award, click here.
https://sabr.org/wp-content/uploads/2014/04/SchwartzCory-Chadwick.large-thumbnail.jpg
150
126
admin
/wp-content/uploads/2020/02/sabr_logo.png
admin
2014-04-02 13:13:49
2021-04-19 13:57:10
Henry Chadwick Award: Cory Schwartz