Henry Chadwick Award: Leonard Koppett
This article was written by Daniel R. Levitt
This article was published in Spring 2019 Baseball Research Journal
---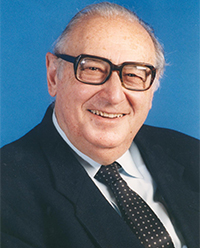 Leonard Koppett (1923–2003) was a long-time sportswriter known for his intellectual rigor and evidence-based analysis. Koppett wrote for many of the leading New York newspapers before relocating to the Bay Area and writing for several West Coast dailies. He also wrote a column for The Sporting News for many years. His articles and columns demonstrated an understanding of historical context, a statistical savvy ahead of his time, and a keen recognition of the relationship among events. He authored 17 books on sports, including three highly influential baseball books: The Thinking Fan's Guide to Baseball (1967), The Man in the Dugout (1993), and Koppett's Concise History of Major League Baseball (1998). He received the J.G. Taylor Spink Award from the National Baseball Hall of Fame and Museum in 1992, and the Curt Gowdy Media Award from the Naismith Memorial Basketball Hall of Fame in 1994, and he remains the only writer to win both prestigious awards.
Koppett was born in Moscow after his parents moved there from the Crimea. His parents both had the opportunity to receive a higher education because restrictions on Jews had been rolled back somewhat after the social unrest of 1905. In the late 1920s his father came to the United States with the foreign trade office, and the family followed shortly thereafter. When Stalin came to power in 1929, his parents realized they might be in danger and stayed in the US. In New York the family moved among the boroughs — he first realized he wanted to be a sportswriter when he was nine years old and lived a block away from Yankee Stadium — and by Koppett's high school years they lived in the Sea Gate area of Brooklyn.
After high school Koppett enrolled at and graduated from Columbia, though his college years were interrupted by WWII and just under three years in the army. While at Columbia he worked for the school paper and became a stringer — Columbia football was big at the time — for a couple of the daily papers. Koppett started his formal sportswriting employment with the New York Herald Tribune in 1948. He later regarded the Herald Tribune of that era as the best overall newspaper of his career. In 1954 he moved to the New York Post because he was too often being confined to a desk job. He soon became acquainted with the "chipmunks," a loose knit group of younger, irreverent sportswriters. Koppett described himself as too "orthodox" to follow their nontraditional approach.
Sportswriting for most dailies paid poorly in the early 1960s, and Koppett decided to leave the Post in 1962 to find a higher paying job in public relations or a similar business line. Fortunately for baseball enthusiasts, a spot opened up at the higher-paying New York Times, and Koppett jumped at the opportunity. In 1973 Koppett moved to Palo Alto, California, as the West Coast sports correspondent for the Times. He left in 1978 when the travel was finally becoming a burden, and he wanted to spend more time with his family and growing children. A couple years later he joined the Peninsula Times Tribune as columnist, also spending a few years as the overall editor for the paper.
As a young high-schooler, I learned how to explore questions and craft arguments by reading Koppett's columns in The Sporting News. He had a seemingly straightforward but thought-provoking way of defining the underlying assumptions and approaches to questions he wanted to answer. One, in particular, struck me: an article in 1976 on how to determine if a player was overpaid. To systematically analyze the problem, Koppett devised a framework, reasoning "that there are only three possible approaches to an objective definition of 'overpaid.'"
One is a "share" concept: how much money is generated by this employes [sic] activity and what share of that income should go to him?
A second is a "comparability" concept: what do other employes, in other fields or other places, get paid for comparable effort or comparable status or comparable special qualities?
The third is "productivity": what are the services provided by the employe "worth" to the business?
This systematic approach, often bolstered by a rare contextual understanding of statistics (for the time), offered Koppett's readers a dimension they didn't often get from other sources.
When The Thinking Fan's Guide to Baseball came out in 1967 it provided the first comprehensive look at all the aspects of baseball, from a manager's tactical decisions on the field, to the business of baseball, to the intricacies of hitting and pitching. And it offered it all up with an intelligent dose of historical and statistical context. More recently, Koppett's Concise History of Major League Baseball weaved between the game on and off the field, while delivering a deeper understanding of the connections among the various elements of both.
Koppett was great sportswriter who bought a historical and contextual appreciation to his work. Through his many columns, long-form articles, and books, Koppett's comprehensive and reasoned explorations and explanations enriched generations of baseball followers.
https://sabr.org/wp-content/uploads/2020/03/research-collection4_350x300.jpg
300
350
admin
/wp-content/uploads/2020/02/sabr_logo.png
admin
2019-04-11 18:34:33
2021-04-19 13:52:15
Henry Chadwick Award: Leonard Koppett