Henry Chadwick Award: Rob Neyer
This article was written by Mark Armour
This article was published in Spring 2019 Baseball Research Journal
---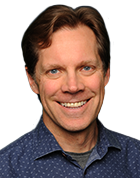 Rob Neyer (1966 – ) received his big break in 1989 when Bill James hired him as his research assistant. Rob has never been hesitant to tell this story, of a young, unsettled guy working as a roofer in Lawrence, Kansas — armed with a love of a baseball and the written word, and a willingness to work hard — being granted the opportunity to work with the most famous baseball researcher in the world. And this is all true, as far as it goes.
Also true: Rob seized this opportunity and forged his own career path, a path he essentially invented. When he began writing for ESPN.com in 1996, he became the first widely read, analytically savvy writer on the Internet. In this role, he not only influenced a steadily growing pool of like-minded readers, he influenced future writers, who could now envision such a path for themselves. "[Rob] paved the way for the next generation of writers to make their living on the Internet, instead of going through the motions at the local paper," says Jonah Keri of The Athletic. "It's not a stretch to say I owe a gigantic chunk of my existence as a sportswriter to Rob's work back in the '90s at ESPN."
Years earlier, Rob's childhood was spent moving around the Midwest before settling in Kansas City in 1976 just as the Royals were becoming a great team. He followed all the major sports as a kid, and was not immune to the popularity and success of the local nine, who became his entrée into the great game. He played a lot of baseball, but his love of the game would far eclipse his playing career.
After a few years at the University of Kansas and some time on local roofs, Rob landed his dream job. He spent four years with James, working extensively on all three editions of Bill's annual Baseball Book (1990–1992) and the first edition of his Player Ratings Book (1993). He spent three more years working on various publications for STATS, Inc. before arriving at ESPN in 1996.
During his 15 years at ESPN, writing five columns a week for a while and eventually evolving into what we now call a "blogger," Rob increasingly acted as the public voice (on radio, on television, at conference panels) for a new way of thinking about the game. Michael Lewis's 2003 book Moneyball further legitimized Rob and his readers. "If Bill's Abstracts are recognized as the birth of contemporary sabermetrics," says Cory Schwartz of MLB Advanced Media, "it was Rob's column that lifted those ideas out of the margins of fandom and made them familiar and accessible to a national audience. That spirit inspires not only much of what happens where I work, but dozens of baseball websites and blogs, and probably all 30 MLB front offices."
Rob's influence extended beyond simply writing well. He also used his platform to tout talented baseball writers who were struggling to find an audience. Craig Calcaterra, then an Ohio attorney, began blogging about baseball daily in 2007. Rob linked to one of Craig's pieces, then another, and soon Craig found a readership. He soon left the law for a brand-new career as lead baseball writer for NBCSports.com. "Rob didn't have to do it," Craig says. "But he did because he's a selfless and decent man. Rob has done more to advance baseball thought and discourse over the past couple of decades than anyone, yet he has never hesitated to elevate the work of others before promoting himself. Anyone who does what I do now is in his debt."
While doing all of this, Rob also found time to write seven books, including Baseball Dynasties (with Eddie Epstein, 2000), Rob Neyer's Big Book of Baseball Lineups (2003), and The Neyer/James Guide to Pitchers (with Bill James, 2004), which was awarded the Sporting News-SABR Baseball Research Award in 2005.
Rob left ESPN in 2011 to become the National Baseball Editor for SB Nation, and three years later joined FoxSports.com. Rob has been mainly freelancing for the past few years. After a decade hiatus from writing books, his 2018 effort, Power Ball: Anatomy of a Modern Baseball Game, won the Casey Award as the best baseball book of the year.
Rob married Angela in 2014, and their daughter Olive came aboard in 2015. In 2019, Rob will serve his second year as the Commissioner of the West Coast League, a collegiate wooden bat league in the Pacific Northwest. He is also tapped to host SABR's brand-new baseball podcast, the start of what will likely be yet another successful chapter in the baseball life of Rob Neyer.
https://sabr.org/wp-content/uploads/2020/03/research-collection4_350x300.jpg
300
350
admin
/wp-content/uploads/2020/02/sabr_logo.png
admin
2019-04-11 18:18:20
2021-04-19 13:52:51
Henry Chadwick Award: Rob Neyer