How Did That Guy Do That?
This article was written by J.G. Preston
This article was published in Fall 2015 Baseball Research Journal
---
It's the kind of game that makes you say, "How did that guy do that?" The unlikeliest performances are one-of-a-kind, in that the pitcher never had another game remotely as good. Here's a list.
Don Fisher was working for the electric company and pitching sandlot baseball in Cleveland when he signed with the New York Giants in August 1945. He pitched only two games for the Giants, was sent to the minors in 1946, and won just three games there before his brief professional career came to an end. But in one of his two major league games he pitched a shutout against the Boston Braves. A 13-inning shutout.
As unlikely as it seems that someone could pitch a 13-inning shutout in his second and last major league game, less than two months after pitching on the sandlots, it turns out Fisher has some interesting competition for the unlikeliest pitching performance ever in the major leagues.
Here's an imprecise definition of an "unlikely" performance: it's the kind of game that makes you say, "How did that guy do that?" First, it should be a notably good performance, one in which the pitcher worked at least nine innings and allowed no more than one run. (That narrows it down to less than 10 percent of the starting pitcher performances in the post-1914 database in Baseball-Reference.com's Play Index.) I also think the unlikeliest performances are one-of-a-kind, in that the pitcher never had another game remotely as good. As a result, several of the unlikeliest performances I will identify are the only major league game that pitcher won.
A case can be made that the unlikeliest performances are the longest games pitched in major league history, by Joe Oeschger, Leon Cadore, Jack Coombs, and Joe Harris. Oeschger and Cadore each allowed just one run in 26 innings when they faced each other on May 1, 1920. Coombs allowed just one run and struck out 18 in 24 innings on September 1, 1906; his mound opponent Harris allowed just one run in the first 23 innings before giving up three in the 24th.[fn]Box score is in the Boston Sunday Herald, September 2, 1906.[/fn]
Those games are not so much a case of "how did that guy do that?" as they are "how did anybody do that?" While it's true that none of these pitchers had another game quite like it (nor has anyone else), they had other unusual performances. Oeschger pitched 20 innings in a game in 1919 and threw a 14-inning shutout in 1917; Cadore pitched more than 14 innings in a game in 1921; Coombs pitched 16 scoreless innings in a game in which he struck out 18 in 1910.[fn] C. Paul Rogers III, "Jack Coombs," SABR Baseball Biography Project, http://sabr.org/bioproj/person/f64fded8.[/fn]
Harris does merit consideration for the list of unlikeliest performances. He still holds the American League record, one that may never be broken, for most consecutive scoreless innings in a game; in that 1906 game the A's didn't score from the fourth inning through the 23rd, a span of 20 innings.[fn] Oeschger held Brooklyn scoreless for the final 21 innings of his duel with Cadore for the major league record for most consecutive scoreless innings in a game.[/fn]Harris had entered that game with a 2–17 season record; he never won a major league game after that, and he finished his career with a record of 3–30, the most losses ever for a pitcher who won no more than three games. What keeps him, just barely, off my list of unlikeliest pitching performances is his three wins included a shutout and a three-hitter in which he allowed only one run.[fn] Bill Nowlin, "Joe Harris," SABR Baseball Biography Project, http://sabr.org/bioproj/person/2775e140.[/fn]
How about Philip Humber, who pitched a perfect game for the White Sox against Seattle in 2012? That was his only major league complete game, and he has the fewest career wins (16) and by far the highest career ERA (5.31) of anyone who has pitched a perfect game. (Those numbers could change, as Humber could conceivably return to the major leagues. When this was written in 2015, he was 32 years old and pitching in Korea.) But Humber did have three games in which he pitched seven shutout innings and two other games in which he pitched into the eighth and allowed just one run. That's a lot better than some of his competitors for unlikeliest performance can say.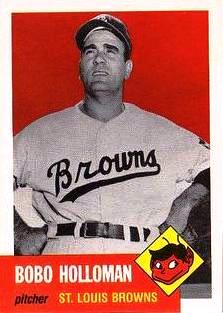 The unlikeliest no-hitter in the twentieth century was pitched by Bobo Holloman, a 30-year-old rookie who held the Athletics hitless in his first major league start on May 6, 1953. Holloman entered the game with an 8.44 major league ERA and won only two games in the majors after that; he was sent to the minors two months after his no-hitter, never to return. All that keeps Holloman off my list of unlikeliest performances is that, in one of his other wins, he pitched eight shutout innings and allowed just two hits.
Billy Rohr was one strike away from a no-hitter in his major league debut on April 14, 1967, finishing with a one-hit shutout of the Yankees. Rohr won just two more games in the major leagues and finished his brief career with a 5.64 ERA. But in his second major league appearance, also against the Yankees, he pitched a complete game and allowed just one run, making his debut seem not quite so unlikely. (Rohr's ERA in his games after his first two starts was 7.80.)
Jack Nabors started 37 games for the Philadelphia A's in 1915–16 and won only one of them, finishing his career with a 1–25 record. That one win would thus seem to be awfully unlikely. Of course, it was unlikely that anybody would win a game for those teams, as the A's had a combined record of 79–226 in those seasons. Nabors' one win was a complete game in which he allowed two runs, both unearned, but he had an identical stat line in one of his losses, plus two other losses in which he pitched eight innings and allowed two runs. It wasn't his performance in his victory that was unlikely, just the outcome.
I looked for pitchers who had a game with an unusually high (for them) "game score," a concept Bill James introduced in his 1988 Baseball Abstract to roughly rate a starting pitcher's performance.[fn]"Game score" is determined as follows: Start with 50 points. Add 1 point for each out recorded (or 3 points per inning). Add 2 points for each inning completed after the 4th. Add 1 point for each strikeout. Subtract 2 points for each hit allowed. Subtract 4 points for each earned run allowed. Subtract 2 points for each unearned run allowed. Subtract 1 point for each walk. http://www.baseball-reference.com/about/pi_glossary.shtml.[/fn] Baseball-Reference.com shows the game score for every start in its database going back (at this writing) to 1914. Sean Forman, the founder of the website, was kind enough to generate for me a list of the pitchers with the biggest difference between their best game score and their second-best game score.[fn]The list of largest differences appears at https://prestonjg.wordpress.com/ 2015/02/07/a-few-final-maybe-thoughts-on-the-unlikeliest-pitchingperformances-in-major-league-history/[/fn] Leon Cadore ranks second on this list and Joe Oeschger fourth, as the game score formula is generous to pitchers who pile up a high number of innings, but I still decided to leave them off my list of unlikeliest performances.
So who's on my list? I was going to do a traditional Top Ten, but I couldn't ignore Number 11. Here's the countdown:
11. BOB LACEY, OAKLAND A'S, OCTOBER 4, 1980
Lacey pitched 282 games in relief from 1977–84 and had several good seasons. In his first major league start, on the next-to-last day of the 1980 season, he shut out the Brewers. (It was the last of 94 complete games manager Billy Martin's A's pitched that season, no team has had more since the 1941 White Sox.) In Lacey's only other start, in 1984, he gave up five runs and was knocked out in the third inning. The difference between his game scores is the fifth-highest between any pitcher's two best. Lacey's longest appearance in his career aside from his shutout was 5.2 innings.
10. TROY HERRIAGE, KANSAS CITY A'S, MAY 22, 1956
After winning 15 games in the Class A South Atlantic League in 1955, Herriage was drafted by the A's and spent the 1956 season in the major leagues. He had allowed 16 runs in just 14 innings going into his May 22 start against Washington, but he pitched a three-hitter to beat the Nationals, holding them to just one run. That would be the only win in the only season of Herriage's major league career. He finished with a record of 1–13, and his ERA aside from his one victory was 7.18. Herriage started 16 games; only two pitchers in major league history started more games in their career without recording more than one win, Nabors and Mike Thompson. (Thompson started 29 games from 1971–75 and finished with a 1–15 record; he didn't make my list of unlikeliest performances because he had another start that was nearly as good as his win.) Herriage's win was the only game in which he pitched more than five innings and allowed fewer than three runs.
9. CLARAL GILLENWATER, CHICAGO WHITE SOX, AUGUST 25, 1923
Gillenwater (whose first name sometimes appeared in print as Claude or Clyde) had a 10–1 record in the Class B Michigan-Ontario League when he was purchased by the White Sox in mid-August 1923. In his major league debut he was blasted for six runs in two innings of relief work. Five days later he made his first start and shut out the Red Sox on four hits. He pitched just three more games in the majors and lost all three, allowing nine runs in 10.1 innings. His career ERA aside from his one win was 9.49, and he struck out just two of the 96 batters he faced in his brief career. Gillenwater is the first of several pitchers on this list whose only major league win was a shutout.
8. MIKE MODAK, CINCINNATI REDS, SEPTEMBER 5, 1945
Under the eligibility rules of the time, Modak was able to play college baseball and football at Indiana University (where one of his teammates in both sports was future Reds star Ted Kluszewski) while playing minor league baseball during World War II. Modak joined the Reds after finishing the school year at IU in June 1945 and was used primarily out of the bullpen, allowing five runs in three innings in his first start. When he got the starting nod again on September 5 his ERA was 5.72…which he promptly lowered by shutting out the Phillies. He made just one more start, getting knocked out in the third inning, and didn't pitch in the majors after that season. His ERA aside from his win was 7.29. I have him ahead of Gillenwater on this list because Gillenwater at least managed to go six innings in one of the starts he didn't win.
7. ED FALLENSTIN, BOSTON BRAVES, APRIL 30, 1933
Fallenstin (his last name sometimes misspelled as Fallenstein) pitched 24 games in relief as a 22-year-old rookie with the Phillies in 1931, posting a 7.13 ERA. He returned to the majors in 1933 with the Braves and in his first major league start shut out the Giants (who would go on to win the National League pennant) on three hits. After that, he made three more starts, and while he won one of them he allowed 12 runs in 16 innings. Fallenstein was sent to the minors in July and never pitched professionally after that season. Only Cadore and Oeschger had a greater difference between their two best game scores among pitchers who made at least four starts.
6. WALLY HOLBOROW, WASHINGTON NATIONALS, AUGUST 4, 1945
Holborow was one of the unlikely major leaguers who got a chance during World War II. (It's not a shock that three of the unlikeliest pitching performances ever came in 1945, when major league manpower was at its leanest due to the number of players in military service.) A native New Yorker, Holborow was pitching for a prominent semi-pro team, the Brooklyn Bushwicks, when he signed with the Nationals in 1944. His previous professional experience appears to have been limited to three games in the Class C Middle Atlantic League in 1935. Holborow made one relief appearance late in the 1944 season, throwing three scoreless innings, and spent the entire 1945 season in Washington. He wasn't used often that year, but he was effective, with an ERA of 2.08 through his first 11 appearances, all in relief.
Then on August 4, with the Nationals in second place in the American League, just three games behind Detroit, Nats manager Ossie Bluege called on Holborow to start the first game of a doubleheader against the Red Sox in Washington. Holborow "took the mound with the misgivings of the 13,035 fans," Shirley Povich reported in the next day's Washington Post, "and then delighted them with a masterful performance," shutting out the visitors on two hits.[fn]Shirley Povich, "Nats Win 7th Straight 4 to 0; Then Bow, 15–4," Washington Post, August 5, 1945.[/fn] (The Nationals were just two and a half games out of first after splitting that day's doubleheader but never did catch the Tigers and finished one game behind them.)
Holborow's shutout didn't earn him another starting opportunity; he made only three appearances the rest of the year, all in relief. After the season, with hundreds of players returning to the majors from the military, Holborow turned in his voluntary retirement papers and went back to the Bushwicks. But in late August 1948, A's owner/manager Connie Mack lured Holborow, then 34 years old (although newspaper reports of his signing said he was 31), to Philadelphia.[fn] "Holborow, Former Nat, Joins A's Slab Staff," Washington Evening Star, August 31, 1948.[/fn]
After three relief appearances with the A's Holborow was called on to make his second career major league start on September 23 at Detroit. The A's staked him to a 7–2 lead in the fifth inning (Holborow knocked in three of the runs himself), but the Tigers rallied, and Sam Vico hit a two-run triple in the bottom of the ninth to give Detroit a 8–7 win. Mack left Holborow in to pitch to the bitter end, allowing him to face 43 batters and give up 16 hits. The difference in game scores between Holborow's two starts is the largest gap between any pitcher's two best starts.[fn]His 1945 start had a game score of 84 while the 1948 start had a score of 18 for a difference of 66. Leon Cadore had the second-largest difference, 53, and his second-best score came in an 11-inning shutout[/fn] Holborow made one last relief appearance for the A's before he was released after the 1948 season and returned to the Bushwicks, never again to play professional baseball.
5. MARK BROWNSON, COLORADO ROCKIES, JULY 21, 1998
Brownson faced a difficult task in his major league debut, pitching in Houston against an Astros team that would finish the season with 102 wins and an average of 5.4 runs per game. Brownson held the Astros hitless for the first five innings and finished with a four-hit shutout, an unexpected performance from a former 30th-round draft pick who had a 5.13 ERA in the Triple A Pacific Coast League when he was called up to the majors.[fn]Mike Klis, "Rookie dazzles in debut," Denver Post, July 23, 1998[/fn] But Brownson's debut was not a harbinger of future success. Six days later he gave up seven runs in 4.1 innings and went back to the minors for the rest of the year; he started seven games for the Rockies in 1999 and won none of them. His only other major league win came in relief for the Phillies in 2000. Brownson's 6.94 career ERA (including his shutout) is the third highest for any pitcher who has ever thrown a shutout. (The higher ERAs belong to Hooks Iott and Carl Doyle, both of whom had at least one other reasonably good game in their careers to keep them off this list.)
4. BOB CLARK, CLEVELAND INDIANS, AUGUST 15, 1920
After leading the Class B New England League in wins in 1919, Clark spent the entire 1920 season on the Indians roster, but he did little more than pitch batting practice for the first several months. Aside from an appearance in which he pitched to one batter on May 26, he did not get into a game until August 1. He had less than 10 innings of major league experience when manager Tris Speaker tapped him to face the St. Louis Browns on August 15, with the Indians just a halfgame out of first place. "Clark has as much stuff as any pitcher on my staff and I do not feel as if I were experimenting," Speaker said.[fn]"Cleveland Indians on Last Invasion of East," Cleveland Plain Dealer, August 16, 1920.[/fn]
Clark shut out St. Louis on four hits to move the Indians into first (they went on to win the American League pennant and World Series) and in the process he earned kudos from Browns first baseman George Sisler. "There was no fluke about Clark's victory," the future Hall of Famer said afterward. "He has the stuff and he had us puzzled. He will win a lot more games for Cleveland."[fn]Ibid.[/fn] But Sisler was no Nostradamus. Clark never won another major league game, and in his only other start nine days later he was bombed for seven runs on 13 hits. His career ERA aside from his shutout was 6.59. Only Holborow and Cadore have a bigger difference between their two best game scores than Clark.
3. LARRY ANDERSON, MILWAUKEE BREWERS, SEPTEMBER 28, 1975
Not to be confused with his contemporary Larry Andersen, who had a long career as a major league relief pitcher, Anderson was the Brewers' second-round pick in the June 1971 draft out of a suburban Los Angeles high school. It was not a shining moment for the Brewers' scouting department; George Brett was taken two picks later, and Mike Schmidt was selected right after that. In his inauspicious professional debut in the short-season New York-Pennsylvania League, Anderson walked the first five batters he faced.[fn]"5 Leagues Begin Pennant Scramble," The Sporting News, July 10, 1971.[/fn]
Anderson showed enough in the Double A Texas League in 1974 that the Brewers wanted to take a closer look at their 21-year-old prospect, so they brought him to the major leagues in September and he made two scoreless relief appearances. But in 1975 he seemed to regress. Pitching for Sacramento, he walked 95 batters in 110 innings and led the Pacific Coast League in hit batsmen and wild pitches despite not spending the entire season there. Between his time in Sacramento and in the Texas League he threw 37 wild pitches that year.
That may not sound like a resumé begging for a major league call-up, but the Brewers felt otherwise and brought Anderson back to Milwaukee in September. It did not go well. He gave up five runs in three innings in his first appearance, five runs in three innings in his second, and four runs in 5.1 innings in his third, all in relief. In seven relief appearances in September he had a 7.17 ERA and a .344 batting average against.
Yet despite his lack of success, on the last day of the season Anderson got the ball for his first big league start and shut out the Tigers (finishing a woeful 57–102 season) on five hits, all singles.
Anderson never started another major league game. He spent the entire 1976 season in the Pacific Coast League, where he had a 6.14 ERA, walked 100 batters in 145 innings and threw a league-leading 25 wild pitches. Despite his poor numbers, Toronto selected him in the American League expansion draft. Two months later the Blue Jays traded him to the White Sox, and he pitched six games in relief for the White Sox in 1977, winning one of them. But he issued 11 unintentional walks and threw four wild pitches in just 8.2 innings and was sent back to the minors, where he continued to pitch until 1980 without returning to the big leagues.
Aside from his shutout, Anderson's career major league ERA was 7.24. He is one of only four pitchers to hurl a shutout in his only major league start. Don Fisher, introduced at the beginning of this piece, is another. The others are Luis Aloma, a successful relief pitcher for the White Sox in the early 1950s, and Frank Williams, who made 332 relief appearances in his sixyear career and pitched a rain-shortened five-inning shutout when the Giants came up short of starting pitchers in 1984.
2. JOHN (JACK) MCPHERSON, PHILADELPHIA PHILLIES, JUNE 22, 1904
McPherson made his major league debut with the Philadelphia A's at age 32 on July 12, 1901, giving up five runs in four innings in a loss to Boston. He didn't return to the majors until three years later, when he surfaced with the Phillies at age 35. The Phils finished in last place with a 52–100 record, and McPherson played his part with a 1–12 record and an ERA well above league average. But his one win was a dandy, a 13-inning shutout of Brooklyn on June 22 in which he allowed just six hits.[fn] Box score is in The New York Times, June 23, 1904[/fn] McPherson was back in the minors a month later and never pitched in the majors again. His 13 career losses are the most for a pitcher whose only career win was a shutout. His might seem to be the unlikeliest pitching performance ever: a pitcher with a 1–13 career record whose only win was a 13-inning shutout when he was 35 years old.
1. DON FISHER, NEW YORK GIANTS, SEPTEMBER 30, 1945
And yet I still think Fisher's gem is the unlikeliest of all. Fisher spent a brief time in professional baseball in his younger days, spending a month with FargoMoorhead of the Class D Northern League in 1938, but he made his name pitching in the adult sandlot leagues in his hometown of Cleveland while working as a "trouble shooter" for the city's electric company.[fn]John Henehan, "Bartuneks' One-Two Punch Flattens Rivals," Cleveland Plain Dealer, July 12, 1945.[/fn] By 1944 he was with the powerhouse team sponsored by Bartunek Clothes and posted a 12–2 record that year as the Bartuneks won their fourth straight Class A city championship.[fn] John Henehan, "Four Pilots Optimistic as 'A' Season Opens Today," Cleveland Plain Dealer, May 6, 1945.[/fn] In September, he struck out 23 batters while pitching an 11-inning shutout in a National Baseball Federation tournament game.[fn] "Dayton's Homers Oust Bartuneks From N.B.F. Tournament, 5–0," Cleveland Plain Dealer, September 13, 1944.[/fn] His 1945 season went just as well, as he went 9–1, including a game in which he pitched a four-hit shutout, struck out 16, and hit a home run and two singles.[fn]"Fisher Breaks In As Giants Drop 2," Cleveland Plain Dealer, August 26, 1945.[/fn],[fn]"Fisher Whiffs 16 As Bartuneks Win," Cleveland Plain Dealer, July 25, 1945.[/fn]
The 29-year-old Fisher reportedly turned down several offers to sign with major league teams before finally coming to terms with the Giants in August.[fn]John Henehan, "Bartuneks' One-Two Punch Flattens Rivals," Cleveland Plain Dealer, July 12, 1945.[/fn],[fn]John Drebinger, "Giants Pound Wyse and Rout Cubs, 9–3," The New York Times, August 21, 1945[/fn] A few days after joining the team he made his major league debut on August 25. He entered the game with the Giants trailing Brooklyn 9–0 and pitched the final five innings, giving up four runs (although he did contribute at the plate with an RBI double).
And that was the only major league action Fisher saw until manager Mel Ott sent him out to start the first game of a season-ending doubleheader at Boston. On a chilly afternoon, Fisher went the distance in a 13-inning game won by the Giants 1–0, as he scattered 10 hits and walked three. It would be his last major league appearance.
Fisher went to spring training with the Giants in 1946, but with players back from the war the Giants had plenty of more experienced pitchers from which to choose and sent him to their Jersey City farm club in the International League.[fn] John Drebinger, "32 on Giant Squad as Ott Drops Nine," The New York Times, April 2, 1946.[/fn] Fisher went 2–3 in nine games with Jersey City before he was released; he signed with Columbus of the American Association, where he had a 1–5 record in 21 games.
And that was the end of Fisher's professional baseball career. He returned to Cleveland and wound up spending 37 years working for the Cleveland Electric Illuminating Company before he died in 1973 at age 57.[fn]"Donald R. Fisher," Cleveland Plain Dealer, August 2, 1973.[/fn] I nominate his 13-inning shutout in his only major league start as the unlikeliest pitching performance ever.
J.G. PRESTON lives in Benicia, California, and is press secretary for Consumer Attorneys of California. He previously served as editor of the Minnesota Twins program magazine, wrote feature articles for the Twins' program and yearbook, and wrote the script for a video biography of Kirby Puckett narrated by Bob Costas. He writes about baseball history at prestonjg.wordpress.com.
Acknowledgments
Baseball-Reference.com's Play Index was invaluable in researching this article. I am also extremely grateful to B-R.com founder Sean Forman for providing me a list of the pitchers with the largest difference between their best and second-best game scores. Without that list it is likely I wouldn't have found Holborow, Fallenstin, or Lacey.
https://sabr.org/wp-content/uploads/2015/10/HarrisJoe_0.large-thumbnail.jpg
150
104
admin
/wp-content/uploads/2020/02/sabr_logo.png
admin
2015-10-27 13:42:52
2021-05-04 13:24:38
How Did That Guy Do That?