Key Sportswriters Who Covered the 1951 Baseball Season
This article was written by Bo Carter
This article was published in 1951 New York Giants essays
---
While the 1951 pennant race was raging between the Dodgers and Giants, dozens of writers and broadcasters covered the dramatic proceedings and turned out classic prose and award-winning broadcasts.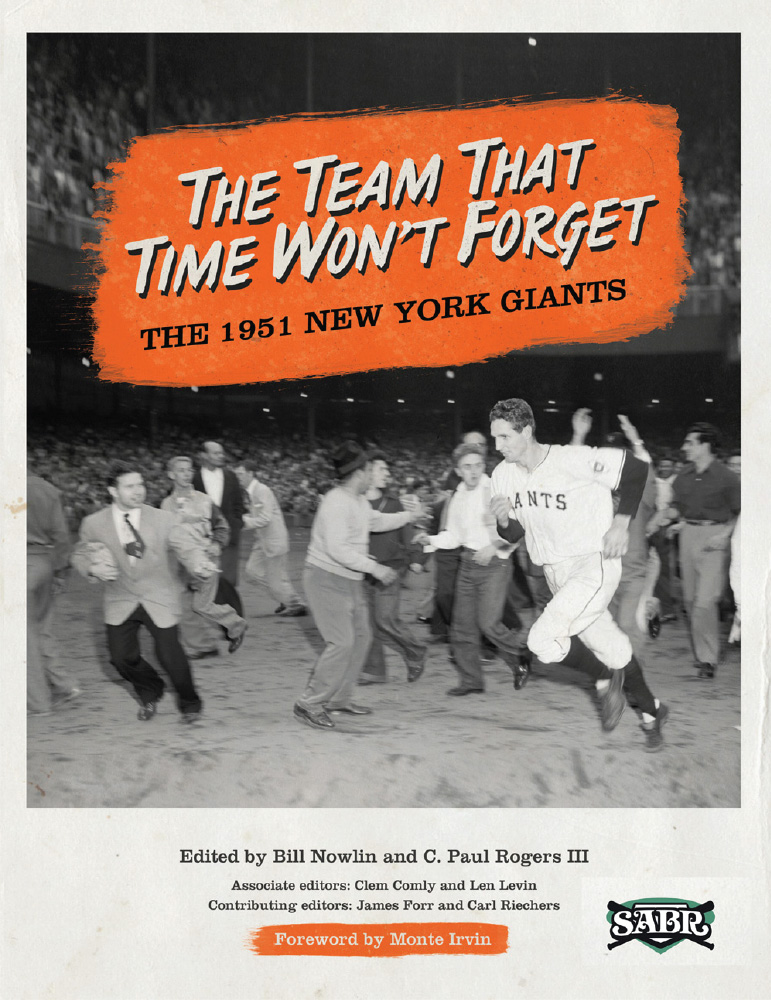 The National Football League was just an afterthought. The NBA was not covered in some dailies, and others just listed scores.
Besides the classic confrontations and close calls between the two New York baseball behemoths, little else mattered in sports nationally besides possibly horse racing, golf, and college football – maybe …
ESPN was 28 years away from being birthed, and the 1952 Olympics were looming for the likes of writing legends Grantland Rice, Red Smith, Dan Daniel, W.C. Heinz, Furman Bisher in Atlanta, and George W. Daley from the copy desk of the New York Times (until his death on August 12, 1952), among others.
In the interim the '51 race brought out some of the best in this cavalcade of sports columnists (and even some of the so-called hack writers), and the volume of work kept even casual fans on the edge of their seats and waiting for the morning and afternoon editions to hit the newsstands or their home porches.
Here's a bit of an inside biographical look at some of the principal writers and electronic media who covered the intriguing race on a daily basis or as it drew to a close – and in deadline situations the majority of the time.
Noted national and regional writers from 1951 are listed alphabetically with some biographical information:
Dave Anderson — Like his contemporary kid sportswriter Dick Schaap at the Freeport, New York, newspaper, Anderson was just out of Holy Cross College when he accepted a position with the Brooklyn Eagle. He later was the Dodgers beat writer for the Eagle before going to the New York Times and later writing a daily sports column for the Times starting in 1971. Anderson's crisp, readable columns made him the third sportswriter to win a Pulitzer Prize for Commentary (1981). The first Pulitzer Prize winner among the sporting set was Arthur Daley for his "Sports of the Times" columns in the New York Times in 1956, and the second was the immortal Red Smith in 1976 for his 1975 columns in the Times.
Jimmy Breslin — Having written cogent biographies of people from Branch Rickey to Damon Runyon over the course of 23 books and a 1986 Pulitzer Prize, Breslin followed in the steps of Runyon, a leading New York-based columnist and author from the 1920s to the '40s. In 1951 Breslin was a 21-year-old writer who covered the periphery of the '51 race with takeouts and sidebars. Breslin later gained fame for his "everyman" stories behind the scenes of major events in New York and nationally as a writer and columnist for the New York Herald Tribune, the Daily News, the Journal American, Newsday, New York magazine, and dozens of other magazines and journals. His inherent love of baseball helped produce one of the most popular books on the life of Rickey in 2011.
Arthur Daley — Hired fresh out of Fordham in 1927 and assigned to cover some major prizefights in his sports infancy, Daley joined Grantland Rice as the "gentlemanly" writers of their times. In Daley's case, it was virtually every day from '27 until his death in 1974 ended a 47-year career with the Times. Daley won a 1956 Pulitzer Prize for his columns in 1955. In '51 he detailed the Dodgers-Giants feud from someplace besides Red Barber's "catbird seat" in the heated final days.
Dan Daniel — Already a national media legend when the 1951 pennant race emerged, Daniel established most of the tenets of modern sportswriting beginning with the New York Herald in 1909 when he was just 19. The self-educated native of Springfield, Massachusetts, had the gift of type as well as gab and was noted for his abilities as a master of ceremonies and toastmaster. While he lived most of his life in the Big Apple and was a manager for the famed City College of New York basketball teams (along with his newspaper assignments), the noted wordsmith (who died in 1981 at the age of 91) was a celebrated biographer of Babe Ruth. His 1930 Babe Ruth, Idol of the American Boy was one of the most popular sports books in history and led to the book The Real Babe Ruth after the Babe died in 1948. Both were the basis for six original movies and remakes about the slugger's life. Daniel assisted greatly in Depression relief efforts in New York as president of the city's chapter of the Baseball Writers Association of America. The award-winning journalist helped organize relief baseball and basketball all-star games that helped raise money for out-of-work Americans. He was a Baseball Hall of Fame voter for decades and wrote for the New York World-Telegram from 1924 to 1964 while freelancing for many national publications. His "Ask Daniel" column from 1943 to 1964 entertained millions with baseball history and little-known facts.
Clay Felker — Duke graduate Clay Felker was hardly wet behind the ears when Life magazine assigned him to cover the heated pennant race. Though Felker's pieces were of the magazine variety, he gained the respect of his peers and media magnates and later worked his way up to positions as a founding writer and editor for Sports Illustrated and as an editor of Esquire, Time, Ms. magazine, and even The Village Voice. In between he edited and wrote for the New York Herald Tribune and founded New York magazine in 1968. The native of Webster Groves, Missouri, a St. Louis suburb, was later a lecturer at the University of California and founded the Felker Magazine Center for aspiring editors and publishers. He was accorded dozens of honors for his work at Duke after serving as editor of the school newspaper, with the Navy during World War II, and later funding several scholarships and fellowships at his alma mater.
Roger Kahn — Immortalized for his in-depth coverage of the Brooklyn Dodgers and memorable books about life and baseball in Brooklyn, Kahn literally was born to be a baseball writer. He grew up and attended prep school in Brooklyn just a few miles from Ebbets Field and earned his first position as a copyboy for the New York Herald Tribune. He worked general sports assignments and features and did not become the Dodgers beat writer until 1952, but he was frequently in attendance at both Ebbets Field and the Polo Grounds in 1951. Author of 20 popular books, he wrote the award-winning Boys of Summer, about the Dodgers, in 1972. The book has sold 3 million-plus copies and had had at least 86 (and counting) printings. While keeping up daily with the Dodgers and Giants fortunes, Kahn later was sports editor at Newsweek (1956-63) before becoming an at-large editor of the Saturday Evening Post (1963-69). He was a distinguished sports lecturer at colleges and universities through the years. Though best known for his baseball expertise, he penned hundreds of editorials, features, and essays on topics from world politics to the continued "melting pot" of US culture to person-on-the-street vignettes.
Jim Murray — Though he gained his greatest fame as a daily sports columnist for the Los Angeles Times, Jim Murray (1919-98) actually covered most of the pennant race from his position as sports editor of Time from 1948 to 1955. He also was a senior writer for Sports Illustrated from 1953 to 1961 before his Pulitzer Prize-winning (1990) career with the Los Angeles Times from 1961 to 1998. Murray's syndicated columns, similar to Grantland Rice's work, were staples in hundreds of American and Canadian papers, and he had a particular love for baseball. Like so many, he bemoaned the West Coast moves of the Dodgers and Giants to Los Angeles and San Francisco, respectively, prior to the 1958 National League season, but wrote about the Dodgers' 1959 world championship and visited both West Coast locations often during the heat of 1960s-'90s late-season diamond tussles. He was a 14-time National Sports Writers and Sportscasters Writer of the Year and beloved compadre to many national media members and Baseball Hall of Fame players and managers. Jim Murray Foundation Scholarships are presented to students at 25-plus colleges and universities annually.
Grantland Rice — One of America's most beloved columnists, poets, classicists, and entertaining writers, "Granny" Rice wowed millions from his days as captain and shortstop of the Vanderbilt University baseball team in 1901 as an undergraduate classics major to the founding with Gen. Douglas MacArthur and Col. Red Blaik of the National Football Foundation and College Football Hall of Fame in 1947 and then to the race of '51. Though noted for his "Four Horsemen" column that immortalized the 1924 Notre Dame football backfield, the native of Murfreesboro, Tennessee, actually was behind the mike for the first broadcast of a World Series game in 1921 in the World Series between the Yankees and Giants. He enjoyed the company of Ruth, Gehrig, and DiMaggio and loved to have the legends of baseball and other sports over for cocktails at his home in Manhattan. Rice earned the J.G. Taylor Spink Award for contributions to baseball posthumously in Cooperstown in 1967 and penned thousands of diamond columns through his national syndication and previous newspaper stops in Nashville and Cleveland. A World War I veteran and patriotic writer, Rice emblazoned the names of Robinson, Furillo, Snider, Newcombe, Reese, Erskine, Irvin, Mays, Thomson, Dark, Maglie, Jansen, and Lockman across newspapers and radio programs nationwide during the 1951 race. The venerable columnist loved to lace his features with references to the classical heroes of ancient Greece and Rome. And thousands have read and delighted in his baseball-related theme for eternal life in the poem "Alumnus Football" from his 1922 collection of poems:
"For when the One Great Scorer comes
To mark against your name,
He writes – not that you won or lost –
But how you played the Game."
Dick Schaap — Schaap, who later gained fame as editor of Sport magazine and assistant and later sports editor of Newsweek from 1964 to 1971, was a 17-year-old copyboy in Freeport, New York, for the Freeport Leader but got to the two ballparks as much as time allowed in 1951. He submitted his first stories to the Leader in 1948 and was proclaimed a child sportswriting prodigy. Later made even more famous for his vignettes and reporting on all sports on ESPN, Schaap was a baseball aficionado at heart and cherished his boyhood days in Brooklyn and on Long Island. He died much too soon after complications from surgery in 2001 at the age of 67 but left his mark even on the copydesk and sports section floors in the summer of '51. He was honored with several Red Smith and Associated Press Awards for both his writing and broadcast journalism.
Dick Young — The sometimes caustic Young began revolutionizing baseball coverage when he started covering New York major-league baseball in 1942 for the New York Daily News. He went to locker rooms for postgame quotes after every contest and did not follow the "kinder, gentler" writing approaches of his contemporaries Grantland Rice and Arthur Daley. In fact, Dodgers staff protested and threatened to bar him from accessibility to Brooklyn manager Burt Shotton, to whom Young kept referring as KOBS (Kindly Old Burt Shotton) in several columns and features during the Dodgers' late-season fold. Young kept up his always-interesting banter for 45 years in the Daily News and was a self-educated storehouse of baseball knowledge and stories.
*****
Editor's note: This column by Red Smith from October 4, 1951, is reprinted from Red Smith on Baseball, a collection of Smith's columns. Reprinted by permission of Ivan R. Dee Publishing.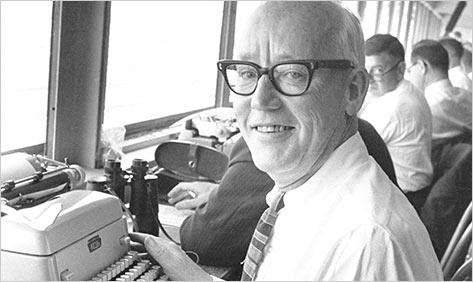 Now it is done. Now the story ends. And there is no way to tell it. The art of fiction is dead. Reality has strangled invention. Only the utterly impossible, the inexpressibly fantastic, can ever be plausible again.
Down on the green and white and earth-brown geometry of the playing field, a drunk tries to break through the ranks of ushers marshaled along the foul lines to keep profane feet off the diamond. The ushers thrust him back and he lunges at them, struggling in the clutch of two or three men. He breaks free and four or five tackle him. He shakes them off, bursts through the line, runs head on into a special park cop who brings him down with a flying tackle.
Here comes a whole platoon of ushers. They lift the man and haul him, twisting and kicking, back across the first-base line. Again he shakes loose and crashes the line. He is away, weaving out toward center field where cheering thousands are jammed beneath the windows of the Giants' clubhouse.
At heart, our man is a Giant, too. He never gave up.
From center field comes burst upon burst of cheering. Pennants are waving, uplifted fists are brandished, hats are flying. Again and again, the dark clubhouse windows blaze with the light of photographers' flash bulbs. Here comes that same drunk out of the mob, back across the green turf to the infield. Coat tails flying, he runs the bases, slides into third. Nobody bothers him now.
And the story remains to be told, the story of how the Giants won the 1951 pennant in the National League. … The tale of their barreling run through August and September and into October. … Of the final day of the season when they won the championship and started home with it from Boston, to hear on the train how the dead, defeated Dodgers had risen from the ashes in the Philadelphia twilight. … Of the three-game play-off in which they won, and lost and were losing again with one out in the ninth inning yesterday when – Oh, why bother?
Maybe this is the way to tell it: Bobby Thomson, a young Scot from Staten Island, delivered a timely hit yesterday in the ninth inning of an enjoyable game of baseball before 34,320 witnesses in the Polo Grounds. … Or perhaps this is better:
"Well," said Whitey Lockman, standing on second base in the second inning of yesterday's play-off game between the Giants and Dodgers.
"Ah, there," said Bobby Thomson, pulling into the same station after hitting a ball to left field. "How've you been?"
"Fancy," Lockman said, "meeting you here!"
"Ooops!" Thomson said. "Sorry."
And the Giants' first chance for a big inning against Don Newcombe disappeared as they tagged him out. Up in the press section, the voices of Willie Goodrich came over the amplifiers announcing a macabre statistic: "Thomson has now hit safely in fifteen consecutive games." Just then the floodlights were turned on, enabling the Giants to see and count their runners on each base.
It wasn't funny, though, because it seemed for so long that the Giants weren't going to get another chance like the one Thomson squandered by trying to take second base with a playmate already there. They couldn't hit Newcombe, and the Dodgers couldn't do anything wrong. Sal Maglie's most splendorous pitching would avail nothing unless New York could match the run Brooklyn had scored in the first inning.
The story was winding up, and it wasn't the happy ending which such a tale demands. Poetic justice was a phrase without meaning.
Now it was the seventh inning and Thomson was up with runners on first and third base, none out. Pitching a shutout in Philadelphia last Saturday night, pitching again in Philadelphia on Sunday, holding the Giants scoreless this far, Newcombe had now gone twenty-one innings without allowing a run.
He threw four strikes to Thomson. Two were fouled off out of play. Then he threw a fifth. Thomson's fly scored Monte Irvin. The score was tied. It was a new ball game.
Wait a moment, though. Here's Pee Wee Reese hitting safely in the eighth. Here's Duke Snider singling Reese to third. Here's Maglie, wild—pitching a run home. Here's Andy Pafko slashing a hit through Thomson for another score. Here's Billy Cox batting still another home. Where does his hit go? Where else? Through Thomson at third.
So it was the Dodgers ball game, 4 to 1, and the Dodgers' pennant. So all right. Better get started and beat the crowd home. That stuff in the ninth inning? That didn't mean anything.
A single by Al Dark. A single by Don Mueller. Irvin's pop-up. Lockman's one-run double. Now the corniest possible sort of Hollywood schmaltz–stretcher bearers plodding away with an injured Mueller between them, symbolic of the Giants themselves.
There went Newcombe and here came Ralph Branca. Who's at bat? Thomson again? He beat Branca with a home run the other day. Would Charlie Dressen order him walked, putting the winning run on base, to pitch to the dead-end kids at the bottom of the batting order? No, Branca's first pitch was called a strike.
The second pitch – well, when Thomson reached first base he turned and looked toward the left-field stands. Then he started jumping straight up in the air, again and again. Then he trotted around the bases, taking his time.
Ralph Branca turned and started for the clubhouse. The number on his uniform looked huge. Thirteen.
BO CARTER joined SABR in 1992 and has been active in the Banks-Bragan Dallas-Fort Worth Chapter with the DFW Area Howard Green University Division Player of the Year and DFW Carroll Beringer College Division Player of the Year since the early 1990s. He has been on the College Baseball Committee for several years and has special interest in the histories and sidebars of Heinie Manush and Dizzy Dean. Carter is a native of Sheffield, Alabama, and 1974 graduate of Vanderbilt University. He has worked in college media relations and communications for 44 years including at Vanderbilt (1970-74), Mississippi State athletics (1974-86), the Southwest Conference (1986-96), the Big 12 Conference (1996-2006), and the National Football Foundation (2006-present).
Sources
Books
Breslin, Jimmy, Damon Runyon: A Life (New York: Dell Publishing, 1991).
Fountain, Charles, Sportswriter: The Life and Times of Grantland Rice (New York: Oxford University Press, 1993).
Halberstam, David, The Best American Sports Writing of the Century (New York: Mariner Books, 1997).
Murray, Jim, The Last of the Best (Los Angeles: Los Angeles Times Publishing, 1998).
Murray, Jim, with Vin Scully, The Jim Murray Collection (Los Angeles: Los Angeles Times Publishing, 1998).
Povich, Shirley, All Those Mornings at the Post (Washington, D.C.: Public Affairs Publishing, 2005).
Rice, Grantland, The Tumult and the Shouting (New York: Simon and Schuster, 1954).
Online
Grantland.com – Bill Simmons' daily musings in memory of Rice and many other noted sportswriters.
ajrarchive.org/Article.asp?id=1908 – Review of The Life and Times of Grantland Rice.
psmag.com/culture/a-brief-history-of-bad-sports-writing-64380/ — Essay on sports writing in the 1940s and 1950s.
writers.net/forum/showthread.php?113560-Writing-sports-history – History of sportswriting and key figures from 1901-75.
britannica.com/EBchecked/topic/561041/sports/253578/Evolution-of-sportswriting – Evolution of sports writing; 1940s-60s chapters.
historicbaseball.com/teams/1951giants.html – 1951 Giants' and Dodgers' remembrances.
cyclopaedia.net/wiki/Dan-Daniel-(sportswriter) – Dan Daniel mini-biography online.
https://sabr.org/wp-content/uploads/2020/03/research-collection4_350x300.jpg
300
350
admin
/wp-content/uploads/2020/02/sabr_logo.png
admin
2017-06-13 18:31:31
2021-10-12 01:04:40
Key Sportswriters Who Covered the 1951 Baseball Season