No. 19, Ted Williams, LF, San Diego Padres
This article was written by Tom Larwin
This article was published in The National Pastime: Pacific Ghosts (San Diego, 2019)
---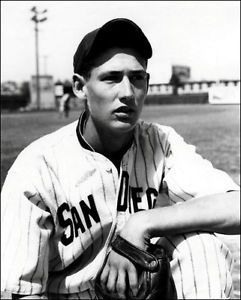 It was June 1936 and a 17-year-old San Diego high school student signed his first professional baseball contract — with his parents' approval — to play for his hometown San Diego Padres. Ted Williams was "The Kid," and he went on to play 42 games that summer for the Pacific Coast League Padres, ending the season as the team's regular left fielder. Williams graduated from high school in January and continued to play with the Padres in 1937.
In January 1933, Williams had started high school at Herbert Hoover — the Hoover Cardinals — a relatively new school in San Diego. By his junior year in 1935, he was primarily a pitcher for the Hoover High baseball team. Williams was already beginning to get public notice in the local news for his pitching and his hitting. He had attracted the interest of major-league baseball scouts, too, such as Herb Benninghoven of the St. Louis Cardinals and "Vinegar" Bill Essick of the New York Yankees.1
Williams' final season with the Hoover Cardinals, 1936, was characterized by superb pitching performances but also explosive hitting. He finished with a 10–2 record and four games with 13 or more strikeouts, once reaching 19.2 But, in a sign of times to come, the April 13, 1936, San Diego Union featured a large photo of Williams swinging a bat under the headline "They'll Be Calling Him Bambino."3
1936: Williams' First Pro Season
Williams's high school playing career concluded at the end of May 1936, but he would remain a high school senior until January 1937, when he was due to graduate. With his high school career over, speculation ramped up, beginning on June 1 with an article that announced: "San Diego Contract Offered Williams."4 It wasn't the Yankees or the Cardinals. It was San Diego! The team was in its first season in town, having moved south from Hollywood the previous winter. The article indicated that owner Bill Lane had offered a contract to Williams on May 30.
Finally, on June 27, the Union pronounced: "Williams, Former Hoover Star, Signed by Padres as Outfielder." The story noted that Williams had been a pitcher in high school, but would be used in the outfield because of his hitting ability. The terms of the contract kept Williams with the Padres for the remainder of 1936 without being farmed out.5
That day, June 27, Williams made his professional debut as a pinch-hitter in the second inning of a game against Sacramento. He was quickly struck out by Solons pitcher Cotton Pippen.6
On July 3, Williams entered his second professional game, again as a pinch-hitter. Behind 12–3 in the top of the seventh inning, manager Frank Shellenback called on Williams. He faced Los Angeles Angels pitcher Glen Gabler and singled, his first hit in professional baseball. Williams stayed in the game — not in the outfield but on the mound! He had modest success in his first inning but gave way after allowing a pair of home runs. That would be his only experience pitching for the Padres.
Williams got into 10 more games in July, mostly as a pinch-hitter. In his first five weeks in professional ball his batting average was .190.
August was a bit better for Williams. He started seven games and batted .250 for the month. He managed to pick up his first extra-base hits in an August 9 doubleheader against the Portland Beavers when he went 3-for-7 with a pair of doubles.
August also found Boston Red Sox general manager Eddie Collins visiting to watch the Padres, primarily to take a better look at second baseman Bobby Doerr. While there, Collins reportedly inquired "about the kid in right, that youngster Williams, whose swing looked good and who seemed able to drive in runs." He left with a handshake agreement with Padres owner Lane that the team would not trade Williams to anyone else without first consulting with Collins.7
September started with a stunning development for the Padres: the sudden departure of left fielder Chick Shiver to take a football coaching position. The loss of Shiver, who was red-hot through August, seemed like a knockdown blow to the Padres, who were within two games of first place. Manager Shellenback replaced him with Williams to start in left field for the rest of the season.
On September 1, two days after Williams turned 18, "The Kid" started in left against Sacramento. He was beginning to receive more media attention, too. For example, a photograph of Williams swinging a bat and titled "Public Enemy No. 1 to Floundering Sacs" was featured in the September 7 Union.
The press attention was not limited to San Diego. A fan wrote to a Los Angeles Times reporter and offered a bold — but very accurate, as it turned out — prediction concerning a "kid" playing for the Padres who was "tall, skinny, and awkward as hell" and "exceedingly nervous."8 The fan concluded with a recommendation to "write a piece about this Williams and in a year you can look back and say 'I was the first baseball writer to predict that he would go places.'"
Williams started each of the team's 17 games in September and batted .305 for the month as the Padres won 11 of 17 to finish the season in second place, a game and a half behind Portland and tied with the Oakland Oaks.
The playoffs began on September 15. In best-of-seven series, the Padres were scheduled to play the Oaks while first-place Portland went up against the fourth-place Seattle Indians. Things did not go well for the Padres. They lost the series 4–1. Notably, Williams hit his first home run as a professional off Wee Willie Ludolph in Game One, a 6–3 loss.
Later that autumn, Williams received his first notice in The Sporting News; it came in the November 26 edition, in an article by Earl Keller under the headline "San Diego Counting Strongly on Young Home-Town Player."9 After 42 minor-league games and 108 at-bats, "The Kid" was beginning to receive national attention.
The offseason for Williams was mainly devoted to high school. He graduated in January 1937 and received honors for outstanding performance in baseball . . . and in typing.10 As spring training approached, Williams was a minor holdout for the 1937 season. However, by mid-March, it was reported that he had signed for a "nice raise" in salary.11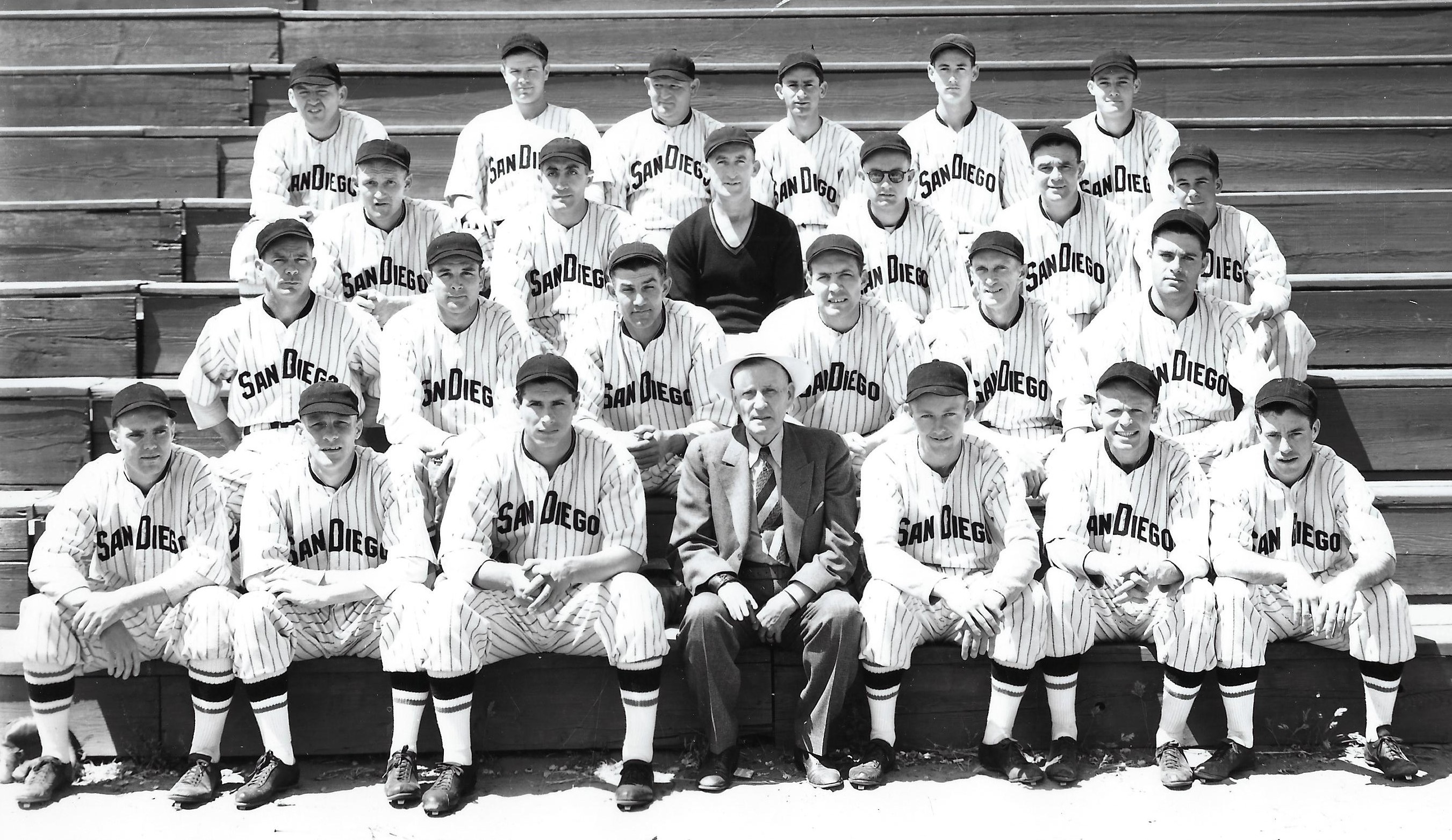 1937 San Diego Padres team photo. Ted Williams is pictured top row, second from right. (COURTESY OF ANDY STRASBERG)
1937: Williams's second season
On March 31, 1937, three days before the start of the season, it was reported that Williams was nursing a slight "charley horse."12 The ailment would bother him for the first two months of the season. Williams said later that he had hurt his leg running on wet grass.13
His first 1937 start was in left field on April 11, 10 games into the season. He had been 1-for-9 in limited appearances. Batting seventh in the lineup, he managed to go 1-for-3, with the hit being Williams' first regular-season home run, driving in two runs in a 4–0 win.
Williams ended April by starting in eight consecutive games. He finished the month with two home runs, 13 RBIs, and a .260 batting average. His big game occurred on April 27, when he hit his second home run and drove in five runs. In a photo at the top of its sports page, the San Diego Evening Tribune captured the home run at the end of Williams's swing. It was a photo that would be used on the cover of Padres scorecards for a decade, between 1947 and 1957.14
He started 11 of the Padres' next 50 games. It could have been the charley horse that limited his playing time, but also there were mentions in the news about fielding lapses. Keller wrote that "Ted must get it in his head that fielding is just as important as hitting."15 He ended May with his batting average at .226, having added no home runs and only three RBIs during the month.
Entering June, Williams was still mostly riding the bench and pinch-hitting. One exception was a June 6 doubleheader in which he played both games and went 5-for-8. Bill Swank, in his coverage of the 1937 Padres, wondered whether Schellenback had deliberately held Williams out, perhaps to teach him a lesson following his occasional defensive lapses.16
On June 19, Williams was again in the starting lineup. However, he was elevated in the order, batting fifth, and as June continued he would play all but one day to finish out the month. He went on to play in 96 of the remaining 99 games, starting 92 of them. For these 96 games he batted .298 with 21 home runs and 73 RBIs.
Coincidentally, a win on June 19 was the start of an eight-game win streak for the Padres. They had been in third place most of the season, but by early July the Padres had moved into first place.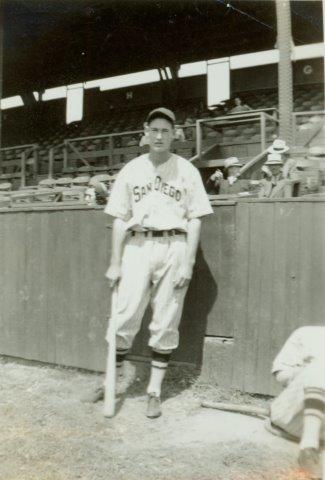 "The Kid" had a two-home run game on July 13 and ended the month with midseason totals of 12 home runs and 64 RBIs.
The team sputtered a bit in August, going 16–15 for the month but ending it only 1½ games out of first. Williams had another productive month, batting .300 with six home runs and 16 RBIs. His season batting average had increased to .285. Through the entire month, the Padres were either in first place or within two games of it.
Having just turned 19, Williams started September with his second two-homer game in a Padres win on September 1. Another win on September 2 had San Diego back in first place. But the Padres went on a seven-game losing streak and September 12 found them five games out of first. Williams kept hitting, finishing the month with five home runs and 16 RBIs. Unfortunately, the team struggled, losing five of seven to the last-place Mission Reds in the last week of the season. They finished in third place, 5½ games behind Sacramento and one game behind the San Francisco Seals.
The regular season ended on September 19 with a doubleheader against the Reds. The Padres lost both games, but in the nightcap, Williams hit his 23rd home run in what would be his last at-bat for the San Diego Padres in a regular-season game.
Two days after the regular season ended, the Padres met Sacramento for a best-of-seven series. The winner would play the winner of the San Francisco-Portland matchup.
The team's September blues were reversed in the playoffs. The Padres swept the Solons. The Beavers did likewise to the Seals, so it was San Diego vs. Portland for the PCL championship.
It was no contest. The Padres swept the series. San Diego got hot at the right time in September (and one game in October) sweeping all eight of their playoff games.
In the team's second year in San Diego, 1937, the Padres were crowned PCL champions!
The Foundation for a Hall of Fame Career
The Padres' first two years playing in San Diego produced two winning teams, finishing tied for second in 1936 and third in 1937. They made the playoffs both years and were crowned champions in '37.
What appeared to be a sidelight at the time was the emergence of a 17-year-old high school player — a hometown boy. That "The Kid" became one of the best players in the history of baseball meant that sidelight became the story.
As 1937 ended, Ted Williams was on his way — after a stop in Minneapolis for a final minor-league season — to a long career with the American League's Boston Red Sox. He had been on the radar of major-league scouts since he was 16 years old, and, as it turned out, by the time he was 20 Williams would be playing in the outfield for the Red Sox.
In conclusion, there are some remarkable aspects and coincidences associated with Williams and his two years as a San Diego Padre:
He wore uniform number 19 as a Padre — the same number worn by another San Diego Padres icon and Hall of Famer, Tony Gwynn.
In 1936, he played with another future Hall of Famer, Bobby Doerr, who would also be a teammate with the Red Sox. Doerr and Williams being teammates in 1936 is one of the rare times when two future Hall of Famers played on the same minor-league team.
He hit a home run in his last regular season at-bat with the Padres in 1937 — just as he would with the Red Sox in 1960.
Finally, he pitched one game in relief for the Padres, in 1936, and he did the same for the Sox, taking the mound once in 1940.
TOM LARWIN is a retired transportation engineer and heads up the San Diego Ted Williams SABR Chapter. He was a co-author of the book entitled: "San Diego's First Padres" and " 'The Kid': The Story of the Remarkable 1936 San Diego Padres and Ted Williams' Professional Baseball Debut" (2019).
Ted Williams batting statistics, San Diego Padres 1936-37
Year

Team

League

Pos

G

AB

R

H

2B

3B

HR

RBI

SB

AVG

1936

San Diego

PCL

of-p

42

108

18

29

9

2

0

11

2

.269

1937

San Diego

PCL

of

138

454

66

132

24

2

23

96

1

.291

Totals

180

562

84

161

33

4

23

107

3

.286
Note: These statistics are based on a game-by-game summary for each season and include revised numbers from those commonly reported (e.g., 1938 Spalding Official Base Ball Guide). Specifically, in 1936 Williams had one more at-bat and one more double, resulting in a batting average of .269 for the season (as opposed to .271). For 1937, 96 RBIs were found as opposed to 98.
Ted Williams postseason batting statistics, San Diego Padres 1936–37
Year

Team

League

Pos

G

AB

R

H

2B

3B

HR

RBI

SB

AVG

1936

San Diego

PCL

of

5

16

4

3

0

0

1

3

0

.188

1937

San Diego

PCL

of

8

33

5

11

2

1

1

3

0

.333

Totals

13

49

9

14

2

1

2

6

0

.286
Ted Williams pitching statistics, major and minor leagues
| | | | | | | | | | | | | | | | | | |
| --- | --- | --- | --- | --- | --- | --- | --- | --- | --- | --- | --- | --- | --- | --- | --- | --- | --- |
| Year | Team | League | G | GS | CG | ShO | SV | W | L | PCT | IP | H | R | ER | K | BB | ERA |
| 1936 | San Diego | PCL | 1 | 0 | 0 | 0 | 0 | 0 | 0 | .000 | 1.3 | 2 | 2 | 2 | 0 | 1 | 13.50 |
| 1940 | Boston | AL | 1 | 0 | 0 | 0 | 0 | 0 | 0 | .000 | 2 | 3 | 1 | 1 | 1 | 0 | 4.50 |
Acknowledgments
There are two references that directly relate to the subject of this article and provided much of its research basis.
Tom Larwin, et al. San Diego's First Padres and "The Kid": The story of the Remarkable 1936 San Diego Padres and Ted Williams' Professional Baseball Debut. San Diego: Montezuma Press, 2019.
Bill Nowlin, ed. The Kid: Ted Williams in San Diego. Cambridge, MA: Rounder Books, 2005. In particular: Nowlin, "Ted Williams at Hoover High," 34-109; Dan Boyle, "The Splendid Splinter's 1936 PCL Debut: Who Is This Kid?," 120-127; Bill Swank, "Ted Williams, Earl Keller & the 1937 San Diego Padres," 128–59.
Notes
1 Ted Williams and John Underwood, My Turn at Bat, The Story of My Life (New York: Simon & Shuster, 1988), 36; John Updike, Hub Fans Bid Kid Adieu, John Updike on Ted Williams (London: Penguin, 2010), 6; Arthur Mann, "Baseball's Bad Boy," Liberty, May 9, 1940.
2 Tom Larwin, "Ted Williams Game Summaries, 1934–1938: High School, American Legion, and Area Leagues," in The Kid:Ted Williams in San Diego, ed. Bill Nowlin (Cambridge MA: Rounder Books, 2005), 112.
3 "They'll Be Calling Him Bambino," San Diego Union, April 13, 1936.
4 "San Diego Contract Offered Williams," San Diego Evening Tribune, June 1, 1936.
5 Ted Steinmann, "Williams, Former Hoover Star, Signed by Padres as Outfielder," San Diego Union, June 27, 1936.
6 With the Red Sox, Williams would face Pippen again. In his fourth game as a major leaguer with the Boston on April 23, 1939, Williams faced Pippen (then with the Philadelphia A's) and went 2-for-2 with a single and a double. In all, in 1939 and 1940, Williams faced Pippen nine times in five games. He reached base six of those nine at bats, with four hits and two walks, for a batting average of .571. Of Williams' four hits against Pippen, two were doubles and one was a home run.
7 Michael Siedel, Ted Williams: A Baseball Life (Chicago: Contemporary Books, 1991), 20.
8 Bob Ray, "The Sports X-Ray," Los Angeles Times, September 9, 1936.
9 Earl Keller, "San Diego Counting Strongly on Young Home-Town Player," The Sporting News, November 26, 1936.
10 Keller, San Diego Evening Tribune, February 4, 1937.
11 Los Angeles Times, March 25, 1937.
12 Keller, San Diego Evening Tribune, March 31, 1937.
13 Dick Hackenberg, The Minneapolis Star, March 29, 1938, 16.
14 Bill Swank, "Ted Williams, Earl Keller & the 1937 San Diego Padres," in The Kid:Ted Williams in San Diego, 142.
15 Keller, San Diego Evening Tribune, May 4, 1937.
16 Swank, "Ted Williams, Earl Keller & the 1937 San Diego Padres," 146.
https://sabr.org/wp-content/uploads/2020/03/research-collection4_350x300.jpg
300
350
admin
/wp-content/uploads/2020/02/sabr_logo.png
admin
2019-08-07 11:04:45
2021-04-09 20:05:51
No. 19, Ted Williams, LF, San Diego Padres