This article was written by A.J. Richard
This article was published in the Spring 2019 Baseball Research Journal
---
Even with the success of the All-American Girls Professional Baseball League, female players of color were largely invisible. Three African American women, however, broke gender and racial barriers by playing in the Negro Leagues. By playing professional baseball with men, Mamie "Peanut" Johnson, Toni Stone, and Connie Morgan directly challenged the belief that women were the "weaker sex."
The highest grossing baseball movie of all time, A League of Their Own, features a 15-second scene where an African-American woman picks up an errant ball and throws it back with such snap that it raises eyebrows.[fn]Gabe Zaldivar, "Power Ranking The 11 Highest Grossing Baseball Movies Of All Time, Forbes, retrieved February 8, 2019 https://www.forbes.com/sites/gabezaldivar/2016/03/31/power-ranking-the-11-highest-grossing-baseball-movies-of-all-time/#25985bd67138.[/fn] The film tells the story of what is now known as the All-American Girls Professional Baseball League (AAGBPL), a real-life professional women's baseball league in the Midwest 1943–54. The AAGPBL is remembered for creating a golden era in women's baseball when women were paid well to play a game that otherwise barred their participation, but this brief scene is an allusion to the fact that black women were barred from the league.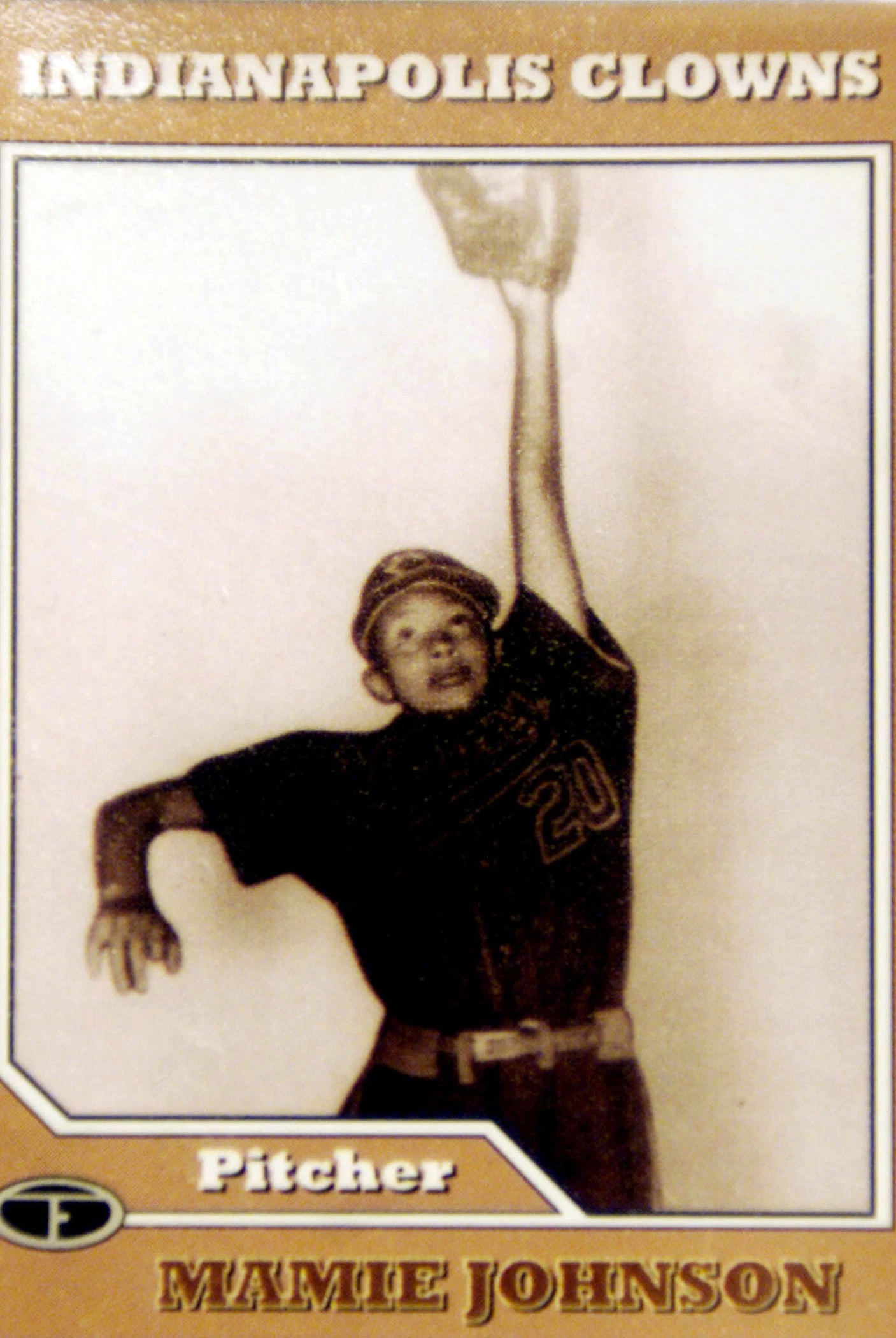 During this unprecedented period for women in baseball, African American women had two strikes against them: they were women and they were black. Even with the success of the AAGPBL, female players of color were largely invisible. Three African American women, however, broke gender and racial barriers by playing in the Negro Leagues. By playing professional baseball with men, Mamie "Peanut" Johnson, Toni Stone, and Connie Morgan directly challenged the belief that women were the "weaker sex."[fn]Tracy Everbach, "Breaking Baseball Barriers: The 1953-1954 Negro League and Expansion of Women's Public Roles." American Journalism22(1) 92005) 14.[/fn]
WOMEN'S ROLE
The demand for workers during World War II when millions of American men served overseas led to unprecedented work opportunities for women outside of the home, although these jobs remained largely sex-segregated.[fn]Ruth Milkman. "The Sexual Division of Labor During World War II," in Women's America: Refocusing on the Past, ed. Linda K. Kerber, Jane Sherron DeHart, Cornelia Hughes Dayton, and Judy Tzu Chu (New York & Oxoford University Press, 2016). 536-546.[/fn] Once the war ended and men returned from overseas, women were expected to return to domestic duties and give up their jobs.[fn]Milkman, "The Sexual," 537-540.[/fn] But many did not. Although after the war they were relegated to low-wage jobs considered appropriate for women, as scholar Ruth Milkman writes: "Yet a permanent shift had occurred for women as a social group, and despite the postwar resurgence of the ideology of domesticity, by the early 1950s the number of gainfully employed women exceeded the highest wartime level." [fn]Milkman, "The Sexual," 541.[/fn] It was in this era that Johnson, Stone, and Morgan found their way into a previously all-male occupation.
NO BLACKS ALLOWED
The official Rules of Conduct of the AAGPBL strictly enforced standards of femininity and beauty for the players.[fn]All-American Girls Professional Baseball League: Rules of Conduct. Northern Indiana Historical Society. Retrieved from https://www.aagpbl.org/history/rules-of-conduct[/fn] While "No Blacks Allowed" was an unofficial rule, it was no less strictly enforced. Unlike Major League Baseball, the AAGPBL never integrated. The league promoted a middle class American ideal of beauty and femininity that excluded African American women. According to Carol J. Pierman, professor of women's studies at the University of Alabama at Tuscaloosa, the All-American "girl next door" was white, not black.[fn]Carol J. Pierman. "Baseball, Conduct, and True Womanhood." Women's Studies Quarterly, Vol 33, No. ½: 73.[/fn]
Mamie Johnson tried the AAGBPL before the Negro Leagues, but "[t]hey didn't let us try out."[fn]Mamie Johnson, interview by the National Visionary Leadership Project, 2009, retrieved from http://www.visionaryproject.org/johnsonmamie/[/fn] After seeing an advertisement for women baseball players in the newspaper, the teenage Johnson and her friend Rita traveled to Alexandria, Virginia, for the tryout. Johnson described standing there with her baseball glove. She and Rita were the only people of color. Johnson said they looked at her and Rita but said nothing. "They wouldn't give us the opportunity to try out."
The refusal of the white AAGPBL to integrate women's professional baseball led to black women playing baseball with black men, which may seem surprising in the context of postwar policing of male and female roles in America. As described by Pierman, dual segregation created a paradox for black women ball players in postwar America.[fn]Pierman, "Baseball," 69-74.[/fn] Black women could neither play baseball with white women nor with men of any race. But the upheavals of postwar America would create an unexpected opportunity within the Negro Leagues.
DECLINE OF THE NEGRO LEAGUES
Since the early twentieth century, Negro Leagues teams had served as centers of cultural life for African-American communities[fn]James Overmyer, Queen of the Negro Leagues: Effa Manley and the Newark Eagles (Lanham, MD & London: The Scarecrow Press, 1998) 5 & 52-53.[/fn]. For instance, the Newark Eagles hosted NAACP fundraisers, black charity events, and ceremonies to honor black achievement.[fn]Overmyer, Queen, 52-53.[/fn] Team owners understood the central role of Negro Leagues teams in African-American communities, and knew the teams provided a source of pride and something to cheer about at a time when race relations in America caused intense suffering. But several factors would play into the downfall of the leagues.
In 1945, Jackie Robinson broke the color barrier in Major League Baseball by signing with the Brooklyn Dodgers organization, debuting in the big leagues in 1947.[fn]Neil Lanctot, Negro League Baseball: The Rise and Ruin of a Black Institution (Philadelphia: University of Pennsylvania Press, 2004). 281-292.[/fn] By 1953, increasing numbers of black players were signing MLB and minor league contracts.[fn]Lanctot, Negro League, 360.[/fn] By the 1950s, most American homes had radios, and televisions had become common in American households and in eating and drinking establishments.[fn]Lanctot, Negro League, 330.[/fn] Baseball fans could now follow the games from the comfort of home.[fn]Lanctot, Negro League, 360.[/fn] At the same time a great postwar migration brought an influx of black workers to urban areas, resulting in population shifts. Many MLB stadiums were located in neighborhoods that shifted from majority white to majority black, making it easier for black fans to attend MLB games at the same time those games were featuring more and more black players.[fn]"Negro Ball Clubs Hope to Make Comeback This Season," Ebony, May 1949.[/fn] As fans followed their heroes like Robinson on TV, radio, and by attending MLB games in person, attendance at Negro Leagues games plummeted. As more Negro Leagues stars moved to the major leagues, many of their fans switched their allegiance and money to MLB teams. Birmingham Black Barons owner Tom Hayes said, "The golden era has passed. Teams that are to survive must retrench and proceed with caution."[fn]Lanctot, Negro League, 342.[/fn]
The raid on the Negro Leagues for the best players presented a unique financial problem for team owners. The Brooklyn Dodgers president Branch Rickey, who signed Jackie Robinson, felt no compunction to honor the contracts players had signed with Negro Leagues teams. The loss of their stars resulted in critical financial losses for the team owners even after Newark Eagles owner Effa Manley leveraged to get some reimbursement for star player Larry Doby, which established an important precedent.[fn]Overmyer, Queen, 217-223.[/fn] Amira Rose Davis, Assistant Professor of History and Women's, Gender and Sexuality Studies at Pennsylvania State University, wrote, "Negro League owners were hemorrhaging players, fans, and revenue and desperately looking for a way to stop the bleeding."[fn]Amira Rose Davis, "No League of Their Own: Baseball Black Women, and the Politics of Representation." Radical History Review. Issue 125 (2016): 72-78.[/fn]
By the early 1950s, only six teams were left in the Negro American League.[fn]Lanctot, Negro League, 281-290.[/fn] In the Los Angeles Sentinel, Negro American League President Dr. J.B. Martin cautioned, "The color line has not been erased nearly as much in baseball as you might be led to believe. There is still great resistance to colored players in organized baseball."[fn]Dr. J.B. Martin. "Negro League President Comments." Los Angeles Sentinel, June 11, 1953.[/fn] The decrease in gate receipts led Negro League team owners to try a variety of public relations ventures to keep the league afloat.[fn]Lanctot, Negro League, 380.[/fn] In the Sentinel article, Dr. Martin wrote, "The NAL does not even bar a person because of sex if that person can play baseball."[fn]Martin, "Negro League President."[/fn] The door was open for black women to play with the boys.
SYD POLLOCK AND THE INDIANAPOLIS CLOWNS
Syd Pollock, the owner of the Indianapolis Clowns, told The Frederick Times-Post, "You have to give the fans something different each year and that's our objective. We keep adding new and colorful players from time to time."[fn]"Clowns to Play Saturday," The Frederick Times-Post. July 15, 1954.[/fn] The Clowns were a highly theatric team known as, "the Harlem Globetrotters of baseball." The Frederick News–Post article described an upcoming game between the Clowns and Birmingham Black Barons: "Unmatched comedy, stellar big-league baseball, plus all sorts of added attractions are on tap."[fn]"Clowns to Play," 1954.[/fn] Clowns games featured comic acts which were sometimes criticized as perpetuating harmful racial stereotypes. The Clowns were also a competitive team and won Negro American League pennants in 1950, 1951, 1952, and 1954, a year they fielded two women players. With declining gate receipts and continued loss of star players to the majors, Pollock was willing to try women players as a strategy to keep the team afloat. He even hired women as umpires for some Clowns games.[fn]Everbach, "Breaking Baseball," 15.[/fn] According to Neil Lanctot, professor of modern American history at the University of Delaware, the theatrics paid off because the Indianapolis Clowns were the most profitable Negro American League team in the 1950s[fn]Lanctot, Negro League, 380.[/fn].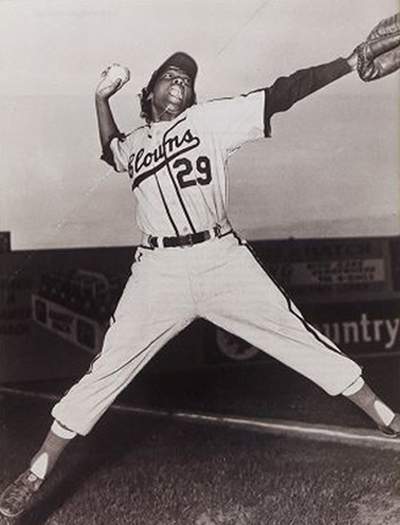 Marcenia Lyle Stone picked up the nickname "Tomboy" or "Toni" as a youngster. She would be a gate draw first for the New Orleans Creoles and then for the Indianapolis Clowns. (NEGRO LEAGUES BASEBALL MUSEUM)
WOMEN PLAYING A MAN'S GAME
Pollock's scouts discovered Toni Stone playing for the New Orleans Creoles, a Negro minor league team.[fn]Martha Ackmann. Curveball: The Remarkable Story of Toni Stone (Chicago: Lawrence Hill Books, 2010) 119.[/fn] She was born Marcenia Lyle Stone in St. Paul, Minnesota.[fn]Ackmann, Curveball, 3.[/fn] She was a gifted athlete and became known as "Tomboy" or "Toni" at an early age[fn]Davis, "No League," 76.[/fn]. Like many women, Stone played softball because it was more accessible for women than baseball. However, she expressed a preference for baseball, which antagonized her parents who emphasized the importance of education. In the Stone family home, African-American educator Mary McLeod Bethune was admired, not Satchel Paige.[fn]Ackmann, Curveball, 21.[/fn]
Stone had already generated pre-game publicity for the Creoles: "A girl second-sacker…should be something to see here Sunday."[fn]Marion E. Jackson, "Sports of the World," Atlanta Daily World, May 11, 1950.[/fn] The Atlanta Daily World elaborated that Stone was "more than a novelty but slightly a miracle."[fn]Jackson, "Sports of," 1950.[/fn] The Council Bluffs Nonpareil stated, in July 1950, "Something new and different in the way of a baseball attraction will be offered Council Bluffs baseball fans at American Legion park Tuesday night. Playing second base for the New Orleans Creoles will be Tony [sic] Stone-Miss Tony Stone that is."[fn]"Girl Handles Fielding Chances," Council Bluffs Nonpareil, July 25, 1950 & "Girl Player to Return Monday," Council Bluffs Nonpareil, July 23, 1950.[/fn] The article elaborated, "Yes, a girl ball player on a men's team. And there entirely on her merits, they say." The newspaper highlighted Stone's play against the town team in two additional articles the same week.[fn]"Negro Girl Second Baseman Will Oppose Rainbows Tuesday Night," Council Bluffs Nonpareil, July 1950.[/fn]
For two years Stone turned down Pollock's offer of a contract with the Clowns because "I felt I wasn't ready, but when he said $12,000 for the season, I ran to get my fountain pen."[fn]"Woman Player Says She Can 'Take Care of Self' in Game," Ebony, 1953. 48.[/fn]Stone seized an unprecedented opportunity to play professional baseball in the Negro Leagues. The team's star player, Hank Aaron, had just signed with MLB's Milwaukee Braves. After signing Stone, Pollock proclaimed, "The latest masculine enterprise to fall before the advance of wearers of skirts and panties is the baseball diamond."[fn]Los Angeles Sentinel, February 26, 1953.[/fn] Many, including sportswriter Sam Lacy, were skeptical of the authenticity of Stone's reported salary: "At least that's what your bosses say and that's what they tell you to say when you're asked the question."[fn]Sam Lacy, "A to Z," Baltimore Afro-American, July 25, 1953.[/fn]
According to Davis, Stone's image was commonly featured on scorecards, fliers, and other promotional materials[fn]Davis, "No League," 78.[/fn]. Stone said Pollock wanted her to play in a skirt or shorts, in contrast to her all-male teammates. She refused, effectively distinguishing herself from the white women playing in the AAGPBL who were required to wear skirts.[fn]Davis, "No League," 80.[/fn]However, wearing a men's baggy uniform did not insulate Stone from comments about her body. Our World remarked Stone wore an "oversized shirt…to accommodate her size 36 bust."[fn]"The Gal on Second Base," Our World, 1953, 8-11.[/fn]
The press was well aware the signing of Stone was a public relations strategy. As Our World reported, "They are counting on her to bring back the huge crowds that have been lost to the major league."[fn]"The Gal," Our World, 1953.[/fn] Ebony magazine reported, "While most sports fans were sure the Clowns signed Toni merely as an extra box office attraction (the team features baseball comedy and 'Spike-Jones-like' music on barnstorming tours), the young lady has surprised everybody by turning in a businesslike job at both second base and at the plate."[fn]"Lady Ball Player on Male Team," Ebony, 1953.[/fn] A caption accompanying the article read, "Toni is never afraid to hit the dirt. Gardening and bicycling are her hobbies." This had also been a common feminization tactic used by the AAGPBL in their publicity.
According to SABR researcher Stew Thornley, it can be difficult to determine fact from fiction when researching Negro Leagues players. Records were not systematically kept. Thornley wrote, "With Toni Stone, however, the misinformation was in part by design as the league, in attempting to enhance her status as a drawing card, shaved years off her age and added thousands to the salary she was actually being paid."[fn]Stew Thornley, "Toni Stone," SABR BioProject, retrieved December 3, 2018, https://sabr.org/bioproj/person/2f33485c.[/fn] An Ebony article from 1953 listed her age as 24 even though she turned 32 that year.[fn]"Lady Ball Player," 1953.[/fn] She was commonly referred to as "Miss Stone" even though she was married.
Signing Stone did increase gate receipts in 1953, and The Frederick Times-Post referred to the signing of Stone as "the female innovation of '53," which, "was little short of melodramatic." According to the paper, the Clowns "are more popular than ever before, having set new attendance records in the NAL circuit in '53, and the demand for dates this year has them booked months in advance, and over a wider area than in any previous season."[fn]"Clowns to Play," 1954.[/fn]
As attendance rose at Clowns games, the team was deluged with mail and messages from players, coaches, and promotors offering the talent of potential female players.[fn]Davis, "No League," 81.[/fn] According to Davis, Pollock was not interested in an all-women's team, black women's league, or too many women on one team because it would take away from the novelty.[fn]Davis, "No League," 81.[/fn] Pollock was interested in fielding a few personally vetted women to sell more tickets. At the end of the 1953 season, a scout saw Mamie Johnson playing on an all-men's team in the DC area. According to The Michigan Chronicle, "After the Clowns completed their season last year, Miss Johnson accompanied the team on a month's barnstorming tour."[fn]"Clowns Sell Toni Stone. Sign New Female Star," Michigan Chronicle, 1954.[/fn]
Eighteen-year-old Connie Morgan wrote a letter to the Clowns requesting a tryout.[fn]Davis, "No League," 81.[/fn] Morgan was successful and impressed the management with her "good arm" and appearance. Morgan had lighter skin, a curvy figure, and curled hair which came closer to fitting the ideal of beauty and femininity than Stone's muscular build and darker skin.[fn]Davis, "No League," 82.[/fn] According to Davis, Morgan's physical appearance meant she was more marketable than Stone.[fn]Davis, "No League," 82.[/fn] At an exhibition game against Jackie Robinson's All Stars, photos were taken of Morgan with Jackie Robinson and featured a photo of Morgan "getting pointers from Gil Hodges of the Brooklyn Dodgers."[fn]"Clowns' Girl Second Baseman Thrills Birmingham Fans With Speedy Plays," The Call, May 28, 1954.[/fn] Davis noted Pollock did not invite Stone to take part in the photo shoot. A picture of Jackie Robinson and Morgan graced the official scorecard of the Clowns for the 1954 season.[fn]Davis, "No League," 82.[/fn]
According to Lanctot, Stone grew disgruntled with the Clowns and wanted more playing time. However, the team manager referred to Stone as "box office bait," and she typically played only the first few innings of games.[fn]Lanctot, Negro League, 381-383.[/fn] It became clear Pollock was going to sign Johnson and Morgan for the upcoming 1954 season.[fn]"Clowns Sell Stone to KC Nine," Pittsburgh Courier, March 13, 1954.[/fn] Stone voiced her discontent to Pollock, who sold her contract to the Kansas City Monarchs[fn]Ackman, Curveball, 164.[/fn].
In 1954, Pollock signed both Morgan and Johnson to contracts with the Clowns. "This season Connie Morgan of Philadelphia, is gracing the Clowns' defensive position at second base. In addition, a second girl star has been signed in the person of Mamie (Peanut) Johnson of Washington D.C. whose specialty is pitching, and who has earned her way to a regular starting berth among the Clowns' pitching staff."[fn]"Clowns' Girl Second," The Call, 1954.[/fn] Another paper reported, "Always good for something novel each season, owner Syd Pollock of the Indianapolis Clowns, three-time champions of the Negro American League, announced this week the sale of Miss Toni Stone to the Kansas City Monarchs for an undisclosed sum."[fn]"Clowns Sell Toni Stone: Sign New Female Star," Michigan Chronicle, 1954.[/fn] A flier featuring Stone, Johnson, and Morgan with the title "Feminine Stars" was used during games between the Monarchs and Clowns.[fn]"Feminine Stars," Philadelphia Courier, 1954.[/fn] Davis asserted the inclusion of Morgan and Johnson in The Laff Book—a Clowns' publication which featured jokes and cartoons—served to frame the women as sideshow acts, not athletes.[fn]Davis, "No League," 78.[/fn]
The Chronicle reported Connie Morgan "was scouted personally by the Clowns' new manager, Oscar Charleston, who claims she is one of the most sensational girl players he has ever seen."[fn]"Clowns Sell Toni," Michigan Chronicle, 1954.[/fn] Before signing with the Clowns, Morgan played on a North Philadelphia women's softball team called the "Honeydrippers."[fn]"Honeydrippers' Torrid Pace Scares off Opposition in North Softball Division," Philadelphia Tribune, August 26, 1952.[/fn] The team name "Honeydrippers" has sexual connotations. Cheryl D. Hicks, associate professor of history at the University of North Carolina, described how black women in America have been hypersexualized: "Black women, whom whites characterized as innately promiscuous because of their African ancestry and the legacy of American enslavement were seen as less amendable to rehabilitation."[fn]Cheryl D. Hicks. "Mable Hampton in Harlem: Regulating Black Women's Sexuality in the 1920s," in Women's America: Refocusing on the Past, ed. Linda K. Kerber, Jane Sherron DeHart, Cornelia Hughes Dayton, and Judy Tzu-Chu (New York & Oxford: Oxford University Press, 2016), 437.[/fn] Black women were viewed as "dark temptresses" and had to negotiate grotesque stereotypes while pursuing their interests.[fn]Hicks, "Mable Hampton," 439.[/fn]
Like Stone, Mamie Johnson's childhood was spent playing baseball with the boys. Johnson stated her uncle taught her to play baseball: "I was very, very young when I started playing ball down South. That was all we had to do at that particular time. We made our own baseballs out of stone, twine, and masking tape. I learned to play with the fellows and it was enjoyable to me."[fn]Mamie Johnson, interview by Reba Goldman Cottingham, 1998, Negro League Oral History Collection, Archives and Special Collections, Langsdale Library, University of Baltimore.[/fn] Many black women played baseball on sandlots and for amateur teams, especially in rural areas like the South Carolina countryside where Johnson grew up.[fn]Davis, "No League," 77.[/fn]
Johnson played on sandlot, Police Athletic League (PAL), Catholic Youth Organization (CYO), and semi-professional black teams with men. She experienced strong resistance to playing with the boys through PAL until they saw she was a strong player and relented. Johnson told Cottingham she started playing "big Pro in 1953 and played 1954 and 1955 with the Clowns —but semi pro it started back in 1949."[fn]Johnson, interview, 1998.[/fn] Johnson earned the nickname "Peanut" when pitching to Hank Bayles of the Kansas City Monarchs. Johnson stood 5 feet, 3 inches tall.[fn]Alan Schwarz, "Breaking Gender Barriers in Negro Leagues," New York Times, June 12, 2010.[/fn] Baylis declared, "Why, that little girl's no bigger than a peanut. I ain't afraid of her." She struck him out.
Like Stone, Johnson was married when she played for the Clowns, and she had a young son. When asked what her husband thought of her playing baseball she responded, "It didn't make any difference because I was going to play anyway."[fn]Jean Hastings Ardell, "Mamie 'Peanut' Johnson: The Last Female Voice of the Negro Leagues," NINE: A Journal of Baseball History and Culture, Vol. 10 No. 1, 2000, 181-192.[/fn]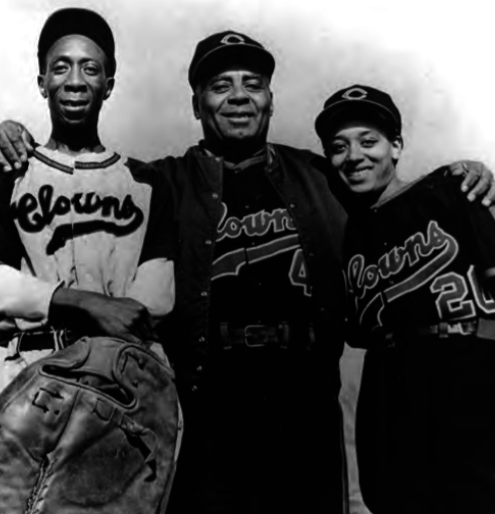 Connie Morgan (right) pictured here with manager with Oscar Charleston and "King Tut" (holding giant glove). (COURTESY OF NOIRTECH)
ATTENDANCE AND REACTION
According to newspaper accounts, the presence of Stone on the Clowns did increase attendance. On June 19, 1953, The Call reported the Clowns "are breaking attendance records through the nation this season, climaxed by their 18,205 paid at Kansas City."[fn]"Clowns Setting New Attendance Records," The Call, June 19, 1953, 10-12.[/fn] Lanctot wrote that a Clowns game in Birmingham in May 1953 drew the largest crowd there since 1949.[fn]Lanctot, Negro League, 381.[/fn] A game between the Clowns and Monarchs in Detroit attracted over 20,000 attendees in June 1953. [fn]Lanctot, Negro League, 381.[/fn]
Like Stone before her, Morgan's presence generated pre-game publicity, as found in The Call in 1954. The Kansas City-based newspaper featured descriptions of her fielding while reporting on the upcoming opening of the season: "The Clowns officially open the home season for the Kansas City Monarchs at Blues Stadium this Sunday afternoon, May 30." The paper advised, "to avoid tie-ups at the gates because of the anticipated crowds for these games, advance tickets have already been placed on sale at both the Kansas City and St. Louis stadium box offices."[fn]"Clowns Girl," 1954.[/fn]
According to Tracy Everbach, journalism professor at the University of North Texas, Stone, Johnson, and Morgan were given credit by black newspapers for fighting gender and racial discrimination.[fn]Everbach, "Breaking Baseball," 27.[/fn] In The Call, Stone was referred to as, "the female Jackie Robinson" who would "break down the prejudice against women players in the N.A.L."[fn]"Clowns to Battle Monarchs in Sunday Twin Bill," The Call, August 27, 1954.[/fn] Stone's heroism was further hailed in the same article: "From Longview, Tex., and Chattanooga, Tenn., come stories of Miss Stone visiting hospitals and schools, spreading cheer and goodwill with her interviews." On August 27, 1954, The Call went further in praising Stone and Morgan: "These two ladies prove that we no longer can refer to them as the weaker sex."[fn]"Clowns to Battle," 1954.[/fn]
Everbach notes, though, that the women received little mention in white newspapers such as The Kansas City Star, Kansas City Times, or The Sporting News.[fn]Everbach, "Breaking Baseball," 21.[/fn] The Call credited record turnout at a 1953 game in Kansas City to Stone, while the white owned-and-operated Kansas City Times didn't mention Stone as a factor when reporting on the crowd of 18,205 at the same game.[fn]"Crowd of 18,205 Watches Monarchs Trim Clowns," The Kansas City Times, May 25, 1953, 14.[/fn] On the rare occasion when the Kansas City Star did mention Stone, she was not referred to by name: "The Clowns will feature a girl at second base."[fn]"Richardson to Hurl for Monarchs," The Kansas City Star, Mary 24, 1953, 3B.[/fn] According to Everbach, this was part of a larger circumstance.[fn]Everbach, "Breaking Baseball," 23.[/fn] The Sporting News was the oldest sporting publication in the United States and was called "The Bible of Baseball," but this national publication rarely mentioned the women players and when they covered the Negro Leagues, the information appeared on the back pages. In 1954, when there were three women playing in the Negro Leagues, including Stone in Kansas City, The Kansas City Star and Times ignored the three women players completely.[fn]Everbach, "Breaking Baseball," 23-24.[/fn]That year the Clowns won the Negro American League Championship with two women on the roster. To many Americans, the three women of color playing professional baseball with and against men were invisible.
Not all black newspaper sportswriters were impressed with Stone, Johnson, and Morgan. The Chicago Defender's Doc Young described the reaction when a woman tried out for an organized baseball club: "Men rose up in all their male mightiness and quickly returned her to her place in the home. And among those who applauded was the woman's unathletic husband, who obviously had been forced to wear the apron in the family while she went out shagging flies and hitting batting practice home runs." Young wrote, "The opinion here is that girls should be run out of men's baseball on a softly-padded rail both for their own good and for the good of the game." Young conceded that women "have proven themselves capable as defense workers, cab drivers, garage mechanics, factory hands, and drill press operators, they just aren't 'cut out' for the game of baseball."[fn]Doc Young, "Should Girls Play Ball: No, Says Doc," Chicago Defender, August 28, 1954.[/fn]
Wendell Smith wrote about Toni Stone on June 20, 1953, in the Pittsburgh Courier, "She is the hunk of femininity employed by the Indianapolis Clowns." Smith wrote that Pollock "owned, operated, and exploited" Stone. He added, "She is a lady making a living in a profession designed strictly for men. It is a profession in which only the hale, hearty and strong are likely to succeed, certainly not one to which gentility and refinement are the prerequisites for success."[fn]Wendell Smith, "The Lady's Playing a Man's Game," Pittsburgh Courier, 1953.[/fn] Young belittled Stone for her batting average, although he did write, "I'll have to admit it's not bad for a dame." He imagined a long dialogue between Stone and her husband which included references to Stone powdering between innings, admiring the curves of the pitcher she faced, her husband apologizing for not having dinner ready, spending money on a silver mink baseball glove, planning a shopping spree, and getting angry at her husband for putting starch in her sliding pads. Smith bemoaned, "Negro baseball has collapsed to the extent it must tie itself to a woman's apron strings in order to survive."
Luix Virgil Overbea wrote in the Baltimore Afro American, "Although the ladies appear to be a sure fire hit at the box office, I am not going to be one of their enthusiasts. This does not mean I'm against the fair sex on the diamond, but it does mean I am for them only if they play baseball."[fn]Luis Virgil Overbea, "Beating the Gun: Players in Baseball Not Excited Over Women," Baltimore Afro-American, July 25, 1953.[/fn] He continued, "They'll have to show me. My recommendation is that they try and make some of these pro women teams. I don't want to see women in baseball togs on the basis of curiosity."[i] It is curious Overbea suggested they play in the AAGPBL since it was well known the league allowed only white women to play. The columns by Young, Smith, and Overbea cited here demonstrate patterns of gender discrimination and enforcement of traditional gender roles that existed in the black community.
The same black press that voiced hostility, skepticism, and sexism also found it necessary to promote the women via affirming stories. Often, their femininity was contrasted with their athleticism to maximize the "spectacle." In The Call, Stone was a "rough-and-tumble player" who played as hard as the men."[fn]"Clowns to Battle," 1953, 10.[/fn] A photo in The Call article showed Stone in an athletic pose with her legs wide apart, mouth open, and arm extended. The article described Stone as being a "tough sister," and "murder-minded in her effort to aid her team." The black media sometimes contrasted Stone's athletic performance with feminine descriptions such as, "She belts home runs as easily as most girls catch stitches in their knitting, and the sports boys are goggle-eyed." In the same article, Stone was described as "a cute second baseman."
WOMEN IN A MAN'S GAME
The women of the Negro Leagues traveled extensively. Toni Stone grew to appreciate the rich African-American culture in the South, saying, "I wanted to travel. I wanted to go places. Now, that was my education."[fn]"Syd Pollock, Clowns' Owner to Watch Monarchs Home Opener May 24," The Call, May 22, 1953.[/fn] Stone's upbringing included an emphasis on education. She carried on that value when she visited black colleges, black churches, and libraries. She met the prominent educator Mary McLeod Bethune, whom her family idolized. These atypical experiences caused Stone to believe, "I know who I am, and I know how to carry myself accordingly."[fn]Susan K. Cahn. Coming on Strong: Gender and Sexuality in Twentieth Century Women's Sports (New York, Free Press) 233.[/fn]
Unlike Stone, Johnson was not interested in checking out libraries and learning about African-American history on road trips. Johnson told Cottingham she played in "every state there is, Canada and wherever. I don't think that there is a state I haven't played in."[fn]Johnson, interview, 1998.[/fn] SABR researcher Jean Hastings-Ardell pointed out Stone was from a Northern urban background in St. Paul, Minnesota, and her family emphasized the importance of education. On the other hand, Johnson spent much of her childhood in the rural South, where her family supported and influenced her interest in sports.[fn]Hastings Ardell, "Mamie," 186.[/fn]
According to Hicks, black women were hypersexualized and their morals questioned due to their race.[fn]Hicks, "Mable Hampton," 436-439.[/fn] Davis wrote that the women had to deal with gender discrimination and assumptions about sexuality and whenever possible they stayed at the homes of local black families.[fn]Davis, "No League," 85.[/fn] Stone was often not allowed to stay at the same hotel as her teammates because the hotel managers assumed a lone woman traveling with a group of men was a prostitute, and hotel managers would direct her to local brothels to find accomodations.[fn]Ackmann, Curveball, 157.[/fn] Reporters often asked Stone about her sleeping arrangements and whether her teammates took advantage of her sexually. Davis wrote, "Both management and players on the team were unable or chose not to defend her presence, so Stone frequently lodged in brothels."[fn]Davis, "No League," 85.[/fn] Stone said of one of the prostitutes who welcomed her, "She was a 'wrong woman', but a beautiful human being. She taught me many things…the walks of life. I had no crime with her."[fn]Ackmann, Curveball, 157.[/fn] Davis stated the prostitutes gave Stone money, food, rides, and would even launder her uniform.[fn]Davis, "No League," 85.[/fn] They made her a special protective bra to wear when playing baseball.[fn]Davis, "No League," 85.[/fn]These women urged Stone to "represent" black women, cheered her at games, and kept newspaper articles about her. Through these women, Stone experienced a network of women supportive of each other. Stone was a woman breaking traditional gender norms and earned a living independently by doing what had been deemed men's work. It was something other marginalized black women could appreciate.
According to Davis, the reaction of women baseball fans to the women baseball players could be enthusiastic and appreciative.[fn]Davis, "No League," 85.[/fn] Former Kansas City Monarch Buck O'Neil said, "Women really came out to watch."[fn]Buck O'Neill, I Was Right on Time: My Journey from the Negro Leagues to the Majors (New York: Simon & Schuster, 2010) 195.[/fn] Toni Stone was greeted by women fans who wanted to kiss and hug her. Stone said, "I think I brought more women to the game," because she was approached by women and girls wanting her autograph.[fn]Davis, "No League," 85.[/fn] Morgan was greeted with hugs and kisses by a hometown crowd in 1954[fn]"Clowns Girl Player Returns to School," The Call, October 29, 1954.[/fn].
Johnson reported that on road trips, "We sleep on the bus most of the time because we travel like in the day, because we played mostly night games. When we did get up to nice towns that had nice hotels we stayed in them, but it was still a segregated thing."[fn]Johnson, interview, 1998.[/fn] Cottingham asked Johnson if the women (Johnson and Morgan) stayed together. Johnson responded, "Oh yes, I mean we stayed in the hotels then there was provision made for the women we would stay like in people's homes and they were very nice people. The fellows would stay mostly in the dingy hotels or whatever, but we stayed in people's homes where it was very nice."[fn]Johnson, interview, 1998.[/fn] Johnson explained how they negotiated the locker rooms and facilities as the only women on a men's baseball team: "Well, what we did we would either change before the guys or after the guys but we share the same facilities but a whole lot of time there weren't any facilities for changing we had to change on the bus."[fn]Johnson, interview, 1998.[/fn]
According to Davis, the historical record is sparse regarding the attitudes of male teammates and opposing players as to the inclusion of women in the league.[fn]Davis, "No League," 84.[/fn] The men may have recognized that the presence of the women in the league boosted ticket sales, so they were essentially a meal ticket for the men. Hastings-Ardell believed the women may have been reluctant, like any team member, to publicly reproach the behavior of teammates, and a woman who reported incidents of harassment, hazing, and discrimination ran the risk of gaining a poor reputation.[fn]Hastings Ardell, "Mamie," 185.[/fn] According to Davis, the women did encounter verbal harassment, physical harassment, jokes, catcalls, isolation, and sexual comments.[fn]Davis, "No League," 85.[/fn] Darlene Clark Hine described a "culture of dissemblance," where women adopt the attitude that these were incidents of "hazing" or they were "earning respect" by being "tough" and being able to "take it."[fn]Darlene Clark Hine, "Rape and the Inner Lives of Black Women in the Middle West," Signs: Journal of Women in Culture and Society (1989): 912-920.[/fn] Stone said, "Once you make it clear there ain't going to be no monkey business…they give you your respect."[fn]Davis, "No League," 85.[/fn]Likewise, Johnson was clear she was "here to play ball and nothing else." Johnson did admit sometimes throwing at batters on purpose: "Sometimes, honey, you just get mad." [fn]Hastings Ardell, "Mamie," 185.[/fn]
Stone, Morgan, and Johnson faced fastballs, jeers, sabotage, sexism and Jim Crow. Like Jackie Robinson, they preferred to let their athletic talent speak for them. Unlike Jackie Robinson, their struggles, successes, and defeats have not become icons of American history. They were women playing a man's game and largely ignored by the white press.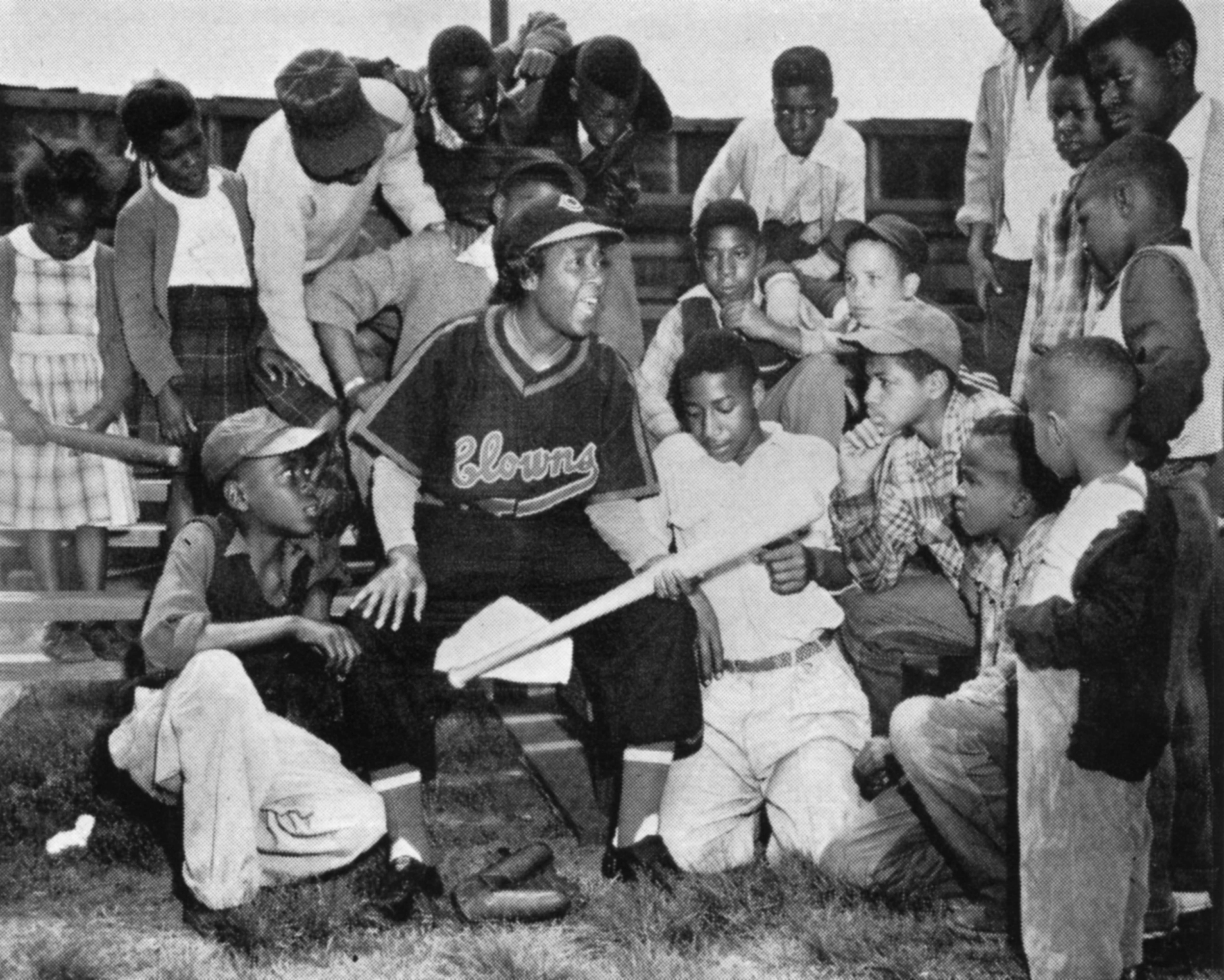 Toni Stone of the Indianapolis Clowns speaks with young fans in the early 1950s. (THE RUCKER ARCHIVE)
"TOMBOYISM" AND FEMININITY
Women baseball players faced admonishment for being "tomboys." For some, it was a negative label and marked them as "others" and was used to mock and deprecate. For others, a "tomboy" was a strong girl.[fn]Cahn, Coming on Strong, 230-231.[/fn] The term "tomboy" is used to mark athletic girls as different from other girls. A girl who climbed trees, played sports with boys, and loved the outdoors might be embraced by her family or reprimanded. It differed among families and communities.[fn]Cahn, Coming on Strong, 230-231.[/fn]
Pierman pointed out the paradox women athletes face by competing in a sport which is considered a masculine endeavor, and women athletes run the risk of being branded "deviant."[fn]Pierman, "Baseball," 70.[/fn] In addition, she identified baseball as especially challenging terrain for women athletes because it has been branded both a "man's game" and America's "national pastime." Therefore, it became necessary to feminize such women in the media. In the Afro American, Ruth Rolen wrote of Morgan, "The trim second baseman in her becoming blue and red uniform will be ready to 'play ball.'"[fn]Ruth Rolen, "Connie Morgan to Join Clowns," Afro-American, March 27, 1954.[/fn] The article featured side-by-side photos of Morgan in her baseball uniform and being fitted for a dress.
Stone, Johnson, and Morgan persistently struggled to prove they were good enough to play with the men. Their struggle has been complicated by the fact that they were signed to boost sagging ticket sales. Forty years after playing in the Negro Leagues, Johnson said, "People say Toni and Connie and I were gimmicks. Well, we weren't gimmicks, we were good enough to be there."[fn]Candus Thomson, "Making pitch for women; Baseball: After breaking the gender barrier 40 years ago as a Negro Leagues pitcher, Mamie Johnson returns to the baseball world," The Baltimore Sun, June 22, 1999.[/fn] Ray Doswell, curator of the Negro Leagues Baseball Museum, concurred. "It probably was a gimmick when it started. But those three held their own. They were extremely talented."[fn]Thomson, "Making pitch."[/fn]
1955 AND AFTER
After two years in the Negro Leagues, Stone left professional baseball because she had become disenchanted with the business of baseball and being objectified and exoticized.[fn]Davis, "No League," 88.[/fn] Stone said she felt like a "goldfish" when she played for the Clowns.[fn]"Lady Ball Player," 1953.[/fn] Everywhere she went there were agents, scouts, fans, and reporters. Morgan stopped playing after the 1954 season and returned to business school.[fn]"Clowns Girl Player Returns," The Call, 1954.[/fn] The Call reported, "All her opponents were male, but that didn't bother the Philadelphia girl."[fn]Ibid.[/fn] The same article stated, "Her real ambition is to become a top-flight worker in a business office." Johnson held on for one more year before returning home to her young son and husband at the end of the 1955 season.[fn] Johnson, interview, 1998.[/fn]
By playing baseball with men, these women exercised "female agency and choice which has actually challenged aspects of male supremacy."[fn]Adrienne Rich, "Compulsory Heterosexuality and Lesbian Existence," in Blood, Bread, and Poetry: Selected Prose, 1979–1985 (New York: W.W. Norton, 1986) 72.[/fn] At a crossroads in American history, when gender roles were strictly enforced yet women were pushing the envelope by continuing to work after the war ended, Stone, Johnson, and Morgan expanded the public sphere for black women.[fn]Joanne Meyerowitz, Not June Cleaver: Women and Gender in Postwar America 1945–1960 (Philadelphia: Temple University Press, 1994) 84–98.[/fn] This gain was temporary and celebrated exclusively in the black media. White female baseball players in the AAGBPL were accepted as "good" women by adhering to feminine standards and playing in a league of all women, as opposed to with and against men.[fn]Davis, "No League," 75.[/fn]
The narratives of Stone, Morgan, and Johnson rewrite the historical narrative by expanding the public sphere of black women within the context of the novelty of coed baseball.[fn]Ibid.[/fn] Stone and Johnson were consistently referred to as "Miss" despite the fact they were both married. The press and the American public had difficulty reconciling the fact that these women were participating in what had been branded a man's sport instead of being at home taking care of husbands and children as the gender roles of the time dictated. It was part of a larger shift in American society regarding ideas about black women.[fn]Cahn, Coming on Strong, 11.[/fn]
The reaction of black sportswriters demonstrated that sports were still viewed largely as exclusively male terrain within the black community. Journalists who wanted to see the Negro Leagues succeed financially depicted the women as "nice girls" and drew attention to their femininity to promote their inclusion in the league. Davis wrote, "Black women athletes were not supposed to forgo their traditional responsibilities as wives and mothers who had decent careers as teachers, social workers, or nurses."[fn]Davis, "No League," 75.[/fn] The presence of black women athletes caused black male journalists to fear the "manliness" of the game had been devalued and black men had been "emasculated." Malcolm Poindexter of the Philadelphia Tribune painted the picture of women baseball players emasculating men by manipulating them with their female charms when he claimed, "We saw Toni Stone's head in Buster Haywood's lap," and "Womanly wiles are okay everywhere but trying to get in the starting lineup."[fn]Malcolm Poindexter, "Sports View," Philadelphia Tribune, May 11, 1954.[/fn]
According to Susan K. Cahn, professor of history at the University of Buffalo, baseball was a central proving ground for masculinity in America.[fn] Cahn, Coming on Strong, 180.[/fn] In 1957, the Science Digest featured a study conducted by the American Psychiatric Association. The study determined just 14 of 102 gay men had played baseball as children.[fn]Science Digest, September 1957, 37.[/fn] The implication was the national pastime made "normal" men out of boys. Cahn wrote, "If sport represented masculinity and sexual desire for women, female athletes might also be mannish types who sexually disdained men and desired women."[fn] Cahn, Coming on Strong, 180.[/fn] "Good" or "nice" women didn't upset traditional gender norms. The perceived status of black women as being of innately questionable character made black women playing baseball even more susceptible to the label of "wrong" or "bad" women.
The women had to be careful not to appear too masculine while playing a sport deemed a man's sport for fear of being labeled homosexual. If they complained too much about sexual harassment, it could also give rise to suspicions of them being sexually deviant and not "nice girls". In the same vein, if they did not obey proper decorum or appeared too interested in their male teammates they could be labeled as "bad girls". An Ebony article featured Stone wearing a dress with the caption, "Stone is an attractive young lady who could be somebody's secretary."[fn]"Lady Ball Player," 1953.[/fn] The use of the term "lady" necessitates the existence of a "wrong" or "evil" woman who does not conform to feminine standards. In the same article, Stone asserted, "I am out here to play the game. I can take knocks as well as anyone else. Don't worry I can take care of myself." Ebony reassured its black audience that Stone was not upsetting gender roles with a photo of Stone "washing windows while her husband enjoys the sun," and "Toni Stone is an excellent housewife and cook."[fn]Ibid.[/fn]
It was important to depict Stone and the other women players in domestic roles because, after nearly two decades of depression and war, the emphasis was on reestablishing traditional feminine roles in the realms of family and domesticity. Pierman wrote that women baseball players from the postwar period typically would not speak about the subject of lesbianism even decades later: "Indoctrinated into a culture of sport that denied a lesbian presence, they are also women of a time of war—and then Cold War—when to be deviant was to be without rights, possibly to be hunted down, investigated, and publicly shamed."[fn]Pierman, "Baseball," 77.[/fn] Accordingly to Cahn, the "homosexual menace" was a postwar fear as a result of wartime changes in gender roles and sexuality.[fn]Cahn, Coming on Strong, 178.[/fn] Women in sports were among the most suspect groups because they publicly did not fit into traditional feminine roles. During the postwar period, the government and military were taking action against gays and lesbians through purges, intense investigations, and legal prosecutions. The police were raiding gay bars and other areas of gay social activity. Cahn wrote this was due to the "perceived need to reestablish gender and sexual order in the wake of wartime disruptions."[fn]Cahn, Coming on Strong, 177.[/fn] The hostility and fear contributed to a "homosexual panic." Black women like Stone, Morgan, and Johnson came under even greater scrutiny because racial stereotypes branded black woman as "naturally" sexually delinquent.[fn]Hicks, "Mable Hampton," 437.[/fn]
Despite the barriers, harassment, and exploitation, all three women did benefit from the opportunity to play baseball with men. They enjoyed the rare experience of being paid to play a game they loved. Professional baseball was a career option for few women and even fewer black women. The travel they experienced deeply impacted them as related by Johnson, "It was a tremendous thing to wake up and look out the window and be five hundred miles from where you were before."[fn]Davis, "No League," 88.[/fn] Travel throughout the United States and Canada gave these women an opportunity to experience different regions, people, and cultures. Few women of the era had such opportunities to travel. According to Davis, Morgan finished business school and worked for the AFL-CIO in Philadelphia, Johnson became a nurse, and Stone became a personal care assistant.[fn]Davis, "No League," 88.[/fn] Both Stone and Johnson coached Little League and youth baseball. Stone continued to play baseball on men's teams and lesbian teams.[fn]Davis, "No League," 88.[/fn]
With the reemergence of interest in the Negro Leagues in the 1970s, the three women remained a footnote in history. [fn]Davis, "No League," 88.[/fn] However, in the 1990s Stone was featured in over twenty articles and Morgan and Johnson were rediscovered. Davis reported they became "romanticized symbols of multiculturalism."[fn]Davis, "No League," 88.[/fn] A series of recognitions, awards, and books followed. However, Davis added, "The narratives that were used to recall the history of Stone, Morgan, and Johnson were similar to the ones that sanitized Rosa Parks."[fn]Davis, "No League," 88.[/fn] These stories largely ignored the roots of institutionalized racism. Instead these stories focused on the values of self-determination and persistence. The women were transformed into sports icons in a patriarchy which refused to honestly assess racism.[fn]Davis, "No League," 88.[/fn]
According to Davis, the narratives of these women etched the memory of them into American history because they transcended race and gender to accomplish their goals.[fn]Davis, "No League," 88.[/fn] However, by acknowledging them merely as trailblazers, the complex realities they faced are marginalized. As reflected in the different views of their experiences, each woman had to determine for herself how to negotiate these barriers and constraints as well as manage the way they were depicted as much as they could. As Davis pointed out, to a large extent, they had little control over how they were depicted.[fn]Davis, "No League," 88.[/fn]
In the postwar period, women baseball players were publicly changing the perception of baseball as an exclusively male domain. This is part of the larger history of women's struggles to define their role in society. For women baseball players, baseball enabled them to expand the boundaries of women's activities, and to assert that strength, skill, aggressiveness, and competitiveness could be characteristics genuinely possessed by women.
A.J. RICHARD is a graduate student and graduate assistant at the University of Northern Iowa studying Leisure/Youth/Human Services and Women and Gender Studies. In 2015, A.J. "discovered" girls and women in baseball when a friend told her about Jackie Mitchell striking out Babe Ruth. That year she started "Women Belong in Baseball" on Facebook and Twitter to increase awareness of girls and women in baseball and the barriers they face. A.J. has been a member of SABR since 2016. A.J. can be emailed at womenbelonginbaseball@gmail.com.
https://sabr.org/wp-content/uploads/2020/03/research-collection4_350x300.jpg
300
350
admin
/wp-content/uploads/2020/02/sabr_logo.png
admin
2019-04-10 10:55:43
2019-04-10 10:55:43
Playing With The Boys: Gender, Race, and Baseball in Post-War America