Relief Pitching and the San Diego Padres: A Half-Century of Excellence
This article was written by Wayne M. Towers
This article was published in The National Pastime: Pacific Ghosts (San Diego, 2019)
---
While the San Diego Padres experienced only two World Series in the half-century after their 1969 founding, they did have a long and storied history of relief pitching: three Hall of Fame careers; a Rookie of the Year and a Cy Young Award winner; and the 2004 denouement of a tragic figure.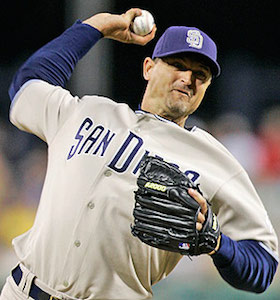 The first Padre inducted into the Hall of Fame was of course Tony Gwynn.1 He was joined 11 years later by reliever Trevor Hoffman, whose "Trevor Time" with the Padres included 552 of his 601 career saves.2 But Hoffman was only one of three Hall of Fame relievers who toiled for the Padres. He was preceded by both Rollie Fingers, who was with San Diego in 1977–80, and Rich Gossage, who pitched for the Padres in 1984–87.
After a five-save debut in 1993 (two of them with the Florida Marlins), Hoffman's sophomore log of 20 saves with the Padres would be his last season with fewer than 30 saves (with the exception of a 2003 injury year) until 2010, his final season.3 This skein of 14 seasons of 30-plus saves included nine seasons with 40-plus saves and 53 saves in the 1998 National League pennant campaign. From 1993 through 2008, Hoffman saved 552 games for the Padres. He was the first relief pitcher with 500 saves, as well as the first with 600 (achieved while wearing a Milwaukee Brewers uniform). During his final season in 2010, he logged only 10 saves for the Brewers, ending his career with 601.
Despite his gaudy save numbers during the Qualcomm (previously Jack Murphy) Stadium years in park-like Mission Valley, Hoffman played a supporting role to Gwynn. He began to emerge from this relative obscurity beginning on July 25, 1998, to the resonant tolling of bells from the AC/DC song "Hell's Bells," the brainchild of then-Padres-employee Chip Bowers. As Bowers tells it, "I just loved the irony of the song, given that we were playing in Mission Valley at the time and there was a mission directly beyond the outfield walls…. To hear a mission bell ring prior to taking the mound, then you've got the Padres while talking about fire and brimstone and Hells Bells, I thought it was a great way to create some energy in the building. So, Hells Bells was born."4
Gwynn retired in 2001, leaving Hoffman to fill the role of star. At the new downtown Petco Park which opened in 2004, Hoffman took center stage. As "Hell's Bells" rang out, he reeled off four consecutive seasons of 40 or more saves (2004–2008). In 2018 he was inducted into the National Baseball Hall of Fame in Cooperstown wearing a Padres cap.5
Two other Hall of Famers also toiled in Mission Valley. Rollie Fingers (1968–85) was a Padres pitcher for four years (1977–80) while Rich Gossage (1972–94) also spent four years with the team (1984–87).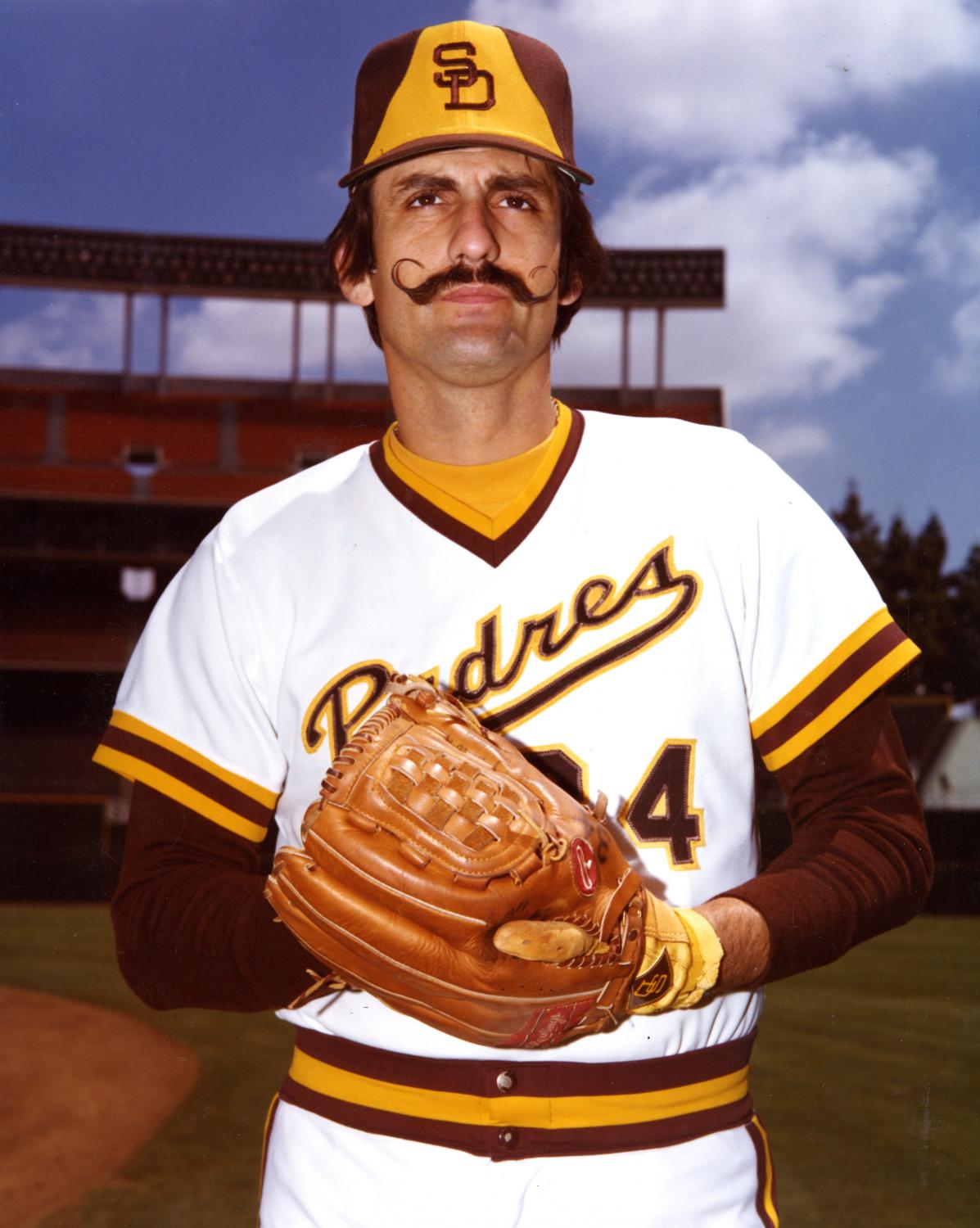 Rollie Fingers achieved baseball celebrity twice: first as a reliever with the 1970s Oakland A's teams that won five division titles and three World Series, then as the mighty warrior in the strike-altered 1981 baseball season who carried the Milwaukee Brewers to the American League East title, earning him both the Cy Young and MVP awards that year. Despite these baseball achievements, he is perhaps best known for his spectacular handlebar mustache, supposedly grown at A's owner Charlie Finley's behest.6 Less celebrated than HOF Finger's facial hair and his 341 career saves were the 108 he earned as a Padre(1977-1980)(See Table 1). His two best Padre years (37 saves in 1978 and 35 in 1977) were his career bests and both led all of MLB in individual season saves.7 His impact on San Diego pitching was palpable. In 1976, the year before Fingers joined the club, they had 47 complete games and 18 saves. In 1977, his first year with the club, the Padres fell to six complete games, but rose to 44 saves, featuring 35 by Fingers.8
The third Hall of Fame reliever to toil in San Diego, Rich Gossage, made his presence felt by earning 83 of his 310 career saves in Mission Valley, and contributing notably to the 1984 pennant drive with 25 crucial saves.9 As with Fingers, Gossage was better known for his earlier years with another team and for his formidable facial hair. As Gossage told many writers: "'I didn't grow it to be intimidating… I grew it to tick off Steinbrenner.'"10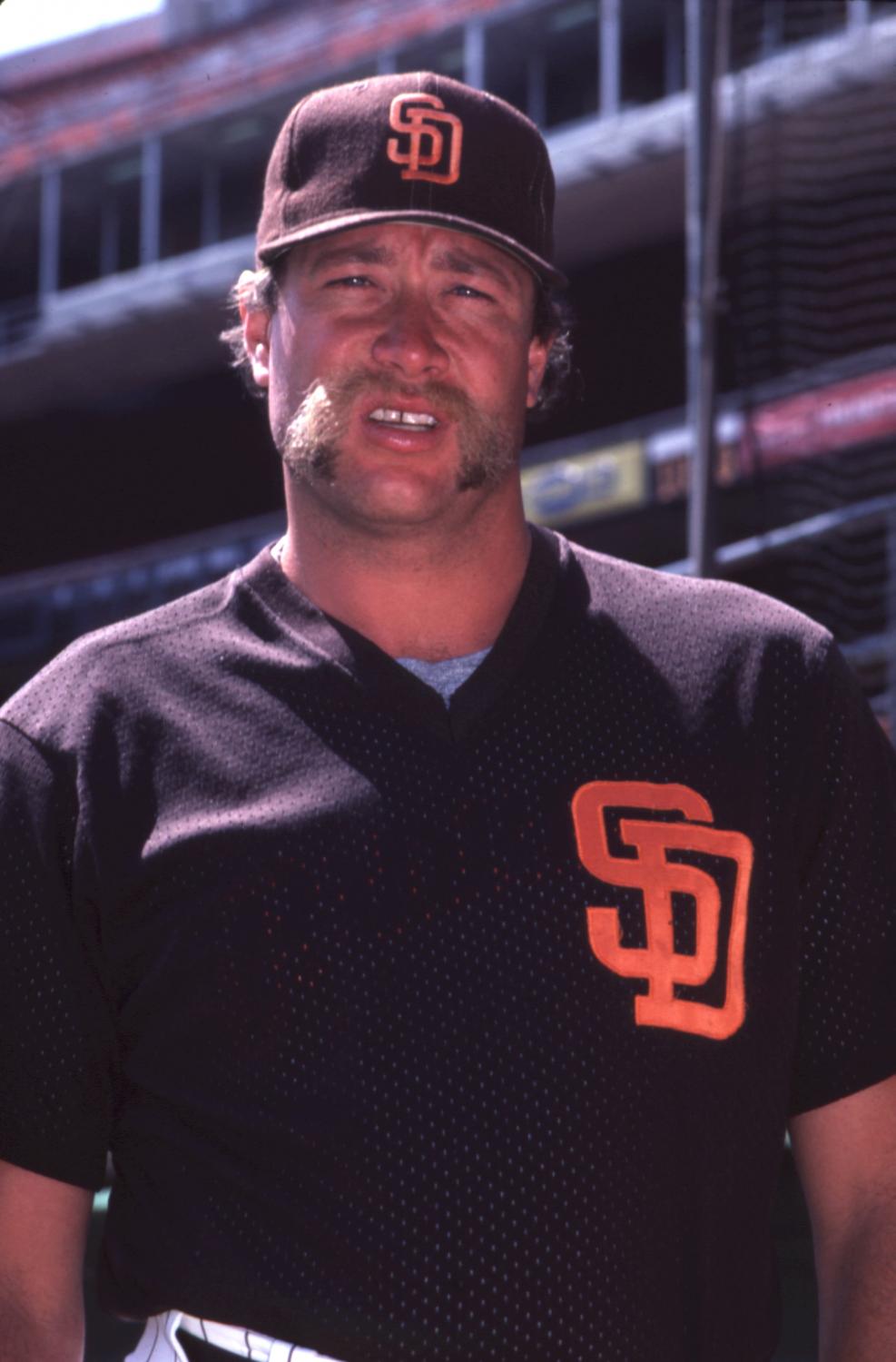 With George Steinbrenner's New York Yankees (1978–83), he registered 150 of his 310 career saves, and led the AL in saves in 1978 with 27 and MLB in 1980 with 33. 11 In San Diego, he reeled off three consecutive 20-plus saves seasons before stumbling to 11 saves in 1987. After San Diego, he spent 1988 through 1994 gathering 21 saves with six different teams.
We also have two notable Padres relievers who did not make the Hall of Fame, but who managed single season achievements with a 1976 Rookie of the Year and a 1989 Cy Young Award. Neither Butch Metzger nor Mark Davis ended up with distinguished MLB careers.
After an uninspiring initial year with the San Francisco Giants (10 games; no saves in 1974) and a few 1975 appearances with the Padres (4 games; no saves), Metzger suddenly found himself in the spotlight in 1976, finishing tied for ninth in MLB games saved and sharing the 1976 National League Rookie of the Year Award with Pat Zachry, then of the Cincinnati Reds.12 Metzger's 16 saves that year ended up representing 70% of his 23 career saves.13 When Fingers arrived the next year in 1977, Metzger was relegated to middle relief, and then traded to the St. Louis Cardinals where he earned seven saves before being released.14 In 1978, Metzger pitched briefly for the New York Mets before he was released and his MLB career ended.15
The other singular award was a 1989 Cy Young Award accorded to Mark Davis (1980–97) for a league-leading 44-save season.16 Davis quickly turned his newfound celebrity into cash, signing a $10 million contract with the Kansas City Royals.17 His stay with the Royals (1990–92) and subsequent travels through four other teams (1992–97) produced an undistinguished won-loss record (11-19). He did a second tour with the Padres (1993–94) during which he notched the final four saves of his career.
Rod Beck (1991–2004) provides a sad denouement to our trip through a half-century of standout Padres relief pitching. Beck was beloved by San Francisco Giants fans for his 199 saves (1991–9718); and, by Chicago Cubs fans for a brief stay (1998–99), featuring 51 saves in 1998.19 After spending time with the Boston Red Sox (1999–2001), he was out of MLB in 2002 while recovering from Tommy John surgery.20
Beck was known for his colorful, party-animal personality. As he once said, "I sure don't think of myself as a fat person, just someone who carries extra weight. I've never seen anyone on the DL [disabled list] with pulled fat."21 Beck's lifestyle was on full display as he rehabbed in the minors:
… Beck, on the comeback trail in 2003, parked his RV behind the center field fence at the Cubs' Triple-A facility in Des Moines, Iowa. He refused to check in to a hotel because that would mean admitting that he was really in the minors. The RV, of course, soon became the post-game hangout for players and fans, with Beck passing out the free beer.22
He found some redemption later in 2003, when the Padres signed him while Trevor Hoffman recovered from shoulder surgery.23 Beck garnered 20 saves and became a San Diego fan favorite with "… his shoulder-length, wavy mullet, a long straggly mustache and a dangling [pitching] arm that ticked like a pendulum."24 He remained with the Padres for his final baseball year in 2004, but earned no more saves in a back-up role, finishing with 286 career saves. His career with the Padres ended with a 2004 stint in substance abuse rehab.25
After being out of MLB for two years, Beck was found dead in 2007 at the age of 38, presumed not from his weight but from cocaine abuse.26 His wife Stacey and even former teammates Hoffman and Scott Linebrink had staged interventions to try to get him back into rehab, in vain. Stacey was open about his death in the press: "The reason we're telling this story is so that other people will seek out the information, seek out the people who can help them. My daughter asked me to tell this story so that daddy doesn't die in vain without helping someone else."27
May the next 50 years bring relief pitchers as colorful and successful to San Deigo as the first 50 years saw.
WAYNE M. TOWERS, Ph.D., is a retired SeaWorld San Diego educator and a retired college professor. Prior to retiring, he also worked as a data analyst for the Oklahoman and Times daily newspapers and for multiple business research firms. His published work includes "World Series Coverage in the 1920s" (Journalism Monographs).
Notes
1 Gwynn, the "Mr. Padre" of San Diego's Mission Valley years (1969–2003), was inducted into Cooperstown in 2007.
2 Miguel Vazquez, "What 'Trevor Time' Meant to Me," East Village Times, January 2018, https://eastvillagetimes.com/2018/01//what-trevor-time-meant-to-me.
3 "Trevor Hoffman," Baseball Hall of Fame, https://baseballhall.org/hof/hoffman-trevor; Max Mannis, "Trevor Hoffman." SABR BioProject, https://sabr.org/bioproj/person/740006e2.
4 Bryce Miller, "Roots of Trevor Hoffman's 'Hell's Bells' stretch to one man's CD collection," San Diego Union-Tribune, January 31, 2018, https://www.sandiegouniontribune.com/sports/columnists/bryce-miller/sd-sp-miller-hellsbells-20180131-story.html.
5 "Trevor Hoffman," [Hall of Fame biography].
6   Kevin Neary with Leigh A. Tobin, Closer: Major League Players Reveal the Inside Pitch on Saving the Game, Philadelphia: Running Press, 2013, 30; "Rollie Fingers," Baseball Hall of Fame; Voiss, "Rollie Fingers"; Zimniuch, Fireman, 85. As the story goes, Reggie Jackson, Oakland's star outfielder, showed up for spring training in 1972 with a mustache. His teammates did not like the idea … so they all started growing facial hair to protest. Team owner Charles Finley, instead of making everyone shave, as the players hoped he would, offered a cash prize to the player who could grow the best facial hair by Opening Day. Finley felt the look would help sell tickets. Fingers grew a handlebar mustache that curled at the tips. It won the contest, and the mustache became his trademark look.
7   "Year-by-Year Top-Tens Saves," Date accessed January 31, 2015, https://www.baseball-reference.com/leaders/SV_top_ten.shtml.
8 John Thorn, The Relief Pitcher: Baseball's New Hero (New York: E.F. Duttion, 1979), 181.
9   Zimniuch, Fireman, 98.
10 Jeff Miller, "Little Presence, Great Future." Fort Lauderdale Sun-Sentinel, March 30, 1997.
11   "Year-by-Year Top-Tens Saves," baseball-reference.com.
12   Retrosimba, "Why Padres Dealt NL top rookie Butch Metzger to Cards," Date accessed January 13, 2019, https://retrosimba.com/2017/05/15/why-padres-dealt-nl-top-rookie-butch-metzger-to-cards/
13 David E. Skelton, "Butch Metzger," SABR BioProject, Date accessed January 8, 2019, https://sabr.org/bioproj/person/0c7eb75b.
14 Retrosimba, "Why Padres Dealt NL top rookie Butch Metzger to Cards." .
15   Retrosimba, "Why Padres Dealt NL top rookie Butch Metzger to Cards."
16 James Clark, "Where Is the Love for Former Padres; LHP Mark Davis?" Date accessed January 19, 2019, https://eastvillagetimes.com/2018/03/where-is-the-love-for-former-padres-lhp-mark-davis.
17 Billy Brost, "Forgotten Friars: Mark Davis," Friars on Base, November 26, 2014, https://friarsonbase.com/2014/11/26/forgotten-friars-mark-davis.
18   Michael Saltzman, "San Francisco Giants Remembering Darryl Hamilton and Rod Beck Today." Date accessed January 13, 2019, https://aroundthefoghorn.com/2017/08/05/ san-francisco-giants-remembering-darryl-hamilton-rod-beck-today.
19 Jake Misener, "Chicago Cubs: Looking back at the career of Rod Beck," Date accessed January 13, 2019, https://cubbiescrib.com/2015/06/24/chicago-cubs-looking-back-at-the-career-of-rod-beck.
20   Bloom, "Rod Beck Dead at 38–RIP Shooter."
21 Misener, "Chicago Cubs: Looking back at the career of Rod Beck.
22 Rick Chand, "When Rod Beck Ruled the World." Date accessed January 13, 2019, https://deadspin.com/271924/when-rod-beck-ruled-the-world.
23   Zimniuch, Fireman, 218.
24   Amy K. Nelson, "'Shooter' Beck lived as hard as he played," Date accessed January 13, 2019, http://www.espn.com/mlb/news/story?id=3060456
25 Bloom, "Rod Beck Dead at 38–RIP Shooter."
26   "Ex-Reliever Rod Beck Dies at 38," New York Times, June 28, 2007. Date accessed January 19, 2019, https://www.nytimes.com/2007/06/25/sports/ baseball/25beck.html; Nelson, "'Shooter' Beck lived as hard as he played."
27   Nelson, "'Shooter' Beck lived as hard as he played."
https://h2j7w4j4.stackpathcdn.com/wp-content/uploads/2020/03/research-collection4_350x300.jpg
300
350
admin
/wp-content/uploads/2020/02/sabr_logo.png
admin
2019-08-02 00:19:04
2021-04-09 20:07:25
Relief Pitching and the San Diego Padres: A Half-Century of Excellence