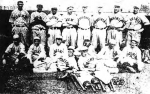 Rube and His Bears: A Short History of the Virginia Ore Diggers and the Team's Time in the Northern League
This article was written by Rich Arpi
This article was published in The National Pastime: Baseball in the North Star State (Minnesota, 2012)
---
The Virginia Ore Diggers are the only franchise in Organized Baseball that ever called Northern Minnesota's Mesabi Iron Range home.

My home town of Virginia, Minnesota, on the Mesabi Iron Range, is best known for its iron ore and as the home of the Virginia and Rainy Lake Lumber Company, for a time the largest white pine sawmill in the world. Sadly, growing up I had no knowledge of Virginia's rich baseball past. It was not until I got into graduate school and should have been working on other more important projects that I stumbled upon the existence of the Virginia Ore Diggers, to this day the Iron Range's only franchise in Organized Baseball. The appendix in Robert Objoski's, Bush League (MacMillan, 1975), which lists towns in North America that have fielded professional baseball teams, is responsible for sending me on this baseball odyssey.
Towns in northern Minnesota, Wisconsin, Michigan, North Dakota, and Manitoba had featured minor league ball for ten years or so before Virginia decided to enter the professional ranks. Teams from Winnipeg (Manitoba), Fargo (North Dakota), Grand Forks (North Dakota), Crookston (Minnesota), Duluth (Minnesota), and Superior (Wisconsin) competed in the Class D Northern League (1902–1905, 1908), and the Class C Minnesota-Wisconsin League (1909–1912). Mesabi Range towns, established only in the early 1890s after iron ore was discovered, fielded town teams almost immediately. Rivalries quickly developed among the Range towns of Eveleth, Virginia, and Hibbing and they often imported professional players to give them an edge. Frank Isbell, later of the 1906 Champion White Sox, pitched in Virginia in 1896.
Virginia, sixty miles northwest of Duluth, was not yet ready to compete professionally with the larger towns. First, the town needed to find a building material more permanent than wood. Virginia had burned to the ground in both 1893 and 1900. By 1912, though, the city had been rebuilt with brick and stone and was a prosperous burg of 15,000 residents. The high school featured a swimming pool and a first class stage, and the city had paved streets with lighting and a municipal steam power plant. Virginia had turned from a frontier town into a first-class city almost overnight. In the spring of 1912 a group of Virginia businessmen felt they could take the next step by fielding a professional baseball team. They entered into talks with representatives from several other regional cities to establish the Central International League. When it became apparent the league would have only six teams, Virginia (along with Fargo) dropped out. The league operated as a four-club circuit, with Duluth easily beating out Superior, Winnipeg, and Grand Forks for the pennant.
For 1913 a stronger eight-team, Class C minor league, taking the name Northern League, was proposed. It would include the four 1912 Central International League cities, Winona of the defunct Minnesota-Wisconsin League, a franchise for both Minneapolis and St. Paul, and one additional city. Hibbing, the largest city on the Iron Range, was a logical choice, but that town's team, the Colts, preferred to remain independent. Virginia lobbied hard for admittance to the league, arguing they would be a perfect half-way point between Duluth-Superior, Winnipeg and Fargo and that the population within 10 miles of Virginia was enough to sustain a franchise. Also, a recently constructed interurban railway line could bring fans in from 30 miles away.
The Minneapolis Northern League team was owned by Mike and Joe Cantillon, owners of the American Association Minneapolis Millers. They would use the Northern League team, known as the Bronchos, but often referred to as "Little Millers" as a place to stock-pile players not quite ready for the Millers or on injury rehab. Similarly, in St. Paul, George Lennon, owner of the St. Paul Saints, also owned the St. Paul Colts or "Little Saints" of the Northern League. He sold the team to H.P. Conrad early in the season but still followed the league closely in search of talent for his American Association club. For playing venues, the Twin Cities' Northern League franchises would use the Millers' Nicollet Park and the Saints' Lexington Park, respectively as their home fields. The American Association, fearful of strong competition, allowed the lower classification Northern League to enter the Twin Cities as a one year experiment.
After being admitted to the league, Virginia management had only a few weeks to organize the team, putting them at a distinct disadvantage with respect to the other teams. Five of the clubs had existed the year before and thus had experienced baseball men in charge and some holdover players. Virginia, however, was starting from scratch. They dithered over a manager for two months, finally deciding on an ex-major league ball player, Spike Shannon, who had played for the St. Paul Saints and John McGraw's New York Giants. As player-manager, Shannon was also expected to recruit players. He did the best he could in the time he had and felt he had uncovered some talent on the sandlots of Chicago and the Twin Cities.
As an omen of things to come, opening day was postponed not once but twice in Virginia. April 23 was scheduled as the start of the season, but rain prevented play that day and the next. Friday, April 25, witnessed the opening of the season and the third parade in three days. The game itself, a 5–2 loss to Winnipeg, was shortened to eight innings so the Canadian club could catch its train. After a poor start at home (1-6) Virginia spent almost the entire month of May on the road. Twenty-four games including a series with every other team (two with Superior) were scheduled between May 2 and May 25, of which only 20 were played due to weather conditions. The Ore Diggers went 5–15 on this trip and found themselves in last place with a 6–21 record.
On May 17 in Superior, the Ore Diggers won a game 1–0 despite getting only one hit. The run was scored on a hit batsman, a sacrifice, and a double. Virginia pitcher Frank Schimons, allowed only four hits in recording his only victory of the year. On May 23, Carter Wilson of Grand Forks no-hit the Ore Diggers, one of five no-hitters in the league that year.
Despite their poor record, Virginia was involved in some interesting games and had some notable players. On May 31 they beat Winona 21–4 and on June 9 they blasted the Colts in St. Paul 23–2. These were among the highest run totals for any one team in the league that year. Unfortunately, those 44 runs scored in two games represented almost ten percent of their entire season run total of 453.
On July 17 in a home game against Minneapolis a special ground rule was enacted. Since the outfield was full of water, any ball hit on the fly into the outfield and not caught was a ground rule double. Heine Berger, the Minneapolis third baseman, hit a ball just behind second base. Apparently the ball was not hit deep enough to be declared a ground rule double. Virginia fielders lost the ball in the mud while Berger circled the bases with a home run. Minneapolis Millers shortstop Andy Oyler has been credited with a similar play in a number of publications, described as the world's shortest home run since he apparently hit it into a puddle in front of the plate. The Oyler story comes with no date or place and his known home runs (there weren't many) do not match up, so this documented play involving another Minneapolis infielder maybe the true source of the tale.
Shannon had clearly overestimated the talent he had picked up on the sandlots, and not surprisingly he didn't survive the season. On July 1, he was released as player-manager after compiling a record of 15–46–1. He was replaced by Bobby "Braggio" Roth, acquired from the Kansas City Blues of the American Association. In 31 games for Virginia, Roth batted .347 (35 for 101) and stole 10 bases after batting .235 in 54 games for Kansas City.[fn]The SABR minor league database does not currently have Roth's statistics with Virginia; I compiled them from newspaper box scores.[/fn] He managed the club for two weeks (6–9) before being replaced by infielder Ed Stewart, who led the club to a forgettable 9–32 finish. In 1914 Roth began his eight year major league career as an outfielder and third baseman, and Spike Shannon became an umpire in the Federal League.
Virginia had particular trouble with doubleheaders in 1913. Although none were originally scheduled, rainouts resulted in the club playing 16. The team won only four of those 32 games. They swept one, split two, and lost both ends 13 times. Three times Virginia played doubleheaders back to back: June 28–29 in Duluth, August 16–17 in Winnipeg and La Crosse, and August 19–20 in Minneapolis. They lost all 12. Three times they were shutout in both ends of a doubleheader.
Virginia finished 30–87 and held down last place the entire season, except for one day, June 14, when they were one-half game in front of St. Paul. The Colts won the next day, while the Ore Diggers lost, pushing Virginia back into last place.
Interestingly, the home opener marked the only appearance of the Winnipeg club in Virginia during the 1913 season. In July, in search of larger crowds and paydays, series scheduled in second-division cities were transferred to first-division cities. As a result, the next 14 games between Virginia and Winnipeg were played in Winnipeg with the "Peggers" winning 13 of those games. As the best-drawing city in the league, Winnipeg was allowed to play 24 more home games than road games. At the other end of the scale, Virginia and Minneapolis, both second-division clubs, played 20 and 17 more road than home games. Only Winona, the league champion, had a winning road record.
Although the Reach Guide lists only 17 players as having played for the Ore Diggers in 1913, in fact 54 different players saw action. League policy limited team rosters to only 14 or 15 men at any one time, resulting in a constant turnover of players. Only four players played in more than 70 games: shortstop Mike Breyette led with 105 games played; first baseman Art Couture played in 102 games; catcher Harry Brammell in 91; and outfielder Jimmy Collins in 80 games.[fn]The games-played data for Brammell and Collins differs from some other sources; the totals in the text are based on my review of newspaper box scores.[/fn] The desperate Ore Diggers signed some local players, chiefly stars of the amateur Trolley League, for a short tryout. Most lasted only one game while others lasted a week or so.
Tony Faeth was the Ore Diggers' best pitcher in 1913. The St. Paul resident went 9–18 for Virginia and 0–1 for La Crosse. Faeth began the season with Virginia, was suspended a month for indifferent play, pitched one game for La Crosse, and was reacquired by the Ore Diggers. In subsequent years he pitched in the American Association for the St. Paul Saints (his best year being 15–4 in 1924) and he saw some major league service with the Cleveland Indians in 1919–1920 (43.1 innings pitched with a 0–0 record).
The most famous Ore Digger, by far, was Hall of Famer George Edward "Rube" Waddell, best remembered as a stalwart left-hander for Connie Mack's Philadelphia A's of the early twentieth century. He was also one of the more eccentric and erratic players ever to play the game, often wandering off to chase fire engines or go fishing. His single season strikeout record of 349 in 1904 lasted as the American League record until 1973 when Nolan Ryan (383) broke it. In 1911 and 1912 Waddell pitched for Pongo Joe Cantillon's Minneapolis Millers going 20–17 and 12–6 respectively. Cantillon kept a close eye on Waddell and took him on numerous hunting and fishing trips, which Waddell enjoyed almost as much as baseball. Cantillon must have suspected something was wrong with Waddell when he optioned Rube to the Northern League Minneapolis team rather than keep him with the Millers.
With the Bronchos, Waddell appeared in four games, his best game being a three-hit shutout with 11 strikeouts coming on May 2 against Grand Forks. Soon thereafter Waddell tired of Cantillon's watchful eye and threatened to quit the game. He had offers from a club in Marshall, Minnesota, clubs out east, and every other Northern League team.
On May 18 Waddell opted for the Ore Diggers, one of the worst teams in the country, largely because of the great fishing reports from nearby Lake Vermillion. For Virginia, of course, he was an immediate gate attraction. Hopes that his pitching would lift them out of the cellar did not come to pass, however. While Waddell pitched some good games for the Ore Diggers, he was inconsistent. He lost two games 2–1 (one in 12 innings) and another two games by one run. In his other starts, though, he was knocked around badly. Overall, in 14 games for Virginia he finished with a 1–8 record and two saves (retroactively calculated).[fn]When a player played for two or more clubs in the same league, some reference guides apparently combined the players statistics under the last team he played for in that particular year. For example, Daguerreotypes, published by The Sporting News and updated from time to time and the 1914 Reach Guide List Waddell's 1913 statistics under Virginia as 15 games and a 3–9 record. My research with the newspaper box scores shows Waddell pitched 4 games for the Minneapolis Bronchos (2–1 record) and 14 games for Virginia (1–8 record).The discrepancy between 15 and 18 games pitched is probably a typographical error.[/fn]
Waddell's best game as an Ore Digger was on June 28 in Duluth where he pitched 11 1?3 innings, gave up nine hits, two runs, and one walk, and struck out 12. He lost 2–1, however, as Duluth pitcher Pecky Rhodes hurled 12 innings with 17 strikeouts. Rhodes also pitched a shutout in the seven inning second game, allowing just two hits and striking out four.
Beset by poor performances, tough luck, and ill health (particularly bouts of pneumonia and pleurisy), Waddell went AWOL after his July 20 appearance for the Ore Diggers, his last in professional baseball. While injuries, illness, and alcoholism shortened Waddell's career and life, he made fans everywhere, even forest inhabitants.
While the story in the sidebar at right makes a cute, heart-warming tale the real story is a bit different. The Minneapolis Journal on April 2, 1914 reported that there were four bears in Virginia's Olcott Park that Waddell played with on a more or less daily basis (hopefully one at a time, but one never knows) and that Waddell named them after John McGraw, Christy Mathewson, Ty Cobb, and Tillie Shafer. The bears died one at a time after Waddell left Virginia but probably not from a broken heart. Park officials believed that the candy and popcorn children (and some adults) fed the bears wreaked havoc with the animals' digestive systems and were responsible for their demise. It was just a coincidence that one of the bears died the same day as Waddell.
Around the rest of the league in 1913, Winona's quartet of pitchers, Ralph Bell (28–6), Bill Snow (19–7), Louis Meyers (15–11), and Hiram Toraason (14–10), led them to the pennant. Bell's stellar record raised some notice, but his major league career, consisting of three games with the White Sox was behind him. Rube Schauer (20–10) of Superior was the league's other twenty-game winner. He was sold directly to the New York Giants in June for $7,500. He reported to New York at the end of the Northern League season in August and lasted five years in the major leagues, finishing with a record of 10–29.
The 1913 season was a season of streaks. It was a five team race until mid-July. Superior won 14 straight games going into an August 5 series at Winona to pull within one-half game of the first place Pirates. Winona swept the three game series, which started their own 14 game winning streak, with Superior going 9–5 during this same time period. Winona now had a 5 1?2 game lead, which they lengthened to 7 1?2 games by the end of the season. Another long winning streak was recorded by Grand Forks which won ten games in a row between July 19 and July 28. At the other extreme, Virginia had a 14-game losing streak (with one tie) between June 21 and July 12 and 12 straight losses from April 28 to May 10. The season for Minneapolis was ruined when they lost 17 of 18 games between July 19 and August 4.
In the Twin Cities the experiment of having four professional teams turned out badly for the Northern League franchises. As early as June it was rumored that the St. Paul Colts were heading elsewhere. Finally on July 23 the franchise was officially transferred to La Crosse, Wisconsin. The Colts were on the road at the time and did not play their first game in La Crosse until August 5. They did not fare well there, either, completing the season 12–24 as La Crosse—after going 28–54 as St. Paul —and finished in seventh place. The Minneapolis Bronchos elected to ride out the season in Minneapolis but never garnered much fan support or created their own identity. The Millers, who won 97 games and finished second were clearly the favorites of the 1913 Twin Cities baseball public. The minor league Northern League would never again attempt to invade the Twin Cities baseball market.[fn]In 1993, the St. Paul Saints, of the newly established six team independent Northern League began play. The success of the Saints and the Northern League that year encouraged others and led to a boom of independent leagues across the country.[/fn]
Despite the troubles of the Twin Cities franchises, the rest of the Northern League was solid and the only franchise shifts for 1914 involved those two clubs. The La Crosse Colts were moved to the Canadian sister cities of Fort William and Port Arthur, (later merged under the name Thunder Bay in 1970). Minneapolis team owners, Joe and Mike Cantillon, transferred the franchise to Fargo-Moorhead, but retained ex-big leaguer Bob Unglaub as manager. On the field Virginia was remarkably improved and finished in fifth place with a record of 55–68. Bob Wright and Harry Matts joined 1913 holdover Tony Faeth on the pitching staff. Outfielders Fred Greisch, Max Brokaw, and Joe Weidell and infielders John Sundheim, Bill Fortman, Art Couture, and John Kernan led the hitting attack.
The Duluth White Sox, under Darby O'Brien, who would manage the club from 1910–1916, won the pennant by 11?2 games over Winnipeg. Duluth outfielder Hank Brackett and infielder Jimmy Collins, each with 72 stolen bases, helped the White Sox steal 303 bases and run away with the pennant. Duluth's George Cunningham led the league's pitchers with 23 wins.
The Northern League saw another franchise shift before the start of the 1915 season, when Winona was replaced by a third Canadian team, the St. Boniface Bonnies. Two other clubs did not finish the season: Superior and Grand Forks bowed out on July 5 with records of 20–26 and 21–28, respectively. Virginia finished sixth, 1 1?2 games off their 1914 pace at 53–69. Shortstop John Sundheim led the league with 38 stolen bases and a trio of Ore Digger pitchers—Bob Wright, Ray Sorenson, and Tony Faeth—finished in the top seven in innings pitched. Wright contributed 19 wins.
Fargo-Moorhead, with a trio of outstanding pitchers, Ralph Bell (22–13), Roy Patterson (21–5), and George Dumont (20–10), breezed to the pennant by 9 1?2 games. St. Boniface, with Hack Miller leading in hits, Billy Lane in triples, and Charles Boardman in strikeouts finished second. Fort William had the top four home run hitters in the league and finished third. Duluth boasted a trio of outfielders who hit over .300 but finished in fourth place. Kenzie Kirkham led the league in batting with a .344 average and in doubles with 31. Outfield teammates Williams and Altman batted .324 and .314, respectively.

The Northern League opened in 1916 as a six team circuit because St. Boniface and Grand Forks elected not to field a team. In early July the Canadian backers of the Fort William franchise, unwilling to fund the club's losses, simply quit, leaving the club in limbo. The other league owners had no interest in bankrolling the team and let it fold, leaving the league with an unwieldy five teams. One other team would have to be dropped from the league.
League owners decided either Virginia or Fargo-Moorhead would be the team contracted. Virginia drew the black ball and was kicked out of the league on July 10, even though the Virginia owners and fans wanted to continue. They felt cheated because the Ore Diggers had just won 11 of their last 16 games and were playing possibly their best baseball in their four year history. While looming labor unrest on the Range (both mining and lumber strikes were in the near future) made the future of the franchise problematic at best, league owners didn't know this in July 1916. As it turned out, the Northern League itself did not exist much longer due to World War I and other factors. After Virginia (28–32) and Fort William (22–39) were dropped on July 10, the league continued with four clubs in a split-season second half. Fargo-Moorhead finished two games ahead of Winnipeg in the second half, while Winnipeg had a comfortable lead in the first half and finished 21?2 games ahead in the combined standings. The playoff series ended suddenly when a riot broke out during the fifth game. For the season, Hank Miller of Winnipeg led in batting (.335), hits, doubles, homers, and total bases. Teammate Warren Adams finished second in batting (.331), and led in runs scored and stolen bases. Teammate Harry "Red" Donovan, at 21–6, led the league's pitchers.
In 1917, Duluth and Superior were replaced by Minot, North Dakota and Warren, Minnesota, but the four team circuit disbanded on July 4, with Fargo comfortably in front by 11 games. The Northern League did not reappear in the Upper Midwest until 1933. But no Iron Range town ever again fielded a team in Organized Baseball.
RICH ARPI is an independent researcher living in suburban St. Paul and has been the editor of the Bibliography Committee's Current Baseball Publications since 1986. He is an active Halsey Hall Chapter participant and officer and has attended many national conventions since the mid-1980s. Rich is also a vintage base ball player on the Quicksteps and manager of the Great American Fantasy League's Washington Senators/Minnesota Twins franchise.
Sources
Foster, John B., editor. Charles D. White, compiler. Spalding's Official Base Ball Record, 1916. New York: American Sports Publishing Company, 185–188 (1915 season statistics).
Foster, John B., editor. Charles D. White, compiler. Spalding's Official Base Ball Record, 1917. New York: American Sports Publishing Company, 190–193 (1916 season statistics).
Johnson, Lloyd and Miles Wolff, editors. The Encyclopedia of Minor League Baseball. Second Edition. Durham, North Carolina: Baseball America, Inc., 1997.
Richter, Francis C., editor. The Reach Official American League Baseball Guide for 1914. Philadelphia: A.J. Reach Company, 1914; 459–466 (1913 season statistics).
Richter, Francis C., editor. The Reach Official American League Baseball Guide for 1915. Philadelphia: A. J. Reach Company, 1915; 273–276 (1914 season statistics).
NEWSPAPERS: Minneapolis Tribune, 1913–1916, Daily Virginian (Virginia, Minnesota), 1896, 1913–1916, Duluth News Tribune, 1913–1916: I relied on the Daily Virginian, Duluth News Tribune, and Minneapolis Tribune to compile the game accounts, box scores, game results, and standings day by day of the Northern League for the four years Virginia was a league member, 1913–1916. When I was finished I was able to determine home and road records, doubleheader results, winning and losing streaks for the 1913 season, and many other facts about the 1913 season. Work continues on the 1914–1916 seasons. I also used The Sporting News for multiple years.

https://sabr.org/wp-content/uploads/2012/06/1914-Virginia-MN-team-photo.large-thumbnail.png
94
150
admin
/wp-content/uploads/2020/02/sabr_logo.png
admin
2012-06-20 13:42:25
2012-06-20 13:42:25
Rube and His Bears: A Short History of the Virginia Ore Diggers and the Team's Time in the Northern League