Take Me Out to the Courtroom: A Look at Baseball Cases in the Florida Courts
This article was written by Louis H. Schiff
This article was published in The National Pastime: Baseball in the Sunshine State (Miami, 2016)
---
Baseball, more than any other sport, has had a central role in American life and regularly finds itself in court. As a result there are now more than 10,000 published judicial decisions regarding baseball. While many writers have examined these decisions from a national or holistic perspective, this article will discuss many of those cases originating in Florida's courts.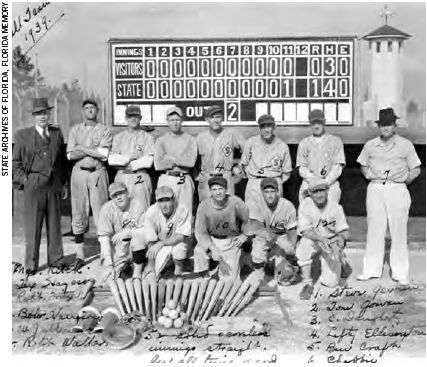 Baseball, more than any other sport, has had a central role in American life and regularly finds itself in court. As a result there are now more than 10,000 published judicial decisions regarding baseball.[fn]Lexis and Westlaw databases.[/fn] While many writers have examined these decisions from a national or holistic perspective, this article will discuss many of those cases originating in Florida's courts.[fn]This article is a survey of Florida judicial decisions. It would take an encyclopedia of Florida Baseball Law to cover every aspect of this topic.[/fn]
Florida has long been a hotbed of baseball activity.[fn]Kevin M. McCarthy, Baseball in Florida (Sarasota, Florida: Pineapple Press, 1996).[/fn] Today, the state is home to two MLB teams, 26 minor league teams, 15 spring training sites, both of the schools that train future big league umpires, and numerous college, high school, and youth teams.[fn]Florida's Grapefruit League is Home to Major League Baseball's Pre-Season, Fla. Grapefruit League, http://www.floridagrapefruitleague.com (hover over "Teams"); Team-by-Team Information, MLB.com, http://mlb.mlb.com/team/index.jsp; Teams by Geographical Location, MiLB.com, http://www.milb.com/milb/info/geographical.jsp; Umpire School Information, MLB.com, http://mlb.mlb.com/mlb/official_info/umpires/camp/schools.jsp.[/fn] As a result, its case reporters are filled with baseball opinions that stretch back more than a century. Collectively, these judicial opinions chronicle the significant impact that Florida's bench and bar have played in the development of America's pastime.
THE FIRST BASEBALL AND LAW CASES
Just as the common law derives from ancient precedents, judges' decisions, rather than statutes, baseball's codes are the game's distilled mores. Their unchanged purpose is to show respect for opponents and the game. In baseball, as in the remainder of life, the most important rules are unwritten. But not unenforced.

—George Will
On June 5, 1905, the Florida Legislature passed a law that banned the playing of baseball on Sunday.[fn]Act of June 5, 1905, 1905 Fla. Laws ch. 5436, § 1.[/fn] The ban on Sunday baseball was not just a Florida issue, it was a national issue designed to encourage church attendance (for the non-religious, the prohibition was justified as ensuring there would be at least one day of peace and quiet each week).[fn]Bill Kelly, "Arrested for Playing Baseball! How the National Pastime Became a Church and State Battleground in Nebraska," NPR, June 6, 2013, at http://netnebraska.org/article/news/arrested-playing-baseballhow-national-pastime-became-church-and-state-battleground.[/fn] When the ban was challenged in Florida, the Florida Supreme Court acted swiftly, and before the year was over, upheld the newly enacted law against multiple constitutional attacks.[fn]West v. State, 39 So. 412 (Fla. 1905).[/fn]
However, with local municipalities putting political pressure on legislators to repeal the law banning the playing of baseball on Sunday, the Florida Legislature on June 3, 1911, enacted a compromise and passed a law delegating to cities the power to pass ordinances superseding or repealing the ban on Sunday baseball.[fn]The mayor and the city council of Pensacola had, by ordinance, repealed or superseded Chapter 5436 of the Laws of Florida. Nickelson v. State ex rel. Blitch, 57 So. 194 (1911).[/fn] The City of Pensacola immediately repealed the Sunday ban, and before the year was over the issue of whether the city could repeal the Sunday ban was in front of the Florida Supreme Court.[fn]Ibid. The court found the Petitioner Blitch, a local minister, lacked standing to bring such an action in "the name of the state."[/fn]
The Florida Supreme Court upheld the right of City of Pensacola to repeal the law, and Sunday baseball became a routine activity across the State of Florida. But it would take 64 years after the original statute banning baseball on Sunday for the Florida Legislature to finally repeal the original law.[fn]Act effective July 1, 1969, ch. 69–87, 1969 Fla. Laws 322.[/fn]
JUDGES AND BASEBALL
An umpire is in control of the decorum and behavior of those on the field of play. A judge is in control of the decorum and the behavior of those in his or her courtroom, including themselves.

—Judge David Denkin
Judge Kenesaw Mountain Landis, the first commissioner of baseball, is usually the first judge that comes to mind when there is a discussion of the important role judges have played in baseball.[fn]Louis H. Schiff and Robert M. Jarvis. Baseball and the Law: Cases and Materials (Durham: Carolina Academic Press), 3.[/fn] After being named commissioner (with an annual salary of $50,000), Landis, to the surprise of many, refused to give up his federal judgeship (with an annual salary of $7,500), leading to a bitter campaign calling for his impeachment.[fn]Ibid. 104.[/fn] In 1922 Landis finally agreed to resign from the bench, and as a result, in 1924 the American Bar Association (which in 1921 had censured Landis) formulated its Canons of Judicial Ethics (now the Code of Judicial Conduct), which sets ethical standards for judges and warns them to avoid even the appearance of impropriety and forbids outside full-time employment, but allows such activities such as teaching and writing, to name a few.[fn]Ibid.[/fn]
Discipline of the Florida judiciary rests in the hands of the Florida Supreme Court and the Florida Judicial Qualifications Commission.[fn]http://www.floridasupremecourt.org/pub_info/jqc.shtml#Information.[/fn] When a judge is found to have violated the Code of Judicial Conduct, the judge will face consequences which range from a public reprimand to removal from office.[fn]http://www.floridasupremecourt.org/decisions/ethics/index.shtml.[/fn]
Judge Landis was a lifelong baseball fan and he often left the courthouse early to attend White Sox or Cubs games.[fn]J.G. Taylor Spink, Judge Landis and 25 Years of Baseball (St. Louis: The Sporting News Publishing Company, 1974).[/fn] However, a judge must be sure that his or her attendance at a baseball game does not lead to ethical violations. Florida jurists are not immune from judicial misconduct when it comes to our national pastime.
The Florida Supreme Court gave a public reprimand to a judge who accepted free Florida Marlins tickets approximately 15 times from 1994 to 1997 from a firm whose lawyers appeared before him on at least two cases.[fn]In re Luzzo, 756 So. 2d 76 (Fla. 2000).[/fn] The court concluded the conduct of the judge violated several canons of the Code of Judicial Conduct and was "so egregious to require a public reprimand."[fn]Ibid. 79.[/fn]
At a 2008 charity auction, Florida Marlins president David Samson jokingly announced he was putting the team up for sale and in jest accepted a bid of $10 million for the sale of the team. After the "sale" Samson refused to transfer ownership of the Marlins to the winning bidder, the winning bidder filed suit to enforce the sale.[fn]Pomeranz & Landsman v. Miami Marlins Baseball Club, L.P., Fla. 17th Cir. (CACE 12-003405).[/fn] During the pendency of the litigation, the trial court judge informed the lawyers he was a Marlins fan and regularly attended Marlins games, however, he told the lawyers he paid for his own tickets. The plaintiff sought to have the judge removed by filing a motion for disqualification.[fn]Ibid.[/fn] The judge denied the motion, and the case was later dismissed by the plaintiff for reasons not in the public records. The denial of the motion for disqualification was never appealed, and in an unrelated matter an appeals court ruled the case should remain closed after the plaintiff filed the dismissal.[fn]Pomeranz & Landsman Corp. v. Miami Marlins Baseball Club, L.P., 143 So. 3d 1182 (Fla. 4th Dist. Ct. App. 2014).[/fn]
THE BASEBALL RULE
Beware of objects leaving the field of play! ¡Cuidado con objectos que salgan del torreno de juego!

—sign posted at Marlins Park in Home Plate Box Section 9, Row 1 (behind the visitor's dugout)
The "Baseball Rule" was first announced more than 100 years ago in Crane v. Kansas City Baseball and Exhibition Co.[fn]153 S.W. 1076, (Mo. Ct. App. 1913).[/fn] A fan filed suit after being struck and injured by a foul ball. The appeals court ruled that foul balls are a fundamental part of baseball; being struck by a foul ball is a well-known risk of attending a baseball game; and the plaintiff chose to sit in a part of the stadium that was not protected.[fn]Louis H. Schiff and Robert M. Jarvis. Baseball and the Law: Cases and Materials (Durham: Carolina Academic Press), 576. For a further discussion of Crane, see J. Gordon Hylton, A Foul Ball in the Courtroom: The Baseball Spectator Injury as a Case of First Impression, 38 Tulsa L. Rev. 485 (2003).[/fn] Thus, the invention of the Baseball Rule. The rule immunizes stadium operators and owners from liability for injuries caused by baseballs and bats so long as they provide an adequate number of screened seats.[fn]Coomer v. Kansas City Royals Baseball Corporation, 437 S.W.3d 184 (Mo. 2014), an excellent discussion on the history and origin of the rule.[/fn]
Over the years, courts have narrowed the meaning of the Baseball Rule, but the rule still stands. In Martinez v. Houston McLane Company, the court points out that the following jurisdictions have adopted the rule since 2000: Michigan, New Jersey, Nevada, New Mexico, and Virginia.[fn]414 S.W. 3rd 219 (Tex, Ct. App. 2013).[/fn] MLB is considering a uniform policy on netting in ballparks for the 2017 season, but for the 2016 season it is allowing clubs to make their own decisions.[fn]Ron Jenkins, Major League Baseball Approved Extended Netting for 2016 Season, November 19, 2105; http://www.star-telegram.com/sports/mlb/texas-rangers/article45507555.html.[/fn]
Surprisingly, the Florida Supreme Court has not had to construe the Baseball Rule. However, there is a case pending in Miami-Dade County by a woman who has sued the Miami Marlins claiming that she was injured by "Bob the Shark" (a Marlins mascot in the Great Sea Race) during a 2013 baseball game.[fn]Fedornak v. Miami Marlins, L.P. Fla. 11th Cir. (2015-013360 CA-01).[/fn]
ANTITRUST LAW
Judges are like umpires. Umpires don't make the rules, they apply them. The role of an umpire and a judge is critical. They make sure everybody plays by the rules. But it is a limited role. Nobody ever went to a ballgame to see the umpire.

—United States Supreme Court Chief Justice John Roberts
In 1922, the United States Supreme Court ruled that the nation's antitrust laws did not apply to Major League Baseball, thus granting MLB an immunity and exemption from the Sherman Anti-Trust Act of 1890.[fn]Fed. Baseball Club of Balt., Inc. v. Nat'l League of Prof'l Baseball Clubs, 259 U.S. 200 (1922).[/fn] Since Fed. Baseball Club of Balt., Inc. v. Nat'l League of Prof'l Baseball Clubs, the United States Supreme Court declined to say the nation's antitrust laws apply to Major League Baseball.[fn]Federal Baseball was reaffirmed in Toolson v. New York Yankees, Inc., 346 U.S. 356, reh'g denied, 346 U.S. 917 (1953), and then in Flood v. Kuhn, 407 U.S. 258 (1972) the Court gave MLB an exemption to antitrust laws that the Court now felt applied to baseball.[/fn] The Eleventh Circuit of the Florida Federal Court followed Fed. Baseball on two occasions. The first was in a case involving the scheduling of minor league baseball games.[fn]Prof'l Baseball Sch. & Clubs v. Kahn, 693 F.2d 1085 (11th Cir. 1982).[/fn] The second was a case filed by the Florida Attorney General who was investigating the proposed contraction of MLB by eliminating and disbanding the Minnesota Twins and the Montreal Expos in the early 1990s.[fn]Major League Baseball v. Crist, 311 F.3d 1177 (11th Cir. 2003).[/fn]
In contrast the Florida Supreme Court has read the exemption as applying only to player contracts, and therefore the Florida Supreme Court is the only state Supreme Court not to recognize Fed. Baseball as it was intended.[fn]Butterworth v. Nat'l League of Prof'l Baseball Clubs, 644 So, 2d 1021 (1994).[/fn] The Florida Supreme Court has held that baseball's antitrust exemption extends only to the reserve system and not the sale and purchase of the teams, such as the San Francisco Giants.[fn]Ibid.[/fn] Accordingly, a Florida appeals court reinstated a lawsuit in which the plaintiffs claimed that numerous parties had conspired to keep them from buying the Minnesota Twins and moving them to Florida.[fn]Morsani v. Major League Baseball, 739 So. 2d 610 (Fla. 2d Dist. Ct. App. 1999).[/fn]
In 2012, an umpiring school owned by former major league umpire Jim Evans filed an antitrust action against Minor League Baseball (MiLB) in state court, claiming that MiLB eliminated competition of his minor league umpiring school when MiLB began its own training school thereby shutting down his school.[fn]Jim Evans Academy of Prof'l Umpiring, Inc. v. The National Association of Prof'l Baseball Leagues, Inc., Fla. 9th Cir. (2012-CA-013001).[/fn] MiLB claimed they ceased doing business with Evans and his school after they learned that some of the employees of the school attended a party wearing costumes that were offensive.[fn]Gil Imber, Umpire School Receives Baseball's Death Penalty for Racist Party Joke, February 12, 2012; http://bleacherreport.com/articles/1062999-umpire-school-receives-baseballs-death-penalty-for-racistparty-joke.[/fn] MiLB filed a motion to dismiss the suit, but the state trial court judge denied the motion and wrote the court did not have to, "blindly follow the opinions of the lower federal courts, when the Florida Supreme Court believes the federal decisions to be poorly reasoned."[fn]Jim Evans Academy of Prof'l Umpiring, Inc. v. The National Association of Prof'l Baseball Leagues, Inc., Fla. 9th Cir. (2012-CA-013001).[/fn] The parties reached a confidential settlement.[fn]In person interview with Scott Poley, Senior Vice President, Legal Affairs and General Counsel, MiLB; June, 2015.[/fn] In November, 2014, MiLB hired Evans as Umpire Advisor, a position created by MiLB to serve as a consultant and advisor to the president of MiLB on umpiring-related matters.[fn]Major League Baseball, Evans to Serve as MiLB Umpire Advisor, November 24, 2014; http://www.milb.com/news/article.jsp?ymd=20141126&content_id=102507214&fext=.jsp&vkey=pr_milb.[/fn]
CONTRACT LAW AND CIVIL FRAUD
Baseball has the largest library of law and lore and custom and ritual, and therefore, in a nation that fundamentally believes it is a nation under the law, well, baseball is America's most privileged version of the level field.

—former Baseball Commissioner Bart Giamatti
The game of baseball has led to many disputes involving a breach of contract and civil fraud. The five cases in this section span Florida case law for over 60 years.
In 1949, the City of Miami opened Miami Stadium and hired Florida Sportservice to run the concession stands. For the next five years, the Miami Sun Sox, a Brooklyn Dodgers farm team, called the field home. In 1954, the Sun Sox folded. Following two seasons without baseball, Sidney Salomon Jr., the owner of Sportservice, bought the Syracuse Chiefs and moved them to Miami, where they became the Miami Marlins.[fn]This squad, which played in the International League, should not be confused with the present-day MLB Miami Marlins. Sam Zygner, The Forgotten Marlins: A Tribute to the 1956–1960 Original Miami Marlins (Lanham, Maryland: Scarecrow Press, 2013).[/fn]
Before Salomon sold the Marlins, he had the Marlins sign a one-sided concession agreement with Sportservice. He then sold them to media mogul George B. Storer. When Storer found out about the sweetheart deal, he filed a lawsuit to void the agreement. The trial court dismissed the suit brought by Storer, but the appeals court reversed, agreeing with Storer that the deal should be set aside because the original contract was not approved by the board of directors and that the Miami Baseball Company had no knowledge of the agreement.[fn]Storer v. Florida Sportservice Inc., 115 So. 2d 433 (Fla. 3d Dist. Ct. App. 1959).[/fn]
When the engineering company building the Florida Marlins' original spring training complex was fired, that company sued Brevard County to recover the cost of various oral change orders. Because the orders were oral rather than written, the Florida Supreme Court found the change orders unenforceable, and therefore collection on them was barred by sovereign immunity.[fn]County of Brevard v. Miorelli Eng'g, Inc., 703 So. 2d 1049 (Fla. 1997), appeal after remand, 721 So. 2d 1223 (Fla. 5th Dist. Ct. App. 1998).[/fn]
In 1997, the Marlins won their first World Series. As a result, a marketing company purchased premium stadium seats and advertising for the 1998 season, not knowing the club was about to hold a "fire sale" of the players. The Marlins finished last in 1998. The marketing firm believed it was duped, so they sued for a refund. The trial court said there could be no guarantee of how well the team would do the year after winning the World Series and there was no promise of future winning years. The appeals court per curiam affirmed the trial judge.[fn]CFI Sales & Mktg., Ltd. v. Florida Marlins Baseball, Ltd., 837 So. 2d 423 (Fla. 3d Dist. Ct. App. 2002).[/fn]
In a twist of the 1998 lawsuit, before the start of the 2013 season, the Miami Marlins threatened to sue a full-season, $25,000 a year, front row ticket holder for not renewing his seats.[fn]Tim Elfrink, "Miami Marlins Threaten to Sue Long-Time Season Ticket Holders," Miami New Times, Mar. 28, 2013. http://www.miaminewtimes.com/news/miami-marlins-threaten-to-sue-longtime-season-ticket-holders-6391398.[/fn] The Marlins never followed through on their threat to file suit.[fn]Craig Davis, "Marlins at Odds with Fans as Second Season at Marlins Park Begins," S. Fla. Sun Sentinel, April 7, 2013, http://articles.sunsentinel.com/2013-04-07/sports/fl-marlins-home-opener-0408-20130407_1_marlins-park-marlins-president-david-samsonseason-tickets.[/fn]
The book The Card exposed the corrupt and criminal underbelly of the unregulated baseball memorabilia industry.[fn]The story of the Honus Wagner baseball card. Michael O'Keeffe and Terri Thompson, The Card (New York: William Morrow, 2007).[/fn] Florida courts have been presented with issues regarding fraudulent baseball memorabilia. In one case, the plaintiff accused an out-of-state defendant of selling him a fake Joe DiMaggio jersey. The defendant moved to dismiss for lack of personal jurisdiction but the appeals court held that because he was conducting an auction over the Internet and he had a highly interactive website, his company could be sued in Florida because it had sufficient contacts with the state.[fn]Pathman v. Grey Flannel Auctions, Inc., 741 F. Supp. 2d 1318 (S.D. Fla. 2010).[/fn]
In another case involving baseball memorabilia, a baseball autograph's owner was in need of a $203,000 loan, and approached a private lender to use his autographs as collateral for the loan. The prospective lender then took the memorabilia and paid to have it appraised, where a professional appraiser valued it to be worth $300,000–450,000. Relying on the appraisal, the private lender made the loan, and shortly thereafter the borrower defaulted. Using the collateral, the lender attempted to sell the autographs to satisfy the borrowers' debt. The lender discovered the appraised autographs were worth no more than $3,000, and so he brought an action against the appraiser. The appeals court found in favor of the lender, placing upon the appraiser the duty to use reasonable care to ensure the accuracy and validity of the appraisal.[fn]Blumstein v. Sports Immortals, Inc., 67 So. 3d 437 (Fla. 4th Dist. Ct. App. 2011).[/fn]
CRIMINAL JUSTICE AND THE BENCH
Baseball is almost the only orderly thing in a very unorderly world. If you get three strikes, even the best lawyer in the world can't get you off.

—Baseball Hall of Fame member Bill Veeck
Judges are required to ensure that trials proceed in a timely and fair manner. At times, justice is delayed or the courts err.
Baseball Hall of Famer Ted Williams was a silent partner is a sports souvenir shop owned by Vincent Antonucci. Williams alleged in a civil lawsuit that Antonucci swindled him out of thousands of dollars. While the civil suit was pending, the State of Florida filed criminal charges seeking to convict Antonucci and send him to prison.[fn]Ben Bradlee, Jr., The Kid: The Immortal Life of Ted Williams (New York: Little Brown and Company, 2013).[/fn] The trial court judge in the criminal case unilaterally continued the case so the civil case could finish first. The state objected to the court-imposed continuance, arguing that Williams's advanced age would deny and delay justice.[fn]In person interview with Jim McCune, who was the assistant state attorney who prosecuted Antonucci, June, 2015.[/fn] On appeal, the trial judge was told he abused his discretion in continuing the matter and was ordered to immediately try the case.[fn]State v. Antonucci, 590 So. 2d 998 (Fla. 5th Dist. Ct. App. 1991).[/fn]
In another case, former Detroit Tigers pitcher Denny McLain asked the court to overturn his federal racketeering convention because McLain alleged the prosecutor and trial court judge denied him of a fair trial. The conviction was overturned by the federal appeals court.[fn]United States v. McLain, 823 F.2d 1457 (11th Cir. 1987).[/fn]
THE BEST OF THE REST—IF YOU BUILD IT, THEY WILL SUE
You can't grow up in the South Bronx without knowing about baseball.

—United States Supreme Court Justice Sonia Sotomayor
In 1966 the Florida Supreme Court ruled the City of Deerfield Beach could not build a spring training facility for the Pittsburgh Pirates.[fn]Brandes v. City of Deerfield Beach, 186 So.2d 6 (Fla. 1966).[/fn] Thirty-five years later, with public sentiment regarding such projects having shifted, the Florida Supreme Court held that the City of Clearwater could build a spring training for the Philadelphia Phillies.[fn]Roper v. City of Clearwater, 796 So. 2d 1159 (Fla. 2001).[/fn]
When it looked like Orlando would get an MLB expansion team, Orange County pledged to build a new stadium using a 1% tourist tax.[fn]Tamar 7600, Inc. v. Orange County, 686 So. 2d 790 (Fla. 5th Dist. Ct. App. 1997).[/fn] A group of hotel owners filed a lawsuit seeking to stop the tax, but the action of the hotel owners was dismissed. The matter became irrelevant when in 1995 Tampa Bay was awarded with a franchise.[fn]Ibid.[/fn]
After the City of Miami agreed to build a new stadium for the Marlins, two taxpayers sought a temporary injunction stopping the city from selling bonds to pay for the project.[fn]Solares v. City of Miami, 23 So. 3d 227 (Fla. 3d Dist. Ct. App. 2009).[/fn] In dismissing the appeal of the taxpayers as immaterial, the appellate court pointed out that the failure of the taxpayers to request an emergency stay had resulted in the bonds being issued.[fn]Ibid.[/fn]
THE FUTURE OF BASEBALL AND LAW IN FLORIDA
Every lawyer should learn about baseball. If litigation is the nation's real pastime, then baseball comes in a close second.

—Law professor Roger I. Abrams
What sorts of baseball cases can Florida courts expect to handle in the future? Gazing into a crystal baseball and forecasting the winner of the World Series during spring training is an impossible task, and so too is predicting what is ahead for the Florida courts. But picking the winner of the World Series during spring training, and predicating the course of future legal issues, is a time-honored tradition.
First, with the Baseball Rule under attack, it seems likely that actions involving injured fans will continue.[fn]Fedornak v. Miami Marlins, L.P. Fla. 11th Cir. (2015-013360 CA-01).[/fn]
A number of lawsuits may arise if the Tampa Bay Rays make good on their threat to abandon Tropicana Field for a new stadium in Hillsborough County, as at the current time the Rays and the City of St. Petersburg appear to be at a stalemate.[fn]Matt Baker, "Rays Talks on Hold for Now," Tampa Bay Times, April. 7, 2015, at 1B, available at 2015 WLNR 10119939.[/fn] This has led some to predict the Rays will remain in Pinellas County.[fn]Roy Cummings, "Naimoli Tosses First Pitch, Says Rays are Staying in St. Pete," Tampa Tribune, April 6, 2015, available at 2015 WLNR 10086313.[/fn] Indeed, if past lawsuits can gauge the future, it is almost certain that a group of taxpayers will challenge whatever funding mechanism is used to finance the project. Moreover, if the negotiations are not transparent, an open-records lawsuit might also be considered. And, of course, at least some Pinellas County residents may seek to force the club to honor its existing lease, which requires the Rays to play at the Trop until 2027.[fn]Noah Pransky, Shadow of the Stadium, at http://shadowofthestadium.blogspot.com/. Last checked February 21, 2016.[/fn] There is also a growing concern about the future of spring training in Pinellas County.[fn]Ibid.[/fn]
The current litigation in California between minor league players and MLB has enormous potential ramifications for Florida. In two related suits, the players contend they are being grossly underpaid in violation of federal law.[fn]Miranda v. Office of the Commissioner of Baseball, 3:14-cv-5349 (N.D. Cal.), and Senne v. Office of the Commissioner of Baseball, 3:14-cv-608 (N.D. Cal.). In May 2015, the court refused to transfer Senne to the Middle District of Florida. See Senne v. Kansas City Royals Baseball Corp., 2015 WL 2412245 (N.D. Cal. 2015).[/fn] If the players prevail, the continued viability of one or more of Florida's minor league teams could be in jeopardy.
Just before the start of the 2015 season, MLB punished Miami Marlins pitcher Jarred Cosart after published reports that he had bet on baseball.[fn]Craig Davis, "MLB Fines Cosart but Finds No Baseball Bets," S. Fla. Sun Sentinel, April 4, 2015, at 5C, available at 2015 WLNR 9889375.[/fn] Concluding he had gambled on other sports but not baseball, MLB fined Cosart an undisclosed amount of money.[fn]Ibid.[/fn] Nevertheless, MLB and the country's three other major sports leagues are getting closer to dropping their longstanding opposition to sports gambling.[fn]Barry Svrluga, "Unafraid of Change, Rob Manfred Steps to Plate, Faces Pitches on Pace of Play, Gambling," WashingtonPost.com, Feb. 5, 2015, available at 2015 WLNR 3589207.[/fn] The position of Commissioner Manfred may conflict with that of the Florida Attorney General and may force this issue into state courts.[fn]Maury Brown, Grading MLB Commissioner Rob Manfred After His First Year, January 26, 2016, http://www.forbes.com/sites/maurybrown/2016/01/26/grading-mlb-commissioner-rob-manfred-after-his-firstyear/#2ac532052001.[/fn],[fn]Dustin Gouker, Florida Set to Introduce Daily Fantasy Sports Bill, Nov. 10, 2105, http://www.legalsportsreport.com/6042/florida-dfs-legislation.[/fn]
President Obama's decision at the end of 2014 to normalize relations with Cuba and his trip to Cuba in early 2016 will have important consequences for baseball in general and Florida in particular. Already, there is talk of holding spring training games in Cuba.[fn]Craig Davis, "Manfred Foresees Teams Visiting Cuba," S. Fla. Sun Sentinel, Mar. 11, 2015, at 1C, available at 2015 WLNR 7371030.[/fn] Many baseball fans (especially those in South Florida) will probably travel to such games, and it is not difficult to imagine some of these road trips ending in lawsuits if something goes wrong.
Lastly, baseball seemingly is a topic of conversation every time Florida lawmakers meet. During the 2015 Florida Legislative Session, the legislature helped advance construction of a joint-use facility for the Houston Astros and Washington Nationals in West Palm Beach by approving a needed zoning change.[fn]Joe Capozzi, "Scott's Pen Clears Way for Stadium," Palm Beach Post, June 11, 2015, at 1B, available at 2015 WLNR 17218341.[/fn] The Atlanta Braves are interested in moving back to West Palm Beach starting with 2018 spring training.[fn]Tim Tucker, "Braves Eye Palm Beach Again in Search for New Spring Home," Atlanta Constitution Journal, Feb. 17, 2016, http://www.ajc.com/news/sports/baseball/braves-eye-palm-beachagain-in-search-for-new-spri/nqRwK.[/fn]
Baseball and the law will continue to be intertwined in Florida. As long as there are new laws, new issues and lawyers filing new lawsuits, Florida courts will be faced with making rulings off the diamond which will affect the play on the diamond.
Author's Note
This article originated as a paper written by Judge Louis H. Schiff and Professor Robert M. Jarvis and a program presented by Judge Schiff and Judge David Denkin at the 2015 Conference of County Court Judges of Florida called "Florida's Judiciary at the Plate: Baseball Cases in the Sunshine State." This article is also adopted from a law review article written by Judge Schiff and Professor Jarvis, "A Survey of Florida Baseball Cases," 40 Nova Law Review (2015). Nova Southeastern University Law Review has allowed material used in the law review article to appear in this paper. The last component of this article is additional research which was not part of the original paper, program, and law review article. The author is extremely grateful for the assistance and guidance of SABR Publications Director Cecilia Tan, the staff of SABR, Alaska District Court Judge David L. Zwink, and the members of the South Florida Chapter of SABR.
LOUIS H. SCHIFF has served as a Broward County (Florida) Court Judge since 1997, and has been a member of the Florida Bar since 1981. He is the co-author of the first baseball and law textbook, Baseball and the Law: Cases and Materials (Carolina Academic Press, 2016). He serves as an Adjunct Professor of Law teaching baseball and law courses for The National Judicial College (University of Nevada: Reno); Mitchell | Hamline School of Law (St. Paul); and the Florida College of Advanced Judicial Studies (Tallahassee). He regularly gives baseball and law presentations to various bar associations and community groups. He is full-season ticket holder for the Miami Marlins. He has been a SABR member since 2013. You can contact him at: Schiff@baseballandthelaw.org
https://sabr.org/wp-content/uploads/2020/03/research-collection4_350x300.jpg
300
350
admin
/wp-content/uploads/2020/02/sabr_logo.png
admin
2016-07-21 09:49:13
2016-07-21 09:49:13
Take Me Out to the Courtroom: A Look at Baseball Cases in the Florida Courts