The 1931 Homestead Grays: The Greatest Baseball Team of All Time
This article was written by Charlie Fouche
This article was published in The National Pastime: Steel City Stories (Pittsburgh, 2018)
---
Most historians of an earlier generation would nominate the 1927 New York Yankees as the greatest team of all time. Later generations might favor the 1975 Cincinnati Reds. Among Negro League historians, one of the favorites is the 1931 Homestead Grays, who featured Josh Gibson, Oscar Charleston, Smokey Joe Williams, and other stars.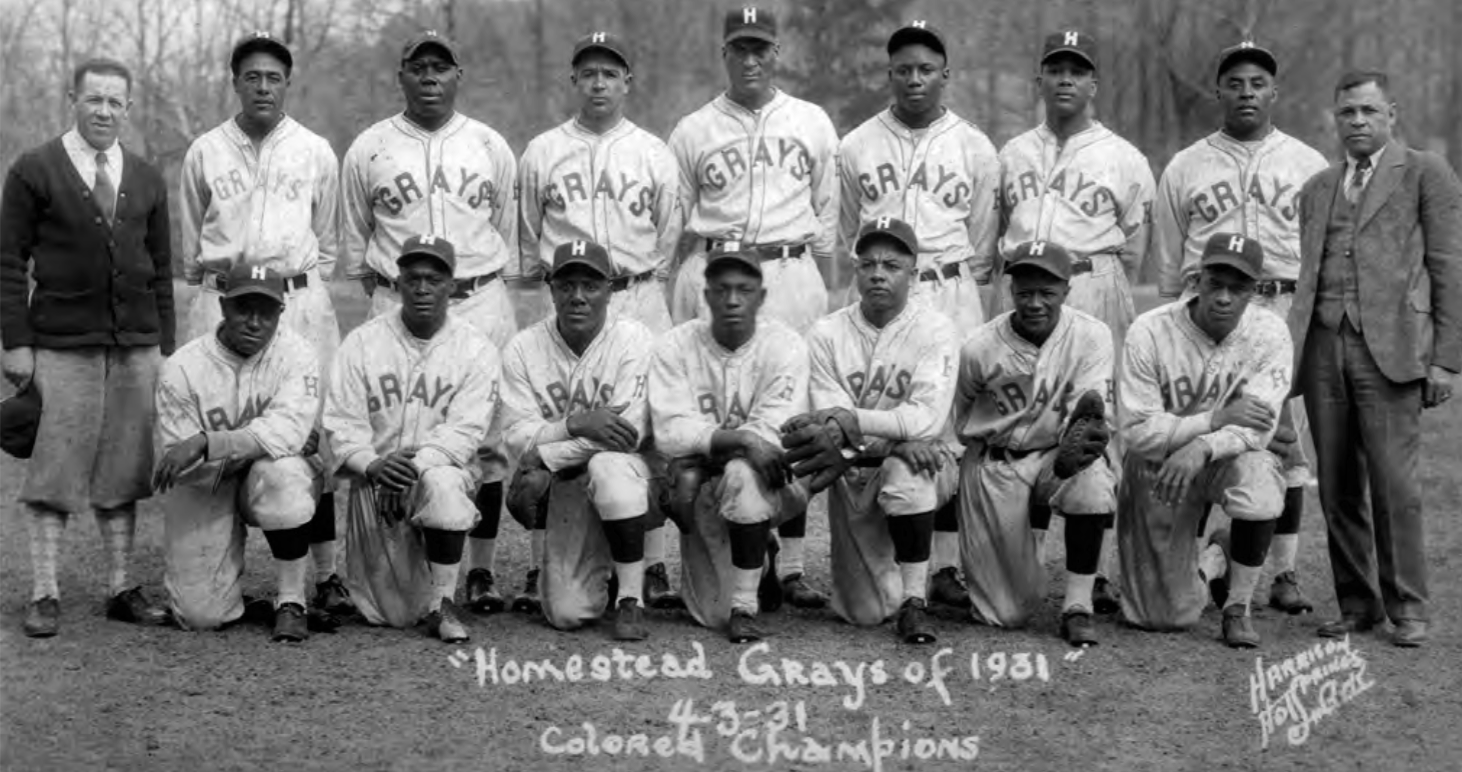 1931 Homestead Grays. Standing (L–R): Cum Posey, owner; Bill Evans, SS-OF; Jasper Washington, 1B-3B; Ambrose Reid, OF-INF; Smokey Joe Williams, P; Josh Gibson, C; George Scales, 2B; Oscar Charleston, 1B; Charlie Williams, office. Kneeling (L–R): George Britt, P-C-OF-INF; Lefty Williams, P; Jud Wilson, 3B; Vic Harris, OF; Ted Radcliffe, P-C; Tex Burnett, C; Ted Page, OF. (NATIONAL BASEBALL HALL OF FAME LIBRARY)
Major-league baseball has been a fixture in Pittsburgh since 1882.1 Alongside that well-known history, there's a rich heritage of another brand of baseball in Pittsburgh. The Negro Leagues had a strong presence in Western Pennsylvania from the 1920s through the 1940s. In 1932, numbers king Gus Greenlee put together the finest black baseball team money could buy. Led by future Hall of Famers Josh Gibson, Satchel Paige, Oscar Charleston, and Cool Papa Bell, the Pittsburgh Crawfords won three Negro National League championships in a four-year span beginning in 1933.2
As great as the Crawfords of the 1930s were, there was a greater Negro League team in Pittsburgh: the Homestead Grays, led by Gibson, a larger-than-life figure. The Grays set a record that has never been equaled by any professional team in any sport by winning nine consecutive league titles from 1937 through 1945.3 But the greatest Homestead Grays team wasn't one of those nine.
Most historians of an earlier generation would nominate the 1927 New York Yankees as the greatest team of all time. Later generations might favor the 1975 Cincinnati Reds. Among Negro League historians, one of the favorites (among many) is the 1931 Homestead Grays. In 2009, Kansas City baseball historian Phil S. Dixon published a work in which he painstakingly researched, collected, and collated every box score available for the 1931 Grays. According to Dixon's research, they finished with a 143-29-2 record for an .828 winning average. Gibson batted an estimated .390 with a team-leading 40 home runs. Charleston batted an estimated .346 with 58 doubles, 19 home runs, and an estimated 26 triples. Third-baseman Jud Wilson batted an estimated .486 and outfielder (and later manager) Vic Harris batted an estimated .403. Lefty Williams won 23 games and was joined in the 20-win club by George "Chippy" Britt (21), Willie Foster (20), and Smokey Joe Williams (20).4
With the individual statistics Dixon compiled in hand, we can go through a process that can tell us if the 1931 Homestead Grays should be considered among the greatest baseball teams of all-time. Using the popular APBA tabletop baseball game, I had the 1931 Homestead Grays play a dream schedule against the greatest major league and Negro League teams of all-time, as chosen by APBA. These were:
Table 1: Championship Series Schedule

(Click image to enlarge)
Tabletop (as well as computer) baseball games are a fun way of playing teams from different eras to see how they might compete. They're also a way to educate fans who might not have seen the greats of years gone by and to see how these players might perform against contemporary players and teams. Baseball is a remarkable institution in that it spans generations. Using that as a background, we can approach a schedule that would give an across-the-board platform to discover some of the greatest teams in baseball history. Since we cannot pit these teams against one another on a real-life baseball diamond, using a simulated schedule based on real-life stats will give an accounting of how these great teams might have fared against one another.
The truth is that before 1947, baseball was a segregated institution. Black baseball teams had to play any team that offered a sure payday. They played a league schedule during the years when there were Negro Leagues, but even then they barnstormed against local semipro and amateur teams in order to make ends meet. The Negro National League crumbled soon after Rube Foster's demise in December 1930. Cumberland Posey would not found the East-West League until 1932. All games in 1931 were essentially non-league games. (There was a voluntarily organized group of eastern teams that competed, but with no league schedule or championship.) It was no fault of their own that Negro League teams could not play a major-league schedule.
It could also be argued that because of segregation, the major-league teams didn't play against the best competition of their times, either. Granted, not all of the Negro League players would have been great major-league players, but some would have been. Not all major-league players were stars either.
Also, we must remember that this type of research is subjective. It may be that 100 different people playing the same schedule with the same teams using the same tabletop or computer game would come out with 100 different outcomes. But the object of this research is to see if the 1931 Grays could be considered among the great teams of all time. We just want enough data to see if that is a plausible hypothesis.
Another concern would be that this team was created in the APBA as a stronger club than they were in real life. I have testimony from a longtime APBA card creator that the 1931 Homestead Grays cards that were used in this simulation were accurate to the statistics that Phil Dixon provided through his research.5
With this background in mind, a 162-game season was played between the 1931 Homestead Grays and the group of APBA's company-produced greatest teams of all time. Each series was a five-game set with a modern five-man pitching rotation. This would guarantee that each team's top starting pitcher would face the opponent's top starting pitcher. That would avoid the overuse of a higher-rated pitcher. Players were used according to actual lineups and regularity. One huge difference was the type of strategy employed. The Negro Leagues played a much faster style of baseball than their major-league counterparts. Stolen bases and hit-and-run plays were used at a higher rate in the Negro Leagues than in the majors. This manifested itself on the cardboard playing diamond. Also, no designated hitter was used. This was not a comment on the validity of the rule, just a manifestation of historical baseball.
The Grays went 5-0 or 4-1 against almost every opponent. The only teams that managed to beat the Grays twice in their five-game series were the 1927 Yankees, the 1930 Stars, the 1953 Dodgers, the 1975 Reds, and the 1984 Tigers. To account for the full season of 162 games, the '27 Yankees and '75 Reds were given a sixth game and the chance to even up the season series, which they both did to become the only teams to earn even a split.
The 1931 Homestead Grays boasted six Hall-of-Fame players and a Hall-of-Fame owner. The players were catcher Gibson, first baseman Charleston, third baseman Wilson, and pitchers Smokey Joe Williams, Willie Foster, and Paige (although he only appeared in one game). The Hall-of-Fame owner was Cum Posey. Also on this team were several other star players, including outfielder Harris, infielder George "Tubby" Scales, and pitcher/catcher Ted "Double Duty" Radcliffe. On talent alone, this team should receive creditable consideration as one of the greatest teams of all time.
Here are some highlights of the 1931 Homestead Grays dream season against the great teams of all-time: Scales hit for the cycle against the 1946 Newark Eagles. Gibson led the team in home runs (67) and RBIs (267). Gibson also hit three home runs in a game at Yankee Stadium. Two of those went into the upper decks in left and right field. In the series against the 1942 St. Louis Cardinals, Gibson hit seven home runs, including five in the final two games—three in the last game at Sportsman's Park. Wilson led the team with a .470 batting average. Charleston led in at-bats (685) from the leadoff spot. The 35-year-old also led the team with 31 triples and 45 stolen bases. Three batters—Wilson, Gibson, and Harris—batted better than .400 on the season.
On the mound, the 1931 Grays had five 20-game winners. These were Smokey Joe Williams (26-6), Willie Foster (27-4), Radcliffe (23-6), Lefty Williams (26-4), and Britt (22-3). Foster led the team in shutouts with five. Smokey Joe Williams led the team with 282 strikeouts in 294⅓ innings. He also led the staff with a 2.35 ERA. Oscar Owens, who also played the outfield, led the team with 15 saves. Smokey Joe Williams threw a one-hit shutout against the 1939 New York Yankees in Yankee Stadium.
In the field, several Grays players showed their versatility by playing different positions. This was not out of the ordinary for Negro League teams, which rarely carried more than 16 players due to finances. Britt played all nine positions over the season. Radcliffe pitched in 32 games and caught in 31. Ambrose Reid played seven different positions. Owens played six.
The 1931 Grays outscored their opponents 1,251–514. That results in an average game score of 7.7–3.2. There is no doubt that the 1931 Grays were the original Pittsburgh Lumber Company, the nickname given to the World Series-winning 1971 Pirates. As a team, they batted .346 against the greatest competition, while holding their opponents to a .207 batting average. The pitching for the Grays was a pleasant surprise. The Grays had 774 extra-base hits to their opponents' 438.
The 1931 Grays shut out their opponents 15 times. Their opponents shut out the Grays twice. The first pitcher to shut out the Grays was Tom Phoebus of the 1970 Baltimore Orioles. The second was Gary Nolan of the 1975 Cincinnati Reds in the next-to-last game of the season. The 1931 Grays recorded a team ERA of 2.95 as opposed to a 7.53 ERA of their opponents.
The data show the 1931 Grays had the best success against American League teams, going 62–9 (.873 winning average). They were 55–11 (.833) against National League teams. The teams that gave the 1931 Grays the most competition were the Negro League teams, who managed to win five out of 25 games, so even against them, the 1931 Grays recorded an .800 winning average.
Overall, the 1931 Grays won at an .846 clip over the greatest teams of all time. This is enough to enter the 1931 Homestead Grays into the discussion of the greatest teams in history. Would the real 1931 Homestead Grays have won 137 out of 162 games against the real greatest teams ever? Probably not, but these kinds of projects are what makes baseball fun to people across generational lines.
It is impossible for these teams to play one another in real life, but the APBA tabletop baseball game, and others like it, give us the ability to size up opponents from different ages. These games also perform a great deal of education. We have all heard of the great players like Babe Ruth and Lou Gehrig, but simulation games bring these black-and-white images to life in front of our eyes. We can manage these great players, get familiar with their playing styles, their averages, their abilities against others. In short, the games educate and entertain. These are the kinds of experiences that fans across the decades are able to share. Isn't that what baseball is all about?
CHARLIE FOUCHÉ is a native of Jacksonville, Florida. He received a Bachelor of Science in Journalism from the University of Florida. He has also earned a Master of Divinity, a Doctor of Theology, a Doctor of Christian Education, and a Doctor of Biblical Studies. He has written and edited for several publications, and written several theological works. He teaches in an alternative high school in Dalton, Georgia.
Notes

1 1882 AA Team Statistics, Baseball-Reference.com, https://www.baseball-reference.com/leagues/AA/1882.shtml.
2 Pittsburgh Crawfords, Seamheads.com Negro Leagues Database, http://www.seamheads.com/NegroLgs/organization.php?franchID=PC, accessed April 20, 2018.
3 Brady Smith, "Let's learn from the past: Homestead Grays and Pittsburgh Crawfords," Pittsburgh Post-Gazette, February 22, 2017, http://www.post-gazette.com/life/my-generation/2017/02/23/Let-s-learn-from-the-past-Homestead-Grays-Pittsburgh-Crawfords/stories/201702230042, accessed April 20, 2018.
4 Phil S. Dixon, Phil Dixon's American Baseball Chronicles Great Teams: The 1931 Homestead Grays Volume I (Bloomington, IN: Xlibris Corporation, 2009). Some statistics are "estimated" because some categories were not tracked in all box scores. In those cases, the figures were arrived at by using 1931 American League averages.
5 Email message, January 29, 2018. The card-creator's name is being withheld out of respect for his privacy. He cautioned that the Grays players likely wouldn't have accumulated such gaudy stats against major-league competition.
https://sabr.org/wp-content/uploads/2020/03/research-collection4_350x300.jpg
300
350
admin
/wp-content/uploads/2020/02/sabr_logo.png
admin
2018-07-02 13:11:02
2018-07-02 13:11:02
The 1931 Homestead Grays: The Greatest Baseball Team of All Time