The Big Red Boys of Summer
This article was written by Steve Treder
This article was published in 1975 Cincinnati Reds essays
---
Observing the similarity between two celebrated dynasties — the Brooklyn Dodgers of the 1950s and the Cincinnati Reds of the 1970s — is hardly original, and hardly new. But the comparisons between the two teams are worth exploring in some detail.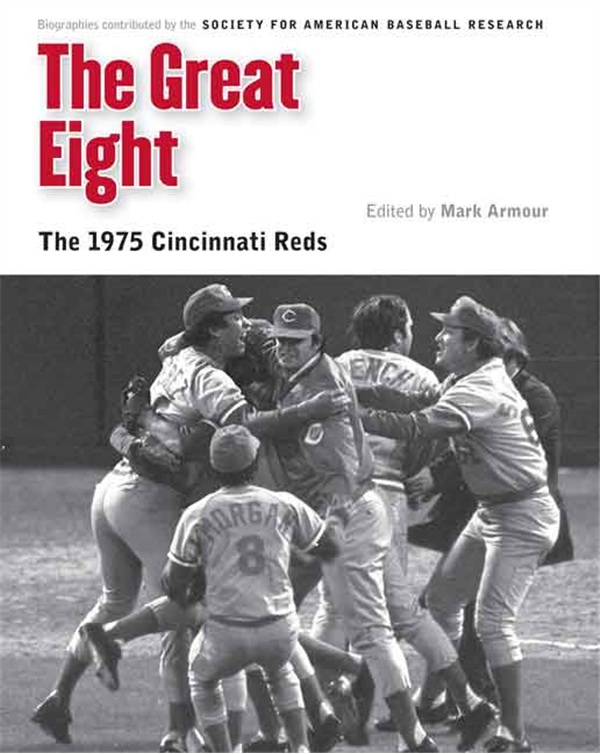 They were a ballclub well-known then and well-remembered today not just for their victories and championships, but also—indeed, more so—for the manner in which those victories and championships were achieved. The team presented a gallery of stars displaying exceptional breadth of athleticism and skill, who did not defeat opponents so much as overwhelm them. Observers were typically struck with not so much admiration as awe.
Yet for all this ballclub's profound ability, there was for many seasons a sense of underachievement about them. Though reliably among the close contenders, multiple times the team fell short in crucial title-deciding confrontations. For year after frustrating year, the failure to win that final big one—that fourth "bad boy" victory during the World Series—rendered the sterling reputation slightly hollow.
Pundits at the time pointed to a structural explanation for this team's inability to close the deal. Yes, their offense was an explosive brew of speed and power rarely sniffed in history. And yes, their team defense was extraordinary as well, presenting multiple fielders widely regarded as the best at their position. But the pitching staff never measured up.
The health and durability of their starters was a nagging issue, and the team struggled for years to develop a dominant ace, an anchor for the pitchers to be tethered around. As a result, the staff never seemed quite settled, and they relied on the bullpen to a degree unusual for winning teams of the era. Without elite-level starting pitching, they struggled to achieve in tight October contests what they had routinely done against lesser opponents over the long spring and summer schedules.
Thus when that ultimate champagne-popping moment finally arrived for this team, it represented more than just your garden-variety World Series victory. It brought with it a particularly keen sense of vindication, a sigh of relief along with the whoop of joy.
We are speaking, of course, of the Brooklyn Dodgers of 1949-1956, the charismatic and robustly talented ballclub christened "The Boys of Summer" by Roger Kahn in his 1972 iconic remembrance. You were expecting maybe, what, The Big Red Machine of 1970-76?
Perception of the similarity between these celebrated dynasties is hardly original, and hardly new. Bill James in the 1982 Baseball Abstract—the first nationally-distributed Abstract—put it this way:
"There is a parallel between the Cincinnati Reds of today and the Brooklyn/Los Angeles Dodgers of 20 years ago … which gives no hint of breaking …. The Dodgers won the National League pennant in 1952, 1953, 1955, 1956, and 1959. The Reds won the National League West in 1972, 1973, 1975, 1976, and 1979. Both teams had won one previous title, the Reds in 1970 and the Dodgers in 1949; both teams got progressively better, and progressively older, throughout the decade. The 1976 Reds had the oldest starting lineup of any National League champion since the 1956 Dodgers."

"… Beyond the coincidental pattern of years, there are profound similarities in the two teams. Both the Dodgers of the midfifties and the Reds of the midseventies featured awesome 8-man lineups with adequate pitching. At many positions, they match up beautifully. There is probably no player in the history of the game as much like Johnny Bench as Roy Campanella. Both were superb catchers and RBI men, MVPs; both had the same strong on-year/off-year pattern throughout much of their careers. Was Tony Perez's career a lot like Gil Hodges's? Is Wyoming quite a bit like Montana? Joe Morgan and Jackie Robinson, Pee Wee Reese and Dave Concepcion—these are very, very similar types of players. It is my opinion that the 1975-76 Reds had the greatest 8-man lineup ever assembled, but they weren't much ahead of the Brooklyn 8."1
These points are worth exploring in some detail.
Campy and Johnny
Of all the player parallels, this is the very strongest. It truly borders on the eerie: In terms of role and impact on the field of play—and what a phenomenal impact it was—Bench was essentially Campanella's clone, with the amazing rifle arm, the free-swinging, dead-pulling right-handed power bat, and the vulnerability to the hitting slump.
And more than that: As personalities, as characters within the clubhouse drama, Campy and Johnny took comparable roles. Despite mastering the central responsibilities inherent in the catcher position, neither assumed primary leadership of the ballclub; that was handled by more veteran and more assertive stars. Campanella's persona was genial, a bit playful, and Bench—who, lest we forget, was exceptionally young when he arrived in the majors—appeared content to retain his polite, slightly deferential public posture even as a multi-MVP-awarded superstar.
Gil and Doggie
Perez is in the Hall of Fame, and Hodges is not. The general consensus in the sabermetric community is that this inconsistency is an error: these two durable, dependable right-handed first basemen are so comparable in value that it is wrong for one to be enshrined in Cooperstown and the other not. That consensus, moreover, is that neither belongs; outstanding as both performers were, neither was a superstar, and they deserve prominent placement only in the Hall of Very Good.
They were not identical players. Hodges was a standout defensive first baseman, while Perez was just average with the glove, and Perez's career was 25 percent longer. But they were remarkably similar nonetheless, steadily providing the RBIs, month after month and year after year, in a quietly determined, workmanlike manner.
It was in the quiet-but-strong force of personality that Gil and Doggie demonstrated the most striking similarity. Neither was a big talker or a rah-rah guy. Yet both, even early in their careers, were widely respected leaders, men's men whom everyone in the clubhouse looked up to as models of professionalism, dignity, and strength. Nobody ever dared mess with either of these guys. Both would become major-league managers (though, to be sure, Hodges enjoyed far greater success in that role).
Jackie and Joe (and Pete)
James makes the unavoidable connection between Robinson and Morgan, two second basemen who delivered dazzling breadth of capability, all-time great ballplayers excelling in every conceivable phase of the game.
Yet there is an additional angle worth considering. Robinson, of course, was shifted away from the second-base position following the 1952 season, and he spent the remaining four years of his Dodger career playing mostly third base and left field, adaptively filling the team's evolving needs as a supersub, while remaining an on-base machine. The Reds had a certain ballplayer named Pete Rose whom they shifted away from second base in mid-career, and moved him around from position to position, first in the outfield and then, significantly and decisively, to third base in early 1975: adaptively filling the team's evolving needs as a moveable everyday starter, while remaining an on-base machine.
There might be a further parallel between Robinson and Rose. For very different reasons and in obviously different ways, Robinson and Rose were both outsized as national celebrities beyond their pure status as ballplayers. Each was the key focus of media attention on his ballclub, holding a status of public prominence shared by no teammate.
And in their ballfield manner, Robinson and Rose were interestingly alike. Both were aggressively big talkers and rah-rah guys (which of course, renders Robinson's success at keeping himself bottled up in his first couple of years in the league all the more remarkable), loud and flashy and demonstrative, profoundly fearless, seeking and ruthlessly grabbing every possible tiny advantage, strutting around (in Rose's case, sprinting around) the yard with an in-your-face what-are-you-going-to-do-about-it chip on the shoulder. Leo Durocher, as only he could, said in sheer admiration of Robinson, "He doesn't just come to beat you. He comes to shove the fucking bat right up your ass." Such was utterly true of Rose as well.
Pee Wee and Davey
The parallel between the shortstops is not perfect, but it is strong. Reese was the better player, but not dramatically so (he is deservedly in the Hall of Fame, and Concepcion deservedly not quite). Both were highly regarded fielders known especially for a strong and accurate arm. Both dependably put up a batting average between .270 and .300, with more pop than most shortstops, and both ran the bases extremely well.
In the off-field realm, they part ways. Concepcion, younger even than Bench and not a full-season regular until 1974, did not assume a leadership role on the ballclub until later in his career, after Perez, Rose, and Morgan had departed. Reese, in contrast, the first-string Brooklyn shortstop since 1940, was the elder statesman among Dodger regulars, older even than Robinson. Reese was the team captain, both officially and unofficially, in every sense. In Vin Scully's velvet words, "He was the heart and soul of the Boys of Summer."
Reese's on-field gesture of walking over and putting his arm around Robinson during an ugly incident early in 1947 is recognized as one the most powerful demonstrations of team leadership in the history of sports. Reese's model as a Southerner openly and unwaveringly accepting and supporting Robinson's presence was crucial to the successful integration of the Dodgers, and baseball generally.
Okay, but …
The similarities between the ballclubs do not much extend to the outfield. It is the case that Carl Furillo and Cesar Geronimo were tremendous defensive stars, but the former was a strong-hitting right fielder, and the latter a so-so-hitting center fielder. Each outfield housed a prodigiously powerful middle-of-the-order slugger (well, for the Reds, only from 1975 forward), but beyond that there is not a lot in common between the left-handed-batting all-around superstar center fielder Duke Snider and the right-handed-batting walk-resistant left fielder George Foster. And the Dodgers did not have anyone to match up with speedy Reds outfielders Bobby Tolan and Ken Griffey.
Then there's the pitching
As James put it, on the mound both teams were "adequate." They shared a frustrating pattern of introducing impressive young pitchers (for the Dodgers, from the farm system, for the Reds, often via trade), only to see them struggle to one degree or another after promising beginnings, with sore arms a chronic, seemingly contagious complaint. In Brooklyn it was Rex Barney, Erv Palica, Ralph Branca, Billy Loes, and Karl Spooner, and in Cincinnati it was Wayne Simpson, Jim Merritt, Roger Nelson, Tom Hall, Tom Carroll, and Clay Kirby.
Even the best pitchers both organizations developed, the closest either team came to a top-tier ace—for the Dodgers, Carl Erskine and Don Newcombe, and for the Reds, Gary Nolan and Don Gullett—all grappled with recurrent issues of health, durability, and consistency.
Both teams adapted to the circumstance of an unreliable starting rotation by making groundbreaking liberal use of the bullpen, blazing staff-deployment trails others would soon follow. Neither team featured dominant relief stars, but Jim Hughes, Clem Labine, and Ed Roebuck for the Dodgers, and Wayne Granger, Clay Carroll, Pedro Borbon, Will McEnaney, and Rawly Eastwick for the Reds pulled heavy loads, and emerged among the more durable and reliably solid firemen of their day.
The first dance
The Boys of Summer coalesced as a unit in 1949, winning the pennant behind a monster offense that led the league in runs, home runs, total bases, and stolen bases. For the Reds, the analogous season was 1970, when their wire-to-wire division runaway brought national renown as "The Big Red Machine," leading the league in home runs, total bases, and slugging, while stealing the most bases (115) of any Cincinnati ballclub since 1929. Both teams got spanked in five games in the World Series (Brooklyn by the Yankees, Cincinnati by the Orioles), and while that outcome was obviously disappointing, it was not heartbreaking, given that neither upstart had been expected to get to the Series.
The years in the desert
But following that, expectations were sensibly high, and the tension began to mount. The Dodgers fell achingly short of the National League pennant in both 1950 and 1951 (with the latter carrying the devastating double exclamation point of the huge blown lead and the Bobby Thomson home run to end the playoff. They succeeded in winning the pennant in both 1952 and 1953, but lost the World Series, again to the Yankees, both times (despite coming into the latter as the favorite with a blistering 105-49 runaway regular season). And in 1954 they fell back to second place, losing out again to the Giants.
That excruciating roller-coaster ride to nowhere was echoed by the Reds 20 years later. They slumped badly in 1971, then were defeated in an epic seven-game World Series battle with the Oakland A's in 1972, then in 1973 suffered the humiliation of dropping the NLCS to a laughably inferior New York Mets outfit. In 1974 the Reds rolled out a 98-win season in predictably machine-like fashion, yet wound up second in the division behind an exceptionally strong Dodgers team.
The summit at last
It was in that year ending in "5" that both teams finally grasped the Holy Grail, a pleasure no doubt all the sweeter for its elusiveness. For both teams, to do so required prevailing in a close Game Seven, on the road, in memorable form. For the Dodgers, unheralded supporting players came up huge, as platoon left fielder Sandy Amoros turned in a sensational sixth-inning catch-and-throw double play to support just-turned-23-year-old southpaw Johnny Podres' complete-game 2-0 shutout of the dreaded Yankees. The Reds methodically fought back from a three-run deficit in the late innings, and carefully manufactured (yes, just like a machine) the winning run in the top of the ninth with a walk to Griffey, a sacrifice bunt by Geronimo, a base-advancing groundball and a two-out dying-quail single by Morgan.
And yet there's more
In that 1982 Abstract, James marveled at how the parallel pattern just would not quit:
"Both teams began to break apart in '7, the Dodgers in 1957, and the Reds in 1977. Both won another flag in '9, and in both cases they did so with unusually low winning percentages (.564, .559) for first-place teams. Both of those were titles won from weak races with teams in transition. The 1959 Dodgers won by combining the remnants of the great Brooklyn team (Duke Snider, Gil Hodges) with the core of their great speed-and-pitching teams of the sixties (Maury Wills, Sandy Koufax, Don Drysdale, John Roseboro), a couple of players who spanned the gap (Jim Gilliam, Johnny Podres), and a few spare parts just rustled up for the occasion (Charlie Neal, Wally Moon, Don Demeter, Roger Craig)."
"What is intriguing about the parallel is wondering whether it will break before 1983, wondering if the 1979 Reds were, also, the parts of two champions. For it is quite apparent, if there is another champion in the making here, what the strength of that champion will be. The young pitching, while no one should be compared to Koufax or Drysdale … is imposing. Is there something inevitable about this form, some reason why a champion which is strong in every department except pitching should yield gradually to a champion which is based on pitching?"2
Alas, the parallel did indeed break before 1983, as the seemingly up-and-coming Reds team suffered a cringe-worthy face-plant by losing 101 games in 1982. Mario Soto would prove to be the real deal, but the rest of the potentially imposing young Cincinnati pitching staff never got it together. The long spell of similarity between the generation-apart franchises was cast away at last.
Actions and consequences
James did not seem entirely serious about his "is there something inevitable about the form?" pondering—two teams, no matter how similar, can hardly provide evidence for the inevitability of anything—but it remains genuinely intriguing that these two followed such a uniquely detailed path of development, decline, and rebuilding over such an extended period. While the dual transformation from hitting-centric to pitching-centric orientation is probably just a coincidence, perhaps there is something to the notion that both organizations, enduring season after season of pitching headaches, became particularly focused on identifying and developing superior young arms.
In any case, an attribute shared by both franchises was extremely sound management, from the top down. The Dodgers' foundation had been laid, of course, by none other than Branch Rickey. By the time the Mahatma departed Brooklyn in late 1950, nearly all of the key Boys of Summer were already on the big-league roster, and moreover Rickey had put in place a state-of-the-art farm system and a unified organizational model of instruction and development. His successor as general manager, young Buzzie Bavasi, was a Rickey protégé promoted from within.
If it is fair to say that Bavasi's challenge was to execute against Rickey's master plan rather than design one himself, it is equally fair to say that Bavasi met that challenge with remarkable skill. Bavasi would remain in place as one of the sport's mostly widely respected GMs through 1968, and the field manager he hired after the 1953 season—another rookie, promoted from within the system—was named Walt Alston, and he would remain in place for more than two decades (indeed, he was managing the Dodgers' team that outplayed The Big Red Machine in the 1974 NL West), on his way to the Hall of Fame.
The designing architect of The Big Red Machine, GM Bob Howsam, was, you guessed it, also a protégé of Rickey, going back to the late 1950s, and continuing into the St. Louis Cardinals organization in the mid-1960s. That the team Howsam would eventually field in Cincinnati bore dramatic structural parallels with the Rickey/Bavasi Dodgers was likely coincidental, but that Howsam's meticulously orchestrated organizational approach was reminiscent of the Dodgers was not.
Howsam had clear and strong ideas about what he wanted to accomplish, and there is no doubt he was inspired by the principles so successfully set down by Rickey and Bavasi. The field manager Howsam would hire in October 1969—a rookie, promoted from within the Reds' system—was named Sparky Anderson, and he would remain a highly celebrated big-league manager for a quarter-century, on his way to the Hall of Fame. And, you guessed it: Anderson had spent the first six years of his playing career—his formative phase in professional baseball—in the 1950s Dodgers organization.
STEVE TREDER attended his first SABR meetings in 1985 and has been a frequent contributor and presenter in the decades since. He has been a writer for The Hardball Times since its founding in 2004.
Notes
1 Bill James, The 1982 Bill James Baseball Abstract, Ballantine: 1982, 105.
2 James, The 1982 Bill James Baseball Abstract, 106.
https://sabr.org/wp-content/uploads/2020/03/research-collection4_350x300.jpg
300
350
admin
/wp-content/uploads/2020/02/sabr_logo.png
admin
2017-01-13 17:42:17
2017-01-13 17:42:17
The Big Red Boys of Summer