The Game That Was Not—Philadelphia Phillies at Chicago Cubs, August 8, 1988
This article was written by Steven Glassman
This article was published in The National Pastime: Baseball in Chicago (2015)
---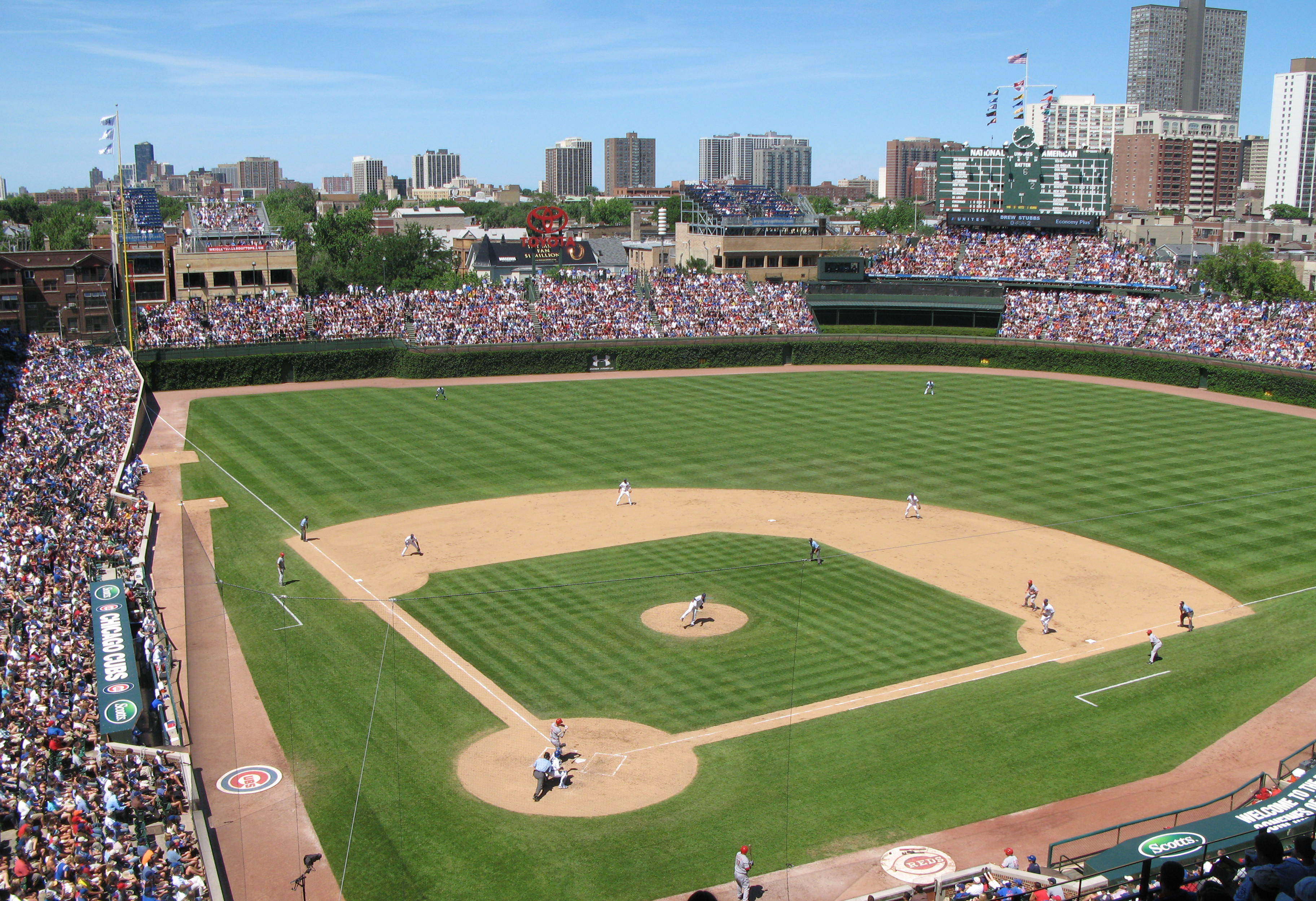 Between May 24, 1935 and August 7, 1988, Wrigley Field had hosted 4,193 regular season games, nine World Series games, two League Championship Series games, and three All-Star games, only one of which—a 1943 All American Girls Professional Baseball League contest lit by a small set of portable lamps—was played at night. That all changed on August 8.
On February 25, 1988, Chicago's City Council voted 29–19 to remove a 1983 ban on lights at Wrigley Field, making it theoretically possible for the Chicago Cubs to host night games. The new ordinance also would influence the probability of Major League Baseball awarding the Cubs the 1990 All-Star Game. The vote also locked the Cubs into Chicago through the 2002 season.
An additional "compromise ordinance" addressed the number of night games per season and their start times as well as late afternoon game times, litter, and parking.
General Electric in Hendersonville, North Carolina provided the $5M lighting system and began installing it on April 7. The Cubs announced in June that they would host seven night games that year, the first at 7:05 P.M. August 8 versus the Philadelphia Phillies.1
Chicago Cubs Original 1988 Home Schedule
| | | |
| --- | --- | --- |
| Opponent | Date | Time |
| Philadelphia Phillies | Monday, August 8 | 7:05 P.M. CT |
| New York Mets | Tuesday, August 9 | 7:05 P.M. CT |
| Houston Astros | Monday, August 22 | 7:05 P.M. CT |
| Houston Astros | Tuesday, August 23 | 7:05 P.M. CT |
| Philadelphia Phillies | Tuesday, September 6 | 7:05 P.M. CT |
| New York Mets | Wednesday, September 7 | 6:35 P.M. CT |
| Montreal Expos | Saturday, September 20 | 6:35 P.M. CT |
On June 28, 12,756 public tickets were made available, starting at 8:00 A.M., and quickly sold out.
July 25, the Cubs hosted a 7:00 P.M. "night game preview" which featured an on-field autograph session, home run derby, live music, and batting practice. The lights were tested one final time. About 3,000 people paid $100 each (which went toward the Cubs' charitable arm) in order to attend this unique event.
The Chicago forecast for August 8 predicted a high of 96 degrees with possible rain and thunderstorms in the morning and evening and partial cloudiness in between.
The "Wrigley Field: Home of Chicago Cubs" marquee that greeted fans as they entered at Clark & Addison also sported a heretofore unseen message: "Welcome to Opening Night." In addition to the 39,008 in attendance, 556 media representatives were on hand, according to Cubs Director of Media Relations Ned Colletti.2 Some 109 newspapers, 49 television stations, and 38 radio stations covered the game. National television shows sending camera crews included Entertainment Tonight and daytime shows Good Morning America (ABC) and Today (NBC). WGN provided local television and radio coverage of the contest,3 while in Philadelphia, WTXF provided television and WCAU-AM did the radio broadcast.4
Dignitaries attending included MLB Commissioner Peter Ueberroth, NL President Bart Giamatti, Illinois Governor James Thompson, and Chicago Mayor Eugene Sawyer. Celebrities included actors Dabney Coleman, Bill Murray, and Mark Harmon.5
Some fans that could not get tickets to the game paid as much as $1,000 to watch it from neighboring rooftop buildings. For seats in the ballpark, scalpers paid $250 (or more).
C.U.B.S. (Citizens United for Baseball in the Sunshine), a grassroots organization which opposed Wrigley Field night baseball, had approximately 200 people surveying crowd behavior and monitoring whether parking rules were being enforced.
Between May 24, 1935 and August 7, 1988, Wrigley Field had hosted 4,193 regular season games, nine World Series games, two League Championship Series games, and three All-Star games, only one of which—a 1943 All American Girls Professional Baseball League contest lit by a small set of portable lamps—was played at night.
Former Cubs broadcaster Jack Brickhouse served as the pre-game ceremonies emcee. 91-year-old Harry Grossman, who had attended his first Cubs game in 1906, turned the lights on at 6:09 P.M. The Cubs and Phillies, who had previously taken batting practice, then took the field for infield drills. The Chicago Symphony Orchestra performed the National Anthem. Billy Williams and Ernie Banks threw out the ceremonial first pitches to Cubs catcher Damon Berryhill.
The Cubs entered the game in fourth place in the NL East with a 53-56-1 record, 13½ games behind the New York Mets. The Phillies were fifth, 48-62-1, 19 games out.6
Rick Sutcliffe threw the first pitch to Phil Bradley—a ball—at 7:01 P.M. The game time temperature was 91 degrees and the air was thick and humid. The south winds were blowing at nine miles per hour.
Bradley hit Sutcliffe's third pitch onto Waveland Avenue, over the left-center field wall, for the first hit and run in the Cubs' first home night game.7 Sutcliffe then retired Milt Thompson on a ground out to third baseman Vance Law, got Juan Samuel to fly to center fielder Mitch Webster, and induced Mike Schmidt to foul out to first baseman Mark Grace to end the inning.
The Cubs responded. Webster grounded Kevin Gross' first pitch up the middle just went past second baseman Samuel's glove and into center field. Before the next hitter, Ryne Sandberg, reached the plate, "Morganna the Kissing Bandit" ran from the lower outfield box seats to try to kiss him but was stopped by two security personnel before she could kiss Sandberg.
Unfazed, "Ryno" hit Gross' second pitch into the left field bleachers and gave the Cubs a 2-1 lead.10 Sandberg came out of the dugout for a curtain call. Gross retired Grace on a line drive to first baseman Ricky Jordan, fanned Andre Dawson, and got Rafael Palmeiro on a fly out to center field to end the inning.
The Phillies threatened in the second, putting two men on, but Sutcliffe induced Gross to pop up to shortstop Shawon Dunston in shallow left field to end the Phillies' scoring threat.
In their half of the inning, the Cubs also put two men on, but with two out, Webster rolled out to first base.
With two outs in the Phillies' third, Samuel took an outside Sutcliffe pitch to right field. Samuel beat Dawson's throw and slid into second for a double. During this plate appearance, home plate umpire Eric Gregg called time because the wind was blowing the dirt around home plate. The Phillies' broadcasters had also noted that the skies were getting darker and the winds were increasing. Schmidt grounded out to shortstop to end the inning.
Sandberg walked on four pitches to lead off the Cubs third. He stole second and advanced to third on Mark Grace's sacrifice bunt. One out later, Rafael Palmeiro lofted a soft liner into right field and scored Sandberg to give the Cubs a 3-1 lead.8 Law swung and missed at Gross' first pitch and Palmeiro was caught stealing second.
The fourth inning began with Lance Parrish being called out on strikes. Chris James' ground ball deflected off the pitcher's mound and landed on Sandberg's glove side of second base, and the Gold Glove defender spun around and threw to first for the out. Ricky Jordan kept the inning alive by lining an outside pitch off the right field fence for a triple, but after fouling off three straight pitches, shortstop Steve Jeltz struck out swinging to end another Phillies rally.
As soon as the top of the fourth ended, a heavy rain began, accompanied by wind, thunder, and lightning. Four Cubs—catcher Jody Davis and pitchers Les Lancaster, Al Nipper, and Greg Maddux ran from the dugout and slid onto the wet infield tarp.9 Some fans also attempted this feat and one crashed into the brick wall near third base so hard that he had to be helped from the field.
At 10:25 P.M., the game was postponed after a two-hour, 10-minute rain delay.10
Wrigley Field hosted its first official MLB night game the next evening, and the game was televised on NBC. The Cubs scored four runs in the seventh inning en route to a 6-4 rain-free victory over the Mets.
STEVEN GLASSMAN has been a SABR member since 1994 and regularly makes presentations for the Connie Mack Chapter. SABR 45 was his 10th convention. "Philadelphia's Other Hall of Famers" was published for the SABR 43 online edition of "The National Pastime." Steven has made five convention poster presentations, most recently, "The Gulf States and Lone Star League" (SABR 44). He also made three oral presentations at SABR nationals, most recently "A History of the Houston Colt .45s and Astros in The Rule Five Draft."
Sources
Books
Sloan, Dave ed. 1989. The Sporting News Official Baseball Guide, 1989 Edition. St. Louis: The Sporting News. 13-15, 65.
Magazines
Fimrite, Ron, "Out of the Darkness," Sports Illustrated, August 15, 1988.
Goddard, Joe, "Notebook: N.L. East," The Sporting News, August 29, 1988.
Nightingale, Dave, "Let There Be Lights!" The Sporting News, May 30, 1988.
_______________, "It Works Out That Elia Will Help Cubs See Light," The Sporting News, July, 4, 1988.
Television
Philadelphia Phillies at Chicago Cubs. 1988. Aired August 8 on WTXF. Maxell Epitaxial Video Cassette Model T-120.
New York Mets at Chicago Cubs. 1988. Aired August 9 on NBC. Maxell Epitaxial Video Cassette Model T-120.
Websites
www.archives.chicagotribune.com
www.baseballanerica.com
www.baseball-reference.com
www.retrosheet.org
www.sabr.org
Notes
1 The compromise ordinance originally scheduled eight 1988 night games. The Phillies and Cubs were originally scheduled to play at 3:05 P.M.
2 This set an MLB record. There were 275 in Cincinnati when Pete Rose broke Ty Cobb's career hit record on September 11, 1985. (Years later it was found that Cobb had fewer hits than previously thought, meaning he actually broke the record in Chicago on September 8.) Ned Colletti would become the Cubs' Vice President of Baseball Operations in 1993. He later worked in the San Francisco Giants front office (1995–2005) and was the Los Angeles Dodgers' General Manager from 2005 through 2014.
3 Harry Caray and Dewayne Staats were the Cubs' television announcers. Steve Stone provided color commentary.
4 Harry Kalas and Andy Musser were the Phillies' television announcers, while Richie Ashburn provided color commentary.
5 Murray and Harmon also appeared during the WGN television broadcast.
6 The Cubs finished the season in fourth with a 77–85–1 record, 24 games behind the Mets. The Phillies finished sixth (and last), 65–96–1, 35½ games behind. This was Philadelphia's first last place finish since 1973.
7 Since the game was not official, Bradley lost his sixth homer of the season (58th career) and Sandberg lost his 12th (102nd).
8 Palmeiro's third-inning single extended his hitting streak to 18 games, but it also did not count. He officially extended it August 9 and finished with a 20-game streak.
9 Les Lancaster went on the 21-day disabled list July 23 following an appendectomy. He was activated August 12. Cubs' GM Jim Frey later fined the foursome $500 each.
10 The rainout was rescheduled as part of a September 5 doubleheader. The Phillies played their first Wrigley Field night game on September 6 and won 3–2.
https://sabr.org/wp-content/uploads/2011/06/IMG_1325-scaled.jpg
1753
2560
admin
/wp-content/uploads/2020/02/sabr_logo.png
admin
2015-07-15 13:23:10
2022-08-08 16:19:31
The Game That Was Not—Philadelphia Phillies at Chicago Cubs, August 8, 1988