The Longest No-Hitter in San Diego Padres History: Dick Ward's 1938 Extra-Inning Masterpiece
This article was written by Gordon J. Gattie
This article was published in The National Pastime: Pacific Ghosts (San Diego, 2019)
---
Nearly 300 no-hitters have been thrown in the major leagues since 1876, but none of them have been thrown by a San Diego Padre. The closest any Padres pitcher has come to pitching immortality since San Diego joined the National League was on July 18, 1972, when Steve Arlin pitched 8⅔ hitless innings against the Philadelphia Phillies before Denny Doyle singled to left field.1 However, many Padres fans believe the major-league franchise's best chance at a no-hitter happened on July 21, 1970, when Clay Kirby fired eight no-hit innings against the New York Mets before he was lifted for a pinch-hitter in the bottom of the eighth.2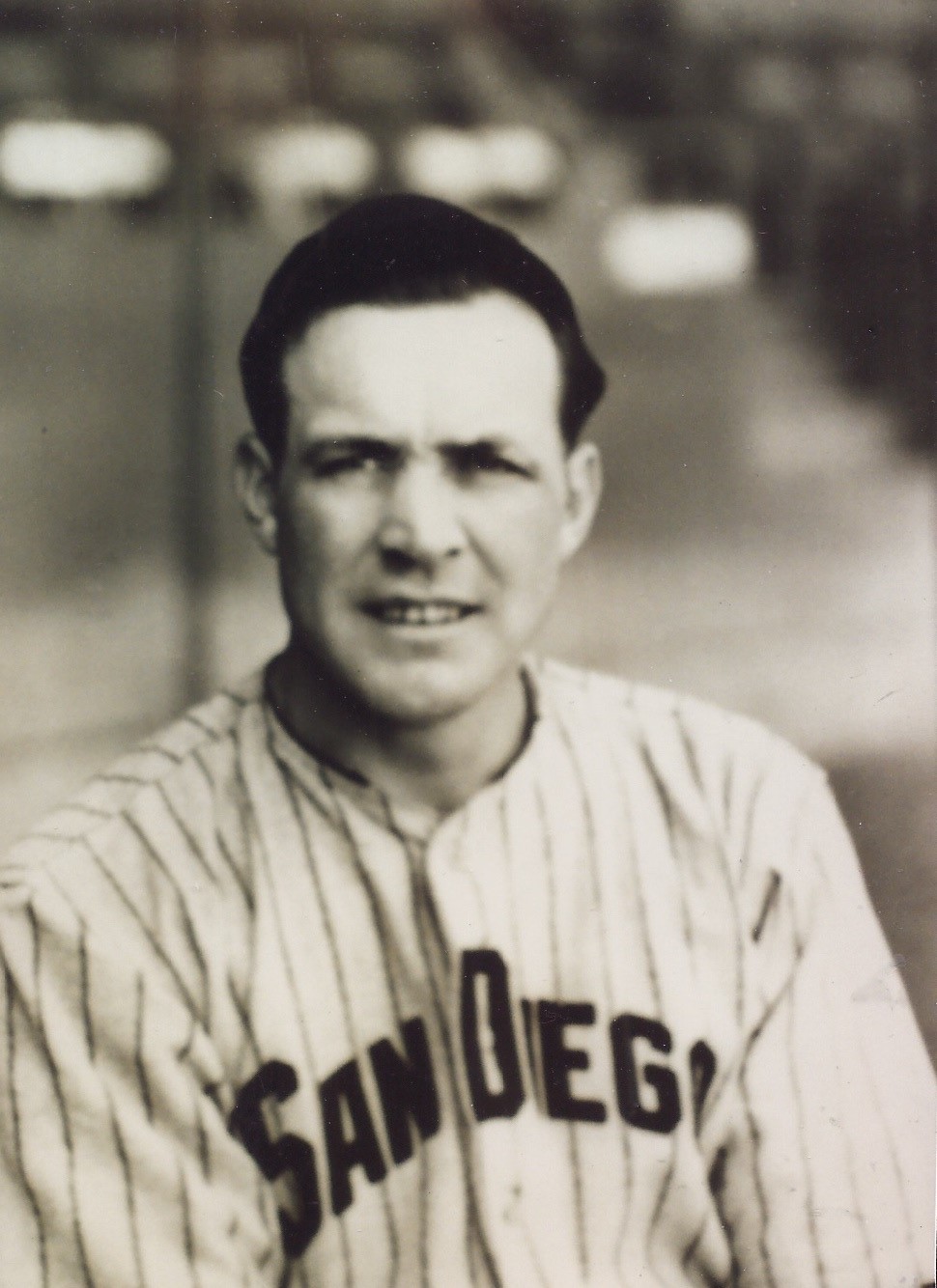 Long before the Padres' major-league no-hit shortcomings, though, Dick Ward, pitching for the Pacific Coast League's San Diego Padres, threw 12⅔ innings of no-hit ball during a 16-inning 1-0 marathon victory over the Los Angeles Angels on August 30, 1938. Ward earned the complete-game shutout, allowing two hits and four walks while striking out three.3 Even though Los Angeles managed two base hits during extra innings, Ward allowing no hits through the first nine innings, satisfying the PCL's current definition for a no-hitter.4
Dick Ward was a journeyman minor-league pitcher playing in his seventh season of organized baseball when he threw his 16-inning shutout. He debuted professionally as a 23-year-old with the Wichita Aviators of the Western League during the 1932 season, and later that year advanced to the Angels in the PCL. The Angels were retooling for the 1932 season, transitioning from an independent minor-league club to a Chicago Cubs affiliate, and they needed to rebuild their pitching staff. Ward was among the rookie hurlers fighting for a rotation spot.5
Following a slow spring, he started the season in Wichita and was recalled to Los Angeles in August,6 where he compiled an 4-3 record and 4.87 ERA over 61 innings during his first experience in the Pacific Coast League.7 Ward won 25 games for Los Angeles the following year, finishing second on the ballclub in wins, second in ERA (3.25), and third in innings pitched (285). He returned to the Angels in 1934 though he made his major-league debut for the Cubs on May 3, pitching a scoreless ninth inning against the Boston Braves. Ward pitched in two more games before returning to Los Angeles.
On November 21, 1934, he was traded to the St. Louis Cardinals with pitcher Bud Tinning for pitcher Tex Carleton; the Cardinals hoped Ward would translate his PCL success into wins at the big-league level.8 Unfortunately, Ward only appeared in one game with St. Louis, walking the only batter he faced to open the eighth inning of the July 23, 1935, game against the New York Giants. He returned to the PCL with the Seattle Indians. The following season he arrived in San Diego, where he played for the Padres from 1936 through '39.
The 1937 Padres finished third in the PCL with a 97–81 record, five games behind the first-place Sacramento Solons. In the playoffs, San Diego swept Sacramento in four games, then swept the Portland Beavers to capture the PCL title. Ward, whom The Sporting News called "hotter than a house ablaze," fired a four-hitter in the second game of the championship series, striking out five and walking one as San Diego extended its series lead to 2–0.9
Heading into the 1938 season, baseball pundits were picking San Diego to repeat as PCL champions unless the San Francisco Seals, who were swept by Portland during the first round in '37, could find additional effective pitching.10 The 1938 PCL pennant race was close from the start; two weeks into the season the top five clubs were separated by two games, though San Diego and Oakland sunk to the basement with 3-12 records, seven games behind Portland.11 The injury-depleted Padres dramatically improved their position following a nine-game winning streak in late April and early May, which included two 16–1 victories during a May 1 doubleheader against San Francisco as San Diego fielded its full lineup of regulars for the first time all season.12 The PCL race was hotly contested all season long; on May 9, the Padres held a single-game lead over Los Angeles, Hollywood, and Portland, who were all tied for second place.13
As August 1938 was winding down, the Los Angeles Angels were enjoying a slight lead over Sacramento for the PCL lead. Following the games played on August 29, the 90-64 Angels maintained a four-game lead over Solons, with the Padres 10½ games behind Los Angeles.14 The August 30 series opener between Los Angeles and San Diego marked the beginning of the Angels' final road stretch; they sent southpaw Ray Prim to the mound while initial reports indicated either Jim Chaplin or Howard Craghead would start for the Padres.15 Prim had struggled with his control during his previous two starts and was eager to improve it against slumping San Diego.
Padres manager Frank Shellenback, who may be best known for his spitball and as Ted Williams's manager, selected Ward to start against the Angels that day. Shellenback pitched for two seasons with the Chicago White Sox, earning the win against the Cleveland Indians on May 8, 1918, in his major-league debut and pitching in eight games during the 1919 season. He finished 1919 with the Minneapolis Millers in the American Association; as a result, he wasn't listed on a major-league roster when MLB declared the spitball illegal and wasn't among those grandfathered in to continue throwing the pitch legally in the majors.16 Shellenback pitched in the PCL, where his spitball wasn't banned, through 1938, and managed Hollywood in 1935 and then San Diego in 1936–38 before returning to the majors as a pitching coach. He was a member of the PCL's inaugural Hall of Fame class in 1943, and he holds the record for most career wins (296) and innings pitched (4,184⅓).17
Ward started strong, allowing no hits or walks to Los Angeles through four innings. Prim allowed a lone hit during each of the first four frames to San Diego, but the Padres couldn't score. From the fifth through seventh innings, both Ward and Prim kept their opponents hitless. In the ninth inning, the Angels finally had a baserunner when Ward issued his first walk. Prim gave up two hits during the last two innings, but the teams remained scoreless through regulation. Finally, with two outs in the 13th inning, Angels second baseman Eddie Mayo singled to end Ward's no-hit bid. Los Angeles third baseman Charlie English singled in the 14th. The marathon game ended in the 16th inning when Padres right fielder Dom Dallessandro walked, reached second on Joe Berkowitz's sacrifice, reached third on first baseman Spence Harris's bunt, and scored when second baseman Al Niemiec singled him home with the game's only run.18
Ward's 12⅔-inning performance remains the longest no-hitter in PCL history.19 Tough-luck losing pitcher Prim allowed one run on nine hits over 15-plus innings, striking out six and walking five. Ward delivered two base hits, as did Dallessandro and third baseman Joe Berkowitz. Ward also led his team with six assists on the defensive side. Only two of the teams' combined 11 hits went for extra bases: Harris tripled and Dallessandro doubled during regulation. Both team's leadoff hitters and center fielders, Jigger Statz for Los Angeles and Hal Patchett for San Diego, endured 0-for-7 afternoons.
Ward's gem was not only the longest no-hitter in Padres history, it was also the first. Four more Padres threw no-hitters, although the next one didn't occur until over two decades later. In May 1959, Russ Heman threw a no-hitter against the Vancouver Mounties. Later that month, on the same evening that the Pittsburgh Pirates' Harvey Haddix delivered 12 perfect innings before losing 1-0 to the Milwaukee Braves in 13, Padres pitcher Dick Stigman no-hit Salt Lake through 10⅔ innings, and continued to shut out the Bees through the 12th before Pete Wojey relieved him in the 13th. The Padres eventually defeated the Bees 1-0 in 15 innings.20 Table 1 lists the five no-hitters for the PCL Padres:
Table 1. PCL San Diego Padres No-Hitters21
| | | | | | | |
| --- | --- | --- | --- | --- | --- | --- |
| Date | Pitcher | Opponent | SD Outcome | Starter no-hit IP | Total IP | Hits Allowed |
| 8/30/1938 | Dick Ward | L.A. Angels | Won 1-0 | 12.2 | 16 | 2 |
| 5/7/1959 | Russ Heman | Vancouver | Won 2-0 | 9 | 9 | 0 |
| 5/26/1959 | Dick Stigman | Salt Lake City | Won 1-0 | 10.2 | 12 | 1 |
| 8/26/1961 | Al Worthington | Hawaii | Won 5-0 | 9 | 9 | 0 |
| 8/14/1962 | Sammy Ellis | Tacoma | Won 4-0 | 9 | 9 | 0 |
Interestingly, the definition of a no-hitter varies between the majors and the Pacific Coast League. In September 1991 under MLB commissioner Fay Vincent, the MLB committee on statistical accuracy provided the first official definition of a no-hitter, which declared "a no-hitter to be a game of nine innings or more that ends with no hits," which eliminates games that were shortened by rain, darkness, or other reasons; losing efforts by the away team when the home team leads after 8½ innings; and games where a hit was yielded in extra innings.22 Using MLB's definition, Ward's accomplishment would not be classified as a no-hitter.
The major-league Padres have endured 20 no-hitter close calls, when San Diego pitchers have carried a no-hitter into the eighth inning or beyond, from Kirby's eight no-hit innings in 1970 to Odrisamer Despaigne's 7⅔ innings of no-hit baseball in 2014, also against the Mets, before Daniel Murphy doubled. And Padres pitchers have pitched 28 one-hitters since 1969.23
Table 2 lists the five Padres no-hit bids that were spoiled in the ninth inning. An odd quirk is that the Padres have never shut out their opponent after losing a no-hit bid in the ninth.
Table 2. MLB San Diego Padres No-Hit Bids Lost During Ninth Inning (Through 2018)

| | | | | |
| --- | --- | --- | --- | --- |
| Date | Pitcher(s) | Opponent | SD Outcome | Spoiler |
| 7/21/1970 | Clay Kirby | N.Y. Mets | Lost 3-0 | Bud Harrelson 1B (0 outs) |
| 7/18/1972 | Steve Arlin | Philadelphia | Won 5-1 | Denny Doyle 1B (2 outs) |
| 9/5/1997 | Andy Ashby | Atlanta | Won 6-2 | Kenny Lofton 1B (0 outs) |
| 9/22/2006 | Chris Young | Pittsburgh | Won 6-2 | Joe Randa HR (1 out) |
| 7/9/2011 | Combined | L.A. Dodgers | Lost 1-0 | Juan Uribe 2B (2 outs) |
Ward's PCL record 12⅔ no-hit innings broke the record of 10 thrown by the Beavers' Al Carson in 1909 and by the Oakland Oaks' Bill Prough in 1916.24 Ward pitched one more season in the PCL, starting the year with San Diego before returning to the Angels and finishing his career. He compiled an 80–58 record over 186 games and 1,092 innings covering eight different minor-league seasons.
GORDON J. GATTIE is an engineer for the US Navy. His baseball research interests include ballparks, historical records, and statistical analysis. A SABR member since 1998, Gordon earned his PhD. from SUNY Buffalo, where he used baseball to investigate judgment performance in complex dynamic environments. Ever the optimist, Gordon dreams of a Cleveland Indians-Washington Nationals World Series matchup. Lisa, his wonderful wife who also enjoys baseball, continues to challenge him by supporting the Yankees. Gordon has contributed to multiple SABR publications and the Games Project.
Additional Sources
2018 Pacific Coast League Sketch & Record Book
Baseball Reference: http://www.baseball-reference.com
Beverage, Richard. The Los Angeles Angels of the Pacific Coast League: A History, 1903-1957. Jefferson, NC: McFarland & Company, 2011.
Johnson, Lloyd and Miles Wolff. Encyclopedia of Minor League Baseball: The Official Record of Minor League Baseball (Third Edition). Durham, NC: Baseball America, 2007.
Retrosheet: http://www.retrosheet.org/
SABR Baseball Games Project: http://sabr.org/gamesproject
San Diego Union-Tribune
Notes
1 Combined News Services, "Arlin's no-hit bid spoiled by Phils in ninth," Independent (Long Beach, CA), July 19, 1972.
2 Tom Saladino, "Gomez Lifts No-Hit Hurler In 8th," Fresno Bee, July 22, 1970.
3 Associated Press, "Dick Ward Sets Record," Oakland Tribune, August 31, 1938.
4 "Pacific Coast League No-Hit Games," MILB.com, http://www.milb.com/content/page.jsp?ymd=20080317&content_id=361099&sid=l112&vkey=league1.
5 Ralph Huston, "Angel Pitchers and Catchers Report Today," Los Angeles Times, February 29, 1932.
6 United Press, "Angels Recall Pitcher," Santa Maria Times (Santa Maria, CA), August 22, 1932: 6.
7 Associated Press, "Angels Release Four Recruits," San Francisco Examiner, April 8, 1932; United Press, "Angels Recall Pitcher," Santa Maria Times, August 22, 1932.
8 Dick Farrington, "Davis Slated To Go In Next Card Deal," The Sporting News, November 29, 1934.
9 Earl Keller, "Hot Padres Capture Play-off And Title," The Sporting News, October 7, 1937.
10 Eddie Murphy, "Oaks Face Solons at Capital In League Opener Tomorrow," Oakland Tribune, April 1, 1938.
11 "Standings," Los Angeles Times, April 17, 1938.
12 "Padre Win Streak Ends,"Los Angeles Times, May 9, 1938; Earl Keller, "Padres Win Column Padded By 9 In Row," The Sporting News, May 12, 1938.
13 "Major, Coast League Races," Los Angeles Times, May 9, 1938.
14 "Major, Coast League Races," Oakland Tribune, August 30, 1938.
15 Bob Ray, "Stars, Suds Mix Tonight," Los Angeles Times, August 30, 1938.
16 Brian McKenna, "Frank Shellenback," SABR BioProject, https://sabr.org/bioproj/person/4489ca47.
17 "Frank Shellenback," MILB.com, http://www.milb.com/content/page.jsp?sid=l112&ymd=20110804&content_id=22740344&vkey=league3.
18 Associated Press, "Dick Ward Hurls Padres to 1-0 Victory, 16 Innings," San Francisco Examiner, August 31, 1938.
19 Pacific Coast League No-Hit Games, MILB.com.
20 United Press International, "San Diegan Shares Haddix' Feelings," Herald and News (Klamath Falls, OR), May 27, 1959.
21 Associated Press, "Dick Ward Sets Record," Oakland Tribune, August 31, 1938; Associated Press, "Russ Heman Hurls No-Hit, No-Run Game in PCL," Arizona Daily Star (Tucson, AZ), May 8, 1959; UPI, "San Diegan Shares Haddix' Feelings"; "Al Worthington Hurls No-Hitter," Los Angeles Times, August 27, 1961; Associated Press, "Padres' Ellis In No-Hitter," Los Angeles Times, August 15, 1962.
22 Dirk Lammers, "No-Nos Knocked Off the Books," in No-Hitters, ed. Bill Nowlin (Phoenix: SABR, 2017), 518–23.
23 "History & Records: Low-Hit Games," in Darren Feeney, ed., 2018 San Diego Padres Media Guide (San Diego: San Diego Padres, 2018), 210.
24 Associated Press, "San Diego Moundman Chalks Up Record In Whitewashing Angles," Medford Mail Tribune (Medford, OR), August 31, 1938.
https://sabr.org/wp-content/uploads/2020/03/research-collection4_350x300.jpg
300
350
admin
/wp-content/uploads/2020/02/sabr_logo.png
admin
2019-08-07 11:39:23
2021-05-19 23:41:53
The Longest No-Hitter in San Diego Padres History: Dick Ward's 1938 Extra-Inning Masterpiece