The (Movie) Hollywood Stars Game
This article was written by Mark Langill
This article was published in The National Pastime: Endless Seasons: Baseball in Southern California (2011)
---
Long before the Dodgers spied the bright lights and greener pastures of the West Coast, baseball and Hollywood brought together ballplayers and actors gladly willing to exchange hats for the "Hollywood Stars" game.Long before the Dodgers spied the bright lights and greener pastures of the West Coast, baseball and Hollywood brought together ballplayers and actors gladly willing to exchange hats.
The "Hollywood Stars" game was the brainchild of Danny Goodman, who had taken charge of concessions and promotions for the Pacific Coast League Hollywood Stars when they opened Gilmore Field in 1938. The Stars' majority owner was Bob Cobb, inventor of the Cobb Salad and owner of the Brown Derby restaurant chain. Several Hollywood Stars of the movie variety—Bing Crosby, Gary Cooper, Cecil B. DeMille, Gene Autry, Barbara Stanwyck, George Raft, Robert Taylor, William Powell, and both George Burns and Grace Allen—were minority owners of the team. Goodman suggested a promotion of having the movie people play in a game and the tradition began.
When the Dodgers moved to Los Angeles, Walter O'Malley brought most of his executive team with him. Goodman was one of the few local people hired. Goodman's malapropisms were as famous as those Joe Garagiola would later attribute to Yogi Berra.
When he proposed to O'Malley that the Hollywood Stars game promotion be continued, the owner asked, "Will you be able to get the stars?"
"Are you kidding?" Goodman replied. "I'll get you stars you've never heard of!"
Goodman's longtime association with the Friar's Club in Beverly Hills as entertainment committee chairman padded the Hollywood Stars rosters. While the Brooklyn Dodgers were winning their first championship in 1955, Goodman had been the first "layman" honored with a roast. The toastmaster was Ronald Reagan and the dais included Jack Benny, George Burns, Phil Silvers, Dean Martin, Leo Durocher, Charlie Dressen, Red Sanders, Tom Harmon, Fred Haney, Casey Stengel, and Ty Cobb.
The Hollywood Stars game was a publicity bonanza for both sides and the talent roster through the 1960s continued to attract top Hollywood talent. The Dodgers roster was sprinkled with superstars such as Sandy Koufax, Don Drysdale, Maury Wills, and Tommy Davis. And the Dodgers employed a coach who carried a higher profile than manager Walter Alston in the entertainment world—Leo Durocher, who was married to actress Laraine Day and made several cameos on baseball-related episodes of The Munsters, The Beverly Hillbillies, and Mister Ed.
The large amount of foul territory at Dodger Stadium in those days allowed automobiles, along with other vehicles, to become props in whatever skit was needed for a particular Hollywood star playing in the game.
Kent McCord and Martin Milner, the TV stars of Adam-12, pulled onto the field in a squad car and "took away" the home plate umpire after a disputed call. Dean Martin arrived in a limo for his at-bat. Before the first pitch, he signaled to the car and a waitress jumped out and offered a martini on a silver tray. Martin took a sip and resumed his plate appearance.
After the photo-ops and planned routines, the stars actually played baseball. Their opponent usually was the winning team from a previous game—staged weeks earlier in a much emptier ballpark—pitting the local sportswriters versus the local sportscasters. Many stars were former athletes, including Chuck Connors, a former first baseman in the Brooklyn Dodger organization who was discovered by an MGM talent agent in 1952 while playing for the Los Angeles Angels, then a Chicago Cubs affiliate.
"The guy who impressed me was Dean Martin," said longtime Dodgers manager Tommy Lasorda. "I met him in the Hollywood game when I pitched for the Angels in 1957, along with other stars like Gordon MacRae, Forrest Tucker, and Soupy Sales. Dean was a great athlete."
For many of the Hollywood Stars, the game was just another opportunity for publicity. But for some it was a chance to fulfill every young man's dream of playing on a major league field before a large crowd.
In the 1970s Rob Reiner was starring as Michael "Meathead" Stivic on the Emmy-Award-winning comedy All in the Family. He'd played some in high school and was active in serious softball leagues. Now a 64-year-old director, Reiner's voice goes up a notch when he recalls his appearances and his memory pulls out details of at-bats and plays from nearly four decades ago. There was the single off Tom Niedenfuer (coyly announced as a reporter for a suburban newspaper).
There was the night he hit a ball to the warning track and another off the 375 sign in left center and (he thinks) circled the bases while Walter Matthau (then in his 50s) tried to track down the ball. There was the time he was playing left field and threw out a runner trying to score from second. Don Newcombe, pitch- ing for the Stars, told him, "Thanks for saving my shutout," Reiner recalls with relish. "That was the biggest. There were maybe 48,000 people in the stands and they went nuts."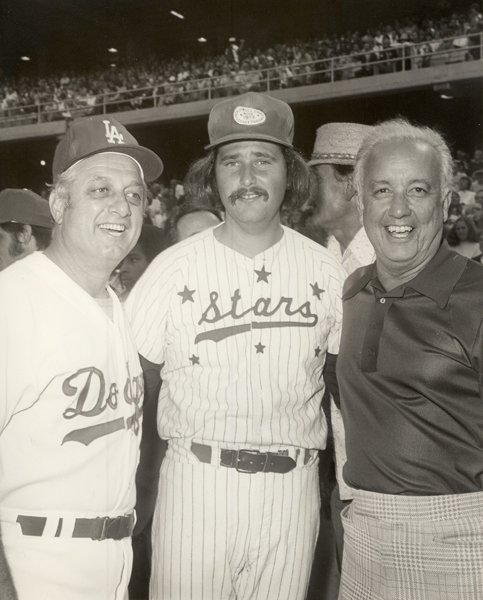 It was fun for Dodgers players as well. Wes Parker's favorite Hollywood Stars moment occurred as a rookie. "After the Hollywood game, Nat King Cole walked through the locker room," Parker said. "I went up to him and told him what a big fan I was and how I appreciated listening to his music in person at the Coconut Grove. He said, 'You're a fine young player and you have a bright future.' I'm glad I had a chance to tell him because he passed away the following spring."
"I remember my first Hollywood Stars game was about 1970," says Steve Garvey. "I walked into the dugout early that afternoon and there was Jack Benny, Walter Matthau, Jerry Lewis, and some young actors at the time who had just made their first movie and went on to become big stars. I got some autographs myself!"
"We've always had a tremendous following from Hollywood," said Ron Cey. "And it wasn't just for the Hollywood Stars game. They came around a lot. We had all sorts of walks of life here—Milton Berle, Billy Crystal, Tony Danza, Dean Martin, Kareem Abdul- Jabbar. I remember getting my picture taken with Jack Benny."
One of the enduring images of Hollywood Stars Night is Billy Barty and Kareem Abdul-Jabbar, polar opposites in terms of height, but who both brought unique athletic perspectives to the game. Barty founded Little People of America, which promoted the rights of others with dwarfism. Barty was a good athlete and even played football at Los Angeles City College.
Abdul-Jabbar took the "giant" role in stride. Usually in the middle of his plate appearance, time would be called and two stars would carry an oversized bat for Abdul-Jabbar to swing. But running around on the field and playing first base, Kareem in his heart was enjoying playing baseball.
Born Lew Alcindor on April 16, 1947, the day after Jackie Robinson's historic debut, Abdul-Jabbar was a childhood fan of the Brooklyn Dodgers. When Duke Snider's uniform No. 4 was retired by the Dodgers during Old Timers Day ceremonies in 1980, Abdul-Jabbar showed up for the ceremony and talked his way onto the field as the reigning star of the Los Angeles Lakers.He carefully carried some black-and-white snapshots and told Snider, "I took these at Camera Day in 1956 when my mother took me to Ebbets Field. May I have your autograph?"
"Kareem was the crossover athlete people enjoyed seeing because of his height and presence," Garvey said.
In the 1970s Garvey struck a friendship with Ron Masak, the veteran actor and voiceover artist best known as the sheriff in Murder, She Wrote and who became a longtime catcher in the Stars game. Over the course of 30 years, Masak's favorite memories include comedian Jon Lovitz taking a turn at the microphone and overly praising Brandon Tartikoff to the point where the NBC president couldn't swing because he was laughing so hard.
"The first time I played, they had Jack Lemmon and Walter Matthau both playing center field as 'The Odd Couple,'" Masak said. "Jack Gilardi, one of the co- producers with Joe Siegman, said, 'Can anyone here catch?' No one answered, so I said, 'If no one is crazy enough, I will.' So they asked Steve Yeager to get me some catching gear and as we walked by Alston, Yeager said, 'You wearing a cup?' I said, 'Hell, I haven't even got a saucer.' Yeager said it was the biggest laugh he had ever seen from Alston.
"Every year in the clubhouse, we were just a bunch of guys ready to live out a dream and play on the same field used by great players like Koufax, Drysdale, and Garvey. It was better than Oscar night."
MARK LANGILL is the Publications Editor and Team Historian of the Los Angeles Dodgers. A member of the front office since 1994, he previously covered the ballclub as the beat reporter for the Pasadena Star-News, 1989–93.
https://sabr.org/wp-content/uploads/2011/08/starspromo.jpg
790
1000
admin
/wp-content/uploads/2020/02/sabr_logo.png
admin
2011-08-04 21:27:15
2011-08-04 21:27:15
The (Movie) Hollywood Stars Game