'The Necessities': Al Campanis's Moment of Truth
This article was written by Warren Corbett
This article was published in Jackie Robinson: Perspectives on 42
---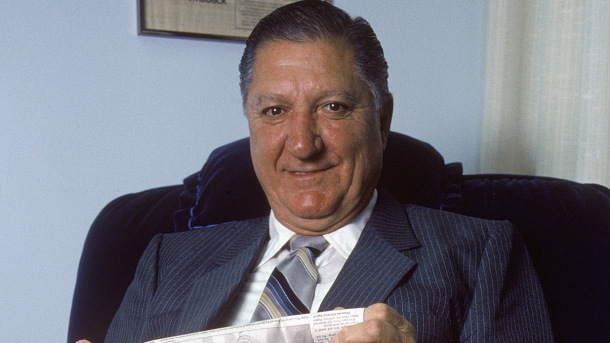 April 6, 1987, was a slow news day. President Reagan spoke to the Canadian Parliament, hardly a reason to stop the presses. Republican former quarterback Jack Kemp announced his candidacy to succeed Reagan in 1988. The Dow Jones Industrial Average topped 2,400 for the first time. It was Opening Day for 16 of the 26 major-league teams.
With no headlines screaming for attention that Monday, producers of the ABC News program Nightline turned away from their usual topics, the latest controversies in national and world politics, to commemorate the 40th anniversary of a heroic moment: Jackie Robinson's major-league debut. Nightline anchorman Ted Koppel later said he expected a feel-good half-hour of "rather bland if warm clichés about one of the great men in baseball."1
But nothing in Jackie Robinson's short life was bland. Nearly 15 years after his death, he could still stir up a storm. This time the tempest sank one of his former teammates, Dodgers general manager Al Campanis.
Campanis had played shortstop beside second baseman Robinson on the 1946 Montreal Royals, in the pioneer's first season in White baseball. "Al Campanis was a good guy," Robinson once said. "He was very good on integration when it counted."2 The two were close enough that Robinson was a guest for show-and-tell in the classroom of Campanis's son Jimmy.
On Nightline, Koppel, anchoring the program in Washington, introduced a taped interview with Rachel Robinson, who said her husband had been frustrated by the way baseball cast aside its African-American players and resisted hiring Black men as managers or front-office executives.
In his last visit to a ballpark, when he threw out the first ball for Game Two of the 1972 World Series, Jackie Robinson had said, "I am extremely proud and pleased but I will be more pleased when I can look over there and see a Black manager."3 By 1987, Frank Robinson, Larry Doby, and Maury Wills had managed in the majors, and Bill Lucas of the Braves had served as the first Black general manager (although he didn't hold the title), but at the time there were no African-Americans in either job.
Koppel turned to his live guests: Roger Kahn, author of The Boys of Summer and a friend of Robinson's, spoke from a New York studio, and Campanis sat alone under a spotlight behind home plate in the Houston Astrodome, where the Dodgers had played their opening game that night.
Just before Nightline went on the air, Koppel had told Kahn, "I grew up in England and I don't know much about baseball, so you may have to carry this show."4 The anchorman was an international affairs specialist, but he was well briefed by his staff and was one of the premier interviewers who ever sat before a live television camera. First, he lobbed a few softballs, inviting Kahn and Campanis to reminisce about Robinson, then he threw a high, hard one.
Koppel: Mr. Campanis, it's a legitimate question for you. You were a friend of Jackie Robinson, but it's a tough question for you. You're still in baseball. Why is it that there are no Black managers, no Black general managers, no Black owners?
Campanis: Well, Mr. Koppel, there have been some Black managers, but I really can't answer that question directly. The only thing I can say is that you have to pay your dues when you become a manager. Generally you have to go to the minor leagues. There's not very much pay involved, and some of the better-known Black players have been able to get into other fields and make a pretty good living in that way.
Koppel: You know that that's a lot of baloney. There are a lot of great Black players, great Black baseball men, who would dearly love to be in managerial positions. … Is there still that much prejudice in baseball today?
Campanis: No, I don't believe it's prejudice. I truly believe that they may not have some of the, uh, necessities, uh, to be, uh, let's say, a field manager or perhaps a general manager.
Koppel: Do you really believe that?
Campanis: Well, I don't say that all of them, but they certainly are short. How many quarterbacks do you have, how many pitchers do you have that are Black?
Koppel: Yeah, but I gotta tell you, that sounds like the same sort of garbage we were hearing 40 years ago about players.
Campanis: No, it's not garbage, Mr. Koppel. … Why are Black men or Black people not good swimmers? Because they don't have the buoyancy.
Koppel: It may just be because they don't have access to all the country clubs and the pools.
During a commercial break, producer Rick Kaplan remembered, "Ted was trying to help him. I've never seen Ted off-air try to bring the guy back and say, 'Al, are you hearing yourself? Do you hear what you're saying? Are you sure you don't want to rethink that?'"5 When the interview resumed, Koppel bent over backward to let his guest repair the damage.
Koppel: From everything I can understand, you're a very decent man and a highly respected man in baseball. … I'd like to give you another chance to dig yourself out, 'cause I think you need it.
Campanis: Well, let me just say this, Mr. Koppel. How many executives do you have on a high echelon in your business, in TV? How many Black anchormen do you have?
Koppel: You're exactly right. Fortunately there are a few Black anchormen. But if you want me to tell you why there aren't many Black executives, I'm not gonna tell you it's because the Blacks are not intelligent enough. I'm gonna tell you it is that whites have been running the establishment of broadcasting, just as they have been running the establishment of baseball, for too long and seem to be reluctant to give up power. I mean, that's what it finally boils down to, isn't it?
Campanis: Well, we have scouts in our organization who are Black and they're very capable people. I have never said that Blacks are not intelligent. I think many of them are highly intelligent. But they may not have the desire to be in the front office. I know that they have wanted to manage and some of them have managed. But they're outstanding athletes, very God-gifted, and they're very wonderful people. And that's all I can tell you about it.
After some comments from Kahn, Koppel went back to Campanis and reminded him that it had been 40 years since Robinson first played in the majors.
Koppel: It seems so strange that we are able to see integration on the field and not be able to visualize it in the managerial suite. And in all fairness, Mr. Campanis, you're right – not be able to visualize it in the executive ranks of the networks and some of the major newspapers. You're right, we've all been much too slow. What reasons do you attribute that to, Mr. Campanis?
Campanis: I think that Jackie Robinson probably did more for the acceptance of a Black athlete than anyone that I have seen or known. But what you gotta realize is that when you had the problems from the Civil War, it becomes a thing that doesn't happen overnight. I think Jackie did a tremendous job in making the Black athlete acceptable in the areas in which that had never occurred before, namely playing professional, major-league baseball. And if you look back and think about the fact that it took so long for an athlete, you've got to realize that it's also going to take a little while for executives and managers.
Koppel: How many generations is this going to take, do you think?
Campanis: I don't have a crystal ball, Mr. Koppel, but I can only tell you that I think we are progressing very well in the game of baseball. We have not stopped the Black man from becoming an executive. They also have to have the desire, just as Jackie Robinson had the desire to become an outstanding ballplayer.
Roger Kahn, interjecting: I can't imagine that there is no Black that has the desire to be a major-league general manager. There's a Don King in boxing who seems to be a pretty good entrepreneur. There has never been a Black owner of a major-league baseball team. I don't know why. In a business where about a third of the ballplayers are Black, perhaps a little more, it's about time we had a Black president of a team.
Koppel: Just as a matter of curiosity, Mr. Campanis, what is the percentage of Black ballplayers, for example, in your franchise?
Campanis: I would say, I think Roger mentioned that about a third of the players are Black, and that might be a pretty good number. And deservedly so, because they are outstanding athletes. They are gifted with great musculature and various other things. They're fleet of foot. And this is why there are a lot of Black major league ballplayers. Now as far as having the background to become club presidents, or presidents of a bank, I don't know. But I do know, when I look at a Black ballplayer, I am looking at him physically and whether he has the mental approach to play in the big leagues.
(The interview, transcribed from YouTube, has been edited for clarity and to eliminate redundancy and irrelevant comments.)
Right after the program, Dodgers broadcaster Vin Scully, who hadn't seen it, found his former roomie "pale and shaking." "I think I fucked up," Campanis told him.6 The next day he issued a public apology, saying "my statements have been misconstrued" and adding, "This is the saddest moment of my entire career."
The reaction was brutal. Rachel Robinson was "appalled." Henry Aaron said baseball couldn't eliminate racial prejudice "because you still have people like Campanis with his beliefs."7
"He just said what a lot of baseball people have been thinking for years," observed Frank Robinson, the first Black manager in the majors. "I'm glad it's finally out in the open, so we can address it."8
Those who knew Campanis stepped up to defend him. "I don't believe he has a prejudiced bone in his body," the Black former pitcher Don Newcombe said. Another Black former Dodger, Maury Wills, went to Campanis's home, picked up a ringing telephone, and said, "This is Maury Wills, a friend of Al Campanis." Campanis's son George remembered his father whipping him because he spoke the "N" word, "the only time my dad took a belt to me."9
Dodgers owner Peter O'Malley at first issued his own apology and said Campanis would not lose his job. Two days later, facing the raging bonfire of criticism, O'Malley forced him to resign. "I told Al I didn't have any choice," O'Malley said later, "and he understood."10
Trying to explain himself, Campanis told the Los Angeles Times's Jim Murray that he hadn't meant what he said or said what he meant: "When I said Blacks lacked the 'necessities' to be managers or general managers, I meant the necessary experience, not things like inherent intelligence or native ability."11 "Necessities" may have been a slip of the tongue, but he had rambled on in the same vein and worse.
A rumor circulated that Campanis had been drunk. Not so, said writer Bud Furillo, who had been sitting near him in the Astrodome press box that evening: "He was drinking Coca-Cola."12 Fred Claire, the Dodgers executive who succeeded him as GM, believed the 70-year-old Campanis was worn out at the end of a long day.13
Campanis's apologists charged that Koppel had ambushed him, but some acquaintances thought the interview sounded like typical Campanis – the manner of speaking, not the message. "He had a way of mangling the language," Los Angeles Times writer Mark Heisler recalled. "As much as I liked the guy, he would go off the point and say something weird so often, people actually wondered if he was senile, or just pretending to be that way to confuse them."14 The New York Times's George Vecsey said Campanis's convoluted conversations left listeners guessing what he was talking about: "He was a perfect example of why most of us should be cautious about appearing on live radio or television."15
For years afterward, Tommy Lasorda repeated, "They hung an innocent man."16 But nothing Campanis or his friends said mattered. He had written the first line of his obituary.
The backlash reverberated throughout baseball. Commissioner Peter Ueberroth hired an outspoken critic, the African-American sociologist Harry Edwards, as a consultant on minority hiring. And Edwards enlisted Campanis to assist him. "It wasn't a simple case of Al being a bigot," Edwards said, "to say he was just a bigot is simply wrong – people are more complex than that. To a certain extent, it was the culture Al was involved with. To a certain extent, it was a comfort with that culture."17
Ueberroth's initiative generated headlines, but little change. Two years later the National League installed a Black former player, Bill White, as its president, but White acknowledged that he made scant progress in persuading teams to add minorities to their executive ranks.18
In 47 years in baseball, Campanis had built a reputation as one of the game's great teachers and scouts. Born on the Greek island of Kos, he and his mother immigrated to New York when he was a child. He grew up speaking Greek with his family and Spanish with his neighbors, and learned French while playing in Montreal. He played football and baseball at New York University and earned a master's degree.
He got into seven games at second base for the Dodgers in a wartime major-league trial and spent the rest of his seven-year playing career in the minors. He managed in the Dodgers farm system, then did everything for the franchise except laundry: scout, instructor, spring-training coordinator, director of scouting, and banquet-circuit raconteur before he was promoted to GM after the death of Fresco Thompson in 1968. He devised the 20-to-80 grading system for players that became a scouting standard.
His book The Dodgers' Way to Play Baseball, published in 1954, was translated into at least four languages and became a standard text for youth coaches. The teaching bible was borrowed from his revered mentor, Branch Rickey. Fourteen tapes of Rickey's spring training lectures were among his prized possessions. He hung three photographs on his office wall: Robinson, Roberto Clemente, and Sandy Koufax. A Black man, a Puerto Rican, and a Jew.
When Los Angeles won its first pennant on Campanis's watch as GM in 1974, first baseman Steve Garvey was chosen the National League's most valuable player with Dodgers reliever Mike Marshall finishing third and center fielder Jimmy Wynn fifth in the sportswriters' voting. Marshall became the first relief pitcher to win the Cy Young Award. But columnist Jim Murray said the MVP was Campanis, who had drafted Garvey and the rest of the infield, and traded for Marshall, Wynn, starting pitcher Andy Messersmith, and others.19
Those few minutes on television wiped out all that he had achieved. He was never able to rehabilitate his reputation. The only baseball job he could find was as general manager of an independent-league team, the Palm Springs Suns. He wrote an autobiography, but no publisher would touch it. The Dodgers didn't shun him; O'Malley invited him to ballgames, and he visited his successor, Fred Claire, in his old office to talk baseball. He was a ghost haunting Dodger Stadium, "a forlorn and increasingly frail figure at ballparks and owners meetings, vainly seeking a job in the game," Ross Newhan wrote.20
His son Jim had played six years in the majors with Los Angeles, Kansas City, and Pittsburgh, where he was briefly a teammate of Clemente. His grandson Jimmy was drafted by Seattle in the third round in 1998 and topped out in Double A. Jimmy was the model for illustrations in his grandfather's instruction book for children, Play Ball with Roger the Dodger.21
Several years after the disastrous interview, Campanis heard that Ted Koppel was in Los Angeles. They met amiably for coffee. "I think there are a lot of genuine bigots in this country," Koppel said. "… I don't think Al was one of them."22
After suffering several strokes, Campanis died of coronary artery disease at 81 on June 21, 1998, Father's Day. "He didn't get a raw deal," Harry Edwards said, "he got the deal he ordered up, but he was one of the most honorable men in the whole process and he handled it with class, with conscientiousness and with courage."23
WARREN CORBETT is the author of The Wizard of Waxahachie: Paul Richards and the End of Baseball as We Knew It, as well as more than 100 SABR biographies and articles. He lives at Pawleys Island, South Carolina.
Acknowledgments
This story is adapted from the author's biography of Al Campanis for SABR's BioProject.
Notes
1 William Weinbaum, "The Legacy of Al Campanis," espn. com, April 1, 2012. espn.com/espn/otl/story/_/id/7751398/how-al-campanis-controversial-racial-remarks-cost-career-high-lighted-mlb-hiring-practices, accessed August 2, 2019.
2 Roger Kahn, A Season in the Sun (New York: Harper & Row, 1977), 39-40.
3 "To Thine Own Self Be True," The Sporting News, November 11, 1972: 14.
4 Bill Dwyre, "Kahn Sadly Recalls the Night of the Campanis Incident," Los Angeles Times, June 22, 1998: C8.
5 Weinbaum, "The Legacy."
6 Steve Springer, "The Nightline that Rocked Baseball," Los Angeles Times, April 6, 1997: C9.
7 "Some Answers No One Expected," New York Times, April 8, 1987: B10.
8 Peter Gammons, "The Campanis Affair," Sports Illustrated, April 20, 1987, si.com/vault/1987/04/20/106777673/scorecard, accessed August 2, 2019.
9 Ross Newhan, "A Lifetime Destroyed by His Own Words," Los Angeles Times, June 22, 1998: C1, C8.
10 Newhan, "Campanis, Ex-Dodger Official, Dies," Los Angeles Times, June 22, 1998: A17.
11 Jim Murray, "The Bitter Lesson for Campanis: Just Say 'No, Thanks,'" Los Angeles Times, July 2, 1987: III-5.
12 Steve Delsohn, True Blue (New York: William Morrow, 2001), 180.
13 Fred Claire with Steve Springer, My 30 Years in Dodger Blue (New York: Sports Publishing, 2004), 65.
14 Delsohn, True Blue, 182
15 George Vecsey, "Sports of the Times," New York Times, August 23, 1998: S2.
16 Springer, "The Nightline."
17 Weinbaum, "The Legacy."
18 Warren Corbett, "Bill White," SABR BioProject.
19 Murray, "The Dial-a-Pennant Man," Los Angeles Times, September 29, 1974: III-1.
20 Newhan, "Campanis, Ex-Dodger Official, Dies."
21 Jim Campanis Jr., Born into Baseball (South Orange, New Jersey: Summer Game Books, 2016), 15.
22 Delsohn, True Blue, 183.
23 Weinbaum, "The Legacy."
https://h2j7w4j4.stackpathcdn.com/wp-content/uploads/2020/03/research-collection4_350x300.jpg
300
350
sabr
/wp-content/uploads/2020/02/sabr_logo.png
sabr
2021-12-21 13:03:06
2021-12-21 13:03:06
'The Necessities': Al Campanis's Moment of Truth