1964 Cardinals book excerpt: Tim McCarver
Editor's note: This essay is an excerpt from "Drama and Pride in the Gateway City: The 1964 St. Louis Cardinals," edited by John Harry Stahl and Bill Nowlin, the fourth book in SABR's "Memorable Teams in Baseball History" series with the University of Nebraska Press (published April 1, 2013). You can order the 1964 Cardinals book from the University of Nebraska Press website or from the SABR Bookstore, powered by Amazon.com. The Memorable Teams in Baseball History series, written by SABR members as part of the Baseball Biography Project, will focus on iconic teams with an unquestionable legacy in baseball history. Each book will collect essays detailing the players, moments and games that define these teams. For a complete list of biographies included in the 1964 Cardinals book, click here.
By Dave Williams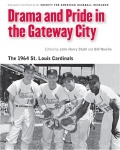 For those who saw Tim McCarver break in with the St. Louis Cardinals more than forty years ago, it is probably a surprise that he is now better known for his broadcasting career than for his days as a catcher. Not that he wasn't always articulate and glib, and that his finding a home in the broadcast booth is a shock; it's just that he was a pretty good ball player who was a major contributor on championship teams.
James Timothy McCarver was born October 16, 1941, in Memphis, Tennessee. A police officer's son, he had three brothers and one sister. Surprisingly, it is his sister Marilyn that he gave much of the credit to for his early development. She turned him into a left-handed hitter and worked with young Tim on his fielding. By the time he graduated from Christian Brothers High School in 1959, he was a three-sport athlete, shining in football and baseball. He was all-state in both sports as well as captain of both squads. His football team was a powerhouse that won twenty straight games. Tim was a standout at linebacker and was recruited by both Tennessee and Notre Dame. He played American Legion ball for Tony Gagliano, uncle of Phil Gagliano, who also later played with Tim in St. Louis.
McCarver was signed by Cardinals scout Buddy Lewis for $75,000. The New York Yankees were also interested in him. His first assignment was at Keokuk of the Midwest League, where Brent Musburger served as home plate umpire in Tim's first professional game. One can only imagine the in-game chatter between those two future broadcast legends. He hit .360 in 275 at bats and then was promoted to Rochester of the International League, where he hit .357 in 70 at bats. This earned Tim a late-season promotion to the Majors and his first look at big-league pitching: he had 4 hits in 24 at bats (.167).
In 1960 McCarver had a big year at Memphis of the Southern Association. He batted .347 — good for second in the league. This earned him another late-season call-up to the big leagues. He appeared in ten games for the Cards and batted .200 with 2 hits in 10 at bats. The year 1961 would not be so kind, however. He stumbled to a .229 average while playing for San Juan/Charleston of the International League. Another promotion to the Cards saw him get his first significant playing time in the Majors. Tim appeared in twenty games and had 67 at bats. The results weren't overwhelming, as he batted just .239, but he did hit his first home run on July 13, a solo shot to right field off Tony Cloninger of the Braves.
The year 1962 would be the last he would see of the Minor Leagues. He played for Atlanta of the International League and had a solid season with a .275 average, 11 homers, and 57 RBIs. Because Atlanta was in the playoffs, McCarver played in the Minors into early October; he had to wait until the next spring to see the Majors again. When he did, he was there to stay and impressed from the start. Despite his youth, he exhibited leadership skills, and St. Louis liked him enough to trade starting catcher Gene Oliver, who clubbed 14 homers for them in '62, in a trading deadline deal for Lew Burdette of the Milwaukee Braves. The trade officially anointed McCarver as the starting catcher and he responded with a .289 average, 4 homers, and 51 RBIs. He also had 7 triples. In 1966 his 13 triples tied him with Johnny Kling (1903) for the post-1900 record for triples by a catcher.
Showing rare speed for a man of his position, McCarver displayed some in a June game against the Mets when he hit his first career grand slam, a rare inside-the-park grand slam. McCarver hit a shot at the Polo Grounds that Mets center fielder Rod Kanehl slipped going after, and McCarver raced around the bases before Kanehl could recover. McCarver was also a popular player in the clubhouse. Not surprisingly, he was viewed as a cerebral player who liked to pick at the nuances of the game, but he also had a very keen sense of humor. He was noted for his dead-on impersonation of Frank Fontaine, who was the rubber-faced funnyman Crazy Guggenheim on the very popular Jackie Gleason Show.
A July 22, 1967, article in The Sporting News recapped some pretty heady praise McCarver inspired in his rookie season. Wally Schang, known both for his days as a catcher with Connie Mack's Philadelphia Athletics and for the first three Yankees pennant-winning teams, said, "The kid reminds me of Mickey Cochrane. I don't know if McCarver will hit with Cochrane, but he's got Mickey's same aggressiveness and speed. And as a kid, McCarver's a pretty good hitter right now." The legendary Branch Rickey was quoted in the same article as comparing McCarver to Bill DeLancey, catcher from the 1934 Cardinals' Gas House Gang: "DeLancey had the stronger throwing arm, but Tim's arm is strong enough. McCarver's a solid .280 hitter. He could hit .300 and he can run faster than DeLancey could. He has the same aggressiveness and baseball intelligence."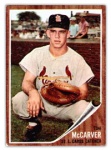 Success did not go to his head, and 1964 would prove to be a big year for Tim and the St. Louis Cardinals. He followed his strong rookie campaign with another good season as he batted .288 with 9 homers and 52 RBIs. He hit 3 triples, a falloff from 7 the year before. The Cards found themselves in a tight pennant race in September 1964, a season that is known for the collapse of the Philadelphia Phillies. On September 21, with a six-and-a-half-game lead and World Series tickets already printed, the Phillies dropped ten consecutive games and found themselves in a four-way race along with St. Louis, San Francisco, and Cincinnati. Despite losing two straight games to the lowly Mets on the final weekend of the season, the Cards pulled out the pennant when they finally beat the Mets in the last game while the Reds, with manager Fred Hutchinson dying of cancer, lost to the Phillies.
St. Louis would head off to the World Series to play the New York Yankees. McCarver was a standout. In the critical Game Five, with the Series squared at two games apiece, Bob Gibson had the Yankees shut out until Tom Tresh hit a two-run homer in the bottom of the ninth inning to knot the score, 2-2. McCarver then hit a three-run homer in the top of the tenth inning and the Cards held on for a 5-2 victory and the Series lead. St. Louis won the Series in the seventh game and had its first world championship since 1946. McCarver batted .478 with 11 hits in 23 at bats, knocking in 5 runs and scoring 4. He also tied a Series record by hitting safely in all seven games. It was quite a year for a young man who turned twenty-three the day after the Series ended. He capped the year by marrying his high school sweetheart, Anne McDaniel, on December 29, 1964. The McCarvers would eventually have two daughters, Kelly and Kathy.
The year 1965 began inauspiciously as he broke a finger in spring training and missed the first week of the regular season. Battling injuries all season that limited him to 113 games, he was still productive at the plate, finishing with 11 homers, 48 RBIs, and a .276 average. The Cardinals slumped to a seventh-place finish as several key players-most notably Ken Boyer, Ray Sadecki, and Curt Simmons – had significant drop-offs in performance. The club improved only slightly to a sixth-place finish in I966, but McCarver had another fine season at the plate. He improved to 12 home runs, 68 RBIs, and a .274 average, and set a Major League record for catchers with a league-leading 13 triples. He stayed injury-free and was a workhorse behind the plate, catching in 148 games.
The 1966 All-Star Game was held in St. Louis, and McCarver was selected for the first time to represent the National League. On a very hot day, McCarver began a game-winning rally in the bottom of the tenth with a single. He was sacrificed to second by Ron Hunt and scored on a single by Maury Wills, beating Tony Oliva's throw to the plate.
There was also an interesting incident in April I966 that sheds some light on the relationship between players and management, pre-Marvin Miller. McCarver and veteran pitcher Bob Purkey represented the players in a meeting with management in a dispute over compensation for appearances for pregame and postgame shows. The players were not being compensated and they wanted $25 for radio and $50 for television appearances. Management pointed to small print in the player's contract stipulating that they agree to "cooperate with the club and participate in any and all promotional activities of the club and league." That was the end of that.
The year 1967 was big for McCarver and the Cardinals. Buoyed by a near-MVP season from first baseman Orlando Cepeda, St. Louis won the pennant by a comfortable ten-and-a-half-game margin over the San Francisco Giants. McCarver was batting .348 at the All-Star break and earned a second, and final, trip to the midseason classic. His average tailed off to .295, but he still finished with career highs in home runs (14) and RBIs (69). The Cardinals went into the 1967 World Series to face the "Impossible Dream" Boston Red Sox. Boston, which had finished ninth the season before, was led by Triple Crown winner Carl Yastrzemski and pitcher Jim Lonborg, who won twenty-two games. The Series was hard fought, and finally the Cardinals rode the strong arm of pitcher Bob Gibson to a seven-game victory. McCarver did not have the same outstanding performance as he did in the 1964 Series, batting only .125 with 3 hits in 24 at bats.
The last year in the great run for the St. Louis Cardinals was 1968. They captured their third pennant in five years, again finishing comfortably ahead of the San Francisco Giants. The year 1968 was also known as the Year of the Pitcher, and St. Louis was carried by Bob Gibson's historic 1.12 ERA and twenty-two victories. McCarver saw his average dip to .253, but he atoned for his poor performance in the 1967 Series with a very good 1968 Series. He batted .333, and among his nine hits was a three-run home run in the fifth inning of Game Three off Pat Dobson that put the Cards ahead and spurred them on to a 7-3 victory. Alas, things did not turn out as well for the Cards as it had in 1964 and 1967. St. Louis stormed out to a 3-games-to-1 lead before the Tigers mounted a comeback and took three games in a row to win the world championship.
McCarver ended his first tour of duty with the Cardinals in 1969 with another solid season: 7 home runs, 51 RBIs, and a .260 average. The club slumped to fourth place, thirteen games behind the first-place "Miracle Mets." In a historic trade, McCarver was sent off to the Philadelphia Phillies along with Curt Flood in a seven-player trade that also saw the enigmatic Dick Allen go to St. Louis. Flood refused to report to the Phillies and took his case all the way to the Supreme Court. This was the precursor to all the player/management labor issues in the '70s that changed the baseball landscape forever.
This also began the vagabond part of McCarver's career. He began the 1970 season as the Phillies starting catcher, but in a microcosm of all the troubles that befell the Phillies in those days, McCarver broke his finger on a foul ball off the bat of Willie Mays in early May. In the very same inning, backup catcher Mike Ryan suffered a similar injury and both were shelved for a good part of the season. McCarver already possessed a less-than-powerful arm, and the broken finger did not heal straight. The effect was that his throws moved like a cut fastball.
McCarver returned to form with the Phillies in 1971. He appeared in 134 games and again produced solid offensive numbers, with a .278 average to go along with 8 round-trippers and 46 RBIs. An interesting incident with his former Cardinal teammates took place in September. It began when McCarver dropped a pop-up near the St. Louis dugout. Cardinal players began riding him and really got under his skin when they began yelling from the dugout, "There he goes!" with the slow-footed Joe Torre on first base — the implication being that his throwing problems would not even allow him to catch a pedestrian Torre on a stolen-base attempt. When Lou Brock was at the plate, he was brushed back by pitcher Manny Muniz on two consecutive pitches. Brock made a comment and the two former teammates and current friends began to scuffle. Umpire Al Barlick ejected McCarver.
The two teams met again the following week. Brock was on third when Torre lifted a shallow fly ball to right field. Brock tried to score and Willie Montanez's throw easily beat him to the plate, leaving him no choice but to bowl over McCarver. There was a brief moment when it appeared that the previous week's fight would resume, but Brock picked up McCarver's hat and handed it to him, which put an end to the hostility.
McCarver's first stint with the Phillies ended in 1972 with a deadline trade to the Montreal Expos. Of the trade, McCarver said, "Being traded is something I'm acclimated to, but it would be easier to accept if the people being traded and their families were treated with respect." Two things bothered him: one is that he never heard from general manager Paul Owens, who traded him; and the other was that he just put $1,100 down on an apartment in Philadelphia.
His time in Montreal was brief, but for the first time in his big-league career he played other positions besides catcher. He appeared in six games as a third baseman and fourteen as an outfielder. The 1973 season saw McCarver return to his baseball roots in St. Louis. He appeared in 130 games — 77 of those were at first base — and he hit a respectable .266. The 1974 season saw another move: McCarver was sold to the Boston Red Sox in a stretch-drive move aimed at strengthening the bench for their pennant battle with the Baltimore Orioles. He was not much help as he batted only .250 with one run batted in, and the Red Sox fell short in their bid to unseat Baltimore as American League Eastern Division champions.
It was expected that Boston would release him after the season, but they held on to him. A spring training talk with manager Darrell Johnson convinced him that his chances of making the team were good and he would be counted on to contribute. He was quoted in the Boston Globe on March 15, 1975: "I'm not here to be a fill in …. I have a little pride with the good years I have had behind me." Unfortunately, things did not work out so well for McCarver. He appeared in four May games but didn't start until June; he was released soon after despite a .381 batting average when Carlton Fisk was reactivated.
Thinking his playing days were over, McCarver did some audition tapes at various Philadelphia television stations. Before anything came of it, the Phillies signed him to a contract and his career continued. There would prove to be some productive times ahead. In 1975 with Phillies ace Steve Carlton struggling, manager Danny Ozark began having McCarver catch Carlton on his turn through the rotation, with good results. In 1976, with Carlton off to a slow start, Ozark paired the two again, and Lefty won four starts in a row with McCarver behind the dish. He became Carlton's personal catcher and the Phillies won the Eastern Division, making the postseason for the first time since 1950. McCarver showed he could still hit as he batted .277. Philadelphia lost the NLCS to the eventual World Series champion Cincinnati Reds.
An unfortunate McCarver incident occurred on July 4 as the nation celebrated its bicentennial. He hit a grand slam into the right-field seats in Pittsburgh's Three Rivers Stadium, and on his way around the bases he inadvertently passed teammate Garry Maddox. He was called out for passing the base runner and received credit for a single and three RBIs.
Another good year for the McCarver-Carlton tandem and the Phillies was 1977. Carlton went 23-10 en route to his second Cy Young Award while McCarver batted .320. The Phillies won their second consecutive division title, but again lost in the NLCS, this time to the Los Angeles Dodgers.
McCarver's playing days wound down in 1978 and 1979. He still caught Carlton regularly, but some of his starts were handled by regular catcher Bob Boone. He retired at the end of the 1979 season and was hired into the broadcast booth by the Phillies. He immediately took to the job, and a second career was born. His playing days were not quite finished, as he returned to the playing field in September of 1980 to become one of the few players, and the first twentieth-century catcher, to play in four decades. He moved over to the New York Mets broadcast booth in 1983 and would soon receive national recognition as an insightful analyst.
Just days before the 1985 World Series, ABC fired Howard Cosell, and McCarver was invited to share the booth with Al Michaels and Jim Palmer. He was an instant success on the national stage. In an October 19, 2003, Boston Globe article, McCarver said, "I was nervous, very nervous. Broadcasting a World Series was not even close to playing in one. As a player, you have a chance to do something about the outcome …. From a player's standpoint you think you know about 85 percent of the game. Then you go upstairs and find out you're wrong about that."
If that is the case, then McCarver has certainly proved that he has learned about the game. Opinionated, studious, and witty, McCarver has survived in the booth for longer than he was a player. He broadcast the Mets from 1983-98, the Yankees from 1999-2001, and the Giants in 2002, and hosted a weekly syndicated television interview that drew more than 90 million viewers. As a testament to his longevity as the top analyst in the sport, McCarver has now done more World Series telecasts than any other announcer in baseball history.
Blues Stadium in Memphis was renamed Tim McCarver Stadium for the 1978-99 seasons, before it was replaced. McCarver won four Telly Awards and six national Emmys as Best Sportscaster/Analyst, and he has authored six books on baseball. In 2012 he was honored by the National Baseball Hall of Fame with its Ford C. Frick Award, granted annually for broadcasting excellence.
DAVE WILLIAMS was six years old in 1969 when the Amazin' Mets embarked on their miracle ride and made him a fan for life. He has been a SABR member since 2001 and has contributed to other SABR biography projects, including bios of Yogi Berra, Tim McCarver and Rube Walker. He lives in Glastonbury, Connecticut, with his wife, Julia, and their daughter, Clara.
Sources
The Baseball Encyclopedia, 10th ed.
2005 ESPN Baseball Encyclopedia
Boston Globe
New York Times
The Sporting News
St. Louis Post-Dispatch
Tim McCarver player archive, National Baseball Hall of Fame Library, Cooperstown, N.Y.
Related links:
---
Originally published: May 1, 2013. Last Updated: May 1, 2013.
https://sabr.org/wp-content/uploads/2020/03/research-collection4_350x300.jpg
300
350
jpomrenke
/wp-content/uploads/2020/02/sabr_logo.png
jpomrenke
2013-05-01 13:26:11
2013-05-01 13:26:11
1964 Cardinals book excerpt: Tim McCarver