2013 Rawlings Gold Glove Award winners announced
Beginning in 2013, the Rawlings Gold Glove Awards for the first time included a statistical component, the SABR Defensive Index™ (SDI™), in the selection process. The Gold Glove winners were announced on ESPN's "Baseball Tonight" on Tuesday, October 29.
Here are the winners of the 2013 Rawlings Gold Glove Awards, announced Tuesday night:
| Position | AL Player | Award | | | NL Player | Award |
| --- | --- | --- | --- | --- | --- | --- |
| P | R.A. Dickey | 1st | | | Adam Wainwright | 2nd |
| C | Salvador Perez | 1st | | | Yadier Molina | 6th |
| 1B | Eric Hosmer | 1st | | | Paul Goldschmidt | 1st |
| 2B | Dustin Pedroia | 3rd | | | Brandon Phillips | 4th |
| SS | J.J. Hardy | 2nd | | | Andrelton Simmons | 1st |
| 3B | Manny Machado | 1st | | | Nolan Arenado | 1st |
| LF | Alex Gordon | 3rd | | | Carlos Gonzalez | 3rd |
| CF | Adam Jones | 3rd | | | Carlos Gomez | 1st |
| RF | Shane Victorino | 4th | | | Gerardo Parra | 2nd |
The SABR Defensive Index draws on and aggregates two types of existing defensive metrics: those derived from batted ball, location-based data and those collected from play-by-play accounts. The three metrics representing batted ball data include Defensive Runs Saved from Baseball Info Solutions, Ultimate Zone Rating developed by noted sabermetrician Mitchel Lichtman, and Runs Effectively Defended built by SABR Defensive Committee member Chris Dial. The two metrics included in the SDI originating from play-by-play data are Defensive Regression Analysis, created by committee member Michael Humphreys, and Total Zone Rating.
The SABR Defensive Index accounts for 30 total "votes" — or approximately 25 percent of the Rawlings Gold Glove Award selection process — that was added to the votes from the managers and coaches.
Rawlings revealed the revised selection process overview in March as part of its new collaboration with SABR. Since that announcement, SABR enlisted an independent committee of experts in baseball analytics and defensive measurement to devise the SDI. The SABR Defensive Committee includes:
Committee chair Vince Gennaro, SABR President and author of Diamond Dollars: The Economics of Winning in Baseball
Sean Forman, founder of Baseball-Reference.com
John Dewan, owner of Baseball Info Solutions
Bo Moon, executive vice president and co-founder of Bloomberg Sports
Chris Dial, author and recognized expert on defensive metrics
Michael Humphreys, author of Wizardry: Baseball's All-Time Greatest Fielders Revealed
F.X. Flinn, SABR board of directors
For more details on the new SABR Defensive Index, click here.
Vote for Rawlings Platinum Glove Award winners: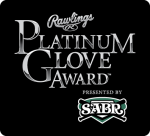 In 2011, Rawlings also introduced the Rawlings Platinum Glove Award to honor the best defender in each League among the Rawlings Gold Glove Award winners in each season.
The SDI's ability to accurately compare players from different positions will help determine the updated Rawlings Platinum Glove Award, presented by SABR. Fans will continue to have a voice during this process, and can cast their vote for the Rawlings Platinum Glove Award winners.
St. Louis catcher Yadier Molina and Texas third baseman Adrian Beltre won their respective league's Rawlings Platinum Glove Award in each of the past two seasons.
Related links:
---
Originally published: October 29, 2013. Last Updated: October 29, 2013.
https://sabr.org/wp-content/uploads/2020/03/research-collection4_350x300.jpg
300
350
jpomrenke
/wp-content/uploads/2020/02/sabr_logo.png
jpomrenke
2013-10-29 18:25:49
2013-10-29 18:25:49
2013 Rawlings Gold Glove Award winners announced