2014 Seymour Medal winner Gerald Wood to receive award at NINE Conference banquet
2014 Seymour Medal winner Gerald Wood, a retired English professor from New Market, Tennessee will receive his award at the banquet of the 21st annual NINE Spring Training Conference on Saturday, March 15, 2014, at the DoubleTree by Hilton Hotel in Tempe, Arizona (formerly the Fiesta Inn and Resort.)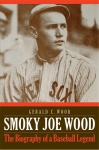 The banquet includes the Seymour Medal ceremony with Dorothy Seymour Mills, dinner and the NINE Keynote address by George Gmelch, a professor of anthropology at the University of San Francisco and the author of a dozen books, including several on baseball: In the Ballpark; Inside Pitch; and Baseball Without Borders.
To register for the NINE conference, visit http://nineregistration.com.
Wood won the Seymour Medal — which honors the best book of baseball history or biography published during the preceding calendar year — for Smoky Joe Wood: The Biography of a Baseball Legend, published by the University of Nebraska Press.
"Smoky Joe has a certain mystique," said Gerald Wood, who is no relation to Smoky Joe. "His name shows up in Field of Dreams, he appears in The Celebrant, he's in all these famous documents of American literature. And then you hear his name come up any time we tell the story about Herb Score, or Kerry Wood, pitchers who had a promising future but got injured. His name has survived where others haven't."
The Seymour Medal, named in honor of Dr. Harold Seymour and Mrs. Dorothy (Seymour) Mills, was first awarded by SABR in 1996. To be considered for the medal, a work must be the product of original research or analysis. The winning book shall significantly advance our knowledge of baseball and shall be characterized by understanding, factual accuracy, profound insight and distinguished writing.
To see a list of previous Seymour Medal winners, click here.
---
Originally published: March 4, 2014. Last Updated: March 4, 2014.
https://h2j7w4j4.stackpathcdn.com/wp-content/uploads/2020/03/research-collection4_350x300.jpg
300
350
jpomrenke
/wp-content/uploads/2020/02/sabr_logo.png
jpomrenke
2014-03-04 12:41:19
2014-03-04 12:41:19
2014 Seymour Medal winner Gerald Wood to receive award at NINE Conference banquet