2018 SABR Analytics: Highlights from the Pitching Panel with Eric Gagné and Ed Lynch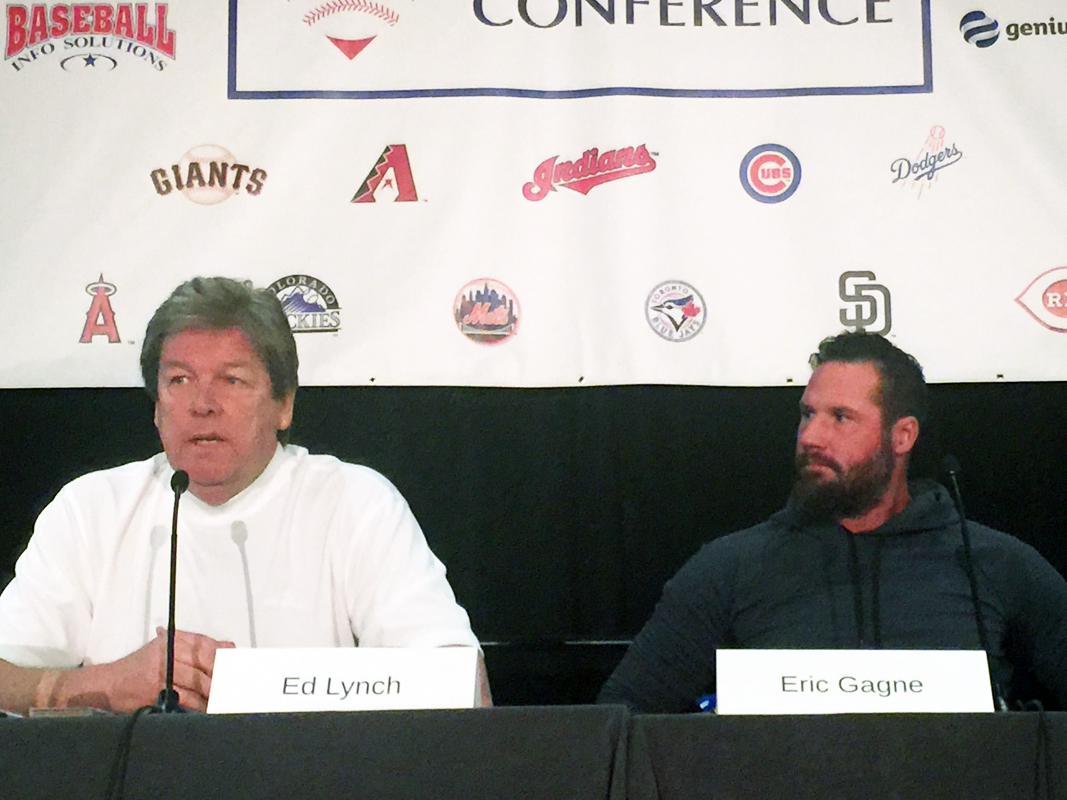 At the 2018 SABR Analytics Conference, a former Cy Young Award winner shared his side of the story in a memorable duel with baseball's all-time home run champion and a pitcher-turned-executive talked about using analytics on the mound.
The SABR Analytics Pitching Panel on March 11, 2018, in Phoenix included Eric Gagné, the 2003 National League Cy Young Award winner with the Los Angeles Dodgers and now a coach in the Texas Rangers organization; and Ed Lynch, a former reliever with the New York Mets and later Chicago Cubs general manager and a Toronto Blue Jays scout. The panel was moderated by veteran sports writer and columnist Barry M. Bloom.
Here are some highlights:
ON ALLOWING A HOME RUN TO BARRY BONDS IN 2004
Gagné: "We were in Japan on an all-star tour [in 2002] and Barry always complained about [nobody giving him pitches to hit.] … I said, 'You know what, if I get a 3-run lead one time and I come in, I'll face you, I promise. … He said, 'All right. All fastballs?' I said, 'Uhh, no, not all fastballs. I can use one off-speed.' He said, 'Perfect. But no changeups.' All right, that's the deal. …

"[Two years later, on April 16, 2004], I think we're up by three. … I got a guy on first base and he's on deck. … I looked at him and he looked at me, he looked at the score. 'Yep, I guess it is that time.' So I'm like, 'All right, I've got to do this.' To me, I was at the top of my game. That was the best I ever pitched. And I think he was the best to ever walk the face the earth. … This is the pinnacle of my career, pretty much.

"So I get [out] there and I'm going to throw as hard as I can. And I did that. The first pitch was a strike. The second pitch was a strike. … After 0-2, I went up and in because he had one hole, and that was inside. He had that big, metal thing on his elbow, so I really had to go in hard. I think it was 1-2, and I'm like, 'I got him.' I threw that curveball back-door, and it was really good, but it was off a little bit. … I wish I would have gotten that call.

"I came back in … and it was the perfect pitch. He turned on it like it was nothing … it was 101 mph. He [pulled] it into McCovey Cove. There was no way you could keep that fair, but he almost did. I think he missed by five or six feet. I'm like, 'All right, that's pretty impressive.' … I [still] thought I got him. He hit a bomb, but way off. I got him, away. … I got to 2-2 and I'm going down and away, perfect. And I threw as hard as I could and it came back a little bit over the middle, and he almost hit my head off. It went out to center field, in San Francisco, [where] it's cold. The ball doesn't go anywhere. … It just took off and it probably went out in 1 second. It was unbelievable.

"I came back in [afterward] and watched the video and my video guy said, 'Why were you smiling?' This is the best arm of my life right there. I faced the best to walk the face of the earth, gave it everything I got, and he beat me twice. It was ridiculous. That was the whole Barry Bonds thing, and I think he had a lot of respect for me because of that. I had a good idea he was going to beat me, but it was pretty cool."

VIDEO: Watch a clip of Eric Gagné talking about the home run he allowed to Barry Bonds:

This is a must listen. Eric Gagne tells a terrific story about he and Barry Bonds at the #SABRanalytics conference⬇️ pic.twitter.com/2Im7IQlzKX

— HemondDelhiSABR (@HemondDelhiSABR) March 11, 2018
ON USING PERFORMANCE-ENHANCING DRUGS
Gagné: "We all know it wasn't right and we live with the consequences. … I did what I did because I wanted to do it, and that's it. I think it's very important … that everyone be responsible for their own actions. You have to live with that, trust me. I've done a lot of good things in baseball and, in my head, I worked my butt off for that. Does it matter what you guys think? Of course it does, but to me, I know what I've done. … I've made a lot of mistakes in my life and that was one of them. You [have to] live up to it, I think. Hopefully the younger generation sees that and says it's not worth it to go through that. We work our whole life, ever since I was 4 years old, to play baseball. And all of a sudden, because I made a mistake, it's going to be taken away from me. … I don't like when they say everyone was doing it, because it sounds like an excuse. … My biggest regret is [for] the guys who didn't do it, there's a cloud over them, too. And I think that's my biggest regret of the whole thing."
ON USING ANALYTICS AS A PITCHER
Gagné: "I'm a little bit OCD, so I knew every single count, every percentage of balls pulled, hit the other way, up in the air, all of that. And I knew that as a starter, which is probably why I wasn't very good, you know? As a reliever, I just went out there and pitched with my strength. … And that's my biggest role [as a coach] with the young kids: there's so much out there that they [can] get lost. So I'm the guy in the middle … [looking at] spin rate, [arm] angle … and I can say, 'That works better for him' … and help build their mechanics or repertoire … with that information, take that in and translate that to the players."
Lynch: "Quantity is really more important for me. I think a lot of the analytics focuses too much on the qualitative [i.e., peripheral stats] … I talk to major-league players a lot and it's getting to the point now where players and pitchers are pitching and playing to the numbers. … We may be dumb, but we're not stupid. We know who's writing the checks. … If I have a chance to increase my [peripheral] numbers and get a chance to get a better contract, I'm going to do it. … But that's how you get [pitchers throwing] 110 pitches in five innings. … It's really amazing how few pitchers pitch 200 innings now. Don't overlook the importance of quantity. … We have to start developing multiple-inning pitchers."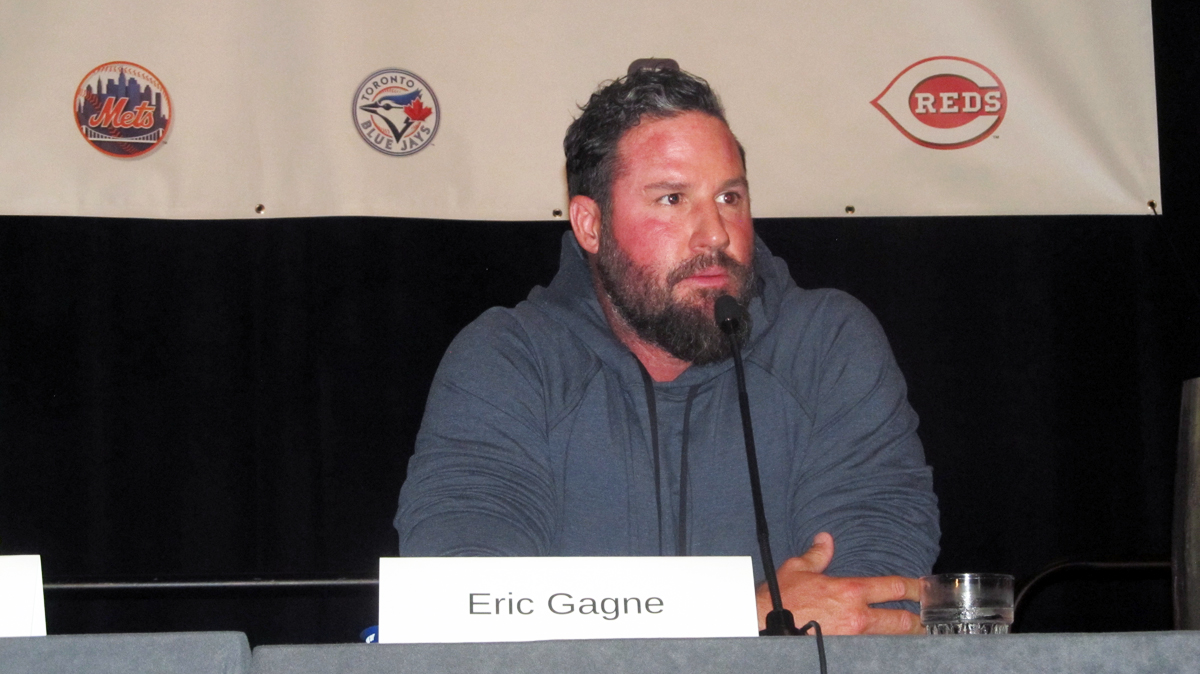 ON THE NECESSITY OF CLOSERS
Gagné: "I believe in momentum. If you lose a game in the ninth inning, I believe it has a little bit of an effect the next day. … To me, I believe in roles in the back end of the bullpen. I'm talking about two [reliable] guys, not four or five guys. But then again, it goes back to starting — if they're going four innings, then you need three or four guys [to finish the game.] … It's almost like a calming influence in the bullpen or it just takes away from the manager. … We knew what to expect, we knew when we were going to get up, we got up on our own sometimes. … I think, mentally, we had the best bullpen for that reason. … It's good for your anchor."
Lynch: "When I was in the bullpen with [Mets manager] Davey Johnson in 1984 or '85, when that phone rings, if everyone knows who's getting up, that's a pretty good manager. … 'This is your slot.' "
ON PITCHERS' APPROACH AND GAMEPLANS
Lynch: "The old mantra when I was playing was to stay away from 2-0, 3-1 counts. Stay out of those counts because no one is going to be successful. It was always about strike one. … I remember Joe Torre before my first start in the big leagues, he said 'I want you to throw fastballs low and away until you have to throw something else.' … I can't tell you how many times I go to a game [now] and the leadoff hitter is up, and the starting pitcher throws him every pitch he has. Back in the day, it was fastballs and then the second or third time through, you start him off with this one. … I think that's been lost a little bit."
For more coverage of the 2018 SABR Analytics Conference, visit SABR.org/analytics.
---
Originally published: March 11, 2018. Last Updated: July 27, 2020.
https://sabr.org/wp-content/uploads/2020/03/research-collection4_350x300.jpg
300
350
admin
/wp-content/uploads/2020/02/sabr_logo.png
admin
2018-03-11 21:22:33
2020-07-27 15:52:02
2018 SABR Analytics: Highlights from the Pitching Panel with Eric Gagné and Ed Lynch