2018 SABR Analytics: Listen to highlights from the MLB Team Approach to Analytics Panel
At the 2018 SABR Analytics Conference, the MLB Team Approach to Analytics Panel discussed the tentative Hot Stove market in the current offseason, using neuroscience to scout and evaluate players, and changing strategies on defense.
The panel, which took place on March 9, 2018, at the Hyatt Regency Phoenix, included Amiel Sawdaye, Arizona Diamondbacks Sr. Vice President and Assistant General Manager; ESPN analyst and former major-leaguer Eduardo Perez; Eno Sarris of The Athletic; broadcaster Mike Ferrin of the Arizona Diamondbacks and MLB Network Radio; and moderator Vince Gennaro of SABR.
---
---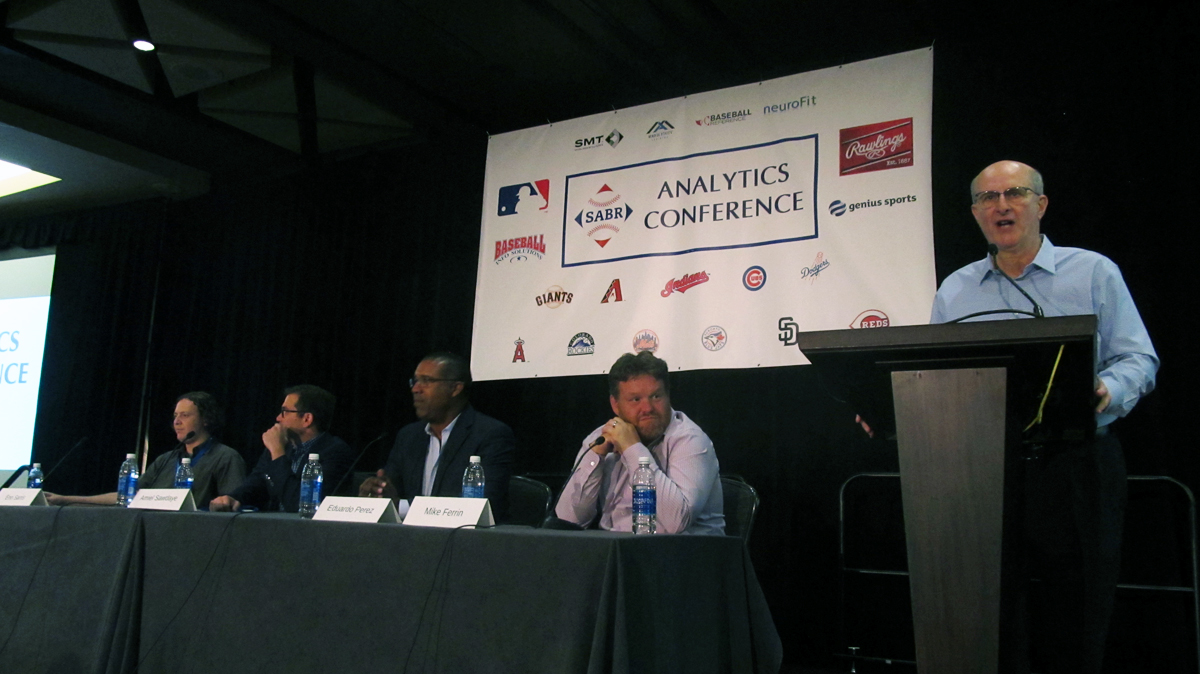 Here are some highlights:
ON THE SLOW 2017-18 OFFSEASON
Sarris: "Given the collective bargaining agreement that everyone agreed to, I think [teams are] acting sort of rationally. The problem is that it leads to subpar play in certain markets. I don't know if the answer is a salary floor or how to counteract that. I do know there are some teams building high-variance .500 teams, kind of the Billy Beane approach. … When people talk about the Rays tanking, trading away a lot of players, they have a lot of upper-minors talent. So maybe they're a little more reloading. … I don't know if it's broken, and I definitely don't know how to fix it."
Sawdaye: "I know in the media, everyone is going to say 'X amount of teams are tanking.' But working on the team side, I don't ever hear that word. I just know everyone wants to win. You try to put the best product on the field. I've been fortunate to be around a team that did go for it [in 2017]. And we are going for it [in 2018.] … But yeah, we are going to have to massage the financial structure and the rules, I think that's obvious."
Perez: "Well, I was on a team that was tanking. I was the bench coach for the 2013 Houston Astros. It was 111 losses, all right? There was a game we were playing against the Yankees, and looking at our active roster, one through twenty-five, add it all up and our total budget was $14.2 million dollars on that bench. We looked to the right, we looked to the left, and we said, 'Boys, we don't have a chance.' That to me is tanking. … What I'm seeing right now with organizations, I see some taking a deep breath and going, 'We're going to go after the guys we want, maybe not this year, but maybe next year.' What I'm seeing is a lot of teams in the same position … where they're falling into the category of tanking because they have to evaluate who they have within the organization who's still going to be there when they become competitive. … When those teams become competitive, then you're going to have a feeding frenzy."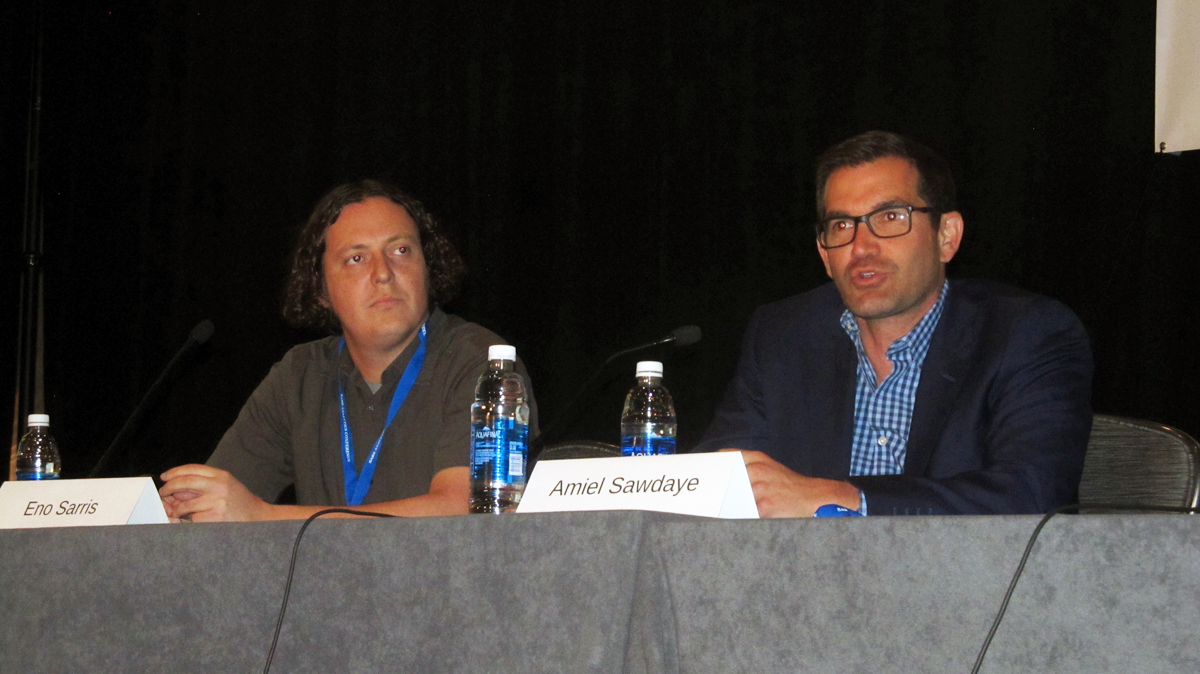 ON USING NEUROSCIENCE TO SCOUT PLAYERS
Sawdaye: "Every team is doing something different to try to get an edge. Neuro-scouting, vision, those are areas to get an edge, whether it's amateur talent or maybe even on the pro side or the international side. … The money is even now. So whether it's in evaluators, analysts, the data and information you get, you're trying to get an edge … that's what we do."
Ferrin: "I'm really interested in how virtual reality devices work for hitters. … I don't know if it's any good or not, or whether it might screw up a hitter. But overall, one of the great frontiers is understanding the 'soft science' side. I think it's really important because every player is a human being. For some players, it may work; for others, it may cloud their mind. You have to be able to find a balance."
ON EVALUATING A PLAYER'S MAKEUP
Sawdaye: "It's the toughest thing we do. … There's no science behind 'makeup.' Every team has its own psych evaluation and a person who can help you navigate through a [player's] aptitude and mind. But there have been a lot of guys we've drafted who … didn't have good major-league makeup, they didn't even have good baseball makeup, they might not have even been a good person."
Perez: "Being in a dugout since I was 13 years of age … for example, watching the Phillies in 1983, Mike Schmidt, Pete Rose, Joe Morgan, the way they went about the game, that was pretty much my experience and what I wanted to share with my teammates. … It comes down to 'coachability' more than anything. … Are you coachable or are you not? Can you take a little bit of what they teach you and be able to implement it into your game? It's rare to find in today's game."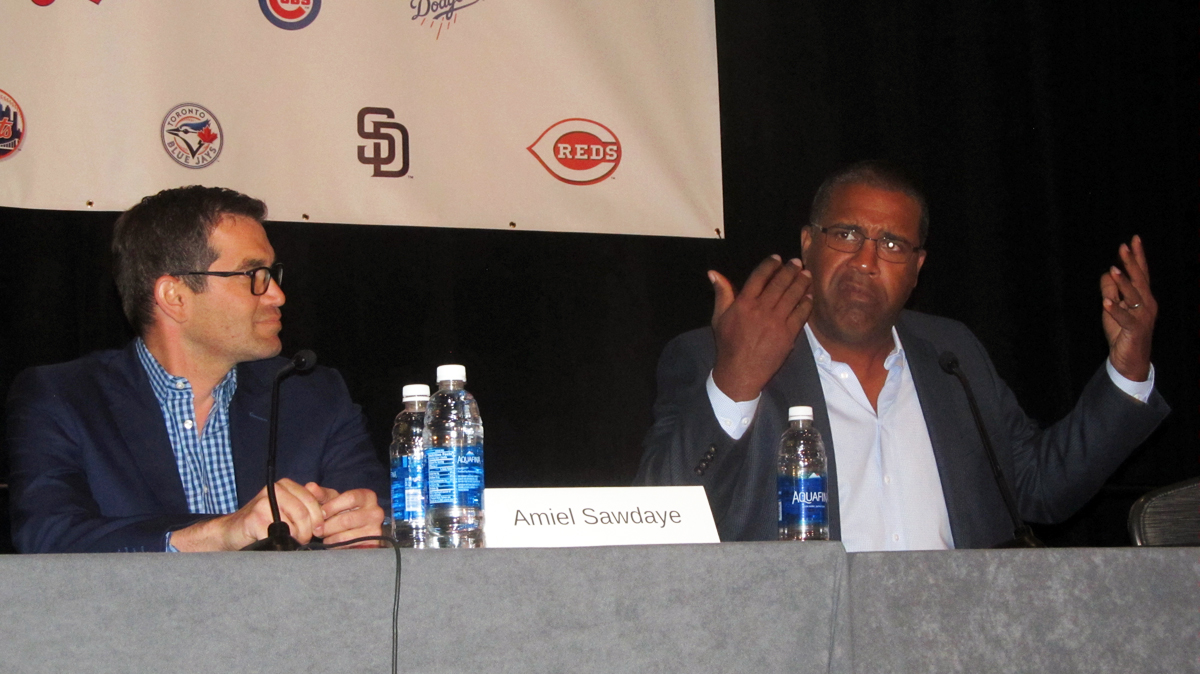 ON DEFENSIVE SHIFTING AND NEW ON-FIELD STRATEGIES
Perez: "I think teams and organizations are still shifting, but they're shifting differently. It's not just the infielders, it's the outfielders. You might have a guy just move over 5 feet. … They've become smarter because of the data, knowing when to shift and when not to. … But hitters have become smarter and organizations have become smarter. … Today I was at the Brewers camp. They had a screen on top of the [batting] cage, so they don't hit a lot of fly balls. But they also had a screen on the infield, where they didn't want you to hit a ground ball or a straight line drive. They wanted it right in between at that projected launch angle that they wanted, and [have their hitters] try to practice. Teams continue to evolve to try to beat the defense. This is what I love about that cat-and-mouse game. Once you get better and think you have perfected something, here comes somebody else trying to outsmart you with it."
For more coverage of the 2018 SABR Analytics Conference, visit SABR.org/analytics.
---
Originally published: March 13, 2018. Last Updated: July 27, 2020.
https://sabr.org/wp-content/uploads/2020/03/research-collection4_350x300.jpg
300
350
admin
/wp-content/uploads/2020/02/sabr_logo.png
admin
2018-03-13 21:54:58
2020-07-27 15:52:02
2018 SABR Analytics: Listen to highlights from the MLB Team Approach to Analytics Panel