2018 SABR Analytics: Listen to highlights from the Player Development Panel
At the seventh annual SABR Analytics Conference on March 10, 2018, in Phoenix, Arizona, the Player Development Panel covered issues related to developing baseball players at the major-league and minor-league level.
The Player Development Panel included Chris Getz, Director of Player Development for the Chicago White Sox; Andy McKay, Director of Player Development for the Seattle Mariners; and moderator Eduardo Perez of ESPN.
---
---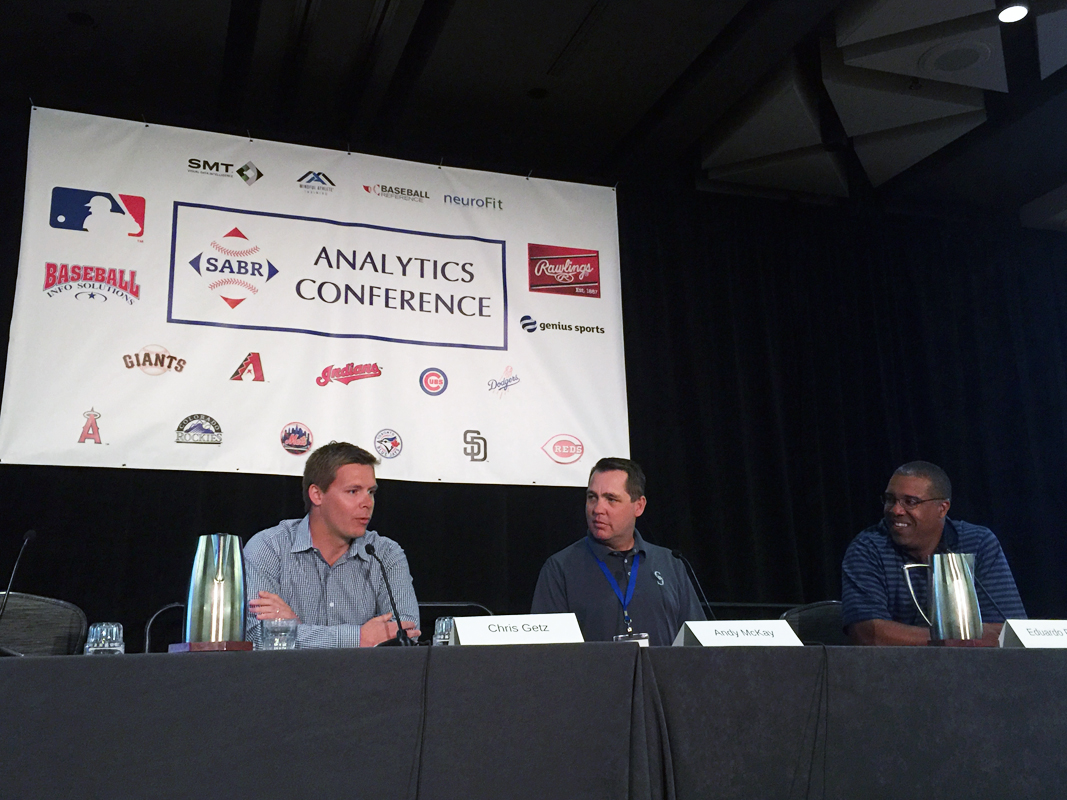 Here are some highlights:
ON TEACHING PLAYERS ABOUT LAUNCH ANGLE
McKay: "From the [beginning] of the game, line drives have worked. We know that. Hitting the ball in the air … in one aspect, there's nothing new here. But in another aspect, there is because we can quantify for players that when you take their exit velocities, you can determine an optimum ball flight. … I coached many years … with a 'keep-it-out-of-the-air' approach. But I had an a-ha moment in Colorado: If we're trying to teach our pitchers to keep the ball on the ground, why are we teaching our hitters to hit the ball on the ground, too? … You can change the swing path, but it starts with educating players."
Getz: "I had coaches coming up telling me to hit the ball to the 6-hole [shortstop] on the ground. You get to the major-league level, that's an out. It just wasn't happening. … Let alone the psychological side of the whole thing. I've grown up thinking I can drive the ball, I can pull the ball over here, and all of a sudden they're telling me to hit the ball on the ground."
ON DEVELOPING STARTING VS. RELIEF PITCHERS
McKay: "You have to have starting pitching to win. We're in the era of super-bullpens, but most of your major-league relievers were minor-league starters. … It's hard to develop pitches in one-inning outings. The guy who has a chance to go out there and throw 75, 85, 95 pitches; OK, we're going to throw 10 changeups tonight. Every left-hander has to see a cutter tonight. Those things are impossible to do in one-inning bursts. … I think you're seeing MLB general managers can do a pretty good job of assembling a competitive bullpen based on what's out there on the market. It's putting together five starting pitchers that is a challenge for everybody."
ON USING DATA IN COACHING
Getz: "How much information does the player need to see? I would like to think that through our coaching, if we effectively communicate with the player, they understand this adjustment needs to be made without seeing the data. But if we can't get the player to buy into that, then we do show him that data. And we also will post things in the clubhouse of this information. … It may be a leaderboard just to make these guys aware of what's important and what we value. We're doing that at every level. We expose our coaches constantly to this information from the hitting aspect. On the pitching side … I think it's important for the pitchers to understand how their pitches work. … 'Maybe that's not a good pitch in that scenario. This is the stuff that's working for you.' "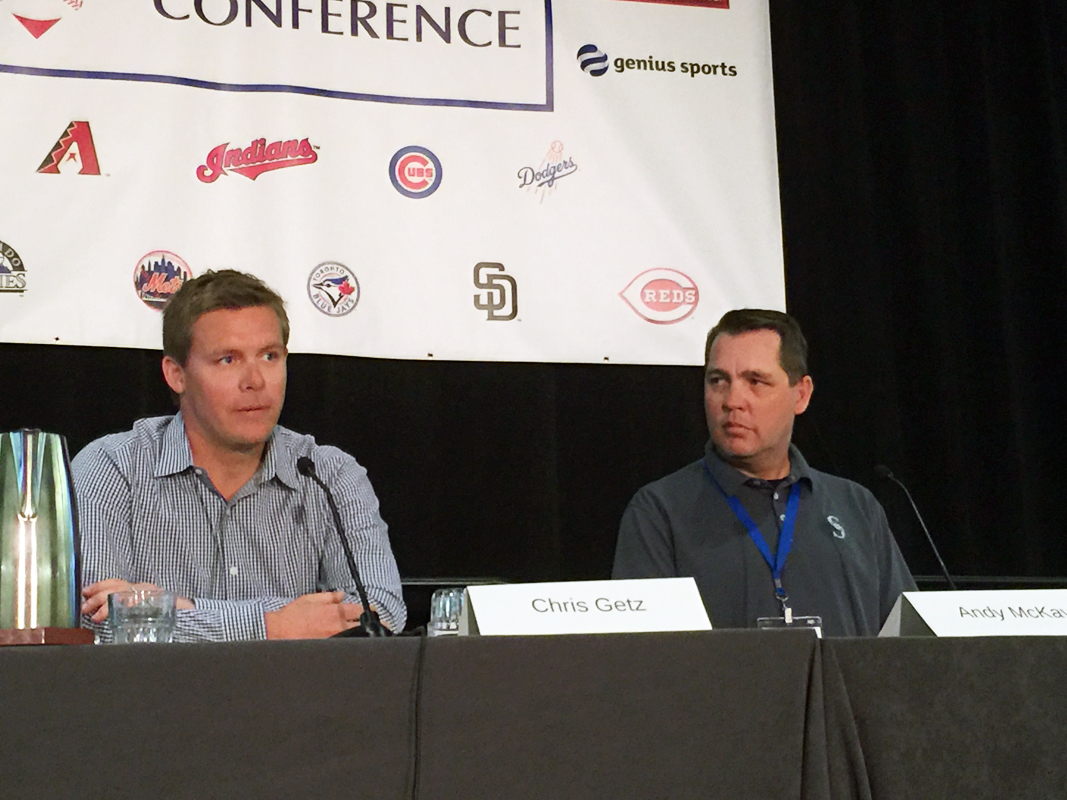 ON DEFENSIVE POSITIONING
Getz: "Obviously you need to believe in the data you have. For example, I always felt I had to have good range to be a good second baseman, to cover a lot of ground. … Now we can have guys that maybe aren't as mobile in a certain position over on that side. You kind of can just plant a guy [in the right spot.] He still needs to have a certain skill set, to field the ball, to still turn a double play, and make outs. But it's becoming a little bit more apparent that we can have a guy who's not the typical, range-y, type guy in a certain part of the field."
McKay: "Pitchers and pitching coaches, in general, do not like the shift. It's just tradition. When you need a ground ball and you get that ground ball, and it rolls through where your shortstop has been standing for the last 150 years, they tend to remind you of that when they're walking off the field. … What we've done is shift very hard starting in Everett, in our rookie league. You're never going to see our players behind you in that straight-up defense you grew up with. We will never play our players there. … But we keep a running count for our pitchers to show them a plus-minus [system] and when you do follow the data and you position your players the most effective way, you're always going to be in a plus in terms of runs saved. It just takes some time for pitchers to get used to that."
For more coverage of the 2018 SABR Analytics Conference, visit SABR.org/analytics.
---
Originally published: March 10, 2018. Last Updated: July 27, 2020.
https://sabr.org/wp-content/uploads/2020/03/research-collection4_350x300.jpg
300
350
admin
/wp-content/uploads/2020/02/sabr_logo.png
admin
2018-03-10 13:04:31
2020-07-27 15:52:03
2018 SABR Analytics: Listen to highlights from the Player Development Panel