2018 SABR Analytics: Listen to highlights from the Technology Panel
At the 2018 SABR Analytics Conference, the Technology Panel focused on new ways to develop and evaluate the skills of aspiring professional baseball players.
The panel on March 11, 2018, included Jeremy Booth, CEO of the New Balance Baseball Future Stars Series; Matt Reiland, data consultant and operator of Power Alley Analytics; and Jarett Sims, CEO/founder of Monsterful VR. It was moderated by SABR President Vince Gennaro and included a special guest appearance by former major-league outfielder Chris Dickerson.
---
---
Here are some highlights:
ON THE APPEAL OF VIRTUAL REALITY IN TRAINING
Sims: "Technology is changing all the time [and] the game is changing just as fast as technology. … We're at the forefront of that in terms of training … within VR, [it's about] how do you train and see a pitcher in a different way and remove something like the pinch-hit penalty? You can jump into our system and face a guy 10,000 times in virtual reality before you actually step up to the plate and see him in real life. That's one of many ways that technology and analytics together are able to change the game."
ON ANALYTICS AT THE AMATEUR/COLLEGIATE LEVEL
Reiland: "The technology that's occurring at the professional level is trickling down into colleges. There's a decent amount of technology being implemented. They don't have the same amount of financial resources or analytics resources, in a lot of cases, as professional teams. Coaches know they want the data, but they don't always know what to do with it. … Their needs are a little different. There's not a free agent market, there's not a trade deadline. … Data on opponents is harder to come by. What they're looking for is, given the data, how do they best develop their players over three to four years."
Booth: "The players at the highest level are beginning to integrate this data — launch data, exit speed, spin rate, which is used now to quantify the subjective data we had in the past. … So we're trying to teach players at the younger levels how to use it, how to integrate it in their own development. What happens with these younger players is, people get lost. They'll hear about a 2,600 spin rate and they don't know what that means. All they think is they have to throw harder and they have to swing up, and there are ways to get to that. And we're able to, with different levels of subjective data, teach them how to use it."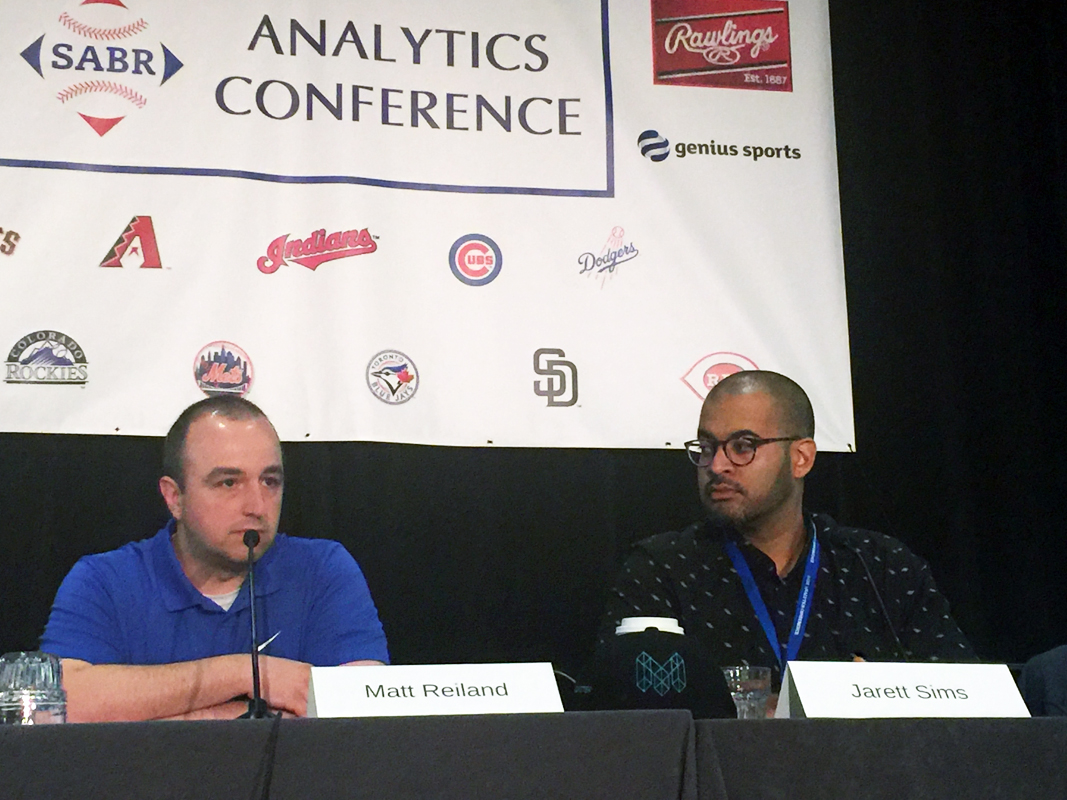 ON PRIMING PLAYERS TO ACCEPT ANALYTICAL DATA
Booth: "[You have to get] past the intimidation factor of the numbers, and [then] they're able to apply it and see it helps the players grow. We see some pretty instant feedback. … The applications are endless. We're able to take a player with 30 home runs in the big leagues last year and show him where his bat enters the [hitting] zone against a 95 mph fastball in real time, how it got through the zone, what angle, where it accelerated and decelerated, and what the result was. And then [you] quantify that with swing-and-miss percentage, when he recognizes the pitch, how he recognizes the pitch — it's pretty instant reinforcement to what you're trying to communicate."
ON MLB TEAMS TAKING ADVANTAGE OF DIFFERENT TECHNOLOGIES
Sims: "A lot of different technologies, like biomechanical feedback, eye tracking, cognitive training, these are [things that can] come together … to allow for developers to take them and use them for their own means. I think that's something we're very keen on from the standpoint of different teams having different analytical models and apply those to the product in creative [ways] that are incredibly valuable. One front office might have a different take on something than their counterpart. So we've been working on creating a platform to integrate various technologies."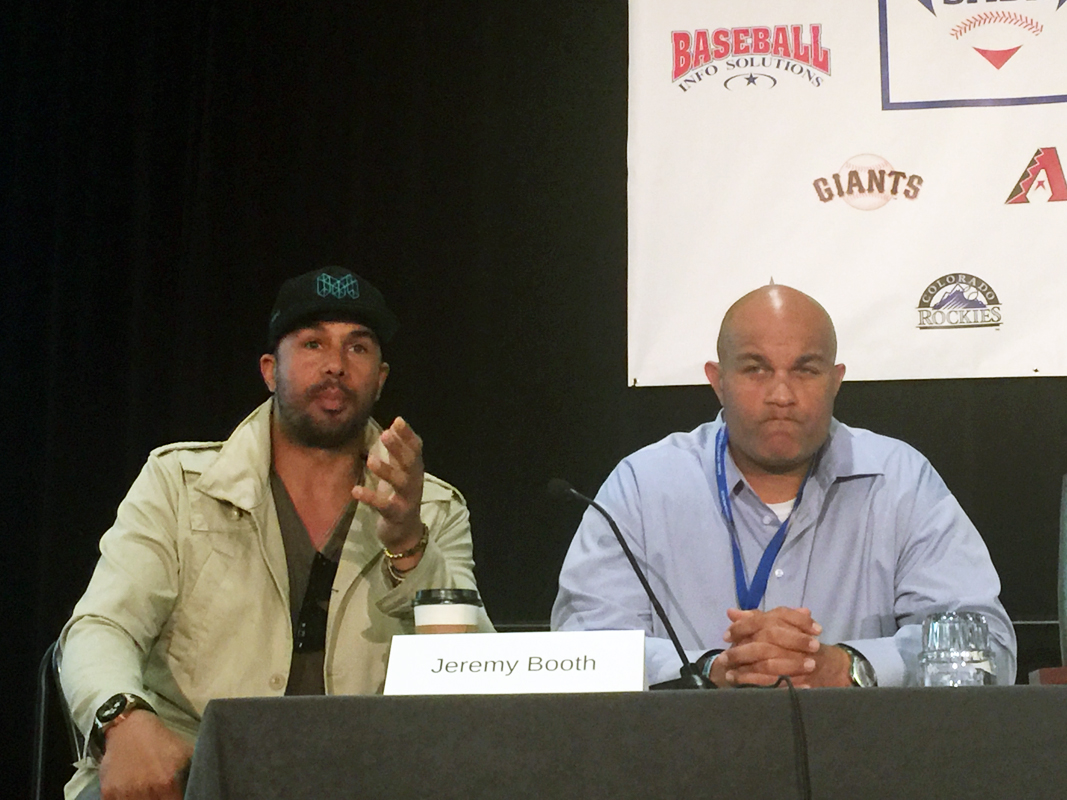 ON USING VIRTUAL REALITY AS A PLAYER
Dickerson: "Especially with strike zone judgment, it's going to be huge. That's what excited me, to go in and have these 10- to 15-minute hitters' meetings. … We can have a virtual and visual approach before we get in there. … When I was in New York, we were already on the cutting edge, our lockers had these IBM Touchpads and when it came to gametime, we could take our at-bats and watch them while we were getting ready. … Every pitch and every video that you have, you can watch whatever result you want. You can watch all your doubles, you can watch all two-strike pitchers from that pitcher's prior outing … simply just visualizing what you're going to do with your approach that day. If you want to watch all curveballs, focusing on hitting that ball over shortstop, being able to replay pitches over and over and over and visualize yourself whether you're going to swing or not, I think is such a tremendous advantage."
For more coverage of the 2018 SABR Analytics Conference, visit SABR.org/analytics.
---
Originally published: March 19, 2018. Last Updated: July 27, 2020.
https://sabr.org/wp-content/uploads/2020/03/research-collection4_350x300.jpg
300
350
admin
/wp-content/uploads/2020/02/sabr_logo.png
admin
2018-03-19 18:10:10
2020-07-27 15:52:02
2018 SABR Analytics: Listen to highlights from the Technology Panel