2019 SABR Analytics: Listen to highlights from Carlos Pena's Liquid Analytics
At the 2019 SABR Analytics Conference, presented by MLB and KinaTrax, on March 8, 2019, MLB Network analyst and former All-Star first baseman Carlos Peña discussed the concept of Liquid Analytics and how it helped him improve his skills as a player.
Peña spent 14 seasons in the major leagues, hitting 286 home runs for eight teams. With the Tampa Bay Rays, he won a Silver Slugger Award with 46 home runs in 2007 and helped lead the team to the American League pennant in 2008. He joined MLB Network in 2014 and appears regularly on "MLB Tonight," "Play Ball," and other programming.
---
---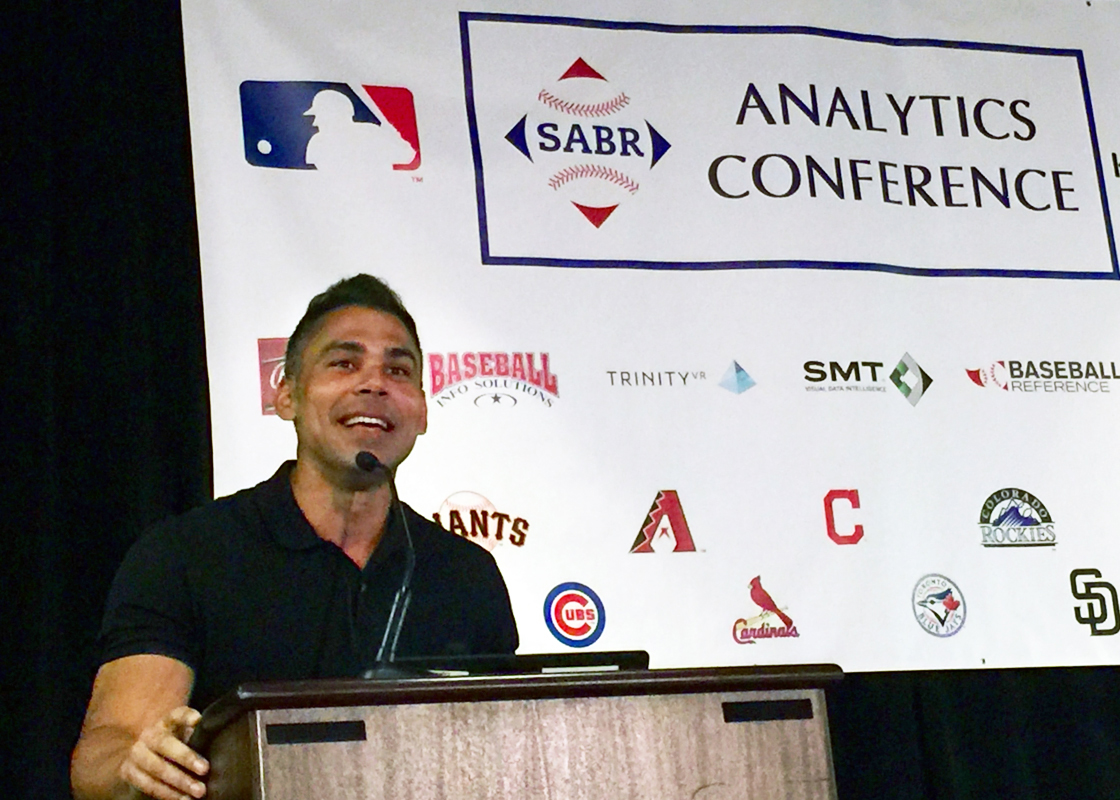 Here are some highlights:
ON HELPING PLAYERS BETTER UTILIZE ANALYTICS FOR PERFORMANCE

"Where we're at in analytics right now, where is the next advantage? Everyone is doing the same thing, so it's very hard to actually gain an advantage if all 30 teams in the major leagues are gathering data and just going off of the same template. This is where liquid analytics comes in. … The reason why I'm so passionate about it is because I got to experience it myself. I played in the big leagues for 14 seasons. I had much success … I also had many, many failures. … I was one of those guys, the same guys you hear about right now that are saying 'I don't want to hear anything. Please don't talk to me. Don't confuse me. I just want to go up to the plate and see the ball and hit it.' … When you struggle and there are some pitchers that really give you a lot of trouble, I finally listened."
ON USING ANALYTICS IN REAL TIME
"This is where that concept of being an artist versus an analyst is very important. We don't want to think as athletes. We don't want to be up there calculating. … We can't take our time and start calculating in our head so this needs to be liquid, needs to be fluid, quickly and effective. That's the difference between an artist and an analyst. We want to be artists as athletes. We want to be able to utilize information on the go. We don't want to have to stop to think."
ON THE APPLICATION OF DATA IN CHOICES BY TEAMS
"At the end of the day, when you look at the science and the application of the science, which is even more valuable than the data itself at the end of the day, it comes down to this: do you want to take the red pill or the blue pill? You have a choice. The blue pill is great. The herd is going in one direction. We are getting extremely good at collecting data. We have incredible technology to collect data. Data that at times is not even necessary and also data that we can really take advantage of if you go after it. It's about how to apply it, but in reality, we just stay in that world. Or we go to the essential core. The core of the truth of it all, which is the red pill. And now we understand what truly happens at contact and what's all about timing. Personally, I took the red pill and now I've been ruined because every single time I watch a baseball game, I'm watching it through the lens of effective velocity and liquid analytics. I scratch my head at some of the things that happen and how teams miss out on the postseason based on throwing the worst pitch can throw at the moment. "
ON DECEPTION AND HOW TO RECOGNIZE IT
"I was in Vegas and I'm sitting there and watching a magician. This is obviously after effective velocity and I kind of knew all these things. This street magician has a crowd of people and he's making tricks left and right and people are going crazy. I stand in the front and I just crossed my arms and I just said 'I'm going to look at his left hand. I don't care what he says, what joke he cracks. I'm just going to look at his left hand…' He's looking at me and I caught for the first time, I see the trick. I see exactly how he was tricking everybody. The reason why he was tricking everybody was because of the diversion… That's what pitchers are doing, whether they know it or not. I think [Roy] Halladay was very advanced in the way he pitched. He knew and he had a pretty good idea intuitively or through trial and error… He was really good at that. He would give me a diversion. I would be in the middle of everything. My eyes would be somewhere in the middle of the plate. My timing would be somewhere in the middle and then he would come with a comebacker fastball that started at my ribs… The ball would come back and break, and he would catch the inside corner. I would strike out every single time and I couldn't understand why that was happening to me. I was entertained by all the diversion… If the ball was coming at me, it was only an illusion."
For more coverage of the 2019 SABR Analytics Conference, visit SABR.org/analytics.
---
Originally published: March 20, 2019. Last Updated: July 27, 2020.
https://sabr.org/wp-content/uploads/2020/03/research-collection4_350x300.jpg
300
350
admin
/wp-content/uploads/2020/02/sabr_logo.png
admin
2019-03-20 00:46:59
2020-07-27 15:51:09
2019 SABR Analytics: Listen to highlights from Carlos Pena's Liquid Analytics