2019 SABR Analytics: Listen to highlights from the Training Pitchers panel
The Training Pitchers panel at the 2019 SABR Analytics Conference, presented by MLB and KinaTrax, focused on how the evolution of innings demands has changed how pitchers train.

The panel on March 9, 2019, featured Dr. Steven Cadavid of KinaTrax, Seth Daniels of Rapsodo, Eno Sarris of The Athletic, and Scott Radinsky, former MLB pitcher and coach. It was moderated by Arizona Diamondbacks broadcaster Steve Berthiaume.
---
---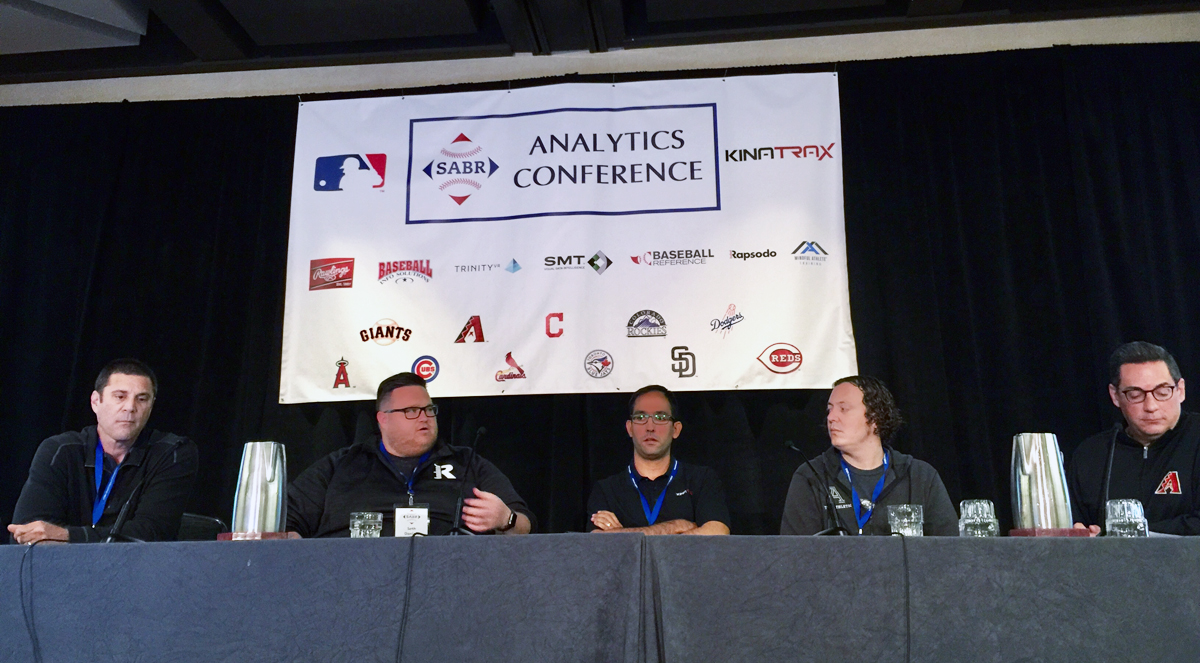 Here are some highlights:
ON VETERAN PITCHERS' OPENNESS TO 'THE OPENER':
Sarris: "A lot of them hate it… They're creatures of habit that will even wear the same underwear, or it throws it all off. I remember talking to Brandon McCarthy before he went into the front office for the Rangers and he said 'Fine, do it with the kids. Bring it up with the kids, but don't do it to me because I'll be screwed.' … Being in the right frame of mind is a big deal. Being comfortable is a big deal. So I think the best teams that'll have the most success with it will be the most comfortable."
ON CHANGING PITCHER ROLES AND HOW IT AFFECTS THEIR REPERTOIRES:
Sarris: "I think we're breeding more intellectually curious players, more players that will always want to get better, always want to use all the tools. … If you have the right humans interacting with the tools and interacting with the players, there's some way forward. … I think most [pitchers], even relievers, would like to have another pitch just because you can't have [hitters] sit on something. If you're a two-pitch pitcher, they can sit on one or the other. If you add another wrinkle, they can't sit on one of the two. … I do think that eventually all pitchers want to add another pitch."
ON USING TECHNOLOGY AS A PITCHING COACH:
Radinsky: "There's a ton of it and in the last four or five years, it's really slammed on us. … Guys are going out and resourcing their own individual places and it's tough to keep up to speed with it all. Every organization's different. What they want to use is different. How they want to distribute it is different. … [Technology] just makes things easier … it gives you an opportunity to be right. It gives you an opportunity to make a calculated decision and give some information that's accurate. It's not just me looking at a video or saying, 'This is what I think.' … If you can communicate and if you can establish that relationship, it's easy to be able translate that information to even the stubborn guy that hasn't bought it. … You infuse it into their game, and you get them thinking."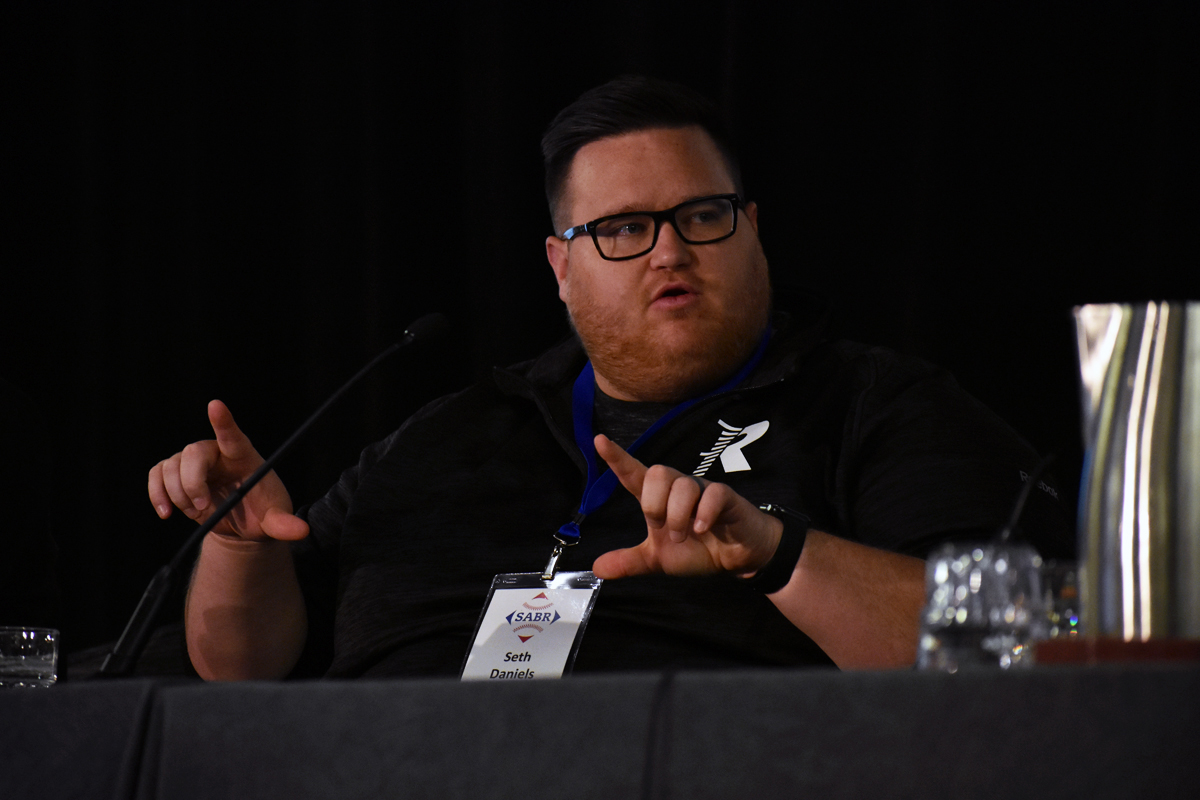 ON TECHNOLOGY'S ROLE IN CREATING NEW ROLES FOR PITCHERS:
Cadavid: "The data basically gives you a way of creating specialized pitchers and identifying certain pitchers that are good in certain scenarios. With data, you're able to determine the different variables that are important to determine which pitchers are going to do better in certain scenarios versus others."
ON PLAYERS BUYING THEIR OWN RAPSODO DEVICES:
Daniels: "We didn't necessarily seek out individuals to go after from a sales push, but it makes sense that that would be a push that we'd get internally. … We have individual case studies, too, that we don't necessarily document them all, but you can see from one season to the next a guy's slider and then he picks up a tool or uses it with great coaching. … We call it building an arsenal from a pitch design standpoint. They can take a pitch that they already have and use pitch design to craft that and make it as good a possible pitch as their body will allow."
For more coverage of the 2019 SABR Analytics Conference, visit SABR.org/analytics.
---
Originally published: March 12, 2019. Last Updated: July 27, 2020.
https://h2j7w4j4.stackpathcdn.com/wp-content/uploads/2020/03/research-collection4_350x300.jpg
300
350
admin
/wp-content/uploads/2020/02/sabr_logo.png
admin
2019-03-12 14:16:24
2020-07-27 15:51:10
2019 SABR Analytics: Listen to highlights from the Training Pitchers panel