2018 SABR Analytics Conference speakers: Diamondbacks exec Amiel Sawdaye, pitching coach Rick Peterson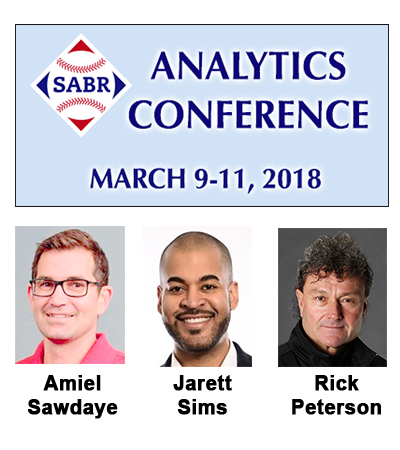 We are pleased to announce more of our featured speakers and panelists at the seventh annual SABR Analytics Conference in Phoenix, Arizona.
The SABR Analytics Conference will be held Friday, March 9 to Sunday, March 11, 2018, at the Hyatt Regency Phoenix. The conference is open to all baseball fans, and early registration is now available online. Click here to register!
Here is some more information about our featured speakers:
Amiel Sawdaye, Senior Vice President and Assistant General Manager with the Arizona Diamondbacks
Jarett Sims, CEO and founder of Monsterful VR
Rick Peterson, former major-league pitching coach and author of Crunch Time: How to Be Your Best When It Matters Most
They will join Brian Kenny of MLB Network, ESPN's Jon "Boog" Sciambi and Eduardo Perez, Arizona Diamondbacks broadcaster Mike Ferrin, San Francisco Giants executive David Bell, Chicago White Sox executive Chris Getz, Seattle Mariners executive Andy McKay, FanGraphs' Eno Sarris, and SABR President Vince Gennaro as featured speakers and panelists at the 2018 SABR Analytics Conference. Stay tuned as we announce more! Click here to learn more about our speakers and panelists.
In its first six years, the SABR Analytics Conference has brought together many of the top minds of the baseball analytic community under one roof to discuss, debate, and share insightful ways to analyze and examine the great game of baseball. Stay tuned as we announce more featured speakers and panelists at the 2018 SABR Analytics Conference! Please note: All speakers are subject to change depending on availability.
For more information, visit SABR.org/analytics.
This page was last updated January 26, 2018 at 1:30 am MST.