'Ballpark rat' Mort Bloomberg remembers his friend Bob Welch
By Rodney Johnson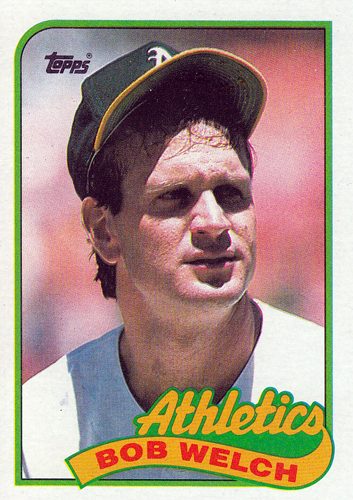 Bob Welch was a Cy Young winner, a World Series hero, a 200 game- winner and the pitching coach for a world championship team. To those who knew him, none of that mattered, for he was much more. "He was a person that whether you just met him or knew him for many years, he made you feel special," remembered Flame Delhi Chapter member Mort Bloomberg.
For all of his accomplishments, it was an unforgettable season on an unforgettable team in an unforgettable league that brought Bob Welch and Mort Bloomberg together. It was he start of a friendship that would last 15 years.
Bob, a Scottsdale resident had been out of baseball for several years and missed the game. He was devoted to his children and didn't want to be away from them, so it was with mixed feelings he signed on to manage the start-up Valley Vipers of the independent Western League for the 2000 season.
Mort is like a ballpark rat. If you go to any game, whether it is in spring training, the Arizona Fall League or any independent league that happens to set up shop in the valley, you are likely to run into Mort. He sells programs; hawks merchandise and tears tickets—anything to be a part of the game. In 2000 he was in charge of merchandise sales at Scottsdale Stadium for the Vipers.
"By mid-season things were going bad with the team and the league, so wholesale changes were being made" recalls Bloomberg. "Bob and I talked about the troubles with the team and really connected. Through Bob, I took on a new role as director of player personnel. He said give me the players and I'll do the rest."
The Vipers had a few players with big-league experience; Dax Jones, Lee Tinsley, Heath Haynes and Steve Ontiveros, but mostly they were a group of kids hanging on for one last chance to chase a dream. "Bob took care of the players," explained Mort. "He took them under his wing and they became like sons to him in so many ways. He helped players out with meal-money and travel expenses out of his own pocket. His door was always open.It was Bob's way."There was one thing he couldn't do however. "Bob wouldn't tell players when they were released. That was my job," said Mort. "Maybe it was because he knew that this was their last stop. In any case, he just couldn't bring himself to do it so I was the hatchet man."
The Vipers were 15-30 in the first half of the Western League's split season format. The second half was much better at 23-22, but still short of the playoffs. Attendance was dismal as the Vipers averaged fewer than 1,000 fans a game. It was by far the worst turnstile count in the eight-team circuit. But Welch stayed aboard the sinking ship for the players.
"After home games Welchy would pump some serious iron in the weight room," remembered Mort. "I would go down there and ride the stationary bike just to be with him. We would chat about family, his kids and life — just everyday conversation. He never really liked to talk about himself or his baseball career."
The season ended and the Vipers folded, as did the league two years later. Mort and Bob went their own ways. Welch became the pitching coach for the Diamondbacks who were destined to win the World Series and Mort continued to be a ballpark rat.
"It was funny, though — Bob was always a phone call away," lamented Bloomberg. "He would invite me down to the Diamondbacks clubhouse and sometimes we just talked on the phone. Next to my family … his passing has left a big hole."
"Sometimes he would call out of the blue and say 'Whatcha doin', Mort? Want to come see me play hockey?" laughed Mort.
"He played on a recreation league hockey team with former A's pitcher Curt Young. They played over at Oceanside Arena on Hayden Road. Even at 56, he played hard. He never did anything at less that full speed. After the games we would go to Uncle Sal's, one of his favorite hangouts."
On June 9, 2014, Welch died at his Seal Beach, California, home. The following Saturday, at Grayhawk Golf Club in Scottsdale, an all-star lineup turned out to remember their teammate and friend. Tony La Russa, Mark McGwire, Dave Stewart, Mike Scioscia, Dusty Baker, Tommy Lasorda, and Roland Hemond were among those present to honor Welch.
"Nobody cared for his teammates more than Bob," La Russa said. They lined up one after another to say their goodbyes, but they really didn't need words. "I've never seen so many grown men crying," reported Bloomberg.
As baseball's elite remembered one of their own, standing away from the crowd, huddled in a small group were Mort and about ten of the players and staff from that Valley Vipers team of some 15 years ago. For those in that tiny group, that unforgettable season, on an unforgettable team, in an unforgettable league, really wasn't so unforgettable after all.
Rodney Johnson is president of SABR's Flame Delhi Chapter. This article originally appeared in the chapter's Summer 2014 newsletter at SABRAZ.org.
---
Originally published: July 21, 2014. Last Updated: March 23, 2021.
https://sabr.org/wp-content/uploads/2020/03/research-collection4_350x300.jpg
300
350
jpomrenke
/wp-content/uploads/2020/02/sabr_logo.png
jpomrenke
2014-07-21 02:57:57
2021-03-23 03:01:59
'Ballpark rat' Mort Bloomberg remembers his friend Bob Welch