Billy Martin biography by Bill Pennington wins 2016 SABR Seymour Medal
Billy Martin: Baseball's Flawed Genius, written by Bill Pennington and published by Houghton Mifflin Harcourt, is the winner of the 2016 Dr. Harold and Dorothy Seymour Medal, which honors the best book of baseball history or biography published during the preceding calendar year.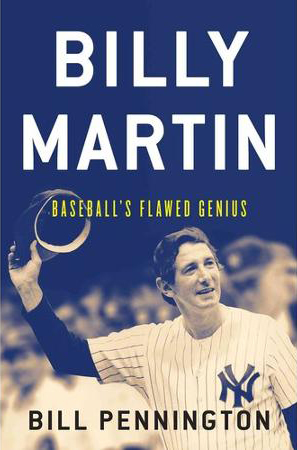 Pennington, a veteran reporter who covered the New York Yankees during Martin's final years as manager, will receive his award at the banquet of the 23rd annual NINE Spring Training Conference on Saturday, March 12, 2016, at the DoubleTree by Hilton Hotel in Tempe, Arizona (formerly the Fiesta Inn and Resort.)
The banquet includes the Seymour Medal ceremony with Dorothy Seymour Mills, dinner, and the NINE keynote address by SABR member Rob Edelman, the author of Great Baseball Films and Baseball on the Web who teaches film history at the University at Albany. To register for the NINE conference, visit nineregistration.com.
The Seymour Medal Selection Committee of Michael Haupert (chair), Trey Strecker, and Stew Thornley released the following statement:
The winner of the 2016 Seymour Medal is Billy Martin: Baseball's Flawed Genius, by Bill Pennington, published by Houghton Mifflin Harcourt. Pennington wrote an exhaustive, insightful, and balanced biography of one of baseball's most controversial managers. His research sheds light on Martin's background and behavior without preaching or pandering, maintaining a perfect balance between action on the field and the many colorful events surrounding Billy Martin off the field. By the end of the book one thing is very clear: life around Billy Martin was seldom dull. 
Pennington said his goal in writing the book was to dig past the sensationalistic aspects of Martin's life and career, and shine a new light on "the most interesting person I've ever covered."
"The picture of Billy Martin seemed very incomplete to me," said Pennington, who has worked at the New York Times since 1997. "It does bug me that [some] people know him only as the guy who got fired a lot or that he got in a lot of bar fights or fights with his players. … It's a cartoon character that's built up around him. And yes, all those things happened and they're all part of his complex story. … But then there are all these other parts, too — he lived a very interesting life, the sort of life that could only happen in America in the 20th century. And I do hope this book helps people think of him differently."
Pennington explained that many books and articles about Martin have covered his most infamous episodes — such as the Copacabana nightclub incident in 1957, his dugout argument with Yankees outfielder Reggie Jackson on national television in 1977, and his on-again, off-again working relationship with Yankees owner George Steinbrenner — but mostly glossed over other aspects of his life, such as his "rough upbringing" in the Bay Area, his World Series heroics during his 11-year playing career, and his successful managerial tenures with the Minnesota Twins, Detroit Tigers, Texas Rangers, and Oakland A's.
"He had all these conflicting sides; his life was a constant paradox," Pennington said. "For example, he was a very religious person. He was a crazy-good tipper. He was beloved by many players of color; Rod Carew considered him to be a father figure. When he lived in Minnesota [while coaching and managing the Twins], he had a home in the suburbs like some kind of country squire, with a garden in the back. Who thinks of him like that? … But then there were all the well-known excesses, too."
Pennington said he interviewed more than 225 people for this book, including some who had never spoken on the record about Billy Martin. He said the passage of time — it's been a quarter-century since Martin died in a car accident on Christmas Day 1989 — helped Martin's family, friends, former teammates, executives, and rival managers speak more openly about his life and career.
"I think some people realized an opportunity like this was not going to come around again," said Pennington, who interviewed all four of Martin's ex-wives, his childhood friends in Berkeley, and baseball figures from every stop in his professional career. "Here was their chance to tell their side of things, and I tried to stay true to that. … It did feel in some ways like I was walking around with this book [in my head] for the last 30 years, and I had the feeling that if I didn't go do it soon … it would be a part of baseball history that you'd no longer be able to reach."
The other finalists for the 2016 Seymour Medal were:
In Pursuit of Pennants: Baseball Operations from Deadball to Moneyball, by Mark Armour and Dan Levitt (University of Nebraska Press)
A Game of Their Own: Voices of Contemporary Women in Baseball, by Jennifer Ring (University of Nebraska Press)
The Colonel and Hug: The Partnership that Transformed the New York Yankees, by Steve Steinberg and Lyle Spatz (University of Nebraska Press)
The Seymour Medal, named in honor of Dr. Harold Seymour and Mrs. Dorothy (Seymour) Mills, was first awarded by SABR in 1996. To be considered for the medal, a work must be the product of original research or analysis. The winning book shall significantly advance our knowledge of baseball and shall be characterized by understanding, factual accuracy, profound insight and distinguished writing.
To see a list of previous Seymour Medal winners, click here.
---
Originally published: February 10, 2016. Last Updated: April 4, 2022.
https://sabr.org/wp-content/uploads/2020/03/research-collection4_350x300.jpg
300
350
admin
/wp-content/uploads/2020/02/sabr_logo.png
admin
2016-02-10 06:00:00
2022-04-04 11:54:38
Billy Martin biography by Bill Pennington wins 2016 SABR Seymour Medal