Call for Papers: 2017 The National Pastime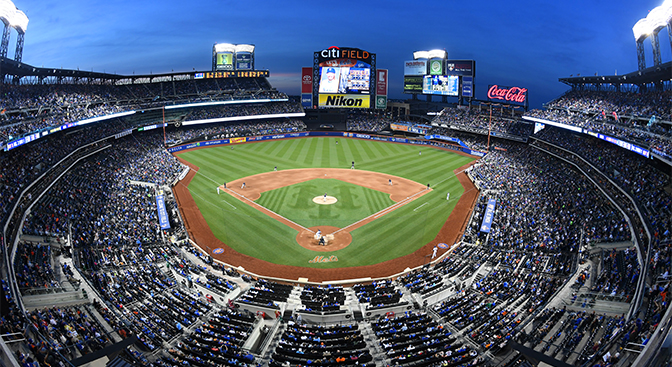 The 2017 SABR national convention will take place in New York City from June 28 through July 2. To coincide with the convention, the summer 2017 issue of The National Pastime will focus on New York City and tri-state regional baseball.
Given just how much of baseball's history is tied up with New York and environs, what we'll be looking for in this issue are topics that are a little bit off the beaten path. Millions of words have already been written about the four major-league teams that have graced the city, as well as the Knickerbockers, Alexander Cartwright, and other popular topics. As such, we're particularly looking for new or less traveled angles on the well-known subjects, and for subjects relating to baseball and New York City that aren't perhaps as well known. The Negro Leagues, minor leagues, New York area scouts, collegiate baseball?
There's plenty to explore and, ideally, we'll have a wide variety of topics and articles. Research articles may be historical, biographical, or analytical, but please avoid personal narrative, oral histories, or interviews.
This issue of The National Pastime will be edited by SABR Publications Director Cecilia Tan. She will be taking queries and abstracts until December 15, 2016, and will make assignments no later than January 1, 2017. First drafts of articles will be due no later than March 1 and rewrites (if needed) will be due by April 1.
Queries should include 1-2 paragraphs of brief but detailed encapsulation of the article idea, as well as a description of why you are interested in it or qualified to research it. Be specific about the sources you plan to use and what of your research is original.
If you can estimate the length of the finished article, that is good, too. Typical articles tend to run 2,000 to 5,000 words — the size of a midterm paper, not a masters thesis. The upper limit on papers for the TNP is around 6,500 words. If you are given a word count limit by the editor, you must try to stick to it. Articles which exceed assigned page count may ned to be cut or relegated to digital-only distribution and not be included in the print edition of the journal.
To query, please e-mail ctan@sabr.org with the subject line "TNP Query:" and a key word or two on your subject. For example: "TNP Query: Toots Shor and Baseball."
Remember that every article must include proper citation of sources and present a clear thesis, and to be published in a SABR journal your SABR membership must be current. (Click here to join.) For full writers' guidelines and details on how to prep your manuscript for submission, click here or submit a query to ctan@sabr.org and you will receive the full guidelines in reply.
— Cecilia M. Tan
---
Originally published: November 22, 2016. Last Updated: November 22, 2016.
https://sabr.org/wp-content/uploads/2020/03/research-collection4_350x300.jpg
300
350
admin
/wp-content/uploads/2020/02/sabr_logo.png
admin
2016-11-22 12:28:47
2016-11-22 12:28:47
Call for Papers: 2017 The National Pastime