Download your free copy of the 2012 Emerald Guide to Baseball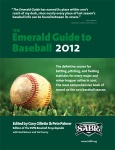 The Emerald Guide to Baseball, edited by Gary Gillette and Pete Palmer with Rod Nelson and Ted Turocy, is the most comprehensive record of the previous baseball season.
Historically, the primary purpose of annual baseball guides has been the publication of the official league standings plus the official team and individual statistics for both Major League Baseball and Minor League Baseball. Our new Emerald Guide follows faithfully in that tradition, containing the official batting, pitching, and fielding statistics for every team and every player in the Major Leagues plus extensive lists of league leaders.
The Emerald Guide to Baseball is our attempt to fill the gap in the historical record created by the recent demise of The Sporting News Baseball Guide. First published in 1942, The Sporting News Guide was truly the annual book of record for our National Pastime. It is our great privilege to document for posterity a slice of recent baseball history in our new book.
The 2012 edition of the Emerald Guide runs nearly 600 pages and covers the 2011 season; it also includes a 2012 directory of Major League Baseball. The Emerald Guide is available in both a printed version and in a downloadable PDF format.
A softcover print edition is available for purchase at Lulu.com here.
SABR Members can download the book on the Research Resources page. All others can download it for free using the form below.
This page was last updated May 3, 2012 at 3:42 pm MST.