Geno Auriemma: 'Baseball still the game I love the most'
Editor's note: This article originally appeared in the SABR Connecticut Smoky Joe Wood Chapter's Summer 2015 newsletter.
By Karl Cicitto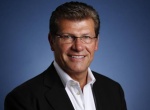 Longtime University of Connecticut women's basketball coach Geno Auriemma, a 10-time NCAA champion, is a Philly guy of a certain age. He has an enduring love for the first sports franchise to lose 10,000 games. He recently responded to 10 baseball questions via e-mail for the inaugural Connecticut Smoky Joe Wood Chapter newsletter and his answers resonated with passion and loyalty.
Question: In your book (Geno: In Pursuit of Perfection) you write lovingly about playing ball and the first glove Mom bought for you. What difference did baseball make in your youth?

Answer: Baseball made all the difference in my youth. If it wasn't for baseball, I have no idea what I would have done with my life from the time I was 11 to the time I was 18. I don't know if there was ever a time in those seven years between March and September that I didn't play baseball as much as I could. I loved everything about the game. It's the first game I fell in love with and the still the game I love the most.
Q: You became a Phillies fan in 1964, the year of the September collapse. How did this affect you? What do you remember?

A: I was a fan before 1964 but that was the first year I really remember everything. Back in those days, not every game was televised. I do remember having a mini little transistor radio, maybe the size of my phone. You had to be in bed by a certain hour and the Phillies were playing the Reds, I believe in Cincinnati, and we were just on this slide. We had a 6.5-game lead and we lost nine straight. There's just nothing that can prepare you for that. Even to this day, if somebody mentions Chico Ruiz I get this rash. He stole home one night and they lose 1-0. I'm thinking at that point that you can't invent more ways to lose than that during the streak.
Q: You played for a Salvation Army team when you were 13, batted about .350 and pitched to an 8-0 record. You were good. Why did you choose basketball over baseball?

A: To this day, I have no idea. I think when I was young I wasn't confident enough to branch out so the Salvation Army team that I played for was the best team in town. All the guys I played with, I knew. I was the youngest guy on the team. To be able to make that team and start on that team was unbelievable. We had the best equipment, uniforms, coach. We had the best of everything and I don't know what happened when I got to high school. I fell in with a group of guys who played basketball. I guess I wasn't confident enough to go play baseball. At that time, our basketball coach in high school wasn't crazy about playing more than one sport. I just kind of fell into the basketball thing and only played baseball in the summer. I look back to this day and think my body and size would have been better suited for baseball than basketball.
Q: Is baseball more beautiful to behold than basketball, or vice-versa, and why?
A: Basketball is a beautiful game when played the right way. Baseball is more subtle. Basketball will hit you right in the face with stuff. There's a never-ending stream of things that are happening so quickly that when it's done well, it's like choreographed ballet. Baseball is more subtle. There are just so many little things in the game and there's so much time to appreciate those little things. But in the bottom of the ninth with the bases loaded and you're on the mound, your body is going through things and your teammates can't pick you up. In basketball, you need your teammates whether it's setting a screen or receiving a pass. Baseball, if a guy hits a ball to the shortstop in the bottom of the ninth, no one helps him. If he misses it, no one can pick it up and make the play.
Q: If you had one pick in center field: Willie Mays, Roberto Clemente, or Garry Maddox? Why?
A: If you're asking me defensively who the best is, Garry Maddox was really good. Who had the best arm of all those guys? Roberto Clemente. Who is the best player? Willie Mays. Of the three, Maddox was third in that group. Our Salvation Army uniforms were blue because our coaches loved the A's and the Pirates. We were the only team that had the cutoff sleeves. So we looked like the Pirates and the A's.
Q: If you had to pick one stadium: Connie Mack Stadium, the Vet, or Citizens Bank Park? Why?
A: The Vet because I went there the most and I saw great games there. But in terms of a ballpark, Connie Mack Stadium was a lot more fun. I was young and I could go there for five dollars and get a hot dog and a coke. All these years, I've never been to Citizens Bank Park. Growing up as a Phillies fan, you really had to love them. They were the first franchise in sports to lose 10,000 games. And yet, the guys that you remember lived in the same neighborhoods as you. Some guys sold insurance in the offseason. It wasn't like it is today.
Q: How about one pick as an announcer: Byrum Saam, Richie Ashburn, or Harry Kalas?
A: We're talking three legends. That's like saying Mantle, Mays, or Aaron. Man, I have to go with Harry Kalas. He was legendary as an announcer. I didn't grow up with him, that was Saam. Richie Ashburn came into the booth as the color guy.
Q: Favorite slugger: Mickey Mantle, Harmon Killebrew, or Richie Allen?
A: First of all, I didn't see Killebrew a lot because he was in the American League and we didn't have the TV across leagues. I didn't see Mantle play that much. I didn't see him play in his prime. The World Series was on most of the time when we were in school, so maybe you listened to the game a little. Richie Allen played a lot. He played with a 44-ounce bat. It was like a miniature telephone pole.
Q: If you were Commissioner, what would you do about Pete Rose?
A: That's a hard one. There are guys that did a lot worse things than he did that are in the Hall of Fame. I don't know the whole story, but from what I understand, he didn't bet on his team to lose. So you're betting on your team to win, that shows a lot of confidence. I guess the idea is if you come out and admit that you did it and move (on), then it's better than lying about it. Pete Rose is the kind of guy you admired growing up. He's a tough guy who played hard. If I was commissioner, I'd form some kind of committee. I don't want to make that decision.
Q: It's been said that Philly fans are different. Why is that?
A: Philly fans hate everyone. Every once in a while they love you, but it's temporary. One time I was at a game and Richie Allen struck out his first three times up and people were throwing stuff at him. Back then, you weren't going to get taken out by security. I think the fourth time he comes up and hits a three-run homer and gets a standing ovation. They used to say Philly is where you suffer the agony of defeat and the misery of reading about it the next day.
KARL CICITTO serves as the communications director for the SABR Connecticut Smoky Joe Wood Chapter. Learn more at smokyjoewood.com.
---
Originally published: July 29, 2015. Last Updated: July 29, 2015.
https://sabr.org/wp-content/uploads/2020/03/research-collection4_350x300.jpg
300
350
jpomrenke
/wp-content/uploads/2020/02/sabr_logo.png
jpomrenke
2015-07-29 17:38:52
2015-07-29 17:38:52
Geno Auriemma: 'Baseball still the game I love the most'