Glenn Stout receives SABR Seymour Medal at NINE Conference banquet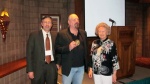 More than anything else, author Glenn Stout wanted to finally answer his own questions about Boston's Fenway Park when he set out to write Fenway 1912: The Birth of a Ballpark, a Championship Season, and Fenway's Remarkable First Year, published by Houghton Mifflin Harcourt.
"There was still so much I didn't know. I didn't know why it was built, how it was built, didn't know anything about the architectural styles — basic questions that should have been answered for what is arguably the most famous sporting venue in the United States," Stout said Saturday night at the NINE Conference banquet in Tempe, Arizona, as he received his 2012 SABR Seymour Medal, which honors the best book of baseball history or biography published during the preceding calendar year. "I sort of assumed at some point someone else would come along and fill in the blanks. … But I had determined no one had answered these questions yet."
---
Photo gallery: View more photos from the NINE Spring Training Conference on our Facebook page
Seymour Medal: To see a complete list of award winners, click here
---
In his research, Stout said, he never imagined he would stumble upon an obscure July 1912 engineering article that would, for the first time, reveal the inner architectural details of Fenway Park. His background working in construction — "That's how I got through school: I poured concrete, I tied rebar, I cut steel" — helped him translate the technical jargon and explain how the ballpark's unique dimensions affected the baseball played there. He said his outline for Fenway 1912 was "two paragraphs long", but "you always have to follow the research."
"That's why we do this kind of research," said the 53-year-old from Alburgh, Vermont. "It's not to tell people about things we know; it's to discover the things we don't know through our research and then tell them to other people."
Stout spoke in front of an audience of five former Seymour Medal winners at the NINE Conference: Lyle Spatz and Steve Steinberg (2011); Lee Lowenfish (2008); David Block (2006); and Charles Alexander (2003), along with the medal's namesake, Dorothy Seymour Mills, and special guest Julia Ruth Stevens, the daughter of Babe Ruth.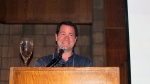 "That's why it's so gratifying," Stout said of winning the award. "People understand it and get it for the right reasons. When I got the call about this award, and knowing Dorothy's place as one of the icons of baseball research … that means more than any review or how much it could ever sell."
Stout said when he was working at the Boston Public Library in the 1980s, Mills often came in to do research while working on the third volume of the groundbreaking Baseball series she co-authored with her husband, Dr. Harold Seymour.
"I think whenever you begin a research project, those (the Baseball series) are the books you go to first, to see what she's written, to see her perspective on it, and to see what you can learn from that," Stout said. "I want to thank her … for setting such a wonderful example."
This was the first year the Seymour Medal was presented at the NINE Spring Training Conference. Hosted by NINE: A Journal of Baseball History & Culture, the NINE Conference promotes the study of all historical aspects of baseball and centers on the cultural implications of the game wherever in the world baseball is played.
Many SABR members presented their research during the 19th annual event, including Rob Fitts' dramatic keynote speech during Saturday's banquet on the 1934 major league tour of Japan. Julia Ruth Stevens, Babe's daughter, is the only living survivor of the tour. Fitts is the author of Banzai Babe Ruth: Baseball, Espionage, and Assassination During the 1934 Tour of Japan. A full list of presentations can be found here.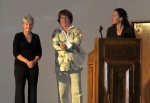 Thursday's festivities were highlighted by a session featuring two female baseball pioneers: Ila Borders, the first woman to start an NCAA/NAIA college baseball game and a former professional pitcher, and longtime SABR member Perry Lee Barber, a professional umpire and singer/songwriter.
Barber performed a trio of original songs and the pair spoke about the trials and tribulations of women in baseball. Listen to a clip of Barber's music below:
---
Originally published: March 13, 2012. Last Updated: March 13, 2012.
https://sabr.org/wp-content/uploads/2020/03/research-collection4_350x300.jpg
300
350
jpomrenke
/wp-content/uploads/2020/02/sabr_logo.png
jpomrenke
2012-03-13 01:56:44
2012-03-13 01:56:44
Glenn Stout receives SABR Seymour Medal at NINE Conference banquet