Greg Spira Award created to recognize young baseball researchers
A group of distinguished writers and researchers have collaborated to create a new award as a memorial to the late baseball researcher and SABR member Greg Spira. The Greg Spira Baseball Research Award (www.SpiraAward.org) will be given annually in recognition of the best published article or paper containing original baseball research by a person 30 years old or younger. The winning entry must display innovative analysis or reasoning.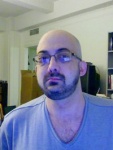 Working with the Spira family, the creators of the Greg Spira Award include SABR members Sean Forman (Baseball-Reference.com), Joe Hamrahi (Baseball Prospectus), Sean Lahman (Baseball1.com) and Gary Gillette (24-7 Baseball, LLC), along with Dave Pease (Baseball Prospectus).
The winner of the Greg Spira Baseball Research Award will receive a cash prize of $1,000. The program will also recognize two additional writers with awards of $200 for second place and $100 for third place.
Articles or papers eligible for consideration include those published on the Internet, in e-books and in print, as well as academic dissertations and presentations at conferences. Winners of the Greg Spira Award will not be eligible for consideration for future awards.
The inaugural Greg Spira Baseball Research Award winner will be announced on April 27, 2013 — the 46th anniversary of Greg's birthday. Future awards will be announced on April 27 of succeeding years.
A seven-person panel of judges will determine the winner. Greg's brother, Jonathan Spira, has agreed to serve as one of the initial judges for the Award. Deadlines and procedures for submissions will be announced on June 1, 2012.
A lifelong, diehard, passionate and knowledgeable New York Mets fan, Spira joined SABR in 1988 and was viewed by his colleagues as a peerless researcher. He graduated magna cum laude from Harvard University with a B.A. in American History in 1989. In 1991, before the World Wide Web was created, Spira founded the Internet Baseball Awards — now in their 20th year — which will live on in his name at BaseballProspectus.com. He was an important pioneer in online baseball discussion at Usenet's rec.sport.baseball group, and an early contributor to Baseball Prospectus. (Read his landmark "Pitching to the Score" article from 1997 here.) He also created the BaseballBooks.net website with Sean Forman and annually updated Baseball-Reference.com's travel guide. Spira's publishing credits include the groundbreaking 2008 Slate.com article "The Boys of Late Summer", on the differences between ballplayers born in July and August. He was a member of SABR's Connie Mack (Philadelphia), Bob Davids (Washington-Baltimore) and Casey Stengel (New York City) Chapters and, when his health allowed, frequently attended chapter meetings throughout the Mid-Atlantic region. He died on December 28, 2011, in his native New York City.
Earlier this month, the Greg Spira Memorial Library was created at the SABR office in Phoenix, Arizona, after his family graciously donated his "unparalleled" collection of baseball books to the Society.
For more information on the Spira Award, please go to www.SpiraAward.org or contact Gary Gillette.
---
Originally published: April 27, 2012. Last Updated: April 27, 2012.
https://sabr.org/wp-content/uploads/2020/03/research-collection4_350x300.jpg
300
350
jpomrenke
/wp-content/uploads/2020/02/sabr_logo.png
jpomrenke
2012-04-27 13:33:28
2012-04-27 13:33:28
Greg Spira Award created to recognize young baseball researchers