Hawley, Joss Monuments Dedicated in Deadball Series
A doubleheader monument unveiling and dedication was held on October 8, 2011, at Wayland Academy's Kris Boucher Field in Beaver Dam, Wisconsin. Former students and players Pink Hawley and Addie Joss became the 12th and 13th players honored in The Deadball Era Memorial Series. Joss is the first player with two memorials.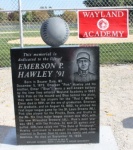 Athletic Director Judy Hill welcomed the crowd. Associate Dean of Admission Kris Boucher was given the honors to speak about Pink and Addie's life, on the field that is named after him. Trent Jackson, Vice President of Development gave, thanks to all that made the memorials possible. This group, along with Susan Peterson, Trustee Chair; President Brain Cheek; Tom Forrester, a relative of Pink Hawley; and myself together unveiled both memorials.
Pink Hawley was born in Beaver Dam on December 5, 1872. He graduated from Wayland in 1891 and finished his life in the city as a business owner. Yet up to this point, he has been somewhat overlooked in area history.
With Pittsburgh, he was named "The Duke of Pittsburgh" and I have read that he had his face and name on a cigar box. However, he is not listed under famous personalities on Beaver Dam's Dodge County Historical Societies and Museums website. He is not a member of the Wisconsin Athletic Hall of Fame, even though some of his friends and players that followed in his footsteps do have their plaques in Milwaukee.
Gretchen Forrester, a relative of Hawley and former Beaver Dam resident, said, "Through the years, nobody ever seemed to care about Pink Hawley." Today, she is comforted with the fact that Mr. Hawley's story is engraved in stone, and will forever be told.
Just months after graduation, he pitched a home game for the Jefferson Blues, against the Phoenix nine of Milwaukee. It was said to be the finest game ever witnessed in Jefferson. Hawley won the contest 7 to 1, while striking out 21.
The following year, on August 13, 1892, at the age of 19, he began his major league career with the St. Louis Browns. Pink played most of his 10-year major league career in the late 19th century. He never had the privilege of playing on any pennant-winning or great teams. Still, he managed to win twenty-plus games for three seasons. His best year was in 1895 with the Pittsburgh Pirates, when he chalked up 31 wins with a league-leading 56 games and an amazing 441 innings pitched. He retired with a 3.96 career ERA.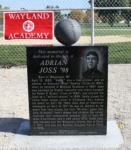 He is included in the Deadball Era Memorial Series for his time spent with the 1901 Milwaukee Brewers of the American League, as indicated on a memorial at Miller Park. One has to wonder how instrumental Hawley was to the younger players from his area; the majority were pitchers.
Joining him and starting their professional careers on the Brewers were Davy Jones (Cambria) and pitcher Pete Husting (Mayville) from neighboring towns. Jones pitched prior to his major league career with the Detroit Tigers.
In 1902, when the AL Brewers moved to St. Louis, Hawley remained in Milwaukee and played in the inaugural season in the American Association. Once again, he played with another young neighbor, pitcher Claude Elliott of Pardeeville. That same year, one of the game's greatest pitchers, Addie Joss (Woodland/Juneau) began with the Cleveland Indians.
Hawley played and managed La Crosse to the Wisconsin League championship in 1906. He was always known as a good hitting pitcher, as he continued to show in his 17 games played, batting .374, second in the league. On this team, he coached Ed Konetchy, who put up some impressive numbers during his 15-year major league career as a first baseman.
When Pink returned to Beaver Dam he operated a bowling alley. His house was close by, and today you may still see the name Hawley engraved in the cement step that leads up to his former residence.
Hawley is buried in family plot just blocks away from his newly erected memorial. He died September 19, 1938, and once again the younger pitchers of neighboring towns accompanied him. Included in the long list of pallbearers and honorary pallbearers is Pete Husting and Frank Lange (Columbus) respectively.
Joss was born in Woodland, Wisconsin, on April 12, 1880, and moved to Juneau with his family as a child. The legend of Addie Joss continues to grow throughout Wisconsin. From the Badger State during the 19th century, Joss was the only future Hall of Famer local fans could watch perform prior to his major league career. Hall of Fame pitcher Kid Nichols, another Wisconsin native, moved out of state at a young age.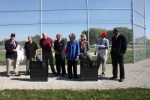 With this Beaver Dam monument, he is the first player to be honored twice in this Deadball Era Memorial Series. This memorial tells of his time with Wayland in 1898. His other memorial, in Watertown, is about his play in 1899, which was first with Sacred Heart, followed by Watertown's city team.
In Juneau, he is remembered on a state of Wisconsin plaque and has a baseball field named after him. His Wisconsin Athletic Hall of Fame plaque, from when he was elected in 1978, may be viewed in Milwaukee. A sports exhibit including Joss is currently in the works by Mike Weynand at the Neosho/Rubicon Museum, set to open in spring of 2012.
With Wayland in 1898, Joss pitched every game. In the ten box scores I was able to find, Joss was 7 and 3. He threw two two-hitters, three games he stuck out 12 and totaled 88 strikeouts. Two of his loses were against Randolph, a team which was put together with the best talent from, Randolph, Cambria and Fox Lake.
In 1899 Joss started the year playing with the college champion Sacred Heart (Watertown) and the Watertown city team. The home games were played at Washington Park. Counting players and coaches from both the home and visiting teams, at least twenty-five would play in the majors, including Joss' catcher, Red Kleinow.
At home, Watertown faced competitive teams from the Western League. Charles Comiskey brought his St. Paul team and Connie Mack his Milwaukee team. The Chicago Unions and Columbia Giants, two "colored teams", which was the term used in the newspaper, also visited. Joss pitched all games, with the exception of the game against Milwaukee.
Joss was released by the Watertown city team and replaced by a top prospect named Claude Elliott. Joss returned to Watertown to face his former team as a member of Oshkosh. The homecoming was not memorable for Addie; it was clearly one of his worst outings. After giving up seven runs in five innings, he was replaced by Blewett. Watertown won 12 to 11.
Joss spent his entire major league career in the early days of the American League with the Cleveland Indians, beginning in 1902. Though his life of 31 years, which included his nine-year Hall of Fame career, ended too soon, many loved him. His lifetime 1.89 ERA makes him one of the greatest ever.
For more information on Addie Joss, I encourage baseball fans to read, Addie Joss: King of the Pitchers, which was written by Scott Longert and published by SABR in 1998. Thanks to Longert's work, he sparked interest in mine. With Addie's memorials, many more will learn about this "King of the Pitchers".
Hawley and Joss attending and playing for Wayland is really one of the top 19th-century baseball stories in the state of Wisconsin. The Academy was founded in 1855 and baseball was the first team sport, beginning in 1867. In 1898, folks in Beaver Dam could read the newspaper about the performance of Joss with Wayland, and their hometown hero Hawley, with Cincinnati of the National League.
I think how proud and appreciative these players would be to Wayland Academy, for their efforts and desire to work with me, to make these beautiful memorials a reality on the grounds of Kris Boucher Field. I know I am.
David Stalker is a member of SABR's Deadball Era Research Committee. He lives in Watertown, Wisconsin. This article first appeared at Seamheads.com.
Related link: Ward Miller monument dedicated in Dixon, Illinois (August 30, 2011)
---
Originally published: November 8, 2011. Last Updated: November 8, 2011.
https://sabr.org/wp-content/uploads/2020/03/research-collection4_350x300.jpg
300
350
jpomrenke
/wp-content/uploads/2020/02/sabr_logo.png
jpomrenke
2011-11-08 14:11:04
2011-11-08 14:11:04
Hawley, Joss Monuments Dedicated in Deadball Series