In Memoriam: Arthur O. Schott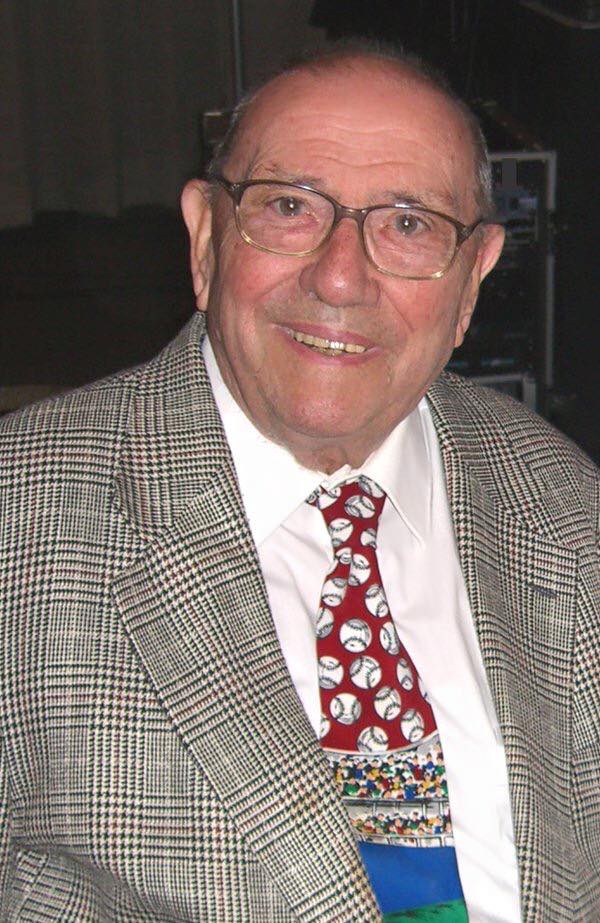 We are saddened to report that Arthur O. Schott, 97, one of SABR's earliest members and Louisiana's official baseball historian, died on May 27, 2016.
Born and raised in New Orleans, Schott was a combination of baseball historian, statistician, raconteur, and foremost authority on all things baseball in the area. In 1973, Gov. Edwin Edwards proclaimed Schott to be the official Baseball Historian for the State of Louisiana.
He joined SABR as member No. 26 on August 31, 1971, just three weeks after the organization's founding. He wrote an article on Babe Ruth's only minor-league home run for the premiere edition of the Baseball Research Journal in 1972 and served as SABR's Vice President in 1977-78. He also helped co-found SABR's Louisiana chapter, which was later renamed in his honor, and was the recipient of a SABR Salute in 1986. He was known for his generosity, often showing off his personal collection of baseball memorabilia and sharing his research with anyone who asked.
"Four bedrooms of his New Orleans home are covered from floor to-ceiling, wall-to-wall with baseball books and memorabilia. But the true treasure trove is Schott himself," former Schott-Pelican Chapter president Derby Gisclair once wrote.
"Anyone who has ever wanted information about baseball in New Orleans has found their way to the large circular table in Schott's den. There he will patiently scan his memory for the answers to your questions. Every so often he will retreat into one of his binders of reference material or filing cabinets of research to provide the necessary information to satisfy even the most obtuse inquiry."
Born in New Orleans on July 9, 1918, he graduated from Jesuit High School in 1936, and attended Loyola Night School in 1940-41. He spent three years in the U.S. Army Quartermaster Corps in WWII, with service in Australia, New Guinea, and the Philippines. In 1948 he married Mary Grinnen and they were the parents of seven sons. His family was in the wholesale meatpacking business until the company was sold in 1985.
Art's first contact with the media came in 1940 when he felt compelled to correct published statements that Joe Dwyer had hit only 55 doubles for Nashville in 1936. It was 65 doubles. This clarification brought Art in touch with Fred Digby, sports editor of the New Orleans Item, and an outlet was created for some of his compilations about baseball in New Orleans, the Southern Asscciation, and the major leagues. About 300 of his columns were carried in various publications, usually under the title "A Schott from the Bleachers." As his reputation as a baseball authority spread, he was called upon to verify certain records, to speak to different organizations, and to appear on radio and television talk shows.
In 1950 Art served as an assistant to Charlie Hurth, Southern Association President, when the league prepared and issued in 1951 its golden anniversary commemorative record book. In 1957 he collaborated with Vincent Rizzo, Phil Johnson, and Fred Digby in publishing a book titled "70 Years With The Pelicans" (1887-1957). The ultimate accolade came on August 1, 1973, when the governor appointed Art as Louisiana's Official Baseball Historian. Part of his role was to promote the game in Louisiana and he participated in a strong effort to bring major-league baIl to New Orleans.
Schott was a member of the Louisiana Sports Hall of Fame, the Sugar Bowl Hall of Fame, the Diamond Club of Greater New Orleans Hall of Fame, and the Greater New Orleans Professional Baseball Hall of Fame, and he also served as President of the Diamond Club of Greater of New Orleans. The New Orleans Zephyrs awarded Schott a Community Service Award for his work preserving the history of New Orleans professional baseball, and he was awarded the Louisiana Sports Writers' Association Distinguished Service Award in Sports Journalism.
Schott is survived by his wife of nearly 68 years, Mary Grinnen Schott; seven sons; 16 grandchildren; and six great-grandchildren, as well as many nieces, nephews, and cousins.
A visitation will be held at St. Pius X Catholic Church, 6666 Spanish Fort Boulevard, New Orleans, Louisiana 70124, on Wednesday, June 1 from 11:00 a.m. until 1:00 p.m., followed by a funeral mass at the same location at 1:00 p.m. Burial will be private, but all are welcome for the visitation and mass. Donations may be made to St. Pius X Catholic Church, or if you prefer, go to a baseball game and think of Schott while there; he would have liked it.
---
Originally published: May 31, 2016. Last Updated: May 31, 2016.
https://h2j7w4j4.stackpathcdn.com/wp-content/uploads/2020/03/research-collection4_350x300.jpg
300
350
admin
/wp-content/uploads/2020/02/sabr_logo.png
admin
2016-05-31 15:53:29
2016-05-31 15:53:29
In Memoriam: Arthur O. Schott