In Memoriam: Clarence "Lefty" Blasco
We're sad to pass along the news that one of SABR's earliest members, Clarence "Lefty" Blasco, 91, passed away on July 19, 2012, in Van Nuys, California.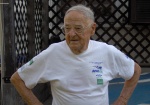 Blasco joined SABR as Member No. 23 on August 29, 1971, three weeks after SABR's first organizational meeting was held at the National Baseball Hall of Fame Library in Cooperstown. He was a dedicated researcher of baseball's pictorial history, and was acclaimed in national publications such as Sports Illustrated and the Los Angeles Times for his photo collection of every player who ever appeared for his favorite teams, the Chicago Cubs and Cleveland Indians. It took him more than three decades to complete his collection; he finally secured an image of Pete Lamer, an obscure Cubs catcher from 1902, in the late 1980s.
"Lefty spent untold hours digging through newspapers finding photos and other images of obscure ballplayers," said Bill Hickman, chairman of SABR's Pictorial History Committee. "He generously shared copies from his collection with the Pictorial History Committee. As the Committee was building its Player Image Index, Lefty was one of its major contributors. Over the years, Lefty also contributed to SABR publications and to the work of his colleagues."
In his later years, Blasco created the "Cubs and Indians Pix" blog to share stories about some of his favorite photos.
Clarence "Lefty" Blasco was born June 17, 1921, in Erie, Pennsylvania. The son of the late Chester and Paula Blasco, he graduated from Strong Vincent High School in 1941. Two years later, he gave up his deferment as an employee of the American Sterilizer Company (AMSCO), allowing himself to be drafted. He served with the U.S. Army's 9th Infantry Division from D-Day through the end of World War II. He crossed the Remagen Bridge across the Rhine under fire and was twice wounded, earning the Purple Heart.
After the war, he rejoined AMSCO, where he proudly spent the rest of his career. In 1949, Blasco married Marie Detzel, daughter of Fred and Margaret Detzel of Erie, and she was the love of his life. They had four children.
In retirement, Blasco was recognized in Van Nuys for his determined community service as he led a volunteer task force in the fight against neighborhood graffiti. He was cited as an "Outstanding Community Member" by the Los Angeles Police Department and featured in the Los Angeles Times for his work.
Blasco was preceded in death by his wife, Marie, and his daughter, Laura Barker. He is survived by sons David of Florida and Philip and daughter Anne "Terry" Edwards of California; six grandchildren and five great-grandchildren; as well as nieces and nephews in Erie. He is buried next to Marie at San Fernando Mission Cemetery in Mission Hills, California.
A memorial service will be held from noon to 2 p.m. on Saturday, August 11 at the Platinum Ballroom, 8704 Van Nuys Blvd. in Panorama City, California.
---
Originally published: August 9, 2012. Last Updated: August 9, 2012.
https://sabr.org/wp-content/uploads/2020/03/research-collection4_350x300.jpg
300
350
jpomrenke
/wp-content/uploads/2020/02/sabr_logo.png
jpomrenke
2012-08-09 16:40:41
2012-08-09 16:40:41
In Memoriam: Clarence "Lefty" Blasco