In Memoriam: Dick Bresciani
We are saddened to note the death of longtime SABR member Richard (Dick) Bresciani, 76, of Wellesley, Massachusetts. The Boston Red Sox vice-president who had served the club since 1972 died Saturday, November 29, 2014, of complications from leukemia. His devoted wife of 40 years, Joanne Bresciani, informed the club. He joined SABR in 1985 and was active in the Boston Chapter for many years. He was well-known for his generosity in helping members' research projects and books over the years.
The Red Sox released the following statement: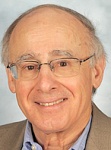 Known universally as "Bresh," the native of Hopedale, Massachusetts was a member of the Red Sox Hall of Fame, the University of Massachusetts Athletic Hall of Fame, and the Cape Cod Baseball League Hall of Fame. In 1997, he received Major League Baseball's highest honor in Public Relations, the Robert O. Fishel Award.
"Bresh was like a father to some members of our Front Office, an attentive uncle to many, and the institutional memory to all," said Red Sox President/CEO Larry Lucchino. "He loved the Red Sox with a passion and zeal that reflected Boston and New England. He was a walking, talking encyclopedia of anecdotes and stories that cannot be replaced. The Red Sox family has lost a beloved and loyal member, and we offer our deepest sympathies to his beloved Joanne."
Bresh joined the Red Sox in 1972 as Assistant Public Relations Director, was promoted to Publicity Director in 1978 and Public Relations Director in 1984. He was promoted to Vice President of Public Relations in 1987 and Vice President of Public Affairs in 1996. He became Vice President of Publications and Archives in 2003 and Club Historian in 2009.
He launched the careers of many baseball executives, including Baseball Hall of Fame President Jeff Idelson; current Red Sox officials Pam Kenn, Debbie Matson, Sarah Narracci, and Ron Burton; Jim Samia of ESPN; Matt Roebuck of the Miami Marlins; and former Chicago Cubs PR head Sharon Pannozzo.
Bresh was inducted into the Red Sox Hall of Fame in November 2006 as the non-uniformed personnel selection. He was also a member of the New England Italian-American Sports Hall of Fame.
Bresh graduated from Hopedale (MA) High School, then UMass-Amherst in 1960 with a degree in journalism. He was sports editor of The Daily Collegian, and also worked in the Sports Information Department as an undergrad. He then spent 11 years as Assistant Sports Information Director, and co-founded the UMass Athletic Hall of Fame, in which he was enshrined in 2002.
An active board member of the Cape Cod Baseball League, he was a member of the inaugural class of the Cape Cod Baseball League Hall of Fame in 2001. He had served as the league's director of public relations and statistics from 1967-71, when the league received full NCAA accreditation and subsequent financial grants from MLB.
Bresh coordinated the selections of the annual national Tony Conigliaro Award recipient and the Red Sox Hall of Fame inductees. He was chairman of the Red Sox Task Force Committee for the 1999 All-Star Game.
Among his many honors, Bresh won the Boston Baseball Writers' Association of America's "Good Guy" Award in 1987, the Western Mass. Jimmy Fund Recognition Award in 1989, the 1989 Brad Jernegan Award from the BoSox Club, and the New England Intercollegiate Baseball Coaches Association's Distinguished Service Award in 1990. He received UMass's Alumni Award for Professional Excellence in 1994, and an "Award of Distinction" from the Massachusetts Baseball Coaches Association for "significant contributions to the development of the youth of the community" in 1998. In 2007, he received the Boston Press Photographers Association's Sports Personality Award.
A member of the Board of Directors of the BoSox Club, the Red Sox official booster club, Bresh had just received their 2014 "Good Guy Award" on November 11. Unable to attend the luncheon, he was nonetheless aware of and proud of the honor.
Related links:
---
Originally published: December 1, 2014. Last Updated: December 1, 2014.
https://sabr.org/wp-content/uploads/2020/03/research-collection4_350x300.jpg
300
350
jpomrenke
/wp-content/uploads/2020/02/sabr_logo.png
jpomrenke
2014-12-01 12:28:02
2014-12-01 12:28:02
In Memoriam: Dick Bresciani